Against the Current, No. 39, July/August 1992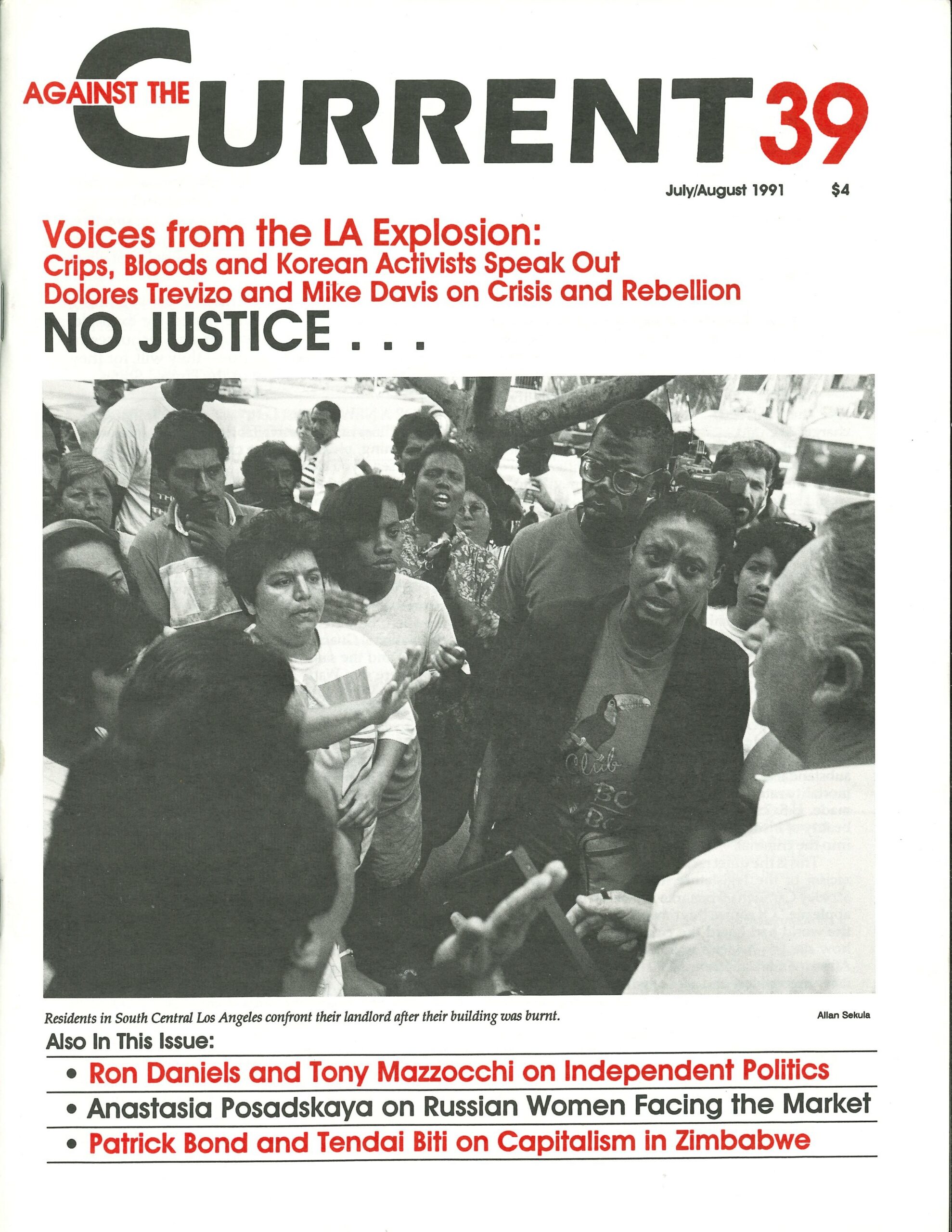 an interview with Roy Hong
"Korean Immigrant Workers Association (KIWA) IS THE only organization of its kind in the country that deals with immigrant Korean workers and their rights. We help workers who have suffered wage and hours violations, injuries on the job, etc. We hope to become a liaison with labor unions as well.
"There are approximately half a million Koreans living in southern California, mostly recent immigrants–since 1965 when U.S. immigration law changed. The bulk came from the mid-'70s to the early 1980s.
"It's estimated that our community contains 60-70% small business owners. The rest are employees. Only about 30% own businesses such as a liquor store or dry cleaner. The other "businesses" are really self-employed workers who are signed up with the city as a business. For example, a janitor or gardener or painter working as a subcontractor.
"To discuss what happened in the rebellion, first we must understand there's been a long history of media portrayal polarizing the issue as a Korean-Black conflict, when it isn't. As an example, the Latasha Harlins case has been heavily covered as if this and the Rodney King case were closely related. They had nothing to do with each other.
"In fact there are serious economic problems in Black and Latino neighborhoods. Even the president of the United States immediately after the rebellion himself said there aren't enough government benefits.
"The Koreans, however, are still being used as a scapegoat. I'll give you an example. When George Bush came here a couple of weeks afterward and visited this radio station that was a focal point for information for Koreans, it was portrayed by the major media that the Koreans were being favored. But he didn't promise anything–he was just there.
"The other minority communities think we've got something going for us. We don't! We are in fact a recent immigrant community and we don't know where to go to get benefits. But the politicians are again exploiting the Koreans by appearing to favor us.
"Another example is when the South Korean secretary of state came. I believe the South Korean government's involvement doesn't help us in any way. But when these people come the mayor greets them, gives them the key to the city and so on, and the Black and Latino communities understandably feel something is going on. Well, all the sucker got is a key!
[With respect to apparent favoritism in granting parade permits to Korean demonstrators when others were denied.] "Why are they letting the Koreans have the permit? It's to picture us as being favored. I must admit that our community isn't sophisticated enough to see that, and isn't calling for unity with the other communities.
"We need to do education in our community. And all the minority communities need to be talking more intimately with each other, at many levels. For example, the ethnocentrism of the major institutions that the media and politicians are exploiting isn't just in the Korean community, it's heightened in all minority communities at this point.
"I'm sure you've heard for example of the city ordinance pushed through by the Black community to reduce the number of liquor stores by forcing liquor licensees to go through a public hearing. We aren't necessarily against limiting the number of liquor outlets, the problem is that if and when such an ordinance is drafted we feel the people affected, whether it's Black or Korean store owners, should be contacted so we can discuss the alternatives.
"Even if it fails to reach a consensus on whether this bill is good or bad, it's essential for that dialogue to take place before the bill goes before the Council or the Board of Supervisors. If we find out about it only after it's been introduced, we are at odds with each other and the distrust is even greater. We are fighting over something that could have been worked out."
July-August 1992, ATC 39