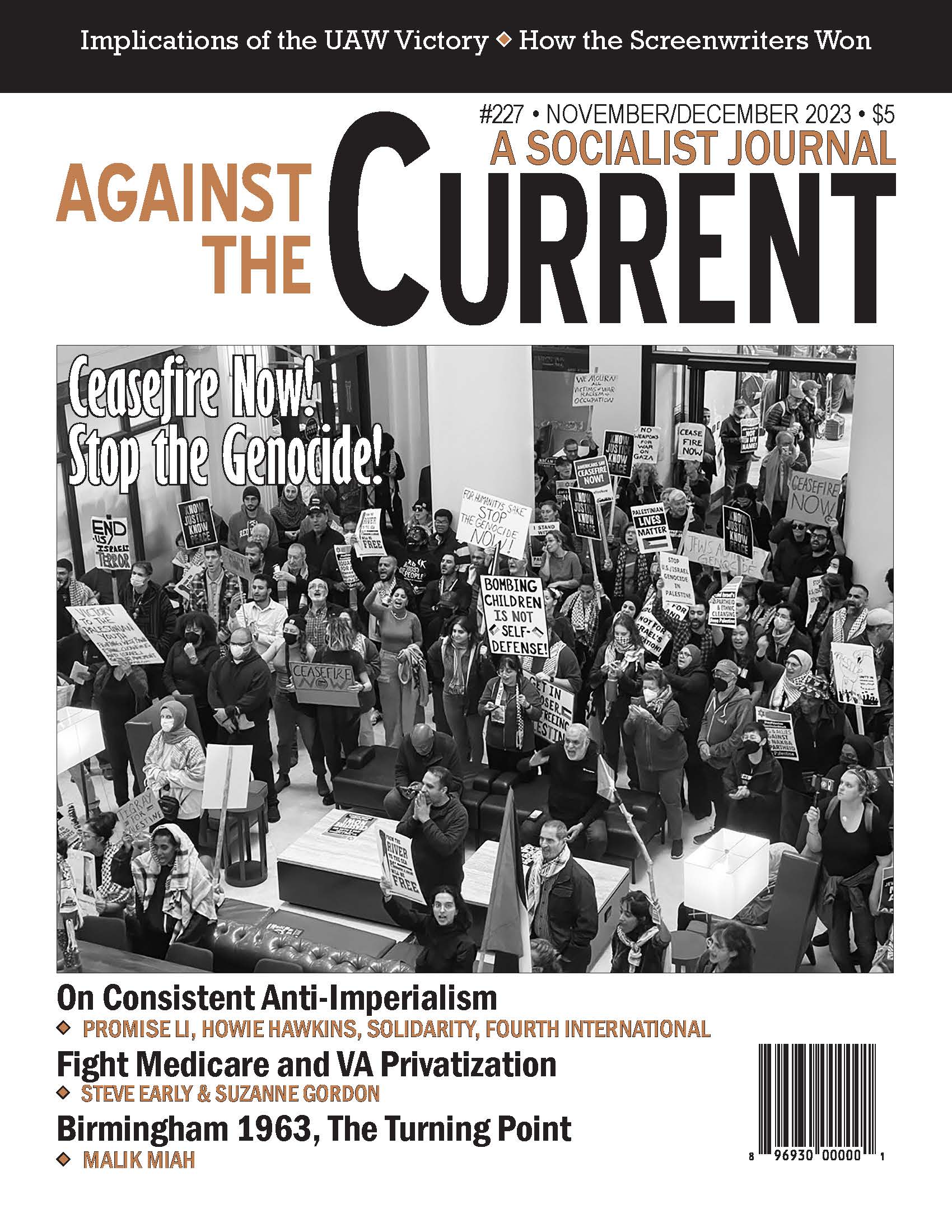 Against the Current is the analytical and activist journal sponsored by Solidarity. As part of our larger project of regroupment and dialogue within the U.S. Left, the journal presents varying points of view on a wide variety of issues. As such, debates are frequent and informative, with the goal of promoting discussion among activists, organizers, and scholars on the Left.
Each issue includes topical articles as well as analytical essays on questions ranging from the history of anti-racist, feminist, labor and revolutionary struggles to the present environmental and coronavirus crises. Annually, we celebrate Black History month and International Women's Day with features in our January-February and March-April issues. We also publish a wide range of book reviews.
You can read articles from the current and back issues. You will also find a Classics page that features articles from past issues that we think are of particular relevance today. Our Welcome page features articles from the current or forthcoming issue along with a few essays — some abridged versions — by ATC editors or frequent contributors that have appeared in other publications. The cross-fertilization of ideas is particularly important to the reconstruction of an effective U.S. left in the present period of multiple intersecting crises, and it's been an important part of this magazine's mission since the inception of the original series of Against the Current way back in 1980.
We welcome submissions of articles and reviews. As a bimonthly, we have six deadlines a year: the 15th of every odd month. Our editorial board reads and discusses the articles and reviews and gets back to authors with questions and suggestions. Here are some specific suggestions if you are interested in reviewing a book or movie for ATC. If you have questions, suggestions or want to submit an article or review, please feel free to write to cfc@igc.org.
We would be pleased if you posted comments to our articles! Just use the comment box following the article.
We encourage subscriptions to the print edition, which help keep the magazine secure. You can subscribe online here, or send your check payable to Against the Current, 7012 Michigan Avenue, Detroit MI 48210. A one-year subscription (six issues) for new subscribers is $25, or two years (12 issues) $45. For $12 a year you can receive to a PDF of the print issue, which will be delivered to your email address. To support the magazine, you can also make tax-deductible contributions to the Center for Changes, which publishes ATC.
If you have fellow activists who you think might be interested in Against the Current, send us their addresses and we'll be delighted to send them a sample copy. The struggle for a socialist, sustainable society is the future for survival, and we need each other!
Read the latest issue.
View a list of past issues or past articles.
Subscribe to ATC.
You can also write to ATC at our office, ATC, 7012 Michigan Avenue, Detroit, MI 48210 or call 313-841-0160.
Readers will find this publication informative and challenging. (ISSN: 0739-4853)
Against the Current Editorial Board
Editors
| | | | |
| --- | --- | --- | --- |
| Purnima Bose | Robert Brenner | Dianne Feeley | David Finkel |
| Adam Hefty | Promise Li | Ursula McTaggart | Alan Wald |
| Susan Weissman | Charles Williams | | |
Advisory Editors
| | | | |
| --- | --- | --- | --- |
| Sara Abraham | Delia Aguilar | Manuel Aguilar-Mora | Perry Anderson |
| Rafael Bernabe | Melba Joyce Boyd | Johanna Brenner | Noam Chomsky |
| Mike Davis (1946-2022) | Peter Drucker | Terry Eagleton | Sam Farber |
| Ansar Fayyazuddin | Ann Ferguson | Milton Fisk (1922-2022) | Cecilia Green |
| Adolfo Gilly | Nancy Holmstrom | Kim D. Hunter | Alison Jaggar |
| James Kavanagh | Robin D.G. Kelley | Michael Löwy | Stephanie Luce |
| Malik Miah | Valentine M. Moghadam | Bayla Ostrach | Paul Prescod |
| Nomi Prins | Joanne Rappaport | Marsha Rummel | Abra Quinn |
| David Roediger | Tim Schermerhom(1954-2022) | Anwar Shaikh | Jane Slaughter |
| Tony Smith | Heather Ann Thompson | Hillel Ticktin | Julia Wrigley |