Against the Current, No. 100, September/October 2002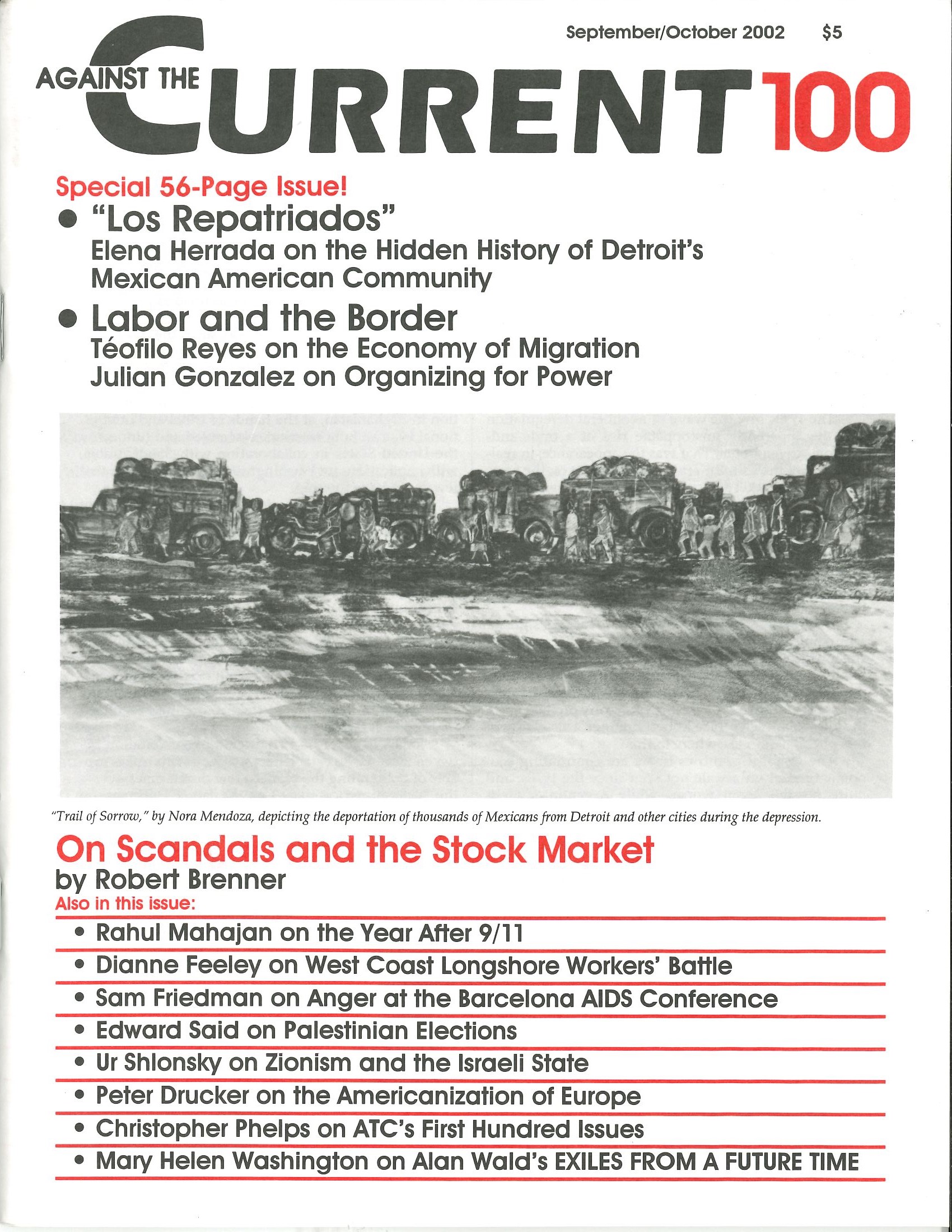 FOR THE PAST several years, members of the Mexican community in Detroit have been interviewing our elders about the period of the Repatriation (1929-1939). Around fifteen of us have been gathering to compile oral interviews with our family members and friends and neighbors, to finally tell us a story which few would talk about for the past fifty or so years.
All of us are descendants or relatives of repatriados, Mexicans and Mexican Americans who were forced or voluntarily went to Mexico at the behest of the United States government. Many of the people who left never told their own children why they went to Mexico, and did not discuss it when they returned.
It is still not known how many never returned, how many died along the painful journey, or how many returned years later. We do know that there was a wave of migration during the next war, and that many who came only found out then that they were already U.S. citizens.
In 2000, we received a grant from Detroit 300, a foundation that was created to celebrate the 300th birthday of Detroit. We made a documentary of the Repatriation, interviewing elders and descendants of the original Mexican families.
The committee consists of community people who have for many years tried to get the full story from our families. Most would not discuss it because they were afraid they could be deported again, and did not understand why it had happened to them at all.
Many of the thousands who were deported across the country (60%) were United States citizens. Most, like my grandparents, were recruited by Ford to work in Detroit. When they came here, they did not intend to leave.
They began to create a community; records from the Archdiocese of Detroit show that the Mexican community built its own church (Our Lady of Guadalupe). Indeed, the son of the contractor, now in his seventies is a member of our committee and brought cherished pictures and documents. His granddaughter recently joined our ranks in order to keep the work going.
Another Repatriado, José Lopez, returned to Detroit after a fourtee-year exile in Morelia, where his parents died working in the sugar cane. He was brought back to Detroit by relatives who had not left during the deportations.
Family's Memory, Hidden History
My father's family returned to Aguas Calientes, where the children were left with their grandmother and my grandparents returned to Detroit to support the family from afar, the way so many Mexicans do now. My grandfather, being a veteran of World War I, was able to get work on the WPA. He went to Northern Michigan to work on a bridge project.
The family would have starved without his earnings being sent. Many families perished without a wage earner. Stories of children and elders dying of simple diseases and starvation were tearfully told to us by those who had suffered in silence these last 60 years.
When the people returned, they told their children not to speak Spanish, not to live where the Mexicans live. This accounts for the reason so many Mexicans of my father's generation don't speak Spanish. It was not until the 1970s, when our generation came of age and began to question this cultural phenomenon, that we began to uncover the story.
Little has been written about the "Decade of Betrayal." Approximately 15,000 Mexicans lived in Detroit in 1920; by 1932, the number had dwindled to around 5000. We have never again built our own church in Detroit.
Mexicans, for the most part, do not answer the census, do not vote in significant numbers and generally avoid any unnecessary contact with the government. Even second and third generation American Chicanos do not, by and large, participate in public life in the United States.
Because the story is not known, even in our own community, many elders who were small children at the time of the deportations believed that they were abandoned by their fathers, who in many cases had been rounded up and deported without a chance to inform their families.
Several of our interviewees did not believe there was a government plan to deport Mexicans from Detroit. Most, like my own family, thought it was a voluntary move until things got better for them here.
Celebration and Pain
Last July, after years of talking to people in the community and seeking out each family's historians, we held a screening of the video on "Los Repatriados" at Ste Anne's Church in Detroit. The video was done by Julio Guerrero, artwork by Nora Mendoza, with music by Benny Cruz and Cesar Peña, who wrote the lyrics, composed the haunting melodies and played the score that was written for this documentary.
We had no idea how we would be received or what to expect. ( We joke that because of the deportations we don't even RSVP). We were highlighting a painful topic that had been avoided for two generations, and this was our tribute to our elders on the occasion of Detroit's 300th birthday.
About 150 people showed up for this event. We put up a display board showing articles and pictures from the news clippings of the deportations, and asked people to bring their families documents to share. We had live music, food and lots of discussion and questions.
This was the first public discussion of the repatriation since it had occurred, according to elders and research. The second screening, held at the Detroit Institute of Arts, was attended by about 300 members of our community. It was cathartic for many. Tears flowed freely.
Many of the children of the interviewees did not know their parents and grandparents had been deported. We had no idea what a unifying effect this project would have on our community. It has had the effect of connecting generations to each other, and starting discussions which heretofore had not been broached.
Indeed, I had not had so much contact with my own relatives, who showed up in force for the event. Since that time, our video and panel discussion has taken place in Houston, Texas; Lansing and Flint, Michigan; several universities, and several times in our own southwest Detroit neighborhood.
We will continue to show it, have discussions, and get children to do oral histories of their elders until we know what happened and know how to keep this from ever happening again. The difference between then and now is that no one was there for this group of strangers, pilgrims to the Promised Land.
They were easily isolated, demonized and targeted, despite the fact that they only came to work and live and raise their families. Because of their indomitable spirits, we are here, strong and capable of standing up to such injustices.
---
Postscript: I received an email from a professor at a University in San Luis Potosi, my grandfather's birthplace. He asked for our video and told me that he is researching the repatriation and migration between San Luis to the United States. The story has come full circle.
---
Elena Herrada is a Detroit community and labor activist, and an organizer and researcher for the "Los Repatriados" project. Write to her at: 1819 Leverette, Detroit, MI 48216 for copies of the video (price $15) and the poster of Nora Mendoza's work "Caravan of Sorrow" ($20). Checks payable to: Inner City Voices and Visions.
---
ATC 100, September-October 2002