Against the Current, No. 39, July/August 1992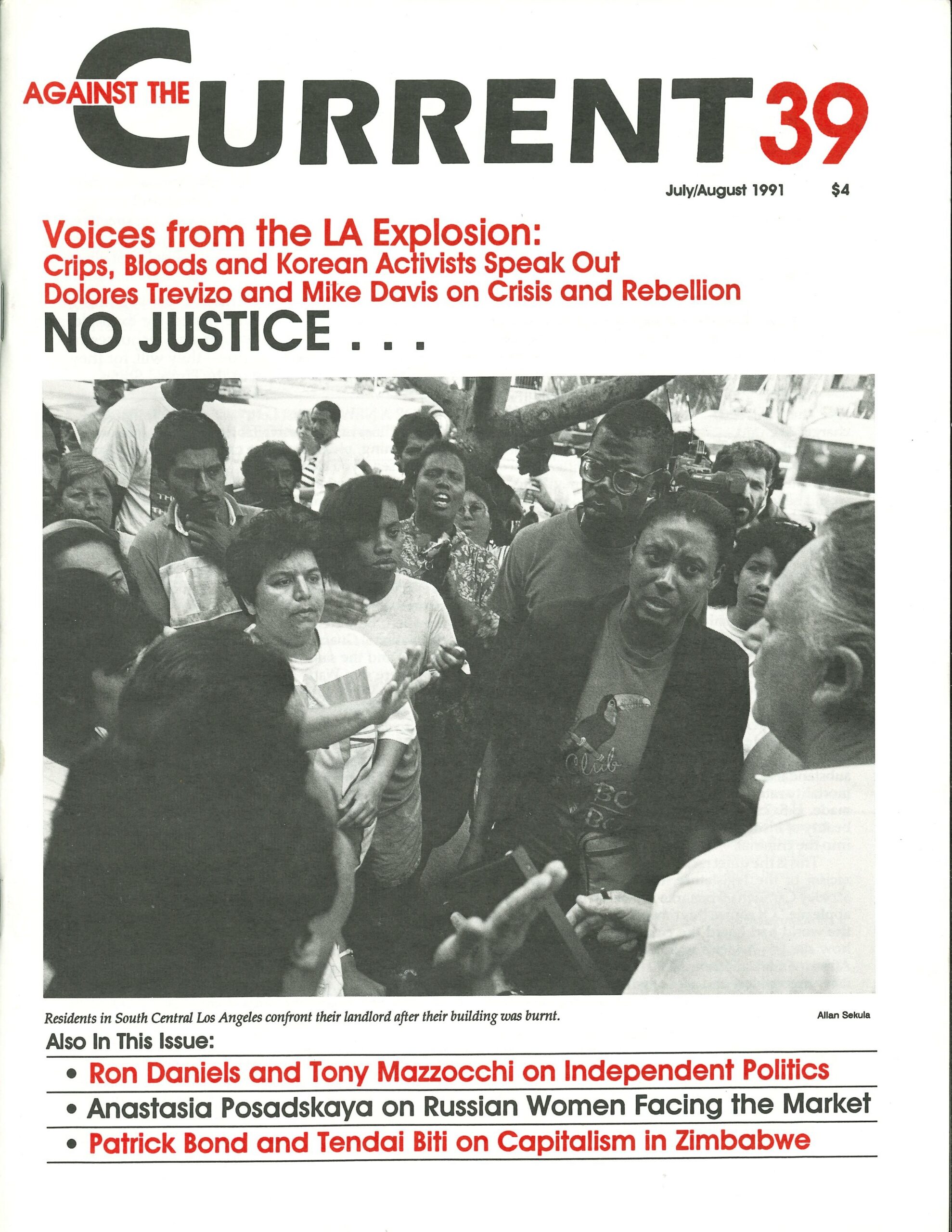 "I BELIEVE THAT it wasn't a purely racially motivated conflict. There was an expression of social and economic frustration that had accumulated for many years. And one can see the degree of poverty and oppression in the urban area of Los Angeles–especially South Central–and the Rodney King verdict triggered a great deal of frustration that resulted in an outright expression of anger and violence through Los Angeles.
"I feel saddened that Koreans, Latinos and African Americans have incurred damages. I don't think it targeted certain ethnic groups. I believe the reason for the destruction in Koreatown is that Koreans have the closest proximity with the people who were showing anger. We were in the path of the violence. We feel many people were more interested in taking goods from stores, and less interested in the ethnicity of the owners.
"Of course there were some instances where Koreans were targeted because they were unfriendly or acted despicably toward their customers; but in general I feel Koreans were just in the path of the snowball of violence.
"Young Koreans United has focussed mainly on Korean-U.S. relations. But we've also extended solidarity to many local organizations. What we are trying right now is to engage in dialogue with community organizations and find out what were the causes of this problem and to generate ideas for specific actions we can take to consolidate our voices, resolve issues that have accumulated for years, and dispel myths about ethnic groups.
"So now for us it's a time to think, to understand and to explore ways of dealing with issues so that another round of this violence doesn't occur in the near future. At the rate things are going, there's a strong likelihood that this would recur, because living conditions are deteriorating.
"The media are distorting the situation by making huge assumptions. This term, `Black-Korean conflict,' is a terrible misnomer. It implies Koreans have a conflict with African Americans, when in fact Korean businesses have conflicts with African-American customers in the marketplace. It doesn't apply to intercommunity relations.
"Many members of both communities have received this kind of distortion and unfortunately internalized it some of it. So it's important for people who are trying to undo this distortion to speak out about this exaggeration of conflict. The media are fixated on events, not issues.
[On the significance of the Latasha Harlins case] "It's an important factor, but it has been overrated. Again the media really affect this by pitting communities against each other. The fact is that many Koreans are appalled by that decision; they feel a great deal of pain about the whole situation but feel that justice must take its course. But those voices aren't heard by the media.
"Also, when they focus on the anger of African Americans demanding justice, they put the blame on Koreans, when we didn't have any control. The court made that decision, and the media made it out as if Koreans could get away with murder."
July-August 1992, ATC 39