Against the Current No. 214, September/October 2021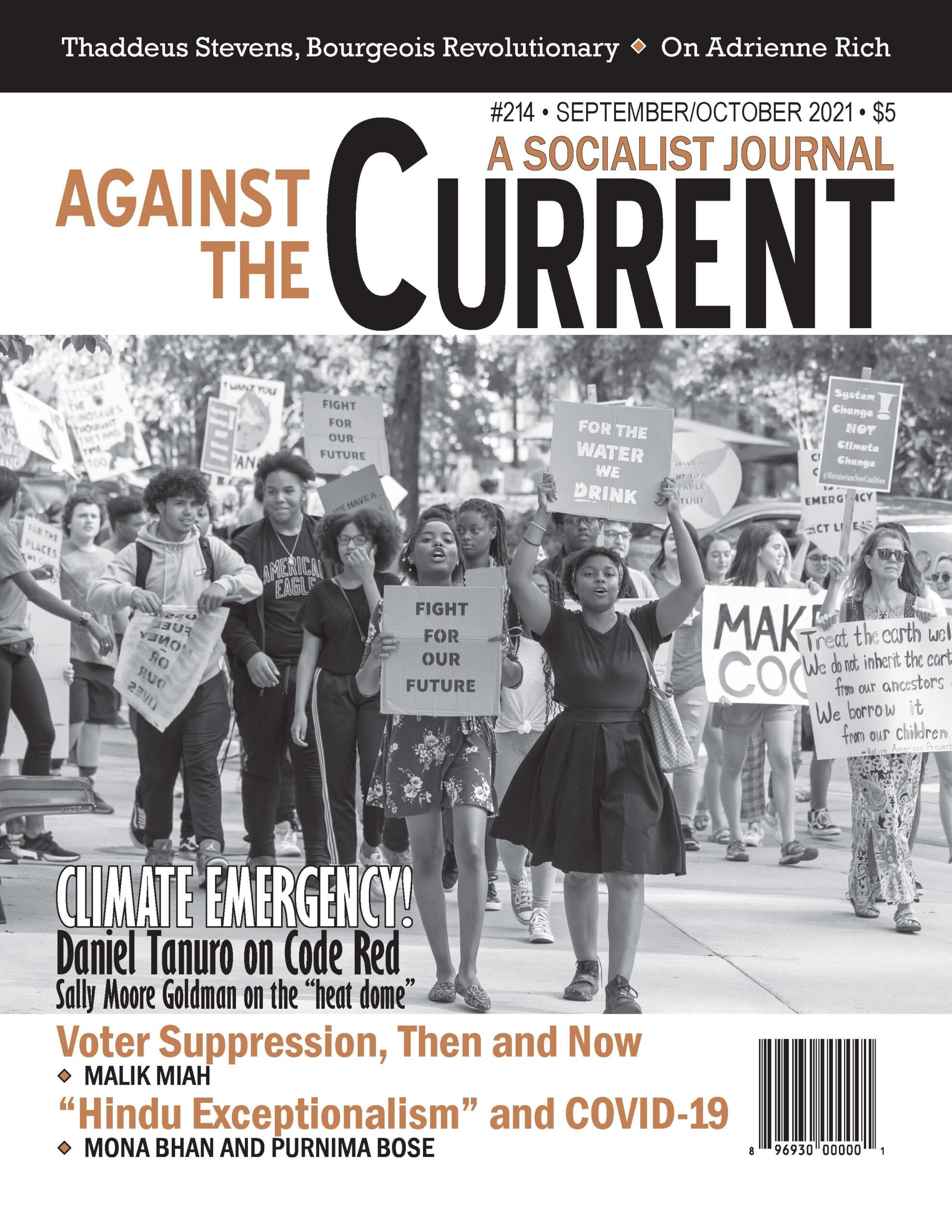 ELEVEN HUNDRED BROOKWOOD coal miners have been out on strike since April 1st. They took concessions in their last contract, negotiated in 2016 with Warrior Met Coal after the previous owner Jim Walter Resources, went bankrupt. Agreeing to a range of concessions in order to keep the mine from closing, members of UMWA Locals 2245, 2397, 2368 and 2427 received a promise from the mine's new owner that they would be rewarded in the next contract.
The miners, who dig or process metallurgical-grade coal used in steel, agreed to a $6 an hour pay cut, reduced health care coverage and a seven-day work week with little overtime pay. While the industry standard is $30 an hour, they make $23 with only three paid holidays a year. The unending pace of work — compounded by a four-absences-for-any-reason-and-you're-fired policy — has added to the unsafe working conditions.
Over the five years of the contract, Warrior Met Coal — formed by a group of investors including Black Rock Fund Advisors, State Street Global Advisors and Renaissance — has become profitable. Last year alone its top five officers raked in more than nine million dollars in their total compensation packages.
Yet when it came time to negotiate the new contract, Warrior Met only offered a dollar an hour raise and added fifty cents more in the contract's third year. Management refused to budge on working conditions and health care coverage. For their part, miners viewed the proposed contract an insult and voted it down 1006 to 45.
Pickets are up at the dozen mine entrances. For its part, Warrior Met is employing scabs, has a court injunction limiting the number of pickets to a handful, calls state and local police to patrol as well as using its own security for surveillance and intimidation. Several trucks have driven into the picket lines and strikers ended up in the hospital.
On May 25, hundreds of miners and their families marched to Warrior Met Coal #7 Mine's North Portal to prevent scabs from entering or leaving. Eleven were arrested for trespassing and held overnight in the Tuscaloosa County Jail.
On Wednesdays, the UMWA organizes mass meetings at the historic Tannehill State Park, near Birmingham. Speakers have included local and regional UMWA officials as well as Sara Nelson, international president of the Association of Flight Attendants-CWA, AFL-CIO. With the help of the UMWA District 20, miners and their families traveled by bus to Wall Street in June and again in July to picket and rally, meeting up with New York City trade unionists. Miners led the chants: "No Contract, No Coal! Warrior Met Has No Soul."
In their multiracial solidarity with the struggle to restore voting rights, several UMWA locals joined a broad coalition that includes the Alabama NAACP, Poor People's Campaign, Lift Our Vote and Saving OurSelves for Justice & Democracy (SOS).
On June 25, the eighth anniversary of the Shelby County vs. Holder Supreme Court decision that struck down a critical section of the 1965 Voting Rights Act, striking coal miners attended a panel and event on voting rights held in a park a few miles south of the Shelby County Courthouse.
The Women's Auxiliary has organized a pantry to provide groceries for families and raised funds so children would have new supplies when they went back to school. You CAN send funds directly to the auxiliary.
Read strike updates at the UMWA website. You can send funds electronically or mail the UMWA, 2021 Strike Aid Fund, P.O. Box 513, Dumfries, VA 22026.
September-October 2021, ATC 214