Against the Current, No. 195, July/August 2018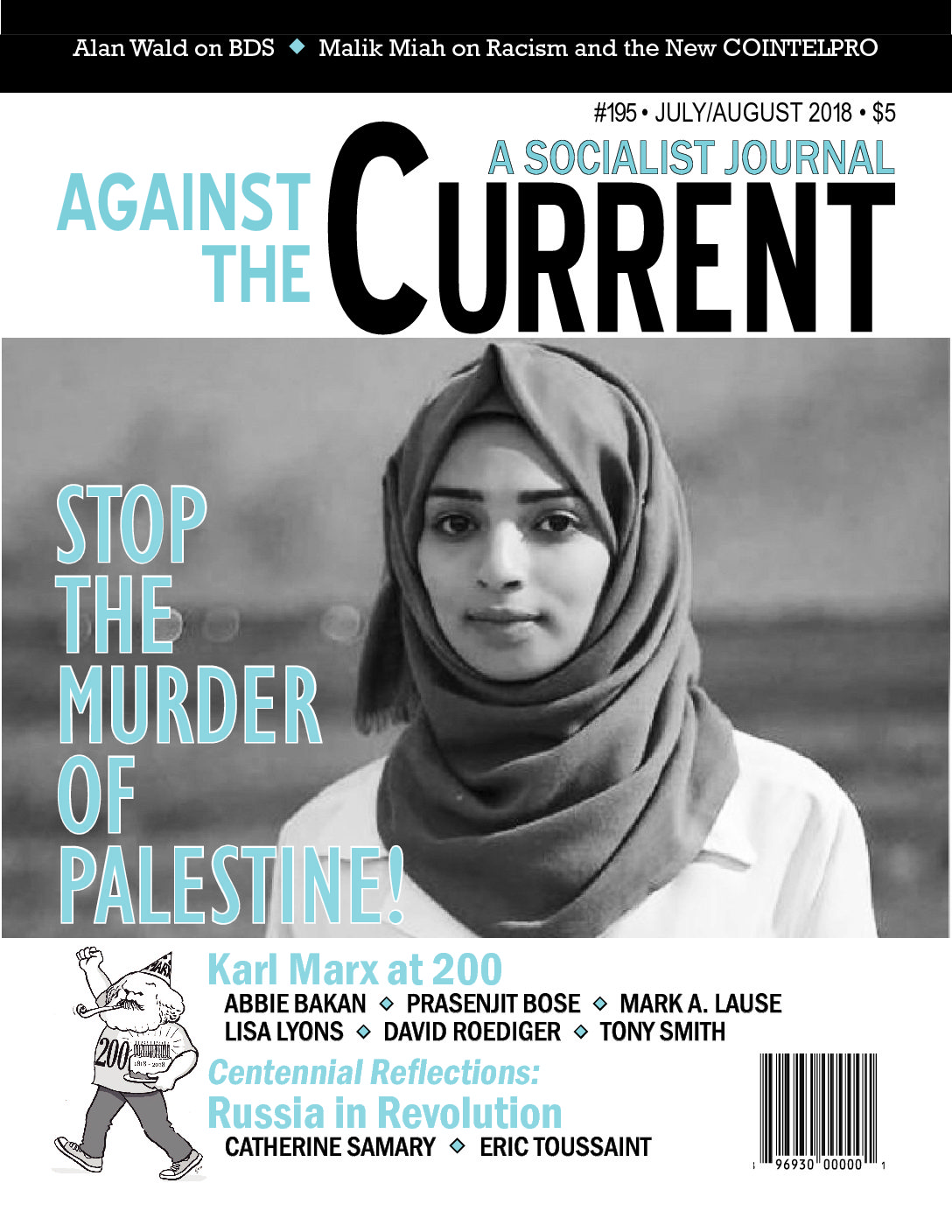 I MET MYRON Perlman at the 25th Ward Socialist campaign in Chicago. He was one of the leading coordinators of an attempt, a year after the city council election of Kshama Sawant in Seattle and several years before the presidential bid of Bernie Sanders, to elect an open socialist to the city council.
It was Myron's name that first caught my attention (even more than Perlman, Myron might as well be a type of marker for its commonness among Jewish men of a certain generation). I then heard this tall, soft-spoken, curly-haired man in his mid-sixties discuss how he approached members of his carpenters' local who lived in the ward. A working-class Jewish socialist, I thought, and felt an immediate affinity.
I have spent the last decade, one way or another, trying to offer an account of my own grandfather's life, a working-class communist from Philadelphia who died, tragically or perhaps fittingly, a few short years after the demise of the Soviet Union. Although they were separated by over 30 years, Myron reminded me a great deal of my grandfather: both working-class radicals who felt their class, and their Jewishness, with equal weight.
Both had a love and respect for the material world of making things — my grandfather could "fix anything" as my grandmother often said. Whether lawn mower engines or rebuilt carburetors or roofing shingles, he had a real genius for the way wood, metal, and the architecture of machines worked.
I never told Myron this, though I intuited that perhaps he knew it — that my deep affection for him was in part born out of my own sense of connection to, and loss of, my grandfather's world.
A carpenter by trade, Myron could also build anything, it seemed — including his family's summer house by hand, the furniture in his family's home, and the many lasting friendships and political organizations he nurtured with the same attention to craft and detail.
In my favorite memory of Myron, he was able to divert the attention of a cop who wanted to stop us from flyering a Pilsen street fair by engaging the man in a long discussion of rewiring his flooded home.
I can't remember how Myron redirected the cop from socialist flyers to home repair, but he so deftly engaged the officer in minute, detailed elements of electrical wiring, the cop forget why he stopped us and we went on spreading the news about socialism without the long, if easily distracted, arm of the state following us.
It occurred to me wonder if any of my left-wing friends had either the knowledge of carpentry or the street smarts to have out-talked the cop this way.
"Philosopher Carpenter"
Although he was an intellectual with a wide breadth of knowledge and interest — and unlike my own grandfather, finished college and did a stint in graduate school — Myron's politics were deeply grounded in the immediate and material struggle of daily life. His son Isaac Krantz-Perlman referred to him as a "philosopher carpenter," and there is no sense that for Myron these terms were lived with contradiction. His appreciation for the material world, is the first principle of Marxism — Fanon's dictum that one's "first truth" must be "one's realities" — was also born out of his own experience with a distaste for utopian dreaming or elaborate and impractical schemes.
In Yiddish one might refer to Myron's politics as "doykeit," a radical "hereness," a deeply embedded relationship to the place in which one lives — its language, its textures, its richness of daily life.
Myron related to me the first time he heard another Jewish person refer to Israel — it seemed a far off, distant, strange land, and he wondered why this American grade-school classmate was so enthusiastic about a place to which she had never been and a language she did not speak. He said that it occurred to him later as the meaning of the word "ideology" in the Marxian sense — the privileging of something distant over something close and real.
Myron's most well-known political and intellectual contribution to the Jewish left was as one of the founders of the Chutzpah group, a collective of Jewish radicals on Chicago's north side who edited and published Chutzpah journal from the early 1970s until it formally disbanded in 1981.
Chutzpah was a kind of bridge between the current anti-Zionist left-wing Yiddishkeit revival and the world of the old Jewish left — with newspapers such as the Communist Party Morgan Freiheit and the more liberal Menorah Journal, in which Hannah Arendt published her famous critique, "Zionism Reconsidered" (1945).
As an outgrowth of both SDS and the civil rights movement, Chutzpah staked a middle ground between Black Nationalism and Zionism. A radical democratic magazine, it understood the appeal of both anti-colonial and Jewish nationalism, but avoided both in the name of multiethnic solidarity movements. Chutzpah was one of the first Jewish voices to recognize the legitimacy of the Palestine Liberation Organization, while also articulating the need for a specifically Jewish vision of liberation.
Chutzpah was more than just a journal about Israel, even though Myron and a number of other Chutzpah members led one of the first U.S. Jewish peacemaking tours to Palestine to meet anti-colonial Palestinian activists, Israeli Black Panthers, and Jewish members of the New Left.
It was a journal — and an activist group — that articulated a Jewish radical politics, connected to daily life and daily struggles in Chicago. In one of my favorite essays by Myron, "My Jewish Hair," Myron wrote about how he long felt ashamed of his mop of curly hair, and how his decision to grow it out was an act of Jewish pride — one that led him to identify strongly with the cultural politics of the Black Power movement.
In 1972, marching down Devon Ave in Chicago, members of the Chutzpah group held aloft a sign, "Nixon is Treyf" (Yiddish for un-kosher). It was a radical Jewish politics based on the daily immediacies of the U.S. political world — not explicitly anti-Zionist, but non-Zionist, with no sense that Israel is the moral, racial or religious home for Jews.
Activist for Peace and Justice
While Chutzpah did eventually come to an end, Myron's political life did not. He went on lead a chapter of New Jewish Agenda in Chicago, a 1980s peace and social justice organization, and was active in the dissident wing of his carpenters' local in Chicago, the United Brotherhood of Carpenters and Joiners of America.
Myron was also a regular fixture at social movement protests in the city, and more than once I saw his tall frame over the heads of marchers, whether against police brutality or whatever the current Middle East war might be. And as should say much about his dedication to difficult if worthwhile causes, he and I were the last two members of a Capital Volume II reading group, and I believe Myron was the only one to actually finish the book.
His death six months ago, of a heart attack while cycling, was too sudden and came without warning. I can't express how much Myron is missed in the social justice community in Chicago. His kindness, patience, thoughtfulness and his living presence of the city's activist history are all in desperate need in our current conjuncture.
Of course, I miss Myron in ways that fuse and confuse the personal and the political. Myron was a friend, and also — although I wonder if he knew it — a kind of political mentor, as I tried to negotiate my own relationships to the frayed history of the Jewish left and a commitment to socialist politics.
Myron is survived by his wife Anne Krantz, and their two wonderful children, Isaac Krantz-Perlman and Michael Krantz-Perlman. He is also survived by a socialist movement he helped build and, for whatever time we have left, we will carry on in his memory and in his name. Z"L — may his memory be a blessing.
July-August 2018, ATC 195