Against the Current, No. 190, September/October 2017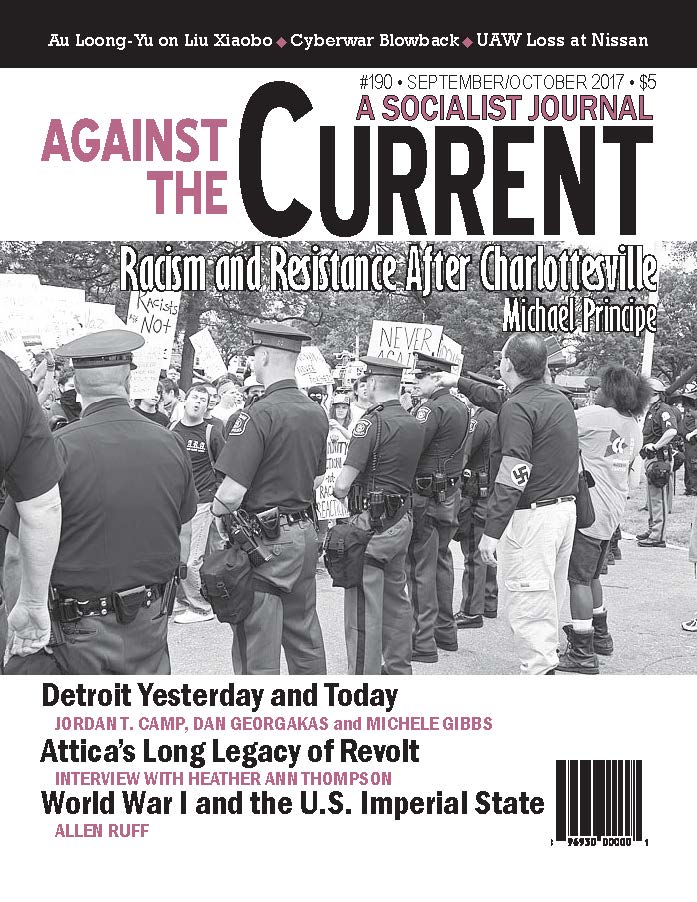 BORN IN A sharecropper's shack in central Mississippi, Mike Hamlin became a key organizer in the struggle for Black empowerment during the 1960s and '70s in Detroit. A Korean War veteran whose experience taught him the brutality of the U.S. Empire, he linked that history of war and intervention to the history of the country's slavery and the sharecropping system he knew as a boy, before the family moved to Detroit.
Returning to Detroit, he worked as a jumper on the Detroit News delivery truck and — outside of the janitorial staff — was the third African American hired. On the job he met up with a group of young workers who talked politics, collected food and money for the Southern civil rights struggle and organized meetings and demonstrations against police brutality. The leadership that emerged was John Watson, Ken Cockrel and Hamlin.
In 1967 Watson and Hamlin founded the Inner City Voice, distributing the newspaper, which called for revolution, at plant gates. The following year, with the aid of General Baker, they began meeting with a group of workers from Dodge Main. This led to establishing the Dodge Revolutionary Union Movement (DRUM). Later that year they founded the League of Revolutionary Black Workers. Hamlin played an organizational role, making sure the League's policies were implemented and mediating conflict.
Always a coalition builder, Hamlin worked to host the Winter Soldier Hearings where Vietnam vets told their stories and rejected the government's propaganda. He served on the national RESIST steering committee that grew out of the Chicago Eight trial, worked with white radicals committed to anti-racist work and put together the funding that made possible the film Finally Got the News.
By the mid-1970s the internal factionalism and external repression caused Hamlin to step back from organizational work. He married Joann Castle, had a son, Alex, and without an undergraduate degree, enrolled in a master's program in social work at Wayne State University. As a social worker he advocated for the elderly, for workers suffering from addiction — and was called on to mediate violent workplace confrontations.
After his retirement, Hamlin sat down with his longtime comrade Michele Gibbs to record his experiences: Makin' It Real: A Black Revolutionary's Life in Labor (Derechos Reservados, 2012) and A Black Revolutionary's Life in Labor: Black Workers Power in Detroit (Against the Tide Books, 2013). Often he attended readings at Source Booksellers.
September-October 2017, ATC 190