Against the Current, No. 189, July/August 2017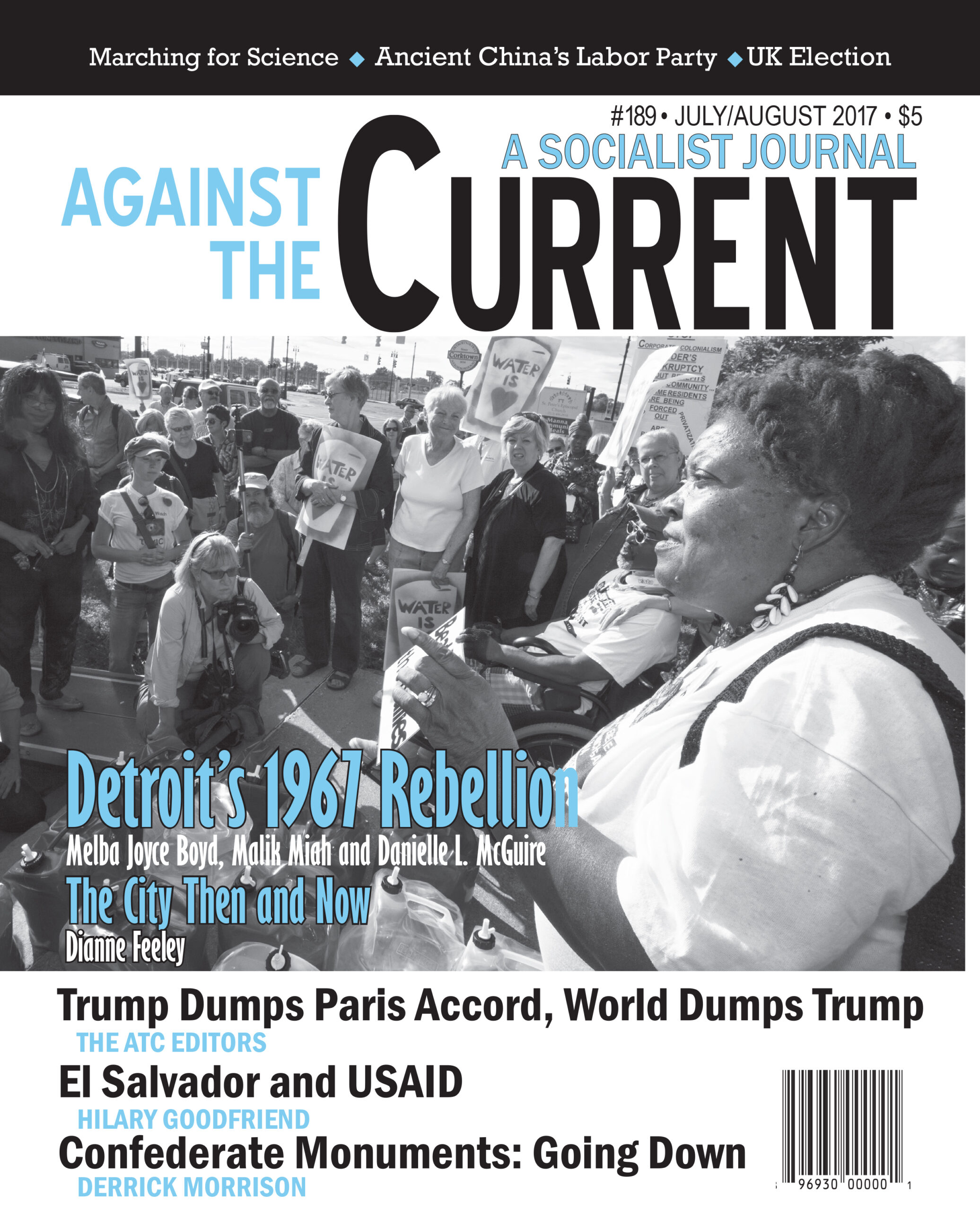 COMPARING DETROIT TODAY to Motown half a century ago, we find a resource-strapped city with about two-fifths of its peak population (now estimated at around 670,000). Eighty-two percent is African American, 12% white and 6% Latino. In 1967 Blacks were 38% of the residents and made approximately three-quarters the wage of white workers; today wages have slipped to half of what a white earns.
Then official unemployment stood at 6.2%; now it is 8.4%. However the rate of participation in the work force (16-64 year olds) is among the lowest in the country. Today Black men are three times more likely than white men to be unemployed; the rate for young Black men is closer to 50%.
Forty percent of Detroit is living in poverty, but for children the rate is 20% higher. They also suffer from high rates of asthma and lead poisoning, affecting their physical and mental growth. Infant mortality is higher than in many Third World countries (13.4 per thousand in 2012-14).
Poverty in Detroit has become more concentrated over the last decade. Families live in neighborhoods with declining populations, more and more abandoned homes, and a poverty that persists year after year.
The majority of Detroit jobs are filled by people who live in the suburbs so most Detroiters are forced to find jobs outside the city. But in Motor City only a third of the population has a car. Public transportation is both inadequate and expensive.
This city has been through the wringer, with Governor Rick Snyder appointing an Emergency Manager and forcing Detroit to undergo bankruptcy. One result was that city employees and even retirees had their wages, health care and pensions cut.
Changes in Policing
At the time of the 1967 rebellion, the police department was 95% white; today it is 62% African American. But it takes more than affirmative action to change aggressive patrolling in the city's Black neighborhoods.
Before the 1967 rebellion, the Detroit NAACP reported that Black residents were subjected to disrespectful and violent police behavior; they were illegally searched and arrested. Following the rebellion there was no letup in police brutality. Black Power and civil rights activists responded with mass assemblies, marches, hearings and legal suits.
But conservatives fought back, and the election of former prosecutor Roman Gribbs as mayor of Detroit in 1969 signaled their victory in a highly contested race.
The police department, with the Mayor's blessing, established a special undercover unit, Stop the Robberies, Enjoy Safe Streets. During its 33 months of existence, STRESS killed 22 citizens (21 African Americans) and carried out 400 raids without warrant authorization. It cost the city one million dollars in various settlements.
Both revolutionaries and liberals turned a spotlight on STRESS operations, holding rallies of 1,000-5,000 and collecting 30,000 signatures — all demanding its abolition. In running for mayor in 1972, Coleman Young made dismantling STRESS a campaign promise, and one he kept.
Young, one of the first African-American mayors, worked to integrate the police force. In the process, police involvement in the drug trade came to light. By 1976 Young appointed a Black police chief. Since then there have been 12 different chiefs, all African American. (William Hart, who served under Young from 1976-91,  was convicted of embezzling $2.34 million in 1992.)
In 1992, just at the end of Young's final year in office, two white plainclothes cops in an unmarked car stopped Malice Green as he pulled up in front of a house on Warren Avenue that was suspected of drug dealing. Walter Budzyn asked to see Green's license and told him to drop what he had in his hand. With Green still fumbling, Budzyn's partner Larry Nevers began beating the unemployed steelworker with his flashlight.
The coroner ruled Green's death caused by a blunt force trauma to the head, the result of 14 blows. Nevers and Budzyn were tried for second-degree murder, convicted and served time in prison. They kept appealing and eventually were resentenced for involuntary manslaughter. The city paid $5.2 million to Green's family and the two, known on the west side as "Starsky and Hutch," were fired.
Still, the outrage over Green's death didn't succeed in forcing the department to change. In 2000 the Detroit Free Press reported that, when comparing cities on a per capita basis, the Detroit police led the nation in the number of fatal police shootings of civilians. Its rate was two-and-a-half times that of New York City.
Three years later the department entered into an agreement with the U.S. Justice Department over how it reported incidents, held its pretrial detainees and conducted investigations when police were involved.
By the time the department was released from oversight in 2016, the number of cases where police used lethal force fell from 47 (1995-2000) to 18 (2009-14). It managed to half the amount paid out in lawsuits, cut civilian complaints and reduce the number of holding-cell deaths from 19 (1994-2000) to one (2008-14).
Yet in 2010, during the period of oversight, the Detroit Police Special Response Team mistakenly targeted an eastside apartment, launching their attack with a stun grenade. Later Ron Scott from the Detroit Coalition Against Police Brutality described the botched raid as a "military assault on a private dwelling."
Police officer Joseph Weekley was the first to enter the downstairs apartment. Within six seconds, he shot and killed seven-year-old Aiyana Stanley Jones, who was sleeping on the couch near her grandmother. Accompanying the botched raid was a film crew taping for a reality TV show.
Weekley had participated in 300 similar raids and had been first through the door in at least 100. In his defense he claimed the shooting was an accident, caused supposedly when Aiyana's grandmother put her hand on his MP5 sub-machine gun.
Following two mistrials and the dismissal of the remaining charges, Weekley remains on the police force. Over the years there have been numerous demonstrations demanding that he be fired. After he was promoted last year — and on the anniversary of Aiyana's birthday — Black Lives Matter and Black Youth Project 100 organized a march to the Third Precinct. Half a dozen activists chained themselves to the precinct doors, were arrested and charged.
The first BLM activist to be tried was acquitted. In an informal meeting afterward jury members said that as long as activists were not violent, even if they were blocking precinct doors, they were within their right to protest.
In the light of this "guns ablazing" case, it is interesting to watch a video of how the department recruits. See the Detroit Police Department Special Response Team video, posted 1/24/16: https://www.youtube.com/watch?v=ouNoCy7bjlY.
Excessive Force a Constant
More recently, Detroiters were startled to learn that the city participates in a "multi-jurisdictional task force" — made up of city, county and state police along with federal agents, including immigration enforcement — to apprehend suspects. In fact most Michigan cities have such programs; last year alone they received $2.3 million in grant money.
On April 28, 2015 the Detroit Fugitive Apprehension Team went to arrest Terrence Kellom, age 20, a robbery suspect who previously fled from probation for carrying a concealed weapon. ICE agent Mitchell Quinn, who claimed Kellom came at him with a hammer, shot him a total of 10 times.
Once a Detroit policeman, Quinn had been named in an excessive-force lawsuit along with Eugene Brown, whose fatal on-duty shootings cost the city $7.5 million and led to the 2003 consent order. In 2008 Quinn was charged with assaulting his wife with a weapon and was suspended. The charge was dismissed; later that year he took a job as an ICE agent.
Terrence Kellom's death occurred just a day after the first protest over Freddie Grey's death at the hand of the Baltimore police. As a neighborhood crowd gathered outside the Kellom house, media-savvy Police Chief James Craig arrived to promise a public meeting within 48 hours, pledging that detectives would conduct a fair investigation. Craig was able to defuse the tension; by 6 pm that day community members and police held a prayer circle.
At the subsequent community meeting, Craig disclosed Kellom's criminal record and outlined the police narrative. On August 20, 2015 Wayne County prosecutor Kym Worthy, who made her reputation by dramatically prosecuting officers Budzyn and Nevers, gave a 50-page PowerPoint presentation of the case, ruling that Quinn acted in self-defense.
Subsequently delegations attempted to talk with the director of the local ICE office, several small marches protested the police account, and Kellom's mother recently filed a $50 million lawsuit against Quinn. However, the police and prosecutor's offices consider this case closed.
Downtown Renewal, Neighborhood Neglect
Detroit is now being sold as a "comeback city." It has three downtown sports arenas; new restaurants and nightclubs seem to open every week. Although industry long hogged the riverfront, a privately funded conservancy has cleaned up the area and opened Riverwalk to walkers and bikers.
The latest big project is a three-and-a-half mile light rail system that takes passengers up and down the main drag. Interesting enough, it is the one area of the city that has reliable bus service. Funding was raised through a public/private partnership; Dan Gilbert of Quicken Loans paid for naming rights — the Q line.
The revitalized downtown has attracted a growing number of millennials, mostly college graduates, who are employed in businesses that relocated from the suburbs (like Gilbert's Quicken Loans) or in the growing number of nonprofits. Art deco, Beaux Arts, Gothic, Romanesque and Arts and Crafts buildings that stood empty or once housed low-income senior citizens are being upgraded. (See the glitzy promotional video of luxury apartments at The Albert, https://www.apartments.com/the-albert-detroit-mi/rpvk4j0/.)
But 20th-century Detroit was a city of neighborhoods. It is 139 square miles, once boasting 85% home ownership, the highest in the nation. Longtime Detroiters often walked to work, shopped, went to church and saw movies in their neighborhoods. They came downtown just for special events: to march with their union on Labor Day, to line the streets for the Thanksgiving Day parade or to see Hudson department store's Christmas display.
Well into the 1960s restrictive covenants and redlining imposed by governmental agencies kept Black families penned into distinct and poorer neighborhoods. When Blacks attempted to find better housing, white neighbors in several areas of the city launched violent attacks.
During World War II Black Detroiters defended their right to the Sojourner Truth Public Housing project that was built for them next to white homes, and they fought in the '50s against the postwar urban renewal projects that destroyed Paradise Valley and Black Bottom. This not only uprooted them from their homes but eliminated Black-owned businesses — from famed jazz clubs to funeral parlors.
One of the areas relatively accessible to displaced Black families was 12th Street on the west side. It had older two-unit homes, apartment units and a thriving business district. Unlike most other areas of the city, 90% of the housing was rental. While there had been little open resistance when Blacks began moving there after the war, within 20 years most whites had moved out. This was to become the epicenter of the 1967 rebellion.
Although the Fair Housing Act of 1968 attempted to outlaw covenants and redlining, testers sent out by the Fair Housing Center reported that real estate agents and landlords still blatantly violated the law. A similar picture emerges when we track high-interest loans banks offered to African Americans in the early years of the 21st century. When the economic crisis hit, banks and mortgage companies like Quicken Loans foreclosed on 40,000 homes, which represented almost 10% of the total residential properties.
Stop Foreclosures Now!
Detroit is one of the few cities where poor people own their homes. Some inherited them from family members. Others purchased them when they had steady jobs, but the economic crisis and declining health took its toll.
Many had already paid off their 30-year mortgage but were enticed to take out another mortgage that turned out to be a predatory loan. They may have petitioned for a modification only to find themselves "two-tracked." That is, they were told to submit all their paperwork because surely the modification would be granted — only to find themselves stonewalled.
In actuality Detroit has suffered from two foreclosure crises: the first unleashed by mortgage companies and banks, the second by the city government. According to the city treasurer's records, over the last decade 125,000 homeowners were evicted for back taxes, with another 30,000 slated this year. Perhaps as many as two-thirds will avoid foreclosure by signing onto a payment plan, whether or not that plan is realistic. But even 10,000 homes facing foreclosure means the possible displacement of 25,000.
How did the tax foreclosures happen? First, the city failed to reassess property taxes annually, as required by Michigan law. As the market value of homes plummeted in the economic crisis that hit Michigan even earlier than the rest of the nation, property taxes didn't drop.
Second, the city's bankruptcy meant city employees and retirees made less, while others lost their jobs during the crisis. Even if re-employed, they were likely to have lower wages and fewer benefits. Yet if residents fell behind in paying their property taxes, the city slapped an 18% interest charge on the unpaid amount.
Third, if residents fell behind in paying their water bills (currently an average of $75 a month), that amount was added on. In one case an elderly woman came to Detroit Eviction Defense (DED) because the home where she had raised her children and grandchildren had been foreclosed and sold in the 2015 auction because of a $600 fee she didn't realize she had.
DED arranged a meeting with the investor through the suburban management company handling the property and picketed the office to make clear its intention of defending this woman.
After media coverage of the California investor's offer to sell her back her home for seven times what he paid for it, he made her a more reasonable offer. She was able to buy her home back, but at far more than the $600 fee she supposedly owed. (See http://www.detroitevictiondefense.net/posts/80-year-old-detroit-woman-wins-back-home-lost-to-confusion-over-tax-fees/).
Fourth, although a poverty exemption is available, the city treasurer's office fails to let residents know of its existence.
Fifth, even though the federal government set aside $761 million to help Michiganders avoid foreclosure, only $216 million was distributed statewide. Meanwhile the Michigan State Housing Development Authority redirected $381 million to blight removal. The remaining $164 million has been frozen because of suspected corruption by the Detroit Land Bank and demolition companies. The latest scandal revealed that demolition crews have been lax in removing asbestos safely.
Every fall the city turns over the foreclosed properties to the county treasurer's office, which sets up an online auction. In the first round, homes are sold to recoup back taxes, interest and fees. In the second, homes are sold at cut-rate prices.
Previous homeowners are excluded from bidding because buying back their homes might be a way they could "cheat their way out of taxes." Instead large investors scoop up the best of the lot, do as few repairs as possible and generally hire a local management company to collect the rent.
In reality, the auction only takes in about 15% of what the city treasurer claims is owned. During the 2012-14 auctions, for example, the city maintained it was owed $691 million but collected a mere $107 million. Was foreclosure worth the price when calculating the number of displaced families and high proportion of foreclosed homes that will end up as blight? Does it help stabilize neighborhoods?
Loveland Technologies, which tracks information about Detroit residential property, calls tax foreclosure a "conveyor belt" to vacancy and blight. Of the 58,000 blighted properties it followed, 50,000 went through foreclosure.
Since his election four years ago Mayor Mike Duggan decided to hand over foreclosed properties not successfully auctioned to the Detroit Land Bank. Currently it controls more than 90,000 properties, including at least 2,500 that are occupied.
The land bank decides which are to be demolished and which sold. Over three years it has demolished 11,000. It also rehabs (with mortgages arranged through Quicken Loans) and sells others. Yet it spends more money rehabbing than the property can be sold for. It seems to be a way of insuring that a middle-class family will be able to inexpensively purchase a refurbished house.
While the poorest residents are stiffed by these policies, the city offers tax breaks and land giveaways to the big developers such as the Ilitch family, which is building Hockeytown, and Dan Gilbert's Bedrock — which describes itself as a full service commercial real estate firm based in downtown Detroit and specializing in the strategic redevelopment of midwestern urban cores.
From Homeowners to Renters
Unlike other big cities, Detroit never had much public housing. Between 1937 and 1955, according to historian Thomas Sugrue, only 8,155 units of public housing were built. More were on the drawing board, but buried after arguments over which race would occupy the apartments.
By 1960 Brewster, Douglass and Sojourner Truth homes were all Black while the Jefferies had 14% white residents. On the other hand, Parkside and Charles homes were 94% white, Smith homes 96% and Herman Gardens 98%. (The Origins of the Urban Crisis, 306)
Today Detroit has a mere 4,343 units of public housing. But given the economic crisis in which Detroiters were double whammied into foreclosure, fuly 52% of residents are renters.
Detroit may be famous for its inexpensive housing, but housing affordability is a major issue. It is estimated that 37% spend more than half their income on housing.
Although residential housing in Detroit has "good bones," given residential poverty and city officials' obsession with using the capital to revive downtown, there is little funding available for repairs. This leads to numerous health problems including children suffering from lead poisoning. (Until 1978 most homes used lead-based paint.)
Forced to rent, many Detroiters have signed up for rent-to-own homes in the belief that they can once again become homeowners. But these contracts usually mean maintenance is the responsibility of the renter. With any missed payment, the renter may be evicted and lose all equity.
A recent Detroit News story detailed the plight of a family who paid $120,000 in rent over the last 17 years only to be told they would have to pay $54,000 more in order to purchase their home — which is worth about $55,000. ("Dawn Wilson-Clark's Tale of Two Detroits," 6/8/17)
A government policy that prioritized keeping people in their homes would have stopped this tsunami in its tracks. Instead the state government pushed the city into bankruptcy and displaced homeowners.
Is Water a Right or a Luxury?
In 2014, when Kevyn Orr, Detroit's Emergency Manager, decided to disconnect those whose water bill were two months in arrears, 30,000 households were targeted. As the first crews were dispatched, activists organized water brigades, risked arrest by blocking trucks, marched through the streets and welcomed Native American and union delegations arriving with water.
In neighborhoods all over the city, residents confronted crews disconnecting service. International media carried the story about the city situated on the Great Lakes where thousands were without water. United Nations experts called the shutoffs a violation of human rights.
All this publicity forced the mayor to order a brief moratorium. He established an assistance program that cut bills by one third for those living at or below 150% of the federal poverty level. Given that 41% of Detroit households earn less than $20,000 a year, thousands were able to enroll.
But by the summer of 2017 the department announced that 1,000 households faced shutoffs. With another rate hike looming, it's obvious that there has to be a more sustainable solution.
A decade ago the Michigan Welfare Rights Organization demanded an affordability plan. It was concrete enough to pass the city council, but rejected by water department officials as illegal under Michigan's Constitution. The federal government drastically reduced its funding of infrastructural projects, pushing the Detroit Water and Sewage Department into risky borrowing schemes. Over the last decade residents have been slapped with a 120% rate increase.
The Environmental Protection Agency and UN maintain that 2.5% of one's income is a reasonable amount to pay for water and sewage service, suggesting that an affordability plan would seem to be a realistic solution. Instead, the mayor labels those who raise the idea that "water is a human right" as really demanding "free" water — and that brings terror to his heart!
When the water department began the shutoffs, officials stated then it was necessary for everyone to get into the habit of paying their water bill — that shutoffs were just a wakeup call. But as the online journal Bridge Magazine noted, shutoffs are "becoming a way of life." Over the past three years there have been 83,000 shutoffs, with another 18,000 scheduled.
Access to water wasn't a problem in 1967.
School Segregation, Then and Now
In 1971, Judge Stephen J. Roth found that for years Detroit's public schools had violated the Brown vs. Board of Education decision by creating school zones in mixed neighborhoods. This procedure allowed white students to transfer to nearly all-white high schools, busing them past Black schools. Black students were bused in the opposite direction. As new schools were planned, they were built in all-white or all-Black neighborhoods to ensure continuing segregation.
Roth's plan to desegregate schools through cross-district busing was defeated by a U.S. Supreme Court decision. The majority concluded that suburban districts should not be compelled to participate since they did not cause segregation.
Back then, Judge Roth pinpointed how the school system maintained segregation. Today the state government, under both Democratic and Republican administrations, has been hard at work destroying Detroit public schools.
In 1999, with the consent of Mayor Dennis Archer (D), Governor John Engler (R) dismissed the elected school board and appointed one. Although a low graduation rate was the main motivation for the takeover, as the sunset provision brought the experiment to a close, no independent study was released to document improvement.
But during that time period 50,000 students left the Detroit public schools. And the system's $100 million surplus had been turned into a $200 million debt.
Supposedly a majority of residents felt the takeover was justified, but six years later residents, in a two-to-one vote, rejected a mayor-appointed school board for an elected one. The debt was returned to the district too. Three years later Governor Jennifer Granholm (D) imposed an Emergency Financial Manager over the Detroit schools, selecting Robert Bobb, a graduate of the rightwing Broad Foundation's Superintendent Academy.
Over the next seven years various appointees managed to increase the debt by bringing in high-paid consultants, contracting for questionable supplies and going wildly overbudget on building new schools. At the same time 100 schools were closed.
These included neighborhood schools as well as special facilities such as Oakman Elementary Orthopedic School, designed for special needs children, the Catherine Ferguson Academy for young mothers and their children and Benjamin O. Davis Aerospace Technical High School, which trained students for aeospace careers and was uniquely situated on airport grounds.
When the Emergency Financial Manager law was overturned in a statewide referendum vote, Governor Rick Synder (R) worked to get an Emergency Manager bill through the lame-duck legislature. The new law was designed to be referendum proof.
Given that since 1994 the state pays a per capita amount for each student, parents have options to move their children from the local public school district. Any district, at their discretion, could accept students from another. And under this new funding mechanism, charter schools mushroomed. Unlike charters in many other states — due to the the DeVos family lobbying for "school choice" — they are subject to remarkably little accountability and mostly for-profit.
During the period of the state takeover and school closures, 97 charters opened in the city. Some arranged to rent the best, and newest, public school facilities. In parts of the city the only remaining school in the neighborhood is a charter.
Meanwhile Governor Snyder decided to build a statewide "turnaround district" for the lowest-performing 5% of schools. Just as critics predicted, it never expanded beyond Detroit, where the Educational Achievement Authority (EAA) took over 15 former public schools. After four years, dogged by declining enrollment, poor student performance and allegations of mismanagement and corruption, it is slated to be reincorporated into the Detroit system.
Currently 51,000 Detroit students attend Detroit charters and another 25,000 attend suburban schools (public or charter). Only 46,000 students remain in Detroit's system although that may increase somewhat if EAA students return to the city schools.
At the beginning of 2017 Detroit regained control over its school district, but it's a shell of what once existed. Teachers have gone without raises and work under such stressful conditions that the system is short by 300 classroom teachers. Some of the remaining schools are so dilapidated that in 2015-16 teachers defied the Emergency Manager and went out on sickouts to protest leaky roofs, mold, vermin and in some cases unsafe drinking water.
Detroit parents are divided over how their children can get a decent education. Some support charters or out-of-district options because they believe these schools are higher-performing and safe. But Ray Miron, an education professor at Western Michigan University, found that across the state this process of churning students has accelerated "segregation by race, by class, by ability, by special education status and by language in the schools." Initial research, according to the Michigan Department of Education, reveals that on the average, children do no better academically.
It would seem that teachers in whichever school system are being asked to teach a significant number of children who are living under the traumatic circumstances that poverty perpetuates and segregation reinforces.
The experiments that have been foisted on the schools — whether by governors Engler, Granholm or Snyder, Betsy DeVos or Democratic and Republican legislators — have failed the children and parents of Detroit. In that sense, 2017 doesn't seem much different than 50 years ago, although then there were 200,000 attending Detroit schools and every one had art, music and physical education programs.
Conclusion
Why was the Black community unable to change the dynamic of repression and racism with the election of Black leaders — some with radical backgrounds such as Coleman Young, Black militants like Ken Cockrel or Black nationalist forces around the Shrine of the Black Madonna?
Young did advance policies that made a difference to residents. He introduced affirmative action policies in key city agencies, granted good contracts to city workers, hired minority firms, established parks, built community recreation centers and worked to revitalize the city's economy.
Nonetheless he was mayor of a city in decline. The auto industry was moving to the suburbs and beyond. A significant portion of white workers followed. The Young administration was faced with capital flight, white flight and the anger of those who felt they had been driven out of the city by a Black takeover.
Although Young started out as a radical, he had concluded that his support of the Progressive Party during the 1948 election was the worst mistake of his life and made the decision to integrate himself into the liberal world of the Democratic Party. By 1964 he became a state senator; a decade later he was mayor.
Riding to office on the wave of the anti-STRESS movement, Young was committed to ending segregation and opening up jobs, housing and education to the African-American community. But he had no desire to mobilize city residents in a struggle to transform the economy. He followed Gribbs' strategy of modernizing downtown, planning the People Mover and the Joe Louis Arena by leveraging federal money.
When GM threatended to leave the city in order to build a state-of-the-art facility, Young employed emminent domain to condemn and clear Poletown, an ethnically diverse working-class neighborhood. Clearing 465 acres of land near the center of the city meant the displacement of 3,500 people, 1,500 homes, 144 businesses, 16 churches, a school and a hospital.
The community fought back with sit-ins and demonstrtions, launching a legal suit that maintained the city had no right to use its power to transfer property from individuals to a private corporation. When the Michigan Supreme Court ruled against the Poletown Neighborhood Council, the city administration moved aggressively to thwart grassroots resistance.
Young also provided GM with $200 million in tax credits. He kept his bargain but for its part GM never employed more than half of the 6,000 promised jobs. Meanwhile it closed two plants and threw thousands out of work.
It's not that the Poletown community mapped out some alternative economic vision. They were prepared to negotiate with GM and the city to reconfigure GM's design and save their community. But the viciousness of the Young administration was a warning to all who might challenge him.
The Poletown struggle revealed that Young, the best of the Black elected officials, had no fundamentally separate economic strategy to confront and defeat inequality. In yoking himself to the power of capital, he couldn't even support a grassroots effort to save a community.
The Black mayors who followed Young had even less social vision. It was all about offering deals to capital and pushing the city into loans and interest rate swaps hailed by Wall Street. This — along with the reality that the state drastically underfunded Detroit — became the mechanism by which Detroit was bankrupted.
By 2014, when Mike Duggan decided to run for mayor, he moved from the suburbs into the city, cultivated Black decision-makers, and ran a successful campaign, becoming Detroit's first white mayor in 40 years.
Given Detroit's importance as a border city — with a highway that reaches from the industrial heartland of the Midwest through Toronto and Montreal — and given the centrality of metro Detroit as a powerhouse of auto industry research, the white power structure never broke its ties with city officials. Today, Detroit's future seems to be dictated by developers.
The differences between 1967 and today are best explained by contrasting Lyndon Johnson's failed "war on poverty" with today's austerity. In both periods we find systematic racism, inequality and a repressive apparatus.
This was not the inevitable outcome. But the vision of a city led by a vibrant grassroots movement where there is social, racial and economic equality is a task for a new generation. Fortunately, the program and actions of the Black Lives Matter movement — along with the myriad of organizations that challenge a polluted city where foreclosures, water shutoffs and an inadequate education system are the norm — offer a way forward.
July-August 2017, ATC 189