Against the Current, No. 186, January/February 2017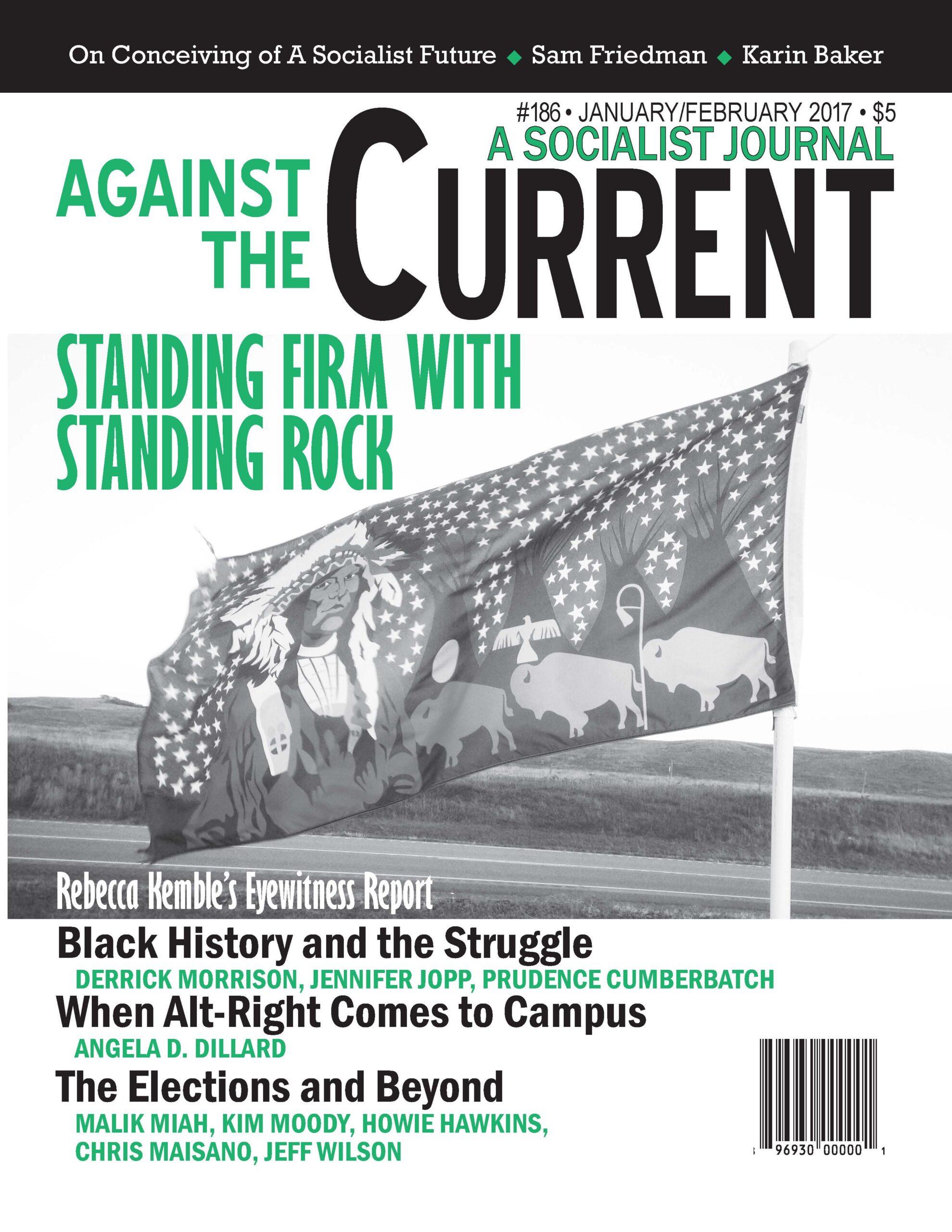 Managing Inequality:
Northern Racial Liberalism in Interwar Detroit
By Karen R. Miller
New York, NY: NYU Press, 2014, 331 pages, cloth, $55, paper, $28.
KAREN MILLER'S MANAGING Inequality: Northern Racial Liberalism in Interwar Detroit provides a critical intervention in the literature on the origins of "colorblind racism" by identifying this idea as present in the contestations over race in Detroit in the years between the two World Wars.
Miller uses the interpretive paradigm "northern racial liberalism," describing this as the idea that "all Americans, regardless of race, should be politically equal, but that the state cannot and indeed should not enforce racial equality by interfering with existing social or economic relations," to highlight how supposedly "race neutral" public policies often had devastating results for African Americans. (4)
In her exploration of the racialized discourse and political environment in this industrial city, Miller uncovers a little discussed, but important racial ideology that relegated African Americans to the status of second-class citizens despite the seemingly progressive positions of white elected officials. [See also Karen Miller's article in ATC 180, https://www.solidarity-us.org/node/4550 — ed.]
Managing Inequality is part of a wave of recent scholarship that has focused attention on early civil rights struggles and northern racial activism that challenges the dominant narrative of the South as the sole bastion of "bad" race relations and birthplace of the race-based political struggles in the 20th century.
Using a variety of archival sources including the papers of the NAACP, the Detroit Urban League, municipal records, community studies, and local and national newspapers, Miller retrieves the perspectives of Black and white Detroiters in their varied and multiple interpretations of purportedly racial neutral public policy in the city.
Moving away from overtly racist appeals, white elected officials championed race-neutral policies and urban reform under the banner of maintaining a peaceful city. However, in carrying what many considered to be a liberal agenda, white leaders in effect diminished Black claims for racial equality at the same time they revealed their own concerns about integration and allayed the fears held by many white Detroiters.
Examining the parallels between the emergence of the modern American city and attempts by white liberals to manage and maintain racial inequality, Miller demonstrates how structural racism, in the form of "northern racial liberalism," became embedded in this modern, industrial city dominated by a purportedly liberal power structure.
By linking institutionalized racism with purportedly race neutral public policies, she shifts our attention to the state policies that underpin and at the same time masked white supremacy. Managing Inequality thereby provides a new paradigm for understanding the evolution of race relations in the North.
Origins of Colorblind Racism
Beginning her study at the dawn of the Great Migration, Miller shifts the timeline of the origins of "colorblind racism" as white elected officials attempted to "manage" the increasing African-American population and their claims for equal citizenship. From physical examinations of southern Black migrants at the train station to employment and housing discrimination, problems highlighted by the African-American community were considered "pathologies" that plagued the race, rather than stemming from structural inequalities that needed to be confronted.
While Miller's focus is on Detroit, her study is a microcosm of myriad problems faced by political progressives as well as by those who challenged racial inequality in the North. Detroit shows us the ways in which at its core elected officials, such as Mayor Frank Murphy, desired to appear modern, moderate and champions of racial peace.
In orienting their administrations in this way as opposed to the "backward" South, managing the racial hierarchy meant maintaining the illusion of being fair, promoting gradual change and speaking for the "marginalized" while maintaining a set of policies that sustained housing and school segregation and inequitable city services.
As Miller points out, the racial peace that enjoined whites from making overtly racist claims also silenced African Americans who sought to challenge the racial status quo, leaving them all too often in the place of second-class citizenship. Indeed, at the beginning of the Great Migration, African-American elites or "old settlers" were also guilty of silencing recent migrants.
Intra-racial class tensions meant that African-American elites often accepted the stereotypes held by many white Americans. More concerned with maintaining their place in the racial hierarchy, they were only too aware of how the negative attitude in the white community towards these newcomers could jeopardize their own position, tenuous as it was.
Hence these elites practiced a type of intra-racial chauvinism rooted in "respectability," which failed to adequately address the needs of recent migrants and lower working-class African Americans, while they also pushed forward a "Black agenda."
Challenging the Power Structure
Moving between the perspectives of white Americans like Mayors John Smith and Frank Murphy, and African Americans including activist Snow Flake Grigsby, Miller offers a complex and multilayered interpretation of how "northern racial liberalism" operated on multiple levels, both for those who embraced and those who rejected it.
In the beginning of this period, challenges made by African Americans were only accepted on an individual, personal basis. With the increase in the Black population brought on by the continuing migration, African-American leaders began to use the language of "northern racial liberalism" to challenge the white power structure to adhere to the spirit of the race neutral language they promoted.
However, any attempt at organized protest was criticized and dismissed by the white power structure that claimed its own "colorblindness" and repeatedly asked for proof that any structural problem even existed. These leaders were much more comfortable with African Americans and whites who "followed the rules" of "northern racial liberalism" and who did not push the race barriers too far from their idealized status quo.
As Miller notes, their acceptance of the racial hierarchy meant that white officials often dismissed African-American claims about institutional racism, preferring to see residential segregation, for example, as something that was natural (based on personal preference) rather than manufactured.
In framing issues in this way, "northern racial liberals" did not have to take responsibility for instituting laws and policies that created and reinforced racial inequality.
Miller's discussion of officials' strategies to promote racial peace includes an exploration of how those who ran for elected office as "northern racial liberals" tried to maintain a balance between ameliorating white anxieties, courting African-American voters and maintaining the racial status quo. Those who fell into this category could find themselves trapped when trying to find a racial equilibrium between what seemed right and fair to both sides.
Miller highlights this conundrum in her discussion of the Ossian Sweet case, when an African American was charged with murder while defending his right to live in a home in a white neighborhood.
While the judge presiding over the case, Frank Murphy, was viewed quite favorably in the African-American community, Miller demonstrates how Mayor John Smith had to negotiate African-American claims for relief from housing shortages and rights to first-class citizenship, against white residents' anxiety and their desire to preserve the racial status quo.
Clarence Darrow, attorney for the defendants, successfully litigated the Ossian Sweet case by challenging the racism entrenched in Detroit. In many cases, white "northern racial liberals" walked a fine line between seeming too progressive to white Americans and reactionary to African Americans.
Mayor Smith chastised the Sweets and others like them who would dare to move into so-called white neighborhoods, but also diverted attention from local manifestations of white supremacy, instead framing the issue as one of white anxiety.
This type of victim blaming, dissemblance and pivoting to criticize outsiders are hallmarks of "northern racial liberalism" that are still with us. Questions about the wisdom and timing of protests has historical precedents where elected officials moved to create administrative bodies, often called Interracial Commissions, to address and offer solutions for racial conflict without having any real power to affect change.
As Miller emphasizes, white progressives were deeply committed to the idea that it was not the role of the state, nor would the state accept the responsibility, to offer real redress to African-American claims of inequality. Despite the state's claims to modernity and its utilization of the most recent social science techniques, Miller adroitly shows how unacceptable overt racism transitioned into coded racial language that continued to marginalize African-American Detroiters.
Codes of Oppression
Like the political strategy of "tolerance," which meant a marginal recognition for the rights of African Americans to employment but also an acceptance of existing housing patterns, coded racial language also became embedded in the discourse surrounding "northern racial liberalism." But rather than challenge the underlying principles leading to the racialized caricatures which demeaned African Americans as "shiftless," or confront the idea that they were "outsiders" and African-American migrants "permanent transients," white liberals instead chose to undermine African-American claims in more obsequious ways.
As Miller notes, "While conservatives used African Americans to represent the dangers of a state sponsored welfare system, liberals used representations of African Americans to mark the limitations of their willingness to implement change." (145)
Miller's analyses also show us how, in the failure to acknowledge racial inequality, the political discourse of interwar Detroit in effect pitted "white taxpayers" and the "deserving poor" against African Americans, most often labeled as undeserving dependents who drained the system.
As she discusses in her chapter on the labor movement, the ideologies of "northern racial liberalism" also shaped the views of white union leaders. Initially, instead of shared concerns over issues of wages and working conditions, Black and white industrial workers continued to be pitted against each other, not only by employers but also by white labor leaders, who dismissed the claims of their Black counterparts in order to promote the idea that the working class was exclusively white.
Although the ambivalence of Black workers was assuaged with the advent of the CIO, progressive language on the topic of racial equality would not necessarily transform into real change. Indeed, the lexicon white officials used in Detroit nearly one hundred years ago bears striking similarity to today when politicians invoke images of immigrants and African Americans as threats to the political, economic and social status quo.
Still, in interwar Detroit there was hope among some, even though fairness on paper and in speeches rarely turned into equality in practice. While many white liberals were aware of the problems of racial discrimination, they were not willing to utilize resources to deter it nor did they seem capable of understanding how their own implicit biases impacted their decisions about public policy.
As Miller writes about Mayor Frank Murphy's governing style during the early years of the Great Depression, "This simultaneous recognition that discrimination could be a problem and the dismissal of its seriousness were part of the Murphy administrations' approach to managing demands African Americans made for fair treatment." (127)
Strategies of Struggle
While white elites attempted to manage their changing society through urban reform grounded in social science, Miller demonstrates how Black Detroiters embraced various strategies, from cultivating white allies to organizing protests to fight against continued discrimination and white officials who did little to bring about substantive change.
Beginning in the 1920s and 1930s, African Americans coalesced around issues such as police brutality, and job and housing discrimination, through organizations including the NAACP, the Detroit Urban League, and Grigby's Civic Rights Committee. Pushed toward a more politically progressive and militant position on these issues, African Americans launched petitions and protests highlighting the disjunction between "northern racial liberalism" and their lives. (189)
Yet despite gains in employment and housing made through African-American organizing, race-neutral language shrouded in the concept of racial liberalism ultimately undermined all concerted attempts to alleviate racial inequality. As cities across the United States burned during the 1960s, "northern racial liberals" only had themselves to blame.
Beginning with an outstanding introduction, Managing Inequality is the kind of book scholars want to teach as it gives students a framework through which they can clearly make connections between the past and present, while also illuminating the various strategies employed by previous generations to instantiate racial bias and to fight that same racial bias.
Weaving an intricate narrative about Detroit between the two World Wars, Miller demonstrates how the idea of racial liberalism became so deeply embedded in American political discourse that it continues to impact politics.
Additionally, she provides examples of how the same supposed "pathologies" that undermined African-American communities in the 1920s continued to be invoked today to justify continuing inequalities.
Although colorblind racism seems to be a contemporary concept, Miller reveals that the groundwork for this practice was laid decades earlier where its impact was just as devastating then as it is now. As demonstrated in Managing Inequality, African Americans have long been viewed as suspect, while white Americans have devised a whole host of customary "race neutral" practices to contain this perceived threat, politically, economically and socially.
With her tightly woven narrative about interwar Detroit, Miller offers an important contribution to the literature on the struggle for civil rights in the North, effectively demonstrating the challenges faced by African Americans who employed various strategies to achieve equal citizenship, while they confronted an ever shifting racialized political terrain dominated by white progressives who refused to acknowledge the state's role in reinscribing a race-based political, social and economic hierarchy.
January-February 2017, ATC 186