Against the Current, No. 177, July/August 2015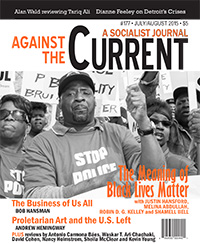 ALTHOUGH 61% OF Detroit's police force is Black — and headed by a Black police chief — between 1995-2000 police shot 47 people; from 2009-14 there were 18 additional shootings. Perhaps the most publicized case has been the SWAT-like raid on a home that resulted in the death of 7-year-old Aiyana Stanley-Jones, killed as she lay sleeping on the couch next to her grandmother.
The officer who led the raid, Joseph Weekley, was charged with involuntary manslaughter and two lesser charges. But after a second hung jury in early 2015 Wayne County Prosecutor Kym Worthy, the first African-American woman prosecutor in the country, decided not to retry the case. The family is pursuing charges against the Detroit Police Department; since 2011 alone the city has paid out $12.2 million to settle 179 police cases.
Some maintain that at least in Detroit there is "dialogue" between the police and the community. Yet a week following the death of Freddie Gray at the hands of the Baltimore police, Detroiters were shocked to learn that Mitchell Quinn, the officer who pumped 9-10 bullets into 19-year old Terrance Kellom, was an ICE agent. According the Metro Times (April 29, 2015 online) Quinn had been a Detroit police officer for 12 years; in 2000 he and his partner arrested Trevor Pender, who later won $20,000 from the city for false arrest as well as assault and battery.
In 2008 Quinn was charged with assault with a dangerous weapon and felony firearm for allegedly pointing his department-issued handgun at his wife. Suspended by the department, he joined ICE later that year.
Most Detroiters were unaware that there is a multijurisdictional Detroit Fugitive ApprehensionTeam made up of U.S. Marshals, Detroit Police Department, Wayne County Sheriff's Office, ICE, and the Oakland County Sheriff's Office.
Detroit police commissioner James Craig set up a community meeting, as promised, within 48 hours of Kellom's murder. Community members asked who authorizes and controls the multijurisdictional force. Concerned that there be a transparent investigation of the Kellom murder, nonetheless Detroiters were later told that the autopsy report — a public document — has been sealed.
On May 8 a coalition of forces including Michigan United, Detroit Coalition Against Police Brutality, Coalition for Black Struggle and Black Lives Matter organized a press conference chaired by longtime activist Ron Scott from the Detroit Coalition Against Police Brutality. Twenty-one-year old Grover Easterling III, from the Coalition for Black Struggle, stated: "We want an end to the militarization of the police and task forces like the one that killed Terrance Kellom. We also stand in solidarity with other organizations fighting water shut-offs and evictions, another form of violence against our people."
Also speaking was Imam Dawud Walid of the Michigan Council on American Islamic Relations (MI-CAIR). He demanded that "law enforcement respect our people and not be involved in extra-judicial killings," and drew a parallel between Kellom's murder and the killing of Imam Lugman Abdullah, leader of the majority African-American Masjid El-Hagg mosque.
In that 2009 case, federal agents worked with local police to raid a warehouse where informants maintained there were stolen goods. Four FBI agents shot Imam Abdullah 20 times, killing him, but the Justice Department ruled that agents had not used excessive force. The family currently has a lawsuit in the Sixth Circuit Court of Appeals.
Following the press conference, the group marched to the ICE office. However they were not allowed to enter the building to deliver their immediate demands, which are 1) a public town hall meeting with Rebecca Aducci, director of U.S. Immigration and Customs Enforcement in Detroit, 2) an end to ICE involvement with the "D1" multi-jurisdictional taskforce and 3) calling on Mayor Duggan to end the multi-jurisdictional taskforce operation in Detroit. The struggle continues.
July-August 2015, ATC 177