Against the Current, No. 172, September/October 2014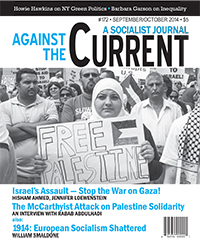 THE MICHIGAN CONSTITUTION guarantees that pensions earned by government workers will not be reduced. Bankruptcy Judge Steven Rhodes nonetheless ruled that federal bankruptcy law trumps the state constitution.
Each Detroit city worker with a vested pension was mailed a ballot to accept negotiated cutbacks, or face massive cuts of nearly 30%. Sensing that the outcome had already been decided, the majority of the 32,000 Detroit city workers and pensioners did not bother to cast a vote on "Your pension or your life."
• Uniformed personnel — including 3,272 active police officers and firefighters as well as 9,054 retirees — who do not receive Social Security benefits and whose pension averages an annual $30,600 were demanded to allow their cost-of-living-adjustment (COLA) to be cut in half. Otherwise, Emergency Manager Orr would gut their COLA, an 18% loss.
• For general city retirees, whose average annual pension is $19,200, a Yes vote meant a 4.5% reduction in their pension, plus elimination of COLA. Otherwise the cuts would total 29%. The city also plans to recoup $230 million in "excess interest" credited to workers' annuity savings accounts from the General Retirement System.
Of those turning in their ballots last July, 82% of the uniformed officers and 73% of the general city workers accepted the cuts. Part of the bait encouraging a Yes vote was an $814 million "grand bargain" contributed by foundations, corporations and $195 million from the state. Previously these workers and retirees lost a 90% cut in their health care benefits.
Without a massive work stoppage and civil disobedience, the bankruptcy grinds on. Meanwhile, a holdout faction of bond insurers and hedge funds holding city debt are demanding that the bankruptcy court reject the "grand bargain," compel a sale of the Detroit Institute of Arts collection, and impose on city workers the same cuts (up to 90%) they're facing — in short, "your pension and your life."
September/October 2014, ATC 172