Against the Current, No. 167, November/December 2013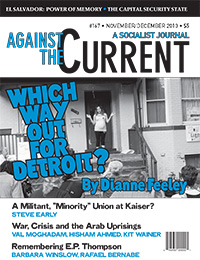 AS A RETIRED autoworker active in pre­venting further home foreclosures in Detroit, I consider two of the most urgent issues to be unemployment (45.3% according to the U.S. Census Bureau, 2012) and evictions. These indicators reflect the poverty of the city — where 35% live below the poverty line according to the 2009 U.S. Census.
Additional statistics include shocking infant mortality rates (13.5 per 1,000 live births, or twice as high as Michigan's rate as a whole), along with high rates of industrial pollution and brownfields (an EPA report cited 45,000 separate places). Adults have an asthma rate 50% higher than anywhere else in Michigan; the rate is twice as high for children. Lead poisoning is still a major problem, particularly for the city's youth.
Yet no state or federal official offering to "help" the city mentions these structural problems. Most recently we were treated to a plan, announced by White House National Economic Council director Gene Sperling, which earmarks $300 million in new and repurposed grants for demolition of homes and commercial buildings. Following a September closed-door roundtable with city and state officials, Sperling reported to the media that Don Graves, a deputy assistant U.S. Treasury secretary, would be the on-the-ground "point person" for the Obama administration.
U.S. Housing and Urban Development Secretary Shaun Donovan stated, "We all believe this will be one of the great comeback stories in the history of American cities." Central is a three-person blight task force that will lay out "a real time line and resources to get it done."
The task force is composed of Dan Gilbert, founder and chair of Quicken Loans, who has bought up and renovated premier downtown buildings (he controls more than 40) and even installed hundreds of surveillance cameras throughout the area; Glenda Price, president of the Detroit Public Schools Foundation and member of the city's Financial Advisory Board; and Linda Smith, executive director of U-Snap-Bac, a nonprofit coalition that includes businesses and banks.
Detroit mayor Dave Bing pledged to tear down 10,000 abandoned homes. Donovan reported that this target will be met by the time Bing leaves office at the end of the year, but still prioritizes demolition funding.
That same day, the former Emergency Manager for the Detroit Public Schools and former General Motors executive Roy Roberts was named the city's chief land officer. In his acceptance, Roberts stated that land is the city's most valuable resource. He stated that the goal is to find the most "efficient and appropriate" way to utilize it.
Certainly there are thousands of abandoned homes and buildings now beyond repair, which need to be knocked down. But thousands more could be rehabbed and made livable for folks who desperately need housing. That's not necessarily what Roy Roberts, developers and land speculators might find "efficient." In any case, with 70,000 abandoned properties and 40,000 homes being auctioned off for back taxes this year alone, $300 million is not even seed money for the city's turnaround.
The Bankruptcy Plan
The state's plan, after concluding that Detroit's debt is $18-20 billion, is to take the city into bankruptcy and see how many assets can be sold, how many services outsourced or privatized, how much can they weasel out of obligations to the city's retirees, and how many concessions can they demand from a 9,700-person workforce whose wages have been cut by 20% over the past three years.
The average yearly pension for 11, 970 retired city workers is $19,600. There are 8,000 police and firefighter retirees drawing a whopping $30,000. The latter do not draw Social Security (their pension plans were intended to substitute for that).
Although the Michigan Constitution guarantees that pension benefits for government workers will not be cut, some claim federal bankruptcy law could trump the state constitution.
Last March, governor Rick Snyder appointed Kevyn Orr, a lawyer who shepherded Chrysler through its bankruptcy, as the city's Emergency Manager. Three days beforehand, mayor Bing selected Jones Day, the law firm of which Orr was a partner, to guide the city's restructuring plan.
Jones Day did not submit the lowest bid, yet its contract was eventually approved by the City Council. By the summer, the firm had billed for $3.35 million; it is expected that the various law firms involved will net $100 million from their bankruptcy work. According to Krystal Crittendon, who opposed the bankruptcy as the city's Corporation Counsel and ended up being fired by the mayor, the city has already spent $62 million on various consultants.
On July 18 Orr asked federal court to approve the city's bankruptcy. On August 2, in an interview with the Wall Street Journal, Orr identified Detroit's problem as being "For a long time the city was dumb, lazy, happy and rich."
Orr later apologized for being "not as sensitive as perhaps I should have been," but was obviously surprised that anyone would have interpreted his remark as an insult. In addition to being a slap in the face, it is an example of how both appointed and elected officials blame Detroiters for the devastation we face.
Perhaps he was calling Detroiters "dumb" for electing former mayor Kwame Kilpatrick, who considered the city's finances his own. Subsequently he, his father and best friend Bobby Ferguson have all been found guilty of massive corruption.
The problem however, goes way beyond corrupt politicians. For the past 50 years corporations have moved out of the city and the working class, particularly the white working class, followed. Of the 33 auto plants built in Metro Detroit following World War II, none were in the city. The east side alone lost 70,000 jobs in the 1950s, as Hudson and Packard shut their doors.
Federal Housing Administration policies reinforced segregated housing patterns by redlining neighborhoods. Under president Eisenhower federal money built highways that facilitated the move to the suburbs, carved up the city and paved over historic Black neighborhoods.
And the dynamic never stopped. Between 2000 and 2010 one quarter of Detroiters left the city. They left even when they had jobs — like many of my mostly Black co-workers at an auto plant — because the public schools were taken over by the state and strangled, because workers were afraid of violence in their neighborhoods, because car and home insurance rates are higher in Detroit, because there are few stores, because their neighborhoods were destroyed by evictions.
As a result, better-paid workers — whether we are talking about autoworkers or teachers or firefighters — don't live within the city. At this point it's not just whites who have left, but a large section of the African-American working and middle class. Detroit sits in the most segregated metropolitian area in the country. The city itself is 84% African American, 6% Latino, 1% Native American and 9% white. Some of the surrounding suburbs, like Livonia, are among the whitest in America. You can predict the difference in incomes.
Since many African Americans in the city own their own homes, plans for a "blight task force" are not reassuring. "Blight," both real and invented, is just another way to dispossess Black homeowners.
For the last 30 years Detroit's mayors have spent big money reshaping downtown. We now have baseball and football stadiums, with another sports complex in the works. We have a downtown Riverwalk, and new restaurants and refurbished theatres, but 70% of our parks are not kept up, four in every 10 streetlights don't work and response time for fires is twice the national average.
It seems obscene for the state to agree to allot $325 million or so to "help" Mike Ilitch — owner of Little Caesar's Pizza, the Tigers baseball club as well as the hockey Red Wings — construct a downtown entertainment complex while cutting the annual revenue sharing for Detroit from $333 million in 2002 to $173 million in 2012.
For his part, the mayor saw as unimportant the fact that Ilitch's Olympia Entertainment owes the city $1.5 million in unpaid property taxes on the Joe Louis Arena, where the Red Wings play.
Bank Loans
Since 2005 several banks, including Bank of America, UBS and JP Morgan Chase issued $3.7 billion in city bonds. Just in underwriting expenses, bond insurance and handling "interest-rate swaps," off-the-top fees totaled $124 million. The city leaders gambled away another $439 million on these swaps, betting that variable rates would go up; the opposite happened. (After the rates went back up, actual losses turned out to be closer to $343.6 million.)
Contained in the swap agreements are "termination" clauses requiring accelerated payments if Detroit's credit rating falls below a certain level, or if the governor appoints an emergency manager. While those events have happened, it seems that the banks decided to forgo collecting their full and up-front payment. Instead UBS and Bank of America decided to take 75 cents for every dollar of the swap money.
Then mayor Kwame Kilpatrick borrowed $1.4 billion from UBS in order to meet pension obligations, paying $46.4 million in fees. The following year UBS sold $948.5 million in bonds to the city, collecting $61.8 million in fees and insurance.
Last year when the city ran into a cash flow problem but couldn't arrange a loan, the city was able to obtain a $129.5 million bond through the intercession of the Michigan Finance Authority. Underwritten by the Bank of America, the loan carried a $1.6 million fee. (Part of the fee went to service an earlier loan.)
Over the years Detroit's bond rating for unsecured bonds has continued to decline. By July 2013 Moody's gave the city a "Ca" rating while Standard and Poor's and Fitch assigned it a "C."
Approximately half the city's bonds are backed by revenues (taxes, casino revenues, etc.) while the other half are unsecured. Orr is demanding that those in the latter category must be willing to settle for 10 cents on the dollar.
Somewhere between $5.7-6.4 billion of the unsecured loans are retiree health care costs. This will be an easier commitment for the city to wiggle out from under than constitutionally guaranteed retiree pensions. The existence of Medicare for those over 65, and the Affordable Care Act for those under 65, gives the illusion that city retirees would still have coverage. (For retirees under 65 Orr proposes a $125 monthly payment toward their purchasing insurance.)
After filing for bankruptcy, Orr had the gall to borrow $350 million from Barclays Bank, setting aside $230 million to pay off the banks for the swap deal. He announced that the remaining $120 million would go toward improving city services. The loan comes with a floating minimum 3.5% interest rate and was secured with the promise of future casino tax revenues.
Bankruptcy?
On October 15 U.S. Bankruptcy Judge Steven Rhodes began hearings to determine whether to approve Orr's request to declare the city bankrupt. Union officials and public figures, such as city councilwoman Joann Watson and former city attorney Crittendon, maintain that the law giving Orr authority to request bankruptcy is invalid. They argue that 2.3 million Michigan voters repealed the Emergency Manager law last November in a referendum and therefore the passage and implementation of a subsequent Emergency Manager law, is illegal.
On October 23, when the hearing resumes, a variety of organizations — including AFSCME, SEIU, Detroiters Resisting Emergency Management, Moratorium NOW! and National Action Network — will demonstrate their opposition to a bankruptcy ruling.
If Rhodes does find the bankruptcy request in order, Orr will ask for approval of the swap payment.
Since there will undoubtedly be legal challenges to Orr's attempt to reduce retiree pensions, he is primarily focusing on a low-ball acturial report that concluded retiree pensions are less than 80% funded. Under this scenario, the Emergency Manager law gives Orr the authority to dismiss the directors and place the state treasurer in charge.
As of December 31 pensions for the current work force lucky enough to be vested will be frozen. Those with less than eight or ten years of service will get their contribution back and all will become eligible for a 401(k)-style plan.
Foreclosures and Evictions
Since 2009 there have been more than 70,000 foreclosures in Detroit; according to HUD 45,000 houses sit empty. This year another 40,000 homes are to be auctioned off by Wayne County for non-payment of taxes — the city turns over to the county all residential properties that are two years behind. There is no requirement that homeowners be informed; the only notice necessary is placing an ad in the paper.
Both mortgages and taxes are based on inflated prices, not market values. For example, the Hernandez family living just a half-block away from my apartment, is faced with an eviction order unless they pay $83,000 for a home worth $10,000-15,000.
During the economic crisis the husband lost his job and because they don't read English, they missed the deadline for negotiating to stay in their home. At a sheriff's sale their home was sold to Fannie Mae, an agency of the federal government.
The family did meet with a person they believed to be a mortgage representative working for a reputable company. He told them they could buy their home through him for $15,000. They gave him their life savings, but the eviction notices continued. They have since gone to the attorney general about the fraud; meanwhile Fannie Mae refuses to let them stay in their home unless they purchase it at the inflated price.
Detroit Eviction Defense has been working with the Hernandez family. A nonprofit agency, Southwest Solutions, is willing to buy the home at market value and help the family to stay in their home. But Fannie Mae will not suspend its order and negotiate.
Since the eviction order was issued in early October, our committee has mounted a 12-hour watch every weekday. Our aim is to prevent a dumpster from being placed in front of their home. In Detroit this signals that occupants must move within three days or the sheriff's office will remove their belongings. The house is then padlocked. (See detroitevictiondefense.org for further details on this and other cases.)
On either side of the Hernandez house are vacant houses; one has been vandalized, with the hot water heater and all the copper pipes removed. The house at the end of the block used to be a beautiful old house — but now sits half burned. With a total of seven unoccupied houses on the block, the last thing the neighborhood needs is another vacant home!
Our committee has picketed banks — including Bank of America and Flagstar — to pressure them to negotiate with homeowners facing foreclosure. We go into court with the homeowner and when his/her name is called, we all stand so that the judge can see the homeowner is not fighting alone. We work with movement lawyers and hold legal clinics to make sure homeowners understand their rights.
We also publicize the existence of federal programs such as the Hardest Hit Fund, which operates in 16 states including Michigan. (Only 16% of the $7.6 billion that is meant to help distressed homeowners has been distributed.)
We work with other organizations and unions to present our cases directly to Fannie Mae. And we have uncovered Fannie Mae's complicity with the banks.
Fannie Mae, banks and other government agencies should cease their arrogant attitude that homeowners are somehow irresponsible because they were unable to manage their mortgage or taxes. Instead homes should be reset to market value. We also demand an end to foreclosures that are destroying our neighborhoods.
Possible Strategies
There have been articles in various newspapers about the viability of selling off city assets, including the animals in the Detroit zoo, or some of the 6,000 works of art that were purchased by the city for the Detroit Institute of Arts. Not surprisingly these ideas have not resulted in sizable money-generating possibilities; even the rightwing Michigan legislature voted that the DIA should not be plundered in order to satisfy bankruptcy.
Probably the most prized city asset is the Detroit Water and Sewerage Department. Its system, built over 150 years, draws water from Lake Huron and the Detroit River; it serves 40% of the state's population. The current plan is to save nearly $100 million a year by reducing the permanent work force more than 80% and replacing them with over 300 contract workers. We are told that the water system, if leased or sold, might be a real money maker.
There are similar proposals for outsourcing or privatizing other city services. Today's city-owned but antiquated light and power would go out of business, taken over by DTE Energy.
All these proposals are continuations of a neoliberal agenda that asserts cutbacks, downsizing and outsourcing will magically lead to stability. This formula doesn't result in a healthy city, but rather one with still fewer jobs, a smaller tax base and deteriorating infrastructure.
One alternative would be to regionalize the infrastructure and government of Metro Detroit. While Detroit's population continues to decline, Metro Detroit stands at a robust four million. However, this idea doesn't have a snowball's chance. Detroit has been demonized as a dangerous and Black city by politicians and the media. We are constantly portrayed as living beyond our means, doubly so because Kilpatrick was corrupt.
The harsh reality is that when regionalization has been carried out, it has been to the disadvantage of Detroiters. Most recently is the case of the city/suburban bus systems. When the Governor placed funding in the hands of SEMCOG (South East Michigan Council of Governments), suddenly the longstanding 65% (city)-35% (suburban) funding ratio was altered to give the suburbs the majority of the funding for capital improvements (51.5%).
This was justified supposedly because Detroit has newer buses. Yet the annual ridership in Detroit is 34.9 million while only 11.1 million ride the suburban buses.
A positive strategy would recognize that Detroit is a poor city that needs additional resources.
• Instead of the state of Michigan stiffing its cities by returning fewer dollars from revenue-sharing taxes, the Governor and legislature should restore funding. Over the last decade, according to the Michigan Municipal League, state revenue-sharing to cities fell by 28%. Others maintain that the decline for Detroit is closer to 50%.
• End the takeover of Detroit's city government and its public schools. Instead of spending millions on consultants, set up neighborhood task forces to develop programs for what communities need.
• Develop a jobs program particularly geared to Detroiters. The employment rate for adult Detroiters is the lowest of all the big cities (49.8% in 2012 according to the Bureau of Labor Statistics). Further, fully 40% of Detroiters who work in the suburbs make less than $15,000 a year; they need to upgrade their skills and move into better jobs. Detroit could rebuild itself as a manufacturing center for the development of a national mass transportation system. Situated on the Great Lakes, it is a logical ecological site where alternatives to fossil fuel can be developed and where urban farming is flourishing.
• Stop foreclosures and evictions. Keep residents in their homes and work with community block clubs to stop the stripping of vacant buildings.
• Hold Fannie Mae and the banks re­spon­sible for the destruction of the empty homes they now own.
• Revitalize neighborhoods by insuring that public schools, parks and community centers receive adequate resources.
• Build a quality transportation system for the whole city, not just for the downtown corridor. Link it with the metro area.
• Pass legislation that requires Detroit employers to withhold city taxes for non-residents and suburban employers to withhold city taxes for Detroiters. This loss amounts to at least a couple hundred million a year.
• Organize a task force to audit the deals city politicians made with the banks. The outrageous fees and termination conditions are the tip of the iceberg.
Some analysts have argued that Detroit is a paradigm for other cities, while others have maintained the city is an outlier. It is true that Detroit has a weaker economy and has suffered greater devastation than most. And I believe it has been easier for America to allow its racist assumptions to run wild about Detroit.
But Detroit is definitely a paradigm. If the city's gentrifying downtown can expand on land formerly owned by African Americans, if retirees can be stripped of their health care and take a beating on their pensions, if pension boards are taken over by Wall Street, then the formula developed to destroy Detroit can be used to target others,
Without expanding Social Security and Medicare, people will become more vulnerable. The politics of austerity hit places like Detroit first and hardest.
Capitalism is a voracious system that is always moving on to some other place, some other product in order to reinvent itself. Can we end it before it destroys us?
November/December 2013, ATC 167