Against the Current, No. 163, March/April 2013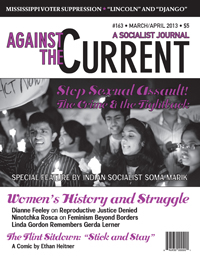 THE GENERAL MOTORS subsidiary in Colombia, Colmotores, fired over 200 workers who were injured on the job, ranging from spinal fractures to cancer. To disappear medical records, falsify documents, and hide evidence of poor working conditions, Colmotores resorted to bribing judges, lawyers, journalists and public officials, particularly from the Ministry of Labor and Ministry of Social Protection.
During the economic crises of 2008-09, Colmotores maximized profits as other plants in Latin America faced decreased profits or bankruptcy. Colmotores increased production from approximately 80 cars per day on a mixed assembly line, to 140.
GM's tactics of firing workers, decreasing pay, and increasing production is part of its global strategy to maximize profits. GM CEO Daniel Akerson received a salary of $7.7 million in 2011, while the company made a record-high profit of $7.6 billion.
In May 2011, workers organized the Association of Injured and Ex-Workers of General Motors Colombia (ASOTRECOL) to demand job rehiring, medical care, compensation for lost wages, and union recognition. That August 68 ASOTRECOL members launched a tent occupation — 24 hours a day, 7 days a week — in front of the U.S. Embassy in the capital city, Bogotá.
Their purpose is to highlight the injustice committed against workers at the hands of a corporation owned in large part by U.S. taxpayers. In bailing out GM, the U.S. government became a major investor. As of March 21, 2012, it still owned 32%.
The United States also provides hundreds of millions of dollars in annual military aid to the Colombian government. The Colombian military and the right-wing death squads linked to it use that aid to murder and terrorize unionists, peasants, Afro-Colombians, and indigenous peoples. The International Trade Union Confederation documented 35 murders of trade unionists, 10 attempted murders, and 342 death threats in 2012.
By ignoring ASOTRECOL's demands for justice, GM and the U.S. government perpetuate the violent conditions that make Colombia the most dangerous country in the world for labor organizers. Only five percent of the economically active population belongs to trade unions, and only one percent of Colombian workers are covered by a collective bargaining agreement — even worse than in the United States.
The U.S. and Colombian governments recently signed a "free-trade" agreement (FTA), accompanied with a "Labor Action Plan" that would allegedly defend the rights of workers. The very logic of free-trade agreements run counter to the rights of workers. The goal is to expand corporate access to cheap labor, natural resources, and markets while freeing them from environmental laws and other regulations that protect workers and the general public. These conditions make Colombia a profitable "business-friendly" country for multinational corporations.
Hunger Strike for Justice
On the one-year anniversary of the tent encampment, 11 workers launched a hunger strike with their lips sewn shut. On day 22 Colmotores, while refusing to rehire workers, agreed to a financial settlement, offering $5,000 in total sum to 12 workers as part of a street vendor "job retraining" program.
Colmotores then offered $30,000 per worker. Since workers range from age 28 to 42, and with 74 being the age of retirement in Colombia, this amounted to $1,000 per disabled worker and family per year until retirement. For some perspective, spinal surgery alone costs $50,000. GM called their original offer "generous."
While there are at least 200 fired workers, each worker has family members that have been impacted by GM's actions; families lack access to food, shelter, and medical care. Describing their desperate situation, Sandra Patricia Casta B., wife of injured GM worker Ferney Rodrigues, stated:
"I have seen how my husband collapses from economic problems, from the lack of sustenance of our two children. My eight year old asks why her father cannot be in the house with her, why he is not happy like he was before, why he has his mouth sewn shut, why she has seen him so sick, and other questions that I do not know how to respond to. [My twelve year old son] has a disability (spastic cerebral palsy) [but] following my husband's dismissal [my son] no longer receives what he needs for his well-being to have the dignified life he deserves.
Last August Col­motores abandoned the bargaining table and on September 3rd seven workers started their second hunger strike, which lasted 17 days. On September 4 the president of ASOTRECOL, Jorge Parra, flew to Detroit to demand direct negotiations with GM headquarters."
Parra and five other workers, including former UAW 140 Local President Melvin Thompson, started a third hunger strike last November, most with their mouths sewn shut. While others starved for a month, Parra's strike lasted 72 days. He lifted his fast in response to anticipation of a close cooperation between ASOTRECOL and U.S. labor in working for a just resolution with General Motors at the corporate level."
The U.S. solidarity campaign, a coalition group consisting of union members and several social justice organizations based in Detroit, Ypsilanti, Portland, Dallas, Washington DC and New York, have organized dozens of protests, fundraisers, candle-light vigils, mic-checks at auto shows, and 76,000 signatures delivered to GM demanding immediate negotiations.
Supporters recognize, particularly those based in newly "right to work" Michigan, that it's politically strategic and imperative that workers confront how neoliberalism, and global capitalism, structures and connects the working conditions and struggles of all workers.
For regular updates visit: asotrecol.com and facebook.com/SolidaritywithGMhungerstrikers. You can send a donation check payable to "Wellspring UCC" with "Colombia relief" on the memo line. Mailing address: Wellspring UCC, Box 508, Centreville, VA 20122. Or visit: www.wellspringucc.org. Write "Colombia relief" on the message subject line. A fee (less than 3%) is taken out of online bank donations, with a fee closer to 6% for credit cards. Once a week these funds will be sent to the workers.
March/April 2013, ATC 163