Against the Current, No. 161, November/December 2012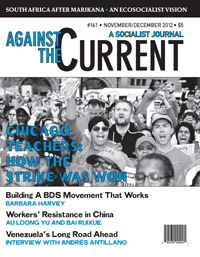 IN 1936, JUST out of high school, Olen Ham got a job working in the Buick foundry in Flint. It was the dirtiest and hottest place to work. There was no ventilation, no safety standards, no breaks. The wage was 52 cents an hour for men and six cents less for women, although the work was often the same.
He started work just a few months before the 44-day sitdown strike forced General Motors to negotiate with the workers and recognize the UAW. During the strike his job was to walk the picket line and built support for the sitdowners inside.
When the GM workers won, both men and women made a dollar an hour.
In 2010, when autoworkers at the GM plant at Lake Orion learned that their plant was going to become a 100% two-tier plant, starting with 40% at the lower wage, he heard about the protest planned in front of the gates at the UAW headquarters in Detroit, and traveled down from the Flint area to participate. He wore a UAW jacket with a button that said, "Hands Off My Pension." As one of the last survivors of the 1936-37 sitdown strike, he knew what two-tier wages meant and told the crowd, "Don't let them roll you back!"
His solidarity will be remembered by a new generation of workers.
November/December 2012, ATC 161