Against the Current, No. 152, May/June 2011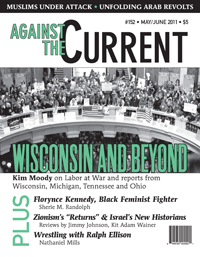 ALMOST SIXTY MORE Detroit public schools are to be closed over the next two years — with up to 45 open to being taken over by charter operators. This is the "Renaissance 2012 Plan" developed by state-appointed "Emergency Financial Manager" Robert Bobb. As Bobb's two-year term ends it appears to have been a pilot project for the wholesale and anti-democratic restructuring of local governance.
Following his appointment by then-Governor Jennifer Granholm (Democrat), Bobb arrogantly refused to work with the elected Detroit Public School (DPS) Board. He hired incompetent consultants* at astronomical salaries and closed schools — resulting in 10,000 students per year leaving the district for public schools in neighboring towns or for charter schools. Bobb also outsourced transportation and janitorial services, authorized construction of several new, overpriced schools and signed a $40 million contract with Houghton-Mifflin — the largest book purchase in U.S. history. In two years' time Bobb has managed to drive up the DPS debt by more than $100 million.
Answerable only to the Governor, Robert Bobb received a salary of $280,000 per year, with foundations chipping in to raise that to over $400,000. An administrator with a questionable background, Robert Bobb has nonetheless been praised by Secretary of Education Arnie Duncan as well as by the local media.
The school board took Bobb to court and won, claiming that his one-man dictatorship over academic programming overstepped his mandate as a financial administrator. Citing this dispute, the pro-charter and anti-union Detroit News editorialized:
"There's no point in the governor putting in place a financial manager, only to have that person distracted by constant court challenges. The existing law [under which Bobb was appointed] is too vague in defining the manager's powers. The new version, if passed as expected, will sharpen those definitions. It will free the manager from the meddling of the elected boards, councils and mayors…." (March 13, 2011)
What is that "new version"? The Local Government and School District Fiscal Accountability Act, quickly passed by the new rightwing legislature and happily signed by newly inaugurated Governor Rick Snyder (Republican) on March 15, hands superpowers over to Emergency Managers, no longer just "Financial." These are to be appointed by the governor to take over deficit-ridden municipalities as well as school districts. The Detroit News estimates that as many as 300 Michigan communities and districts are currently in financial trouble
An initial group of 65 potential Emergency Managers, primarily Certified Public Accountants and lawyers, received a two-day training in the duties of managers, with a batch of more than 200 enrolled for the April course. Managers are immune from liability and will be defended by the attorney general while acting under the authority of the legislation. Any legal expense incurred by the attorney general defending a lawsuit brought by a local government is to be reimbursed by that same local government.
Bobb's plan is to close low-performing schools and convert them into DPS-authorized charters. The charter operators would lease the buildings from the district, bringing in an estimated $21.85 million in revenue.
But community activists argue that the district would lose state and federal funding as students leave DPS schools. As critic Russ Bellant points out, the proposed loss of these schools "will cripple the ability of the remaining schools to function."
Tax the Poor, Attack the Workers
As for the upcoming state budget deficit of nearly two billion dollars, the governor proposes eliminating the earned income tax credit for families of the working poor and demanding $180 million in concessions from state employees, while cutting the state contribution to schools by $470 per pupil.
Snyder also wants to revisit the state's revenue sharing with counties and municipalities. For the past 75 years, the state has collected taxes and fees and funneled a percentage to local governments. In fact in 1963 this revenue sharing was written into the state constitution. Snyder's idea is to tie some of the revenue to rewarding local governments that come up with innovative cost-cutting solutions. Top on the suggested list of solutions is more union givebacks.
Since Michigan has suffered from a decade-long recession, all these proposals for trimming the state budget will result in cutting even further into public services and attacking wages and benefits of those working for state or local governments.
The Michigan AFL-CIO has called for a series of lobbying days and rallies at the Capitol in Lansing against 40 anti-worker bills. These first attracted 1,000-2,000 but on March 16, the day the Accountability Act went into effect, 5,000-8,000 turned out, many with homemade signs that reflected a determination to fight against the vicious attack: firefighters and office workers; Lansing teachers who came during their lunch break; and other teachers from the area who carpooled to the rally after school.
Particularly impressive were the number of auto and steel workers, who understood the level of attack and stood with public sector workers. Speakers at a series of three rallies over the course of the afternoon didn't offer much of a strategy beyond electing Democrats in 2012, although a couple of others called for a constitutional amendment guaranteeing collective bargaining rights. This seemed both naïve, given the composition of the legislature, and narrow, given the level of attack not just on unions but on working people and their democratic right to elect their representatives.
The History of Emergency Managers
Managers, under a 20-year old law, are currently in place in three Michigan cities — Benton Harbor, Ecorse and Pontiac — and the Detroit Public Schools. All of these populations are majority African American. Both Ecorse, which once was a steel town, and Pontiac, where GM closed a sprawling truck and bus plant, have been devastated by the loss of a primary manufacturing facility.
Although Benton Harbor is the headquarters of Whirlpool Corporation and sits on Lake Michigan, it is the poorest town in the state. Legally stripped of a public lakefront park that was deeded to the town in perpetuity, Benton Harbor has seen the park turned into a private golf course. The Emergency Financial Manager has issued an order striping all city boards and commissions of their authority to take action.
For Detroit's schools, this is the second state takeover. The first, under Republican Governor John Engler, resulted in saddling the school system with a $200 million debt.
The Mackinac Center for Public Policy, a rightwing think tank whose biggest funder in 2002-06 period was the Dow Foundation, first advocated handing managers more "tools" than those outlined in the previous legislation. Louis H. Schimmel, Jr., who served as Emergency Financial Manager for the city of Hamtramck and an adjunct scholar with the Center, outlined four necessary changes in a 2005 website article:
1. Make the manager an employee of the state treasury department with access to the attorney general's legal staff so that he/she would be defended by the state. This would discourage "frivolous lawsuits."
2. Give the manager the powers of the governing body that is being taken over (mayor and city council or school board).
3. The manager should have the power to review charter provisions that "frustrate the process of cleaning up and streamlining a municipality's financial functions."
4. Repeal Act 312, which mandated binding arbitration when a municipality and a union cannot agree on a new contract. Thus, the author added, Michigan could remove "the shackles preventing the purchase of municipal services at the lowest cost."
Despite the passage of the Act and the existence of more than three dozen proposed anti-worker bills, the Michigan AFL-CIO hasn't developed a strategy for taking them on. Will each community, each school district be left to wage an individual fight?
Interestingly enough, the only strategic perspective has come from the Michigan Education Association, which has asked its 110 locals to discuss possible job actions. What is positive about this proposal for a discussion is that it seeks to involve teachers at a grassroots level. And they are more likely to understand the need to build community involvement in any activity or series of activities.
ATC 152, May-June 2011