Against the Current, No. 150, January/February 2011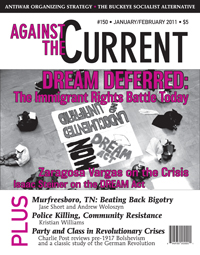 THE MUSICIANS OF the Detroit Symphony Orchestra have been on strike since October 4, 2010. Thirty-five concerts have been cancelled, while the musicians have organized nine magnificent performances with guest conductors in various churches and synagogues in the area. They charged $20 admission and got their friends to volunteer to be ushers and ticket sellers. At a concert of 1100 I attended in a Grosse Pointe Woods church, parishioners seated on either side of me were attending their first symphonic concert.
The DSO was founded in 1914 and remains one of the city's cultural jewels. Its home is the elegant and acoustically superb Orchestra Hall. At various moments over the years the symphony has fallen on hard times, but as negotiations opened for the 2010 contract management — claiming a $8.8 million deficit, including a $6.7 million operating shortfall — demanded that the musicians take a 32% pay cut, with a reduction in health care coverage, a freeze in pensions, and an end to tenure.
Musicians would have less say over artistic decisions. The orchestra was to be reduced from 96 to 85; the work year lowered to 32 weeks, during three of which musicians were to perform a variety of non-musical tasks. Two fulltime librarians were to be severed from the contract, their pay slashed 40%. Management even demanded elimination of the provision that ensures temperature control for the musicians' instruments.
The DSO musicians knew this would be a difficult negotiation and began organizing themselves. They led off the Detroit's Labor Day Parade, dressed in their formal black attire, playing their instruments, and passing out leaflets about the proposed contract negotiations.
Given the economic crisis, the DSO musicians indicated they were willing to accept pay cuts, but were concerned that any concession they might make not destroy the quality of the orchestra. For this reason, they refused to consider a three-tier structure that would mean newly hired musicians would never earn what seasoned players earn. They were determined to protect the librarians, as well as their participation in artistic decisions. (In 1987 the musicians struck for three months, demanding the replacement of a conductor they saw as incompetent.)
The musicians, members of American Federation of Musicians (AFM) Local 5, offered a 22% pay cut and specific recommendations about how that could be implemented so it would not severely impact newly accepted musicians. They also outlined a wage recovery program spread over two years. When management would not budge, they filed unfair labor practices charges, set up a web page (http://www.detroitsymphonymusicians.org), began planning their own concerts and selling their own CDs.
Over the course of the strike, the musicians have continually indicated their willingness to negotiate. On December 16 they accepted Governor Jennifer Granholm and U.S. Senator Carl Levin's contract proposal and were prepared to return to the bargaining table to work out details, but DSO Board President Stanley Frankel stated that the package was "beyond what every consultant and our board have said is feasible."
The musicians have pointed out that it is not mainly the current economic crisis that has led to the DSO deficit. They maintain that it is a series of management decisions, including poor stock market investments, that are bleeding the DSO by $3 million a year and threaten foreclosure on The Max, a $60 million addition that has not proved financially viable. They criticize management's talk of austerity while Ann Parsons, the DSO's president and CEO, earned almost $415,000 last year. In fact, between 2005-09 her salary package increased 10%.
Management seems content to downsize, but the musicians want to maintain a world-renowned orchestra, asking:
"Why has management decided to take a stand that will force Detroit audiences to hear a "DSO lite" despite the fact that no business ever solved a financial problem by offering an inferior product to the public?
"Why has management chosen to take a stand that discards more than 100 years of a tradition of excellence, a stand that means the people of Detroit, their children, and their children's children may lose the opportunity they deserve to continue hearing great music performed at the highest level?"
ATC 150, January-February 2011