Against the Current, No. 145, March/April 2010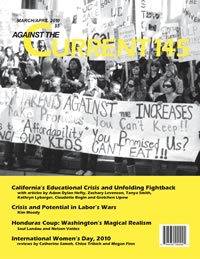 WHILE THE COUP in Honduras was successful, in Guatemala an attempted "cold" coup unraveled. Rodrigo Rosenberg was murdered on May 10, 2009; the following day the media ran a video filmed shortly before his death. In it Rosenberg stated that if he were killed, President Alvaro Colom and his wife were responsible.
At least two demonstrations against Colom and his wife, who administers the country's Social Cohesion programs, took place even before the scandal erupted.
Why attempt to overthrow the Colom administration? Colom has declared his presidency to be a "social democratic" one. Sandra Torres de Colom manages the Social Cohesion Funds that distribute funding to the poorest. Her popularity has given rise to the idea that she might run for the following presidential term.
Just as in the case of Honduras, such a slightly left-of-center government that provides some services for the poor or raises the minimum wage is an affront to those who believe they have the right to control the state.
Were the accusations valid? No evidence emerged. It turned out that Luis Mendízabal, an intelligence expert with connections to the military establishment, convinced Rosenberg to make the video and after his death distributed it to the media. Along with Mario David Garcia, Mendízabal was in charge of investigating the failed coups against President Vinicio Cerezo back in 1988 and 1989.
It turned out that Garcia was the person who filmed the Rosenberg video. Both Mendízabal and Garcia are founders of Pro-Reforma, a movement committed to revising the 1985 Constitution, the most progressive in Central America, resulting from negotiations that ended the decades-long civil war in that country.
Thus when President Colom stated that the accusations were part of a conspiracy to destabilize the state, his assertion seemed credible. In a bizarre further twist, an independent UN investigation concluded that Rodrigo Rosenberg had organized his own assassination.
By the end of 2009 the coup seems to have been stopped dead in its tracks. The "white" marches of youth in the capital's parks and squares had been opposed by "green" marches, Congress did not press for impeachment and the Commission against Impunity in Guatemala immediately took charge of the case. For his part, the president offered both cooperation and zero interference.
Although this coup was unsuccessful, it nonetheless indicates that the right wing, in coordination with the military, is willing to risk instability and violence in order to preserve its power.
ATC 145, March-April 2010