Against the Current, No. 137, November/December 2008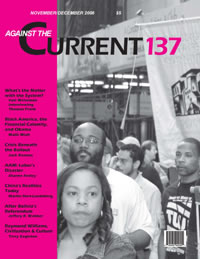 THE 87-DAY STRIKE earlier this year at American Axle & Manufacturing (AAM) ended in a rout that has devastating implications for the organized U.S. labor movement. Begun on a snowy morning early February 26, the strike ended on May 22, a late spring day just before the Memorial Day weekend.
The 3,650 AAM workers at the six plants in Michigan (Detroit and Three Rivers) and in the Buffalo, New York area prepared themselves for the strike: most saved up for months, showed up for picket duty dressed for the freezing winter weather, were articulate on the picket lines about their demands and turned the union halls into community centers.
They wanted to stop all traffic going into the plant, but were given bad advice by representatives from the UAW International – not to stop either foremen or trucks from entering and leaving. This strike, they were told, was an Unfair Labor Practice dispute, and if you don't allow traffic in, the judge will rule against the union.
What was management demanding? For the first time in the auto industry, a profitable company was demanding that the present work force take a permanent cut in pay, from something like $28 an hour for production workers (with cost-of-living adjustment) to $18 an hour. Skilled trades workers would see their wages lowered by $5 an hour. The contract was rewritten with one concession following another. The only "attractive" feature was the signing bonus and buyout money. The company wanted 2,000 to apply for a buyout. (See box of contract "lowlights.")
The Empire Dauch Built
As one of the early GM spinoffs, American Axle has maintained its preferential deal with General Motors, which buys 80% of its products. In 1994 Dick Dauch, a former GM, Chrysler and Volkswagen executive, purchased five GM forge and axle plants with a workforce of 7,500. He built the company into a successful driveline manufacturing operation, upgrading plants and equipment.
Dauch also bought two companies, MSP in Oxford, MI and Colfor in Ohio. Although the UAW represents those workers too, they have inferior contracts with wages set at $14 an hour and benefits to match. Their International rep is not part of the union's AAM department; their contracts expire at different times.
AAM now operates in 29 locations in 11 countries, including Mexico, Brazil, Poland, India, China, and Thailand. Following the strike's settlement, AAM announced that 85% of its new business would be made in non-U.S. operations. More than 50% of the production will now be located outside the country, with 65-70% shipped back.
Clearly any successful strike strategy at the former GM plants would establish long-term relationships with the unions at the MSP, Colfor and Mexican plants. But there is no evidence that more than an 11th hour phone call was made. Production continued at these plants throughout the strike, providing AAM customers with enough products to squeak by. In fact the Guanajuato, Mexico plant increased daily production to 6,000 axles. Rumor was that GM was footing the bill for the transportation costs.
A month into the strike, AAM management placed ads for new hires. The ads didn't list rates or a start date; the company scheduled interviews off-site. When AAM asked the Three River public schools if they could hold interviews there, community support for the strikers nixed the request. Later the company asked if the police department would accompany replacement workers if they were brought into the local airport; again the request was turned aside.
In the Detroit area strikers closely followed AAM's attempt to hire a new work force. They found out which high school the company was using for interviewing potential employees and fed the information back to the UAW reps. Strikers wanted to put up a picket in front of the school, but the reps didn't see that as a priority. Nonetheless a group of strikers went out and picketed.
When a rumor surfaced that AAM might bring applicants onto its Detroit site, strikers and supporters showed up early one Monday morning, stopping traffic in front of a plant for 45 minutes, until police showed up to escort what turned out to be only foremen reporting to work.
The Strike's Progress
Weekly checks were issued for union members who carried out picket or kitchen duty. During that one- or two-day period almost everyone came by to pick up the check. But with the exception of the Three Rivers local, there was no space set aside for strikers to discuss with officers and reps the strike's progress or ways to increase the pressure on the company. However, UAW autoworkers in the surrounding areas were able to express their solidarity through the initiative of individual workers, who collected money at plant gates and organized carpools to the picket lines, as well as through the leadership of local UAW officers.
Particularly over the Easter holiday, Chrysler locals organized a "picnic" at the Detroit plants. They showed up with their barbeque pit, food and a bullhorn. Marching from one plant gate to another, they held a rally in front of AAM's corporate headquarters and then served lunch.
Community groups also demonstrated their support. In Detroit the Michigan Welfare Rights Organization, Detroit Greens and MECAWI, a social justice/antiwar organization, picketed weekly. Trucks and cars driving by honked their support.
During a lunch break at the April Labor Notes conference, about 250 participants packed three buses and more than 30 cars, trucks and vans and drove across town to picket. Strikers were overwhelmed to find out that workers from across the country, and indeed international visitors from places such as Canada, Mexico, Brazil, China, Germany and England wanted to learn about, and support, their struggle.
The UAW International set April 16th for a support rally to be held in Hart Plaza, in downtown Detroit, near General Motors' headquarters. At that point, 30 GM plants had idled shifts or been shut down completely by a lack of parts. These included six assembly plants. Within a week, GM was going to run out of parts for its hot-selling Chevrolet Malibu and Pontiac G6 sedans.
Thousands of leaflets were distributed and it seemed that workers throughout the region were making plans to attend. But two days beforehand, the union cancelled the event. Officials explained that the company led them to believe they were near to a settlement and it would be diplomatic to cancel the event!
The following Sunday, at Local 235's monthly membership meeting, strikers packed the hall and questioned the decision. They knew they needed to escalate the pressure on AAM and GM. Given that the AAM stockholders' meeting was scheduled for the next Thursday, they passed a motion to march to corporate headquarters two blocks away. Those who held stock would go inside and confront management.
One international rep told me that hopefully the strike would be settled by Thursday so we wouldn't need to demonstrate. That remark indicated the rep had no clue for how the strike could be won – not through fancy footwork at the bargaining table but only if AAM was completely shut down. During the strike AAM lost almost $370 million in sales while GM lost $800 million in the first quarter and $1.8 billion in the second, but that wasn't enough.
Two days before the stockholders' meeting, the company broke off negotiations. The UAW International decided to build the strikers' march and rally by asking UAW regional directors to get other locals to send delegations.
By noon the crowd in front of the Local 235 hall was so densely packed the local's leadership decided to begin the march to corporate headquarters (aka "The Glass House"). The marchers walked along the sidewalk and spilled into the street. For almost three hours a crowd of 1,500 to 2,000 milled around, shutting down both corporate entrances. Management called the police, who arrived within a half-hour with a riot squad and a bus to begin a mass arrest.
Although militant, the strikers were in a light-hearted mood as they controlled all but a small passageway through which stockholders entered under police escort. Over the course of the whole afternoon only one striker, Ada Walker, was arrested – and it was pretty clear the officer who arrested her was out of control. After he placed her in a police car, he walked over to taunt those concerned about her arrest, telling them they ought to go out and get a job!
Meanwhile, the media reported that inside the company's offices strikers, who were also stockholders, told CEO Dick Dauch, without raising their voices, that the wage cuts he was demanding would cost them their home and put their children's education in jeopardy.
But the union did not follow up on the momentum unleashed that day.
The Union's Lack of Strategy
It's the UAW International that makes the decision to authorize a strike vote, and negotiates the contract. It's clear they took the AAM workers out on strike without having a strategy. They seemed to think that a profitable company with cash on hand would have to negotiate a fair contract. But Dauch felt that if the UAW had negotiated concessions to the Big Three, he had the right to demand the same.
Aside from assigning strikers to picket duty, the UAW had no plan for using the work force. No committees were set up to secure provisions for the strike kitchen, help families with special needs, or organize community and labor support.
Strikers wanted to follow supply trucks leaving the AAM plant, but beyond reporting what they saw and where it went, the union squelched notions about what could be done. But the purpose of a strike is to deprive the employer of production.
When a group decided to throw up an informational picket line at the plant processing axles made by the AAM foremen, the assumption was that it was a non-union plant. Through leafleting strikers found out that it was a UAW-organized shop and their contract was up the next day! The workers were supportive of the AAM strike – in fact they even had striker relatives.
When the information was brought back to the International rep assigned to work at the local, he didn't see that there was anything to be done.
Clearly the UAW thought it could come up with a contract based on its ability to negotiate with a profitable company. In 2008 they didn't think it necessary to organize a contract campaign, mobilize the membership and cut off production. Instead of forcing GM to place demands on AAM to settle, all UAW officials from President Ronald Gettelfinger on down said they wanted to keep GM "out" of the negotiations.
But GM was backing Dauch. While more than 30 GM plants were forced shut, the company hoarded parts and would plan production at one facility for a period of time, then shut it down in order to start production somewhere else. In the end Dauch forced GM to pony up $218 million to cover some of the early retirement buyouts.
The Information Meeting
Word began leaking out that there was a tentative contract. UAW International President Gettelfinger told the press "It's not a good agreement, but at this juncture it's the best we could do."
Meetings were called for Three Rivers, Detroit and Buffalo. As a retiree I was able to attend the one at a public high school in Detroit. In addition to the officers of the two AAM locals, Gettelfinger and Vice President Jimmy Settles, director of the UAW-AAM department, participated in the discussion.
Former Local 235 President Wendy Thompson laid out a strategy for how the strike could still be won:
* Remove all the concessions from the bargaining table.
* Demand that the UAW International tell GM they will not tolerate their accepting scab parts from AAM. (This tactic was successfully used at Ford during a Johnson Controls strike a few years ago.)
* Double the strike benefits to $400 a week so strikers would have the possibility of holding out; organize an "adopt a worker" program with hardship cases, particularly foreclosure, recommended by the benefit reps.
* Reschedule the Hart Plaza rally and build one in downtown Buffalo.
* Hold weekly rallies in front of AAM headquarters.
* Mobilize strikers and supporters to stop production of scab parts, using civil disobedience tactics if necessary.
* Set up informational picket lines wherever scab parts are being delivered, encouraging those workers to reject inferior materials.
* Set up community outreach to visit unions, churches and community organizations to garner their active support.
The crowd roared its approval. One striker came to the front of the auditorium and pointed to Gettelfinger, indicating that he should get up and answer her. He seemed glued to the chair. Jimmy Settles finally spoke: "Wendy, you're right. In the perfect society that's what should be done. But we live in America, with all these laws that are hostile to working people…."
Here was Jimmy Settles, an African-American UAW International officer, saying that it was impossible to fight against unjust laws. What had the civil rights movement been able to accomplish by refusing to go along with unjust laws? Didn't the birth of the UAW effectively begin with the sit-down strikes in Flint, Michigan and Andersonville, Indiana, actions that were carried out in defiance of the law?
With that the inadequate sound system failed and the meeting came to an end.
Going Back
That was the day the strike collapsed. Local union officials told strikers to continue picketing, but they never did at the Detroit plants. Over the next several days there were a series of formal and informal meetings to discuss the contract. The writing was on the wall: the UAW wasn't going to protect the strikers' jobs if there was a "no" vote, and you could expect scabs bused in following day.
The majority of strikers felt they had two options: vote the contract up and apply for the buyout or vote the contract up and feel lucky to still have a job.
At the Detroit Forge plant about 30% voted against the contract because they wanted to be able to look at themselves in the mirror, but at that point in the strike they didn't propose an alternative strategy.
Over 2,200 strikers have applied for the buyout. Some never went back into the plant; others are working, waiting for their application to be approved. The Buffalo plant is shut, two forge plants are closing at the end of the year and Three Rivers may be on the chopping block next year. Meanwhile Dauch has opened a forging operation in Oxford, MI, where the starting wage is $10 an hour.
Following the contract signing, Dauch was awarded an $8.5 million bonus, according to AAM's press release, on the basis of the company's "strong financial performance in 2007, the structural transformation achieved under our new labor agreements with the UAW and … Dauch's leadership role in these negotiations."
The work force knew why it was on strike and fought to win. In walking the picket lines, strikers reached across the longstanding divisions of skilled trade vs. production, younger and older workers, Blacks and whites, male and female. Strikers struck up new friendships and there was a high level of unity.
Unfortunately that unity isn't particularly evident now that workers are back: One set of workers is frustrated because it put in for the buyout but have to report to work everyday, while the ones staying have seen their pay and benefits slashed and their working conditions deteriorate.
Foremen have been instructed that employees are not supposed to sit during work time so chairs and boxes have been eliminated, and even the picnic tables and benches set up in the plants' rest areas are gone. One worker was written up for leaning against a wall.
Another rule is that workers are only supposed to talk with each other during break. One afternoon, after lunch break, a whole assembly line reported back to work with their mouths taped shut. That seems to indicate that no matter how defeated workers feel right now, they still have a fighting spirit and a sense of collectivity.
This was a strike that could have been won, that had the power and militancy to be able to force the employer to back down. Despite a militant workforce, the strike couldn't be won without a strategy.
ATC 137, November-December 2008