Against the Current, No. 103, March/April 2003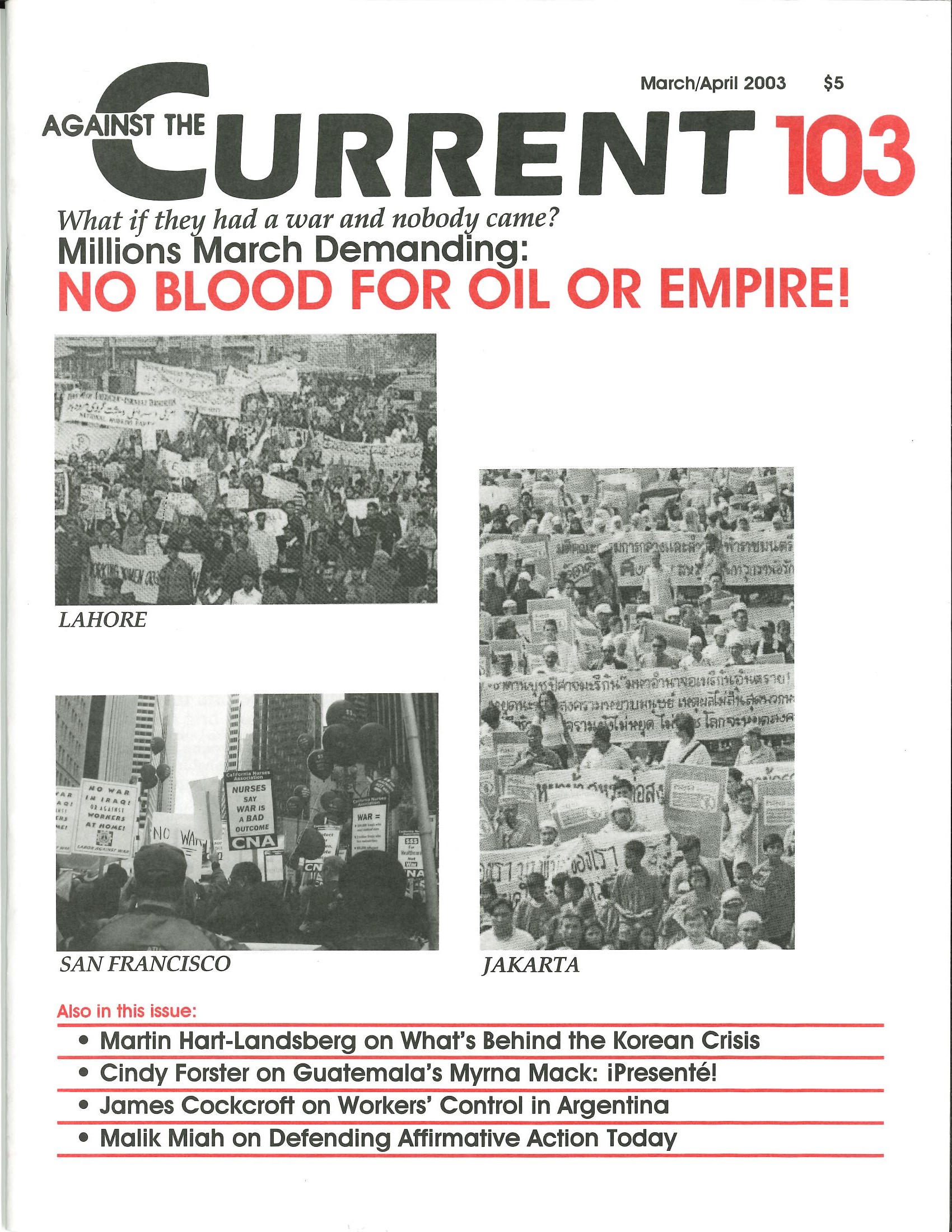 a statement by Civil Rights Veterans
MORE THAN 200 veterans of the Southern Civil Rights Movement and survivors of murdered leaders and activists Martin Luther King, Jr., Vernon Dahmer, Herbert Lee, Louis Allen, Mickey Schwerner, James Chaney and Andrew Goodman are asking the U.S. Supreme Court to uphold affirmative action in higher education, telling the Court, "Don't reverse the progress we fought and sacrificed for."
In a amicus brief filed in the Michigan Law School affirmative action case, Grutter v. Bollinger, the group warned "of the grave threat that the attack on affirmative action poses to the enormous (if imperfect) progress made as a result of the great freedom struggle of the 1950s and 1960s."
Veterans include Congressman John Lewis and Julian Bond, Ezell Blair (one of the first four Greensboro 1960 lunch-counter sit-in participants), Mississippi activist Victoria Gray Adams, Freedom Rider Diane Nash, and former SNCC Chairman Chuck McDew.
In addition to the relatives of murdered rights workers, the group includes "Freedom Riders who were bloodied and nearly killed when a segregationist mob attacked and burned an interstate bus in Anniston, Alabama; civil rights workers who were battered, beaten and jailed when they tried to organize or demonstrate for voting rights; and individuals who lost their jobs, were evicted from their homes and farms, saw their children reviled in school, and suffered other hardship because they fought for the unimpeded exercise of rights that Federal Courts had said African American people possessed."
Insisting that "the legal profession must not resume its former status as a virtually all-white preserve," the civil rights veterans' brief also argues that:
"Bias continues to provide a comparative advantage to the white population as a whole in higher education admissions. The effects of bias take most minority children out of the running for higher education, thinning out the competitive field for white children.
"Societal bias makes young white students the beneficiaries of the de facto pro-white `affirmative action' of racial discrimination, past and present."
Expressly referring to Justice Clarence Thomas, the civil rights veterans pointed out:
"No one can seriously contend it was entirely a coincidence that the second African American ever to sit on the Supreme Court was selected to fill the vacancy created when the first African American justice retired.
"How can it be proper for race to be given weight — to be one factor among others<197>in selecting the members of the highest court in the land, but not in the selection of a class of law school students?"
For the full text of the Brief Amici Curiae of Veterans of the Southern Civil Rights Movement and Family Members of Murdered Civil Rights Activists: www.fenwick.com/grutteramicus.
ATC 103, March-April 2003