Against the Current, No. 99, July/August 2002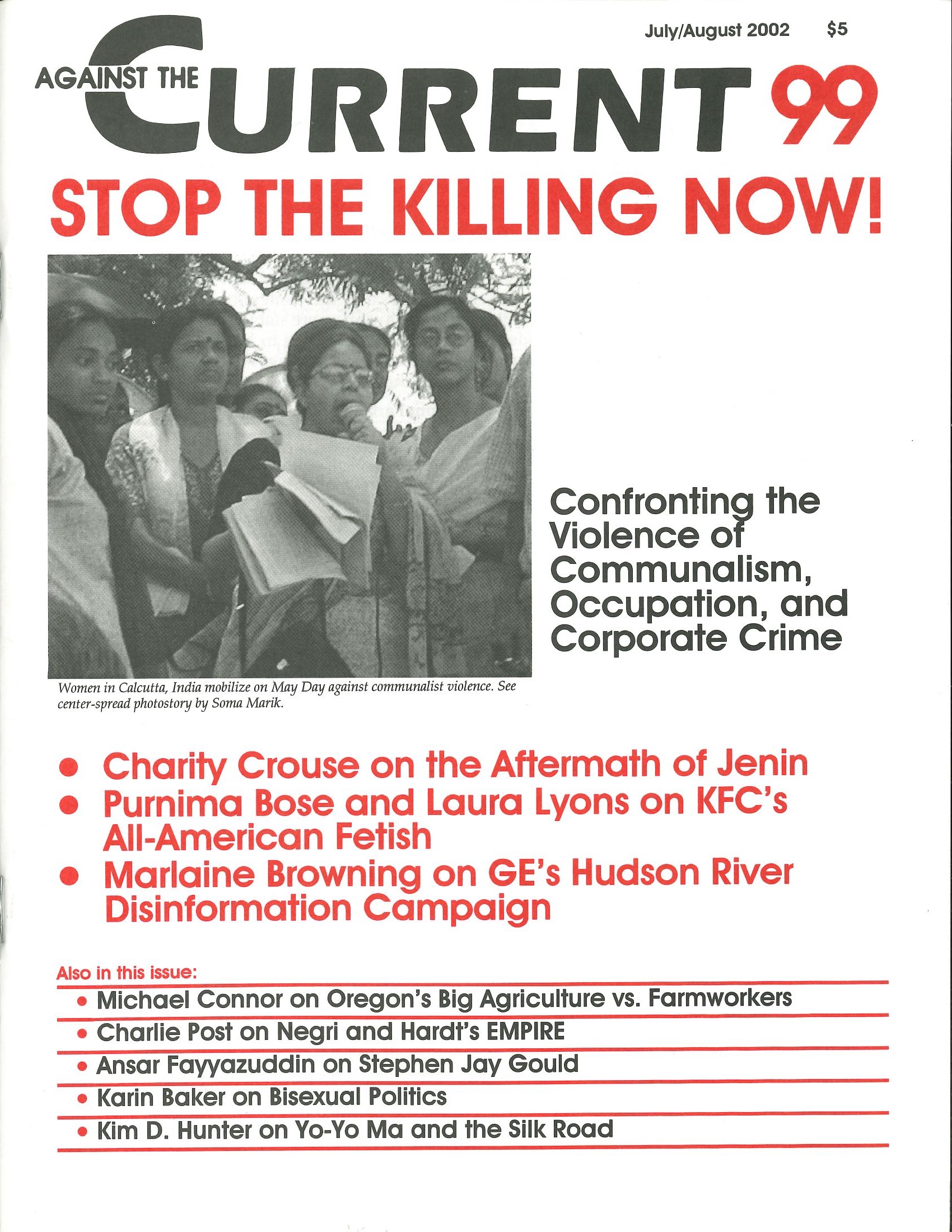 JOHN WATSON ROARED into my life in the late 1960s with a barrage of rhetoric straight from the books of Mao, Fidel, Marx and Lenin. His hair was kinky and uncombed, his jeans unwashed, his glasses held together with tape.
Tommy Flanagan swung into my life in the late fifties, seated at a keyboard in a Detroit nightclub which he filled with brilliant, funky arpeggios and complex chords. He was dressed impeccably, his hair neatly trimmed, his glasses almost brand new.
Watson and Flanagan were elegant spokesmen, whose different political and cultural spheres were nurtured in Detroit. Both died Friday, November 16, 2001. Watson was 57; Flanagan, 71. Watson was at the fulcrum of the political ferment that raged like a blast furnace in an automobile factory.
A Founder of DRUM
A gifted thinker, John Watson distinguished himself as an unflinching advocate for the oppressed.
We first met at the Inner City Voice newspaper, a radical publication that would be Watson's stepping stone to the South End, Wayne State University's campus newspaper. The paper's motto, scrawled across the top of the front page declared: "One class conscious worker is worth a 100 students!"
To satisfy some of the credits he needed to qualify as a student, he enrolled in my class. We quickly established some ground rules: His research paper would be on the Dodge Revolutionary Movement and the League of Revolutionary Black Workers, two organizations he helped found.
This would be done in the form of an independent study, which would allow him to limit his attendance, devote most of his time to running the student newspaper and organizing for the League.
He was a fine orator with a sharp, socialist/analytical edge to his remarks, and some of that is captured on "Finally Got the News," a documentary on the League and its various activities toward galvanizing workers.
There you can see and hear the late Kenneth Cockrel as well, his fiery words burning the celluloid. I remember something activist Mike Hamlin once said about Watson: "You could put him in a room with a machine and within minutes he could take it apart and put it back together. He was a genius."
The Bebop Master
Watson's command of philosophy, ideology and the Marxist canon was matched by Flanagan's mastery of bop and the delicate language required to accompany singers. His style is emblematic of the quick linearity of Detroit pianists, so well represented in the span from Hank Jones to Kenny Cox to the recently departed Harold McKinney.
Whether laying the sweet harmonic turf for a vocalist such as Ella Fitzgerald, for whom he was musical director, or splaying his fingers to create the springboard for John Coltrane's tenor, Flanagan had few equals.
One vivid memory I have is his performance one evening at Bradley's in Greenwich Village a few years ago. Like a spider spinning daydreams, Flanagan soloed superbly on "Green Dolphin Street," provided some thrilling new colors for Monk's "Round Midnight," and was absolutely dazzlingly on "Billy Boy."
There were snatches of Barry Harris, Kirk Lightsey, Red Garland and McCoy Tyner as he put together a medley of standards with familiar melodies, revamped to suit Flanagan's unique musical perspective.
Interpreting Marx and Monk
Watson on Marx and Flanagan on Monk are part of my political and jazz development, part of the sinews that compose my being, my outlook on life. The moments they provided me and thousands of others will always have a special place, and their contributions to making us more human, more thoughtful cannot be taken lightly.
[Editor's Note: For more on the history of the League of Revolutionary Black Workers and John Watson's contributions, you can read Dan Georgakas and Marvin Surkin's classic study Detroit: I Do Mind Dying and Heather Ann Thompson's new work Whose Detroit? The jazz culture of Detroit is memorialized in Before Motown.]
ATC 99, July-August 2002