Against the Current, No. 73, March/April 1998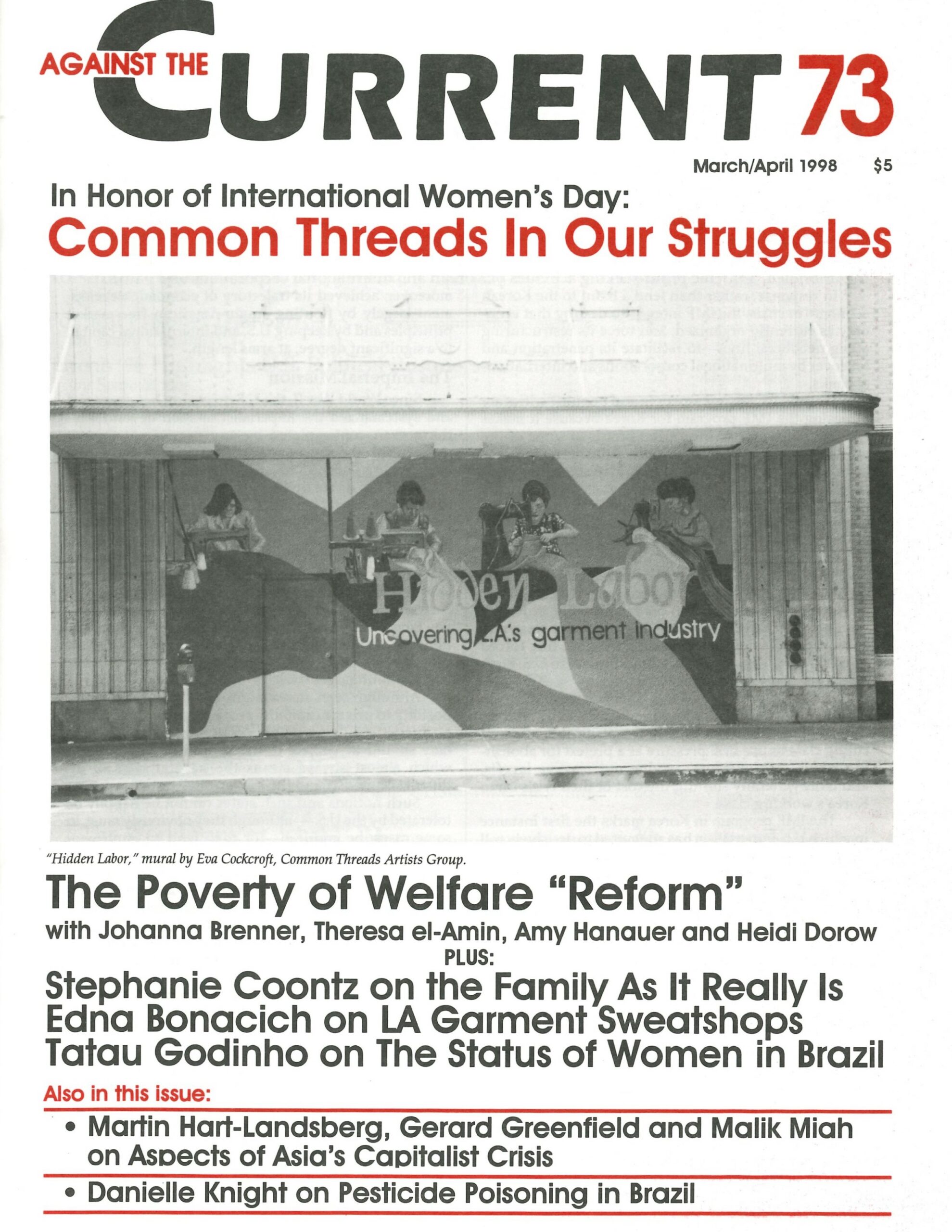 DITA INDAH SARI, 25, was sentenced last April to five years in prison for organizing and leading a march of 20,000 garment workers protesting low wages and unsafe working conditions in Surabaya, Indonesia the previous summer. International human rights groups, and trade unions around the world have condemned her imprisonment. In a statement issued January 27th Amnesty International said that "It appears that she has been imprisoned solely for her peaceful work on behalf of labor rights and social change."
Dita was sentenced under Indonesia's Anti-Subversion Law. Under this law it is a crime to participate in acts which could "distort, undermine, or deviate from the state ideology or broad outlines of state policy, or which could disseminate feelings of hostility or arouse hostility, disturbances or anxiety among the population." (U.S. State Department, Indonesia Report on Human Rights Practices for 1996) Parameters of this law are so broad that any kind of public opposition can be considered a crime punishable by death.
Indonesia's only woman political prisoner is serving her time in conditions that violate the UN convention on human rights. She is limited to infrequent thirty-minute visits from friends and family members who must travel from another part of the country to visit her.
Isolated from contact with any other prisoners, she is not allowed to read newspapers, listen to the radio, or watch TV (unless it's cartoons). She lives in unhealthy, unsanitary conditions; worse than those of the other prisoners in Sukun Women's Prison, and worse than those of the other political prisoners.
These conditions led her to be stricken with typhoid last November, when she spent ten days in the hospital. Prison officials forced her father to pay for the medicine.
The Struggle for Labor Rights
Dita is a key leader in the burgeoning pro-democracy movement in Indonesia. She is chairperson of the Indonesian Centre of Labour Struggle (PPBI). Formed in 1994, the PPBI has never been a legally recognized union.
Along with the Indonesian Trade Union for Worker's Prosperity (SBSI) and the Free Trade Union Solidarity (SBMS), the PPBI is an independent workers' union. It organizes workers to fight for concrete demands and links struggle for workers' rights to political demands: abolition of the "dual role" of the military, repeal of the repressive state ideology, and the right of self-determination for East Timor.
The PPBI organizes primarily in the textile and garment industries in which 70-80% percent of the workers are women. According to Dita Sari: "The share of women in the labour force today is around 40%, mainly on the land and in factories. The exploitation women workers face under capitalism is reinforced by patriarchal consciousness in society generally. Women workers suffer from the worst conditions of all; wages less than $1.50 per day, no health insurance and no transport or meal allowance." These poor working conditions have led women workers to organize and become one of the most radical elements of the Indonesian working class.
Since last summer, the rupiah has fallen 85% in value. It is now totally impossible for workers to survive on wages which were often not livable in the first place. Minimum wage has fallen from a value of $2 per day to thirty-two cents—and most garment workers do not receive the minimum wage.
Garment workers are often forced to work 12-14 hours per day without overtime pay. Many workers live in overcrowded on-site dormitories without adequate plumbing. Factory conditions are unsafe, and women workers are subject to sexual harassment and abuse.
As a college student studying law, Dita became familiar with these working conditions after attending a campus demonstration in support of human rights.
As she became more and more active around workers' rights, and spent weekends living with workers in their factory-owned dormitories, the fallacy of the law she was studying became more and more obvious. She decided to leave the university. "I don't believe in law any more. Law here is without any real content. I could not stay any longer, sitting at a university desk and listening to all that empty talk. I think my trade union work is far more important, and this is where I wish to concentrate my activities and energies."
Dita was arrested on July 8, 1996, and jailed through the duration of her trial. On April 22, 1997 she was charged with subversion and sentenced to six years (later reduced to five). Soon after her arrest, Dita's mother died from a heart attack but prison authorities would not allow her to attend the funeral.
Within the first month of being interned at Madaeng prison, Dita organized a women prisoners' demonstration against prison corruption. She was eventually transferred to Sukun Women's prison for her suspected role in organizing a riot of 600 prisoners in which molotov cocktails were used to set fire to the administrative buildings, kitchen, cafeteria, and cell blocks. This was described by the Indonesian press as the biggest prison riot in history.
Dita Sari continues to champion worker's rights, and speak out against government oppression. In a letter to her Australian supporters for International Women's Day in 1997 she wrote:
Everywhere the regime spreads the word that we are same as the old Indonesian Communist party; the regime is trying to create mass hysteria and to legitimise its repressive action against us. They needed an appropriate scapegoat and they chose the PRD. This is not a government that stands firm to defend the sovereignty of the people and their economic and political rights. It is a government built on authoritarian foundations in order to defend special economic interests and capital. In the midst of this disaster, we survive.
To support Dita Sari and the other political prisoners send contributions to the PRD Defense Fund at 701-D Eagle Heights, Madison, WI 53705. Write personal letters of support to Dita and send them to Indonesia Alert! P.O. Box 267, Oakland, CA, 94604-0267 or e-mail @igc.org and they'll get to her. To learn more about the situation in Indonesia subscribe to IndonesiaAlert!.
ATC 73, March-April 1998