Against the Current, No. 73, March/April 1998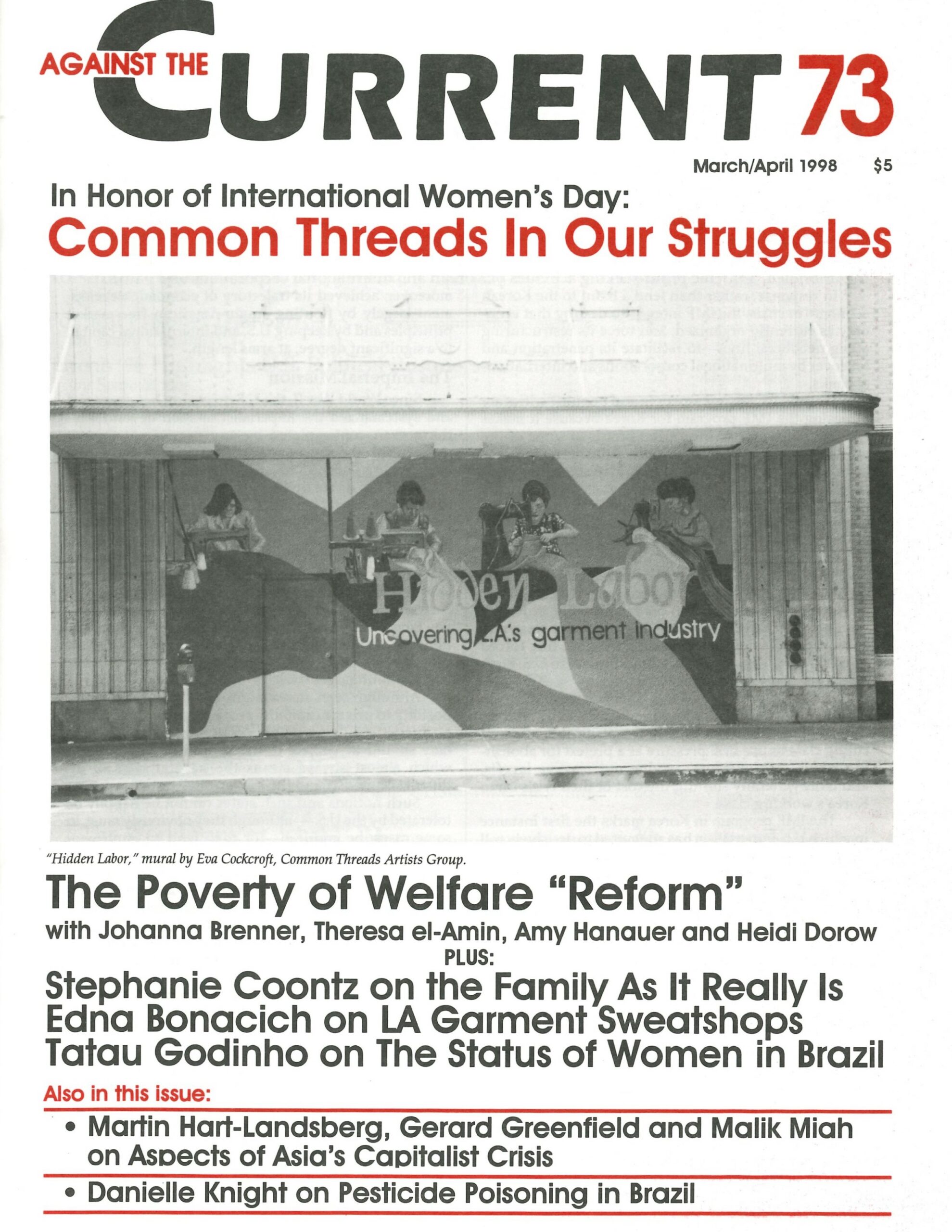 Theresa el-Amin is Program Organizer with Southerners for Economic Justice (SEJ) in Durham, North Carolina. SEJ was founded in 1976 as a community-based organizing project. In Rhode Island she was a state coordinator for the Jobs With Justice (JwJ) Welfare/Workfare Action Day. She was interviewed by Dianne Feeley for ATC.
Against the Current: What was the organizing approach for the December 10 JwJ action?
Theresa El-Amin: The Rhode Island Jobs with Justice chapter decided to partner with organizations resisting the loss of aid to families and children.
The key JwJ community partner, Direct Action for Rights and Equality (DARE), led the way in identifying other groups organizing around welfare-to-work issues. We held a planning meeting with representatives of JwJ member organizations, RI Parents for Progress and Sisters Overcoming Abusive Relationships (SOAR).
Lead organizers at DARE (Rob Baril) and Progresso Latino (Mario Bueno) worked to recruit and build for a community hearing. Rob, as co-chair of the chapter, helped to coordinate activities statewide. Since the national JwJ strategy focused on media attention, we worked to maximize press coverage.
ATC: What were some of the issues in Rhode Island?
TEA: Because of efforts by the Campaign to Eliminate Childhood Poverty, DARE, Parents for Progress, Progresso Latino and SOAR, the state Family Independence Act passed in May 1997 is not as punitive as welfare-to-work laws in many states.
Rhode Island has a population of about one million,with only two Congressional districts and five counties. Half the population lives in Providence County.
The big issue remains the lack of full-time jobs. Temporary employment has become the major source for new jobs. Manpower is the largest employer in the state. Due to high unemployment, Rhode Island was granted waivers when the PRWORA was passed in 1996.
Rhode Island has a large immigrant community. Abuses by temp employers are rampant. The fight over the last two years has been to ensure that immigrants and poor families were not devastated by welfare reform.
Access to child care, and fair compensation for child care workers, ranks high on the list of demands. Public transportation top get to jobs during evening hours and on weekends has been a real problem.
Food stamps for immigrants has been a key demand of the struggle for welfare justice in Rhode Island. Groups organizing during the months prior to RI welfare reform won continued food stamps for legal immigrants through a state-requested waiver.
Groups resisting the punitive impact of welfare reform are fairly well organized.
ATC: How did these groups participate in the National Day of Action?
TEA: We wanted to put a human face on the impact of losing the entitlement for families and children. Our planning meeting was also an educational for JwJ member representatives from the AFL-CIO and other labor groups. Stories from women present influenced the decision to hold a community hearing.
Groups did turnout and supplied speakers for a two-hour hearing that we held on December 10. Testimony supporting key demands for jobs, child care, education/job training and health care was heard by a seventeen-member Workers Rights Board.
Child care workers testified that the state pays them at a rate of $2.36 an hour per child. (As members of DARE, child care workers in 1996 won a five-year battle with the state to receive health care benefits.)
There were a number of reports by members of Progresso Latino regarding temp employer abuses. The statements were so powerful that at one point, a state legislator sitting on the WRB promised that something would be done in the next session on abuses by temp employers.
The event was videotaped by the Institute for Labor Studies and Research. Laborvison, the Institute's community-access channel labor program viewed by union members throughout the state, aired the hearing the following week.
ATC: How did the event advance welfare justice organizing in Rhode Island?
TEA: The media coverage in Rhode Island and nationally was great for Jobs with Justice and for the issue. Stories focused on the lack of jobs. Three major TV network local stations aired coverage, along with two days of articles in the Providence Journal.
The main message promoted in cities where actions were held is the lack of "living wage" jobs for families formerly on AFDC.
The action helped build the labor-community alliance as a strategy for economic justice for welfare recipients and for all workers. The AFL-CIO as a JwJ in Rhode Island has pledged to work on the issue of contingent worker abuses. Two public sector locals joined the JwJ chapter after the December 10 action.
It is important that we continue to reshape the debate. The measure of success or failure of welfare reform is not how much caseloads are reduced. Continuing to raise the issues of jobs, child care and health care helps to shift the discussion and provides a real measurement for whether "reform" is working.
ATC: Now that you've moved from Rhode Island to North Carolina, what's the situation you confront there?
TEA: North Carolina is one of the states that started early "reducing the caseloads." Since 1995 women have been forced into various "Work First" schemes. Now all 100 counties in North Carolina have developed plans and submitted them for state approval.
SEJ is based in Durham, which is considered the most "progressive" area in the state. County commissioners approved the Durham County Work First plan on January 12, 1998.
At the county hearing Jayreza Jarvis, a Work First participant testified, "I made $6000 last year and it was too much money for me to receive Medicaid, but thank God my daughter still has hers."
ATC: How are groups organizing in North Carolina?
TEA: I am impressed with the level of resistance and the connection between community-based organizations and advocacy groups. On January 20, 1998 the Durham City Council approved a living wage ordinance of $7.55 an hour.
The former Legal Services reorganized and declined federal funding, in order to act as more of a voice for low-income and unemployed workers. Renamed the North Carolina Justice Center, it is a hotbed of activity linking the efforts of non-profits working on immigrants rights, welfare and other justice issues.
Three organizations—SEJ, North Carolina Fair Share and North Carolina Hunger Network—in 1997 formed the NC Welfare Reform Collaborative. This is a statewide effort to address the crisis of the highly punitive NC welfare reform program, Work First.
Women around the state meet regularly to tell stories of sanctions reducing benefits, and of their fightback efforts. At a recent meeting, women echoing the Jobs with Justice message of welfare justice as a human rights issue help up small blue books with the text of the United Nations Universal Declaration of Human Rights.
ATC: How are your concentrating your efforts?
TEA: It's important to make links with the small organized labor movement and the community-based and religious organizations. Here in right-to-work North Carolina, where unionization is about 4% (compared to Rhode Island at nearly 20%) of the labor force, it's especially important to build the labor-community-religious alliance.
There are obvious links among the right to organize, privatization and welfare justice. I will continue to work on building the community-labor alliance for unity of effort.
I'm very glad to be in the mix with folks who have been working in North Carolina to organize unions and build worker organizations. Being in North Carolina realizes a twelve-year goal of returning to the South to organize.