Against the Current, No. 60, January/February 1996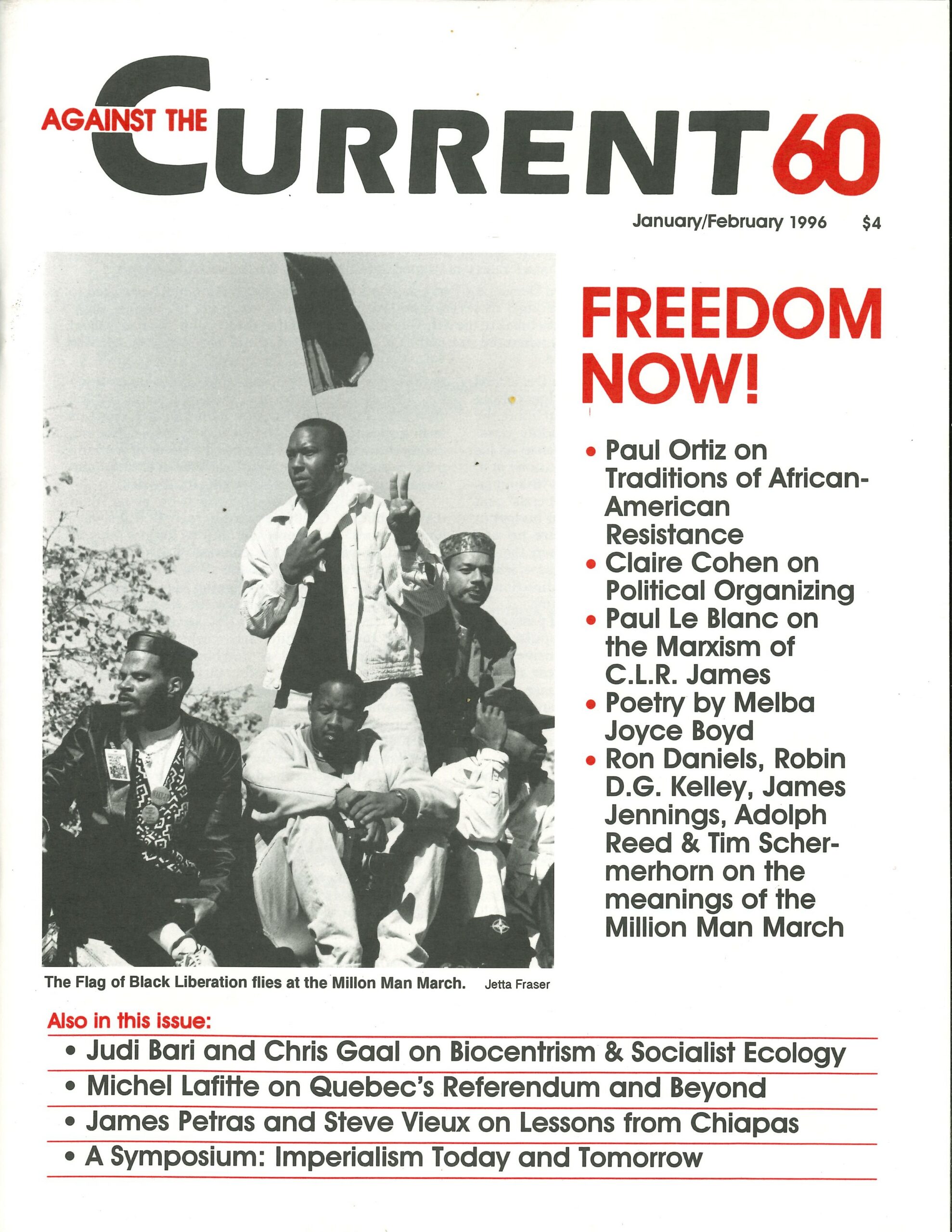 SAXOPHONIST ANTHONY BRAXTON, in a recently published interview, listed jazz composers he'd like to devote recording projects to. One of our most discerning reinterperters of the jazz past, Braxton so far has done Thelonious Monk, Lennie Tristano and Charlie Parker. In the future: Duke Ellington, Dave Brubeck and . . . Andrew Hill.
Andrew Hill?
At 58, pianist Hill is hardly a forgotten figure in jazz, but then again, he hasn't led a record date since 1991, and the closest thing to a hit he's written, "The Rumproller," came out thirty years ago as a record for trumpeter Lee Morgan. Hill's name rarely shows up in lists with Monk and Ellington.
Yet, at its best, his music is singularly intriguing. If he casts only a small shadow in the world of jazz, the shade is unmistakably his own. That is established anew with the re-release of seven pivotal Hill-led sessions as "The Complete Blue Note Andrew Hill Sessions (1963-66)" on the Mosaic label.
Hill had knocked around the Chicago jazz scene and gone on the road with Dinah Washington and Roland Kirk before falling in with the young modernist crowd in New York.
He landed studio work with upstart saxophonist Joe Henderson, which led Blue Note honcho Alfred Lion to ask whether the iconoclastic sideman might have a cache of likewise distinctive tunes. It was like first hearing the compositions of Monk or Herbie Nichols (a legendary, tragically underrecorded composer-pianist–ed.), Lion later said.
Jazz in those years was increasingly seen as "the art of the improviser" to borrow a phrase from the influential saxophonist Ornette Coleman. Composition often became a stripped-down affair, musical aphorisms or even haikus (think of Coltrane's "A Love Supreme") that musicians could then expand as desired in performance.
By comparison, Hill, at least for his early sessions, was still typing out musical novellas where contrasting moods, meters and other musical ideas meet in unexpected places. A loose-limbed lope across wide intervals may give way to a tight boppish flurry of notes.
Elements of Latin jazz might be reshuffled. Melody notes may jump surprisingly enough to suggest a flea on the make in "Flea Flop," dedicated to the hotel hells of travelling musicians. Drum solos are often integrated into the selections by the backing of piano and bass.
And as an improviser-interpreter, Hill was no slouch either, taking as heroes Monk, Bud Powell and Art Tatum, and arriving at a style often described as crystalline. Yet, when fitting, the clusters of notes he favored could grow and rumble as a sort of pianistic earthquake.
Some of the most dynamic young musicians in jazz of the time joined Hill to record these pieces. On two sessions, Bobby Hutcherson's vibes mesh in shimmering textures with Hill's crystalline piano lines. Saxophonists Joe Henderson, Eric Dolphy and Sam Rivers are present, as is the recently deceased John Gilmore in three of his rare recording sessions outside of Sun Ra's arkestra.
Hill's drummers included Roy Haynes, Elvin Jones and Tony Williams, his main bassist was the redoubtable Richard Davis. Freddie Hubbard and Kenny Dorham played trumpet.
The musicians found something unique in these sessions. With all its complexities, Hill's music traced musical spaces that could only be filled by musicians who gave their imaginations to it; his individuality as a composer called for the same from his interpreters.
There seemed to a shift in his direction, though, over the time span of these sessions. The last two tend to trade nuance for denser, more fiery textures and somewhat looser structures. The suite that made up the album "Compulsion" adds extra percussion to recall the roots of African American music and Hill's Haitian heritage (an invention to add a bit of the exotic to his biography, the Chicago-born Hill admits).
The final session seems more about the volcanic eruptions of saxophonist Sam Rivers than about Hill, and it was fitting that these tracks initially were released as part of a Sam Rivers collection. This is powerful music, but Hill seems resigned to leaving fewer of his marks on the compositional trail.
Some of his later Blue Note material remains unissued to this day. Some other releases recorded through 1970 had interesting moments but failed to be so consistently compelling as the releases gathered for this Mosaic set.
Material recorded since has found Hill returning to form though rarely if ever leading ensembles as inspired as the best of these. On the other hand, his participation on last year's Reggie Workman record, "Summit Conference," recalled the old glory.
Now what will Braxton make of the Hill songbook?
And perhaps more important, when will Hill get to record again as a leader and add to it?
Mosaic Records–all limited edition, numbered projects–are available from 35 Melrose Place, Stamford, Conn. 06902. Or call 1-203-327-7111. Their catalog is one of the best free reads in jazz.
ATC 60, January-February 1996