Against the Current, No. 53, November/December 1994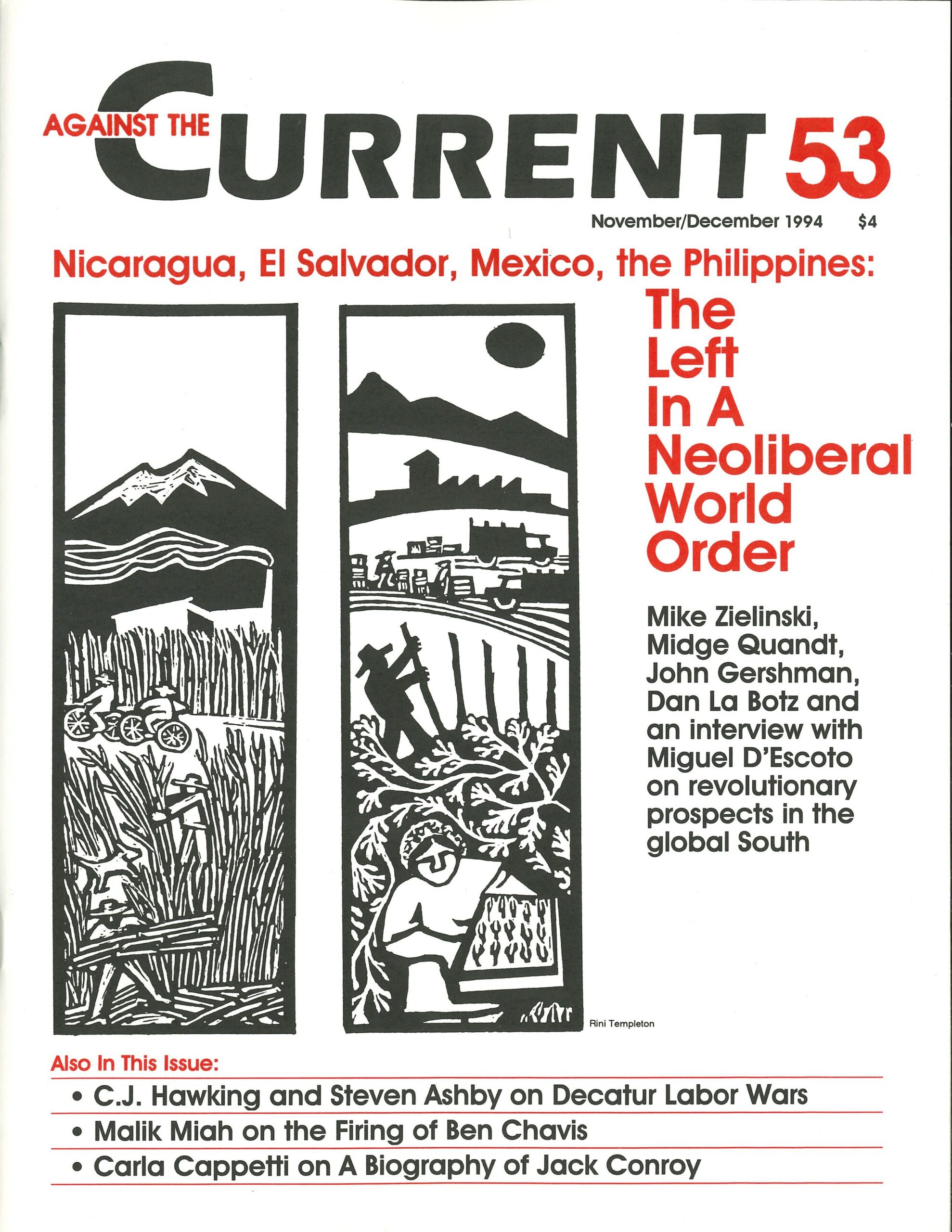 "CROSS THAT LINE!! Cross that Line!!" the crowd of 5,000 roared as they marched to the West gate of the A. E. Staley corn-processing plant in Decatur, Illinois where 760 workers, members of the United Paperworkers International Union (UPIU/AIW) have been locked-out of their jobs since June 1993.
In an act of non-violent civil disobedience, over 400 people crossed over the Staley yellow property line, shouting "Scabs out! Union in!" The demonstrators, trade unionists and supporters from across the country as well as striking UAW Caterpillar and United Rubber Workers Firestone/Bridgestone workers, were met by a wall of police.
Within three minutes and without provocation, the police sprayed pepper gas onto the crowd, some spraying indiscriminately, others spraying directly into workers' eyes. The use of the pepper gas has been outlawed in several states because of its long-lasting, harmful blinding and burning effects.
The police violence injured dozens of people, including children, an infant and several journalists. J. Patrick Mohan, Staley vice-president, commented that "the police did an outstanding job."
Rather than sending the workers away in a demoralizing defeat as they had hoped, the police stood shocked when the workers remained on the line, blocking scabs from entering or leaving through Staley's gates, while receiving first-aid assistance from their supporters.
Waiting nearby on a bus, state and county police reinforced the Decatur police squads, marching off the bus in full riot-gear, wearing gas masks, and carrying four-foot batons. Thirty minutes later, the police pepper-gassed the crowd a second time. Again, the workers' determination remained strong as they stayed on the line.
The police assault on the workers has led to intense discussions amongst Decatur unionists and the town as a whole. Suddenly, the emperor has no clothes.
"This is a town where we've always been friendly with the police. They were the good guys! They're our neighbors, cousins, fellow church-goers. Heck, we even went to high school with some of those guys," commented Gary Lamb, UPIU/AIW Local 7837 executive board member who was gassed on the front line. "And now, they gas us and our children. Seems like this company owns more of this city than I thought."
"The police have become the tools of corporate greed," stated Dan Lane, also a 7837 executive board member who was gassed on the front line.
"Without provocation, we were viciously attacked, many of us while sitting down with our back to the cops. We were non-violent. We stayed that way despite their brutal actions. Solidarity was in the air and the cops were determined to undermine it. They failed."
Trials and Tribunes
Three weeks prior to the pepper gassing, 50 demonstrators were arrested while blocking the west gate of the A.E. Staley plant, keeping scabs and supply trucks from entering or exiting for over three hours. Leading the first wave of protesters who sat down under the hot June sun was Father Mangan, pastor of St. James Roman Catholic church in Decatur.
"This is a moral issue," said Fr. Mangan, "and I am compelled by God's word to take a stand for these workers and say `No more injustice!' It's a part of raising the community's consciousness."
Mangan was joined in blocking A.E. Staley's gate for three hours by UAW Caterpillar workers and UAW Local 751 President Larry Solomon; five other clergy; spouses of Staley workers; and unionists from eleven unions and supporters from six cities. UPIU 7837 President Dave Watts and union advisor Ray Rogers were later also charged.
The charges filed against the Decatur 50, who engaged in the first act of non-violent civil disobedience in the history of Decatur, are criminal trespassing, obstructing a peace officer, and mob action.
The local state's attorney hoped to thwart the solidarity of the group by separating them into four different trials. The determination of the group remains strong, however, and their strategy to make political trials out of these charges by putting Staley's parent company, Tate and Lyle, on trial remains intact. The first trial is scheduled for October.
In another trial in late September, a dozen 7837 members were found guilty of "residential picketing."
"Residential picnicking" more closely captures the nature of the April action as twenty-five people held a picnic in a Decatur park which is, coincidentally, next to the home of Staley Vice-President J. Patrick Mohan. The next day the Park Board declared the area a "nursery" and posted "no trespassing" signs. Only the members of 7837 were charged, charges that were filed a month after the picnic.
To express their disdain at the ludicrousness of the charges, over 200 supporters held a picnic outside the courtroom during the unionists' trial. One 7837 picnicker had the charges dropped since he was not wearing a red T-shirt, a signature of the local's solidarity. "Solidarity is clearly what the workers were really guilty of," said UPIU 7837 President Dave Watts. The sentencing hearing is scheduled for October.
The City of Decatur also sued 7837 over the union's refusal to remove portable picket shelters outside the Staley plant gates. The union was found guilty and faces thousands of dollars in fines, as well another very cold and bitter winter of picketing. Even the anti-union Decatur daily Herald and Review couldn't stomach this violation of rights and attacked the city in an editorial.
In May, one executive board member was participating with hundreds of workers in a plant gate protest. When police ordered him to cease peacefully picketing, he refused to abandon his constitutional right to picket and was arrested and charged with "disobeying police orders." That case is scheduled to be heard in October.
One very active member of the union has been visited by FBI agents and called before a grand jury. This fishing expedition is allegedly in response to threatening letters sent by an anonymous source to Staley executive Mohan. The FBI was called because use of the U.S. mail is a felony violation of federal law. The 7837 member has now been ordered to provide handwriting samples.
The concerted effort by the police and the courts has forced the local to direct some of its resources into lawyers, court costs, fines, etc. It is an unsuccessful attempt to break the fighting spirit of the locked-out Staley workers. Each time one of their members appears in court, the local sends in a sea of red T-shirts to demonstrate their unbreakable solidarity.
The East Side Goes Out
The Staley workers have been locked out since June 1993, and the long battle is taking its toll. The workers' protests in Springfield, the Illinois state capital, combined with protests initiated in Chicago by the Staley Workers Solidarity Committee, led to the workers gaining unemployment benefits a year ago. But benefits ran out months ago, and most workers haven't been able to get extensions.
Many families are without health care, losing their cars and homes, having electricity and phones cut off, and eating simple foods purchased by the union from dwindling funds.
Yet the workers remain steadfast. "Road Warriors" continue to travel the country, telling fellow unionists that they've drawn the line in Decatur for all workers and asking for assistance. On a road warrior tour, for example, where Staley workers spoke before recent national conventions of the postal workers and electrical workers' unions, $25,000 was raised for the Staley workers and their families.
"Whenever we show the video of the June demonstrations and police gassing to unionists and workers, we get a great response," says road warrior Barrie Williams. "People know it's not just about us, it could be them next."
The Staley workers received reinforcements in what they call the Illinois "War Zone" when the UAW Caterpillar workers went on strike in June and the URW Firestone workers went out in July.
None of the three companies have budged from their union-busting final contract "offers." Firestone and A.E. Staley have demanded twelve-hour rotating shifts without overtime, and gutted seniority and health and safety protections. Additionally, Staley demands that the union workforce be cut 75%.
Caterpillar workers have labored without a contract for three years. Both Caterpillar and Firestone demand big concessions from the standard, pattern agreement in the industry, including demands for a two-tier system where new workers would earn around $7 an hour.
"Basically, we're all out for the same thing — to make a living for our families and ourselves," said Don Martin, a striking Firestone worker.
Nearly 4,000 workers are walking picket lines in a town of 84,000 — roughly a quarter of the town's working class now has a family member, friend, or neighbor on strike or locked out.
All three factories are on the East side of town, where demonstrations have become an even more common occurrence. On two August mornings the rubber workers, following the UPIU example, blocked the plant gates. Staley and Cat workers joined the rally.
The police videotaped the action, but recoiling from the local and national publicity from their June 25th gassing attack on the workers, took no action to stop the unionists. Instead, the police later made arrests of individuals at their homes, away from their supporters.
This method — videotape now and arrest later — is another attempt by the Decatur police to further isolate and intimidate the workers. Not only is it commonplace, but the police also emphasize that they are legally allowed to make arrests eighteen months after an event.
The three unions' executive boards meet weekly to plan strategy, and rank-and-file workers attend Monday evening sessions of the citywide Workers Education and Solidarity Coalition.
A twice-monthly city-wide labor paper is in preparation. Workers have gone door-to-door over the past year to handbill working-class neighborhoods, and unionists are reaching out to tell their story to high school students, church congregations, and the town's citizenry.
Solidarity's Synergy
No one can travel to Decatur and talk with the Staley workers without being touched. They're up against incredible odds — a wealthy multinational corporation that has mobilized the city government and police against them; a company that seems determined to temporarily lose profits in order to crush the union; an anti-union daily newspaper; and a national media that until recently has spurned the story.
UPIU 7837 is a small local within a small international. Workers receive only $60 a week in picket pay from the UPIU and even that is now being cut off for anyone who has found some temporary work. And Lane Kirkland and the AFL-CIO Executive Board have not exactly rushed to their aid.
By all logic, the Staley workers should have thrown in the towel long ago. And yet, most of the workers' spirits and resolve are stronger than the majority of workers and progressives.
The Staley workers' spirit, their will to win, and their hope for all workers are contagious. Solidarity Committees are active across the Midwest, simultaneously aiding the workers and reinvigorating their own labor movements.
In Chicago, for example, fourteen supporters were among the Decatur 50 who blocked the plant gates on June 4th, and are using their upcoming trial to raise consciousness about the struggle and to solicit legal defense funds.
The Chicago-area Staley Workers Solidarity Committee includes unionists from the SEIU, IBT, IBEW, IAM, AFSCME, and numerous other unions, along with non-union progressives, socialists, and young people. Members have leafleted summer festivals with 7837 flyers asking people to pressure Miller Beer, one of Staley's main purchasers of scab product, to switch from Staley to a company that isn't trying to bust its union.
SWSCers have distributed 800 copies of the powerful video, produced by Rose Feurer of St. Louis-based Labor Vision, on the June demonstrations and police assault. Thousands of dollars will be raised in the Committee's sixth fundraiser, a benefit concert by nine members of the Chicago Symphony Orchestra who are also proud members of the Musicians Union.
Firestone has won a temporary restraining order outlawing rallies at its plant gates, and A.E. Staley is seeking an injunction. Yet plans are underway to escalate civil resistance actions at the plant gates. The UAW, URW and UPIU have called on sympathizers to return to Decatur on October 15th, to show Caterpillar, Firestone, and Staley/Tate & Lyle that American labor and workers have drawn the line in Decatur against corporate aggression.
"The companies have declared war on us," says the UPIU's Dan Lane. "They may have the money, but we've got the people. There's more of us than there are of them." "As our solidarity grows, so does our power," adds Gary Lamb.
To join the solidarity campaign call UPIU/AIW Local 7837's Campaign for Justice office at (217) 872-2205, or write them at 2882 Dineen, Decatur, Illinois, 62526.
ATC 53, November-December 1994