Against the Current, No. 43, March/April 1993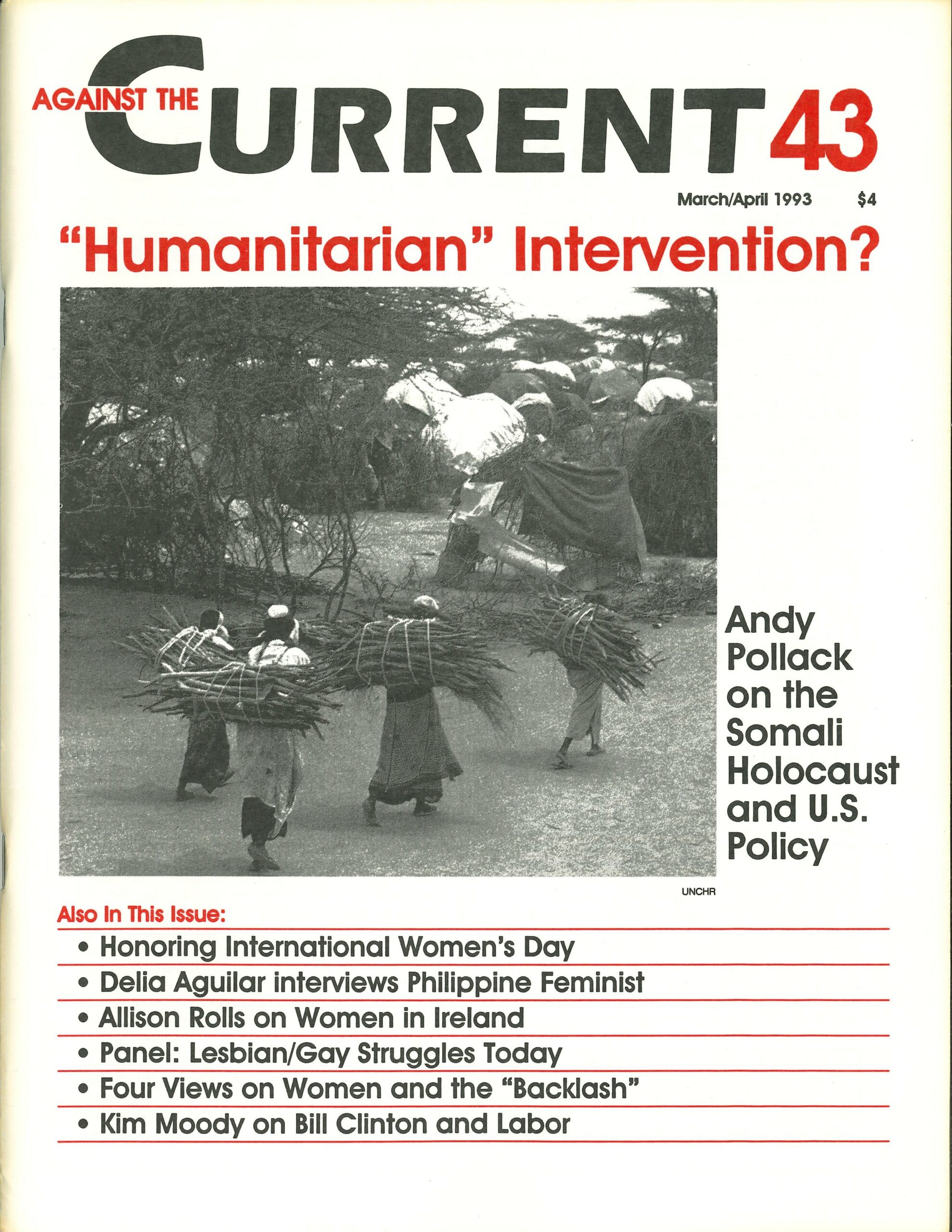 EVERY MARCH FOR the past three years, I have written about International Women's Day for my local radical paper. I study its origins each time with the same admiration for the 15,000 garment work-era who marched in 1908 through the streets of New York.
They were young women, most of them immigrants who spoke little or no English. The cards were clearly stacked against them. But they took to the streets anyway. They marched to protest and demand an end to sweatshop conditions and child labor, and they called for the right to vote and to organize.
I also recall each year that those courageous women workers did not struggle in vain. Two years after they marched, Clara Zetkin, a German Socialist Party leader, recommended to the Congress of the Second International that March 8 be named International Women's Day in honor of her U.S. sisters. Zetkin knew that a victory for women workers in one country was significant for women workers in other countries.
In 1993 in the United States, it is hard to imagine 15,000 women workers taking to the streets. Clinton is likely to sign the North American Free Trade Agreement sometime this year, and working women in this country and abroad will face deterioration in working conditions.
In the United States, working women will continue to lose good union jobs as companies close shop and move to Mexico. There, a largely female workforce will continue to work without union representation or occupational safety regulations. The NAFTA beautifully illustrates the international character of capital, and forces activists to organize across borders.
In addition to the NAFTA, the state of women's reproductive rights around the world reminds activists that our struggle must been international one. While poor women in the United States are now being coerced into using the new "soft" sterilization method of Norplant, women of color here and abroad for many years have been suffering under racist population control policies.
The struggle to keep abortion safe and legal will always be a cornerstone of the women's movement, yet we must also take up the issues of economic justice, health and child care rights, and racism and imperialism that affect the majority of women around the world.
This International Women's Day, let's review the remarkable history of working women's activism and look forward to the possibilities for organizing across racial and national lines. If the capitalists can do it, surely we can too.
March-April 1993, ATC 43