Against the Current, No. 42, January/February 1993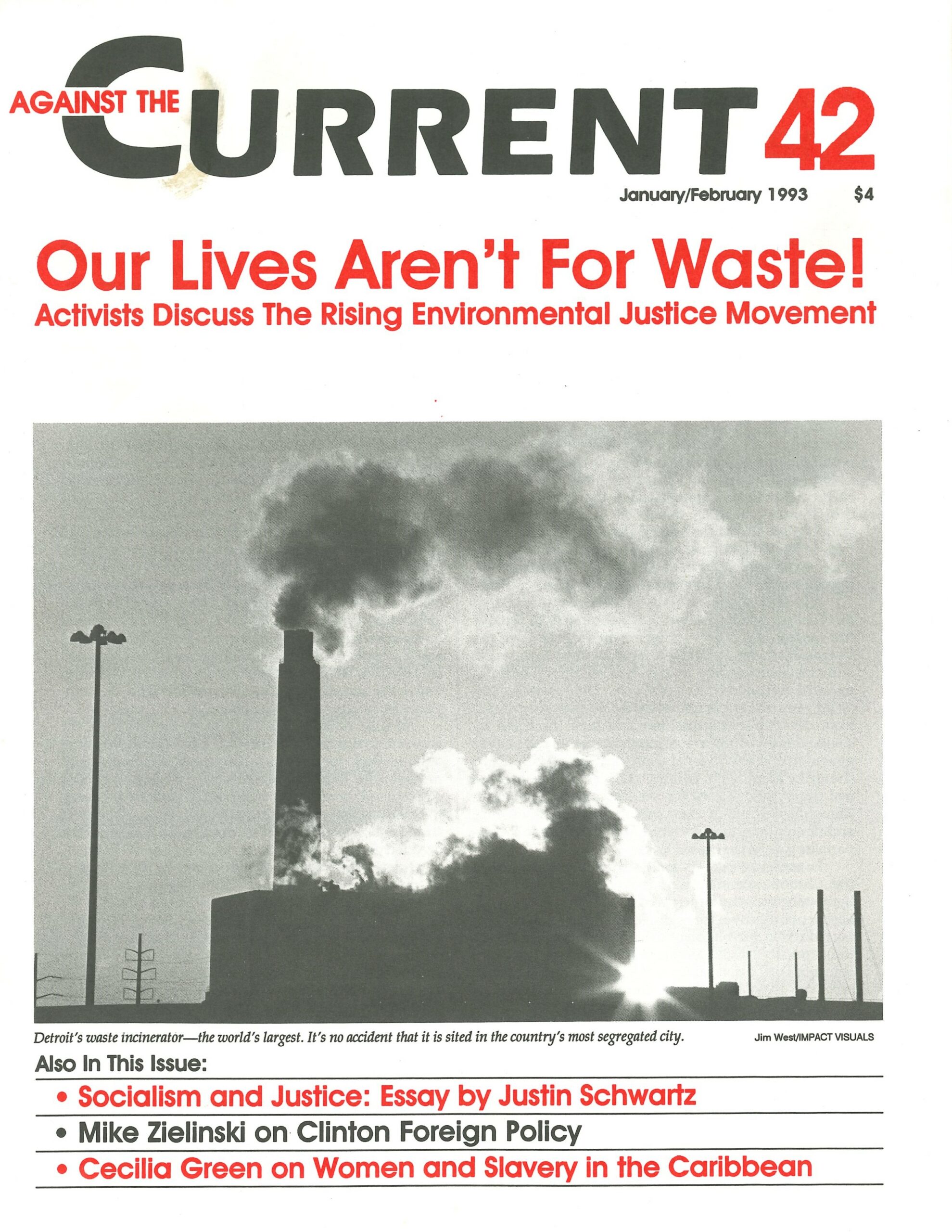 Maby Velez, a Puertoriquena activist, is a professor at the University of Michigan in the Latina/Latino program, teaching courses on environmental politics and environmental racism. She is a member of Solidarity, an advisory editor of Against the Current, a member of the Puerto Rican organization Taller de Formacion Politica (Workshop for Political Education), and a co-founder of the Puerto Rico Solidarity Organization at the University of Michigan in Ann Arbor.
In June 1992, she travelled to Rio de Janeiro in Brazil to attend an alternative environmental conference, held at the same time as the "official" Earth Summit. She described some of her experiences there in a telephone interview with David Finkel of the ATC editorial board.
"I KNEW ABOUT the conference in Rio back in October 1991, when I went to Washington, D.C. to participate in a very big and historic event, the First Summit of People of Color on Environmental Racism and Injustice. That summit was sponsored primarily by the United Church of Christ Commission for Racial Justice. I signed up there for further information on Rio, even though I knew it was really expensive and I didn't have the money! Well, I'm still paying.
"I became more motivated to attend because of my political commitment to the issue of environmental justice. At the end it was a last-minute decision; one week before I left I ran around to find a cheap ticket! While attending a conference in New York from May 29 through June 3, called 'The Oldest Colony in the Americas: The People of Puerto Rico Struggle Against U.S Colonialism,' I went to the Brazilian consulate (to get the necessary papers). At the United Nations I couldn't make personal contacts; I did however pick up a lot of handouts about the official Earth Summit.
"The reason I went down to Rio, on my own, was my commitment to the issues. It is a matter of `life and death' as Ernest Mandel said, and for a long time we have just been tired of the symbolic response of the institutions which are supposed to do something about it, and all the political representatives of the state talking about doing things–in the future. In 1972 the United Nations sponsored an official event in Stockholm somewhat similar to the Earth Summit, and now we are seeing nothing or very little has been done.
Tents in the Park
"The gathering in Rio was held from June 3-14. It was organized by people and organizations (NGOs) not connected to governments or corporations, who decided this time to do an alternative conference, called Global Forum but known by many Spanish-speaking as `la Paralela' or `la alternativa' while the official Earth Summit was taking place.
"There were people from everywhere: London, England; North, Central and South America; Taiwan, Tibet, Japan, the Philippines and India; South Africa and other African countries. It was held in a park called Flamingo, with a lot of temporary structures, tents each assigned to certain groups.
"There were all kinds of delegations of youth, women, people of color, from grassroots groups, members or groups of the business sector, the media and individuals–more than 20,000 participants or observers.
"For example, there was one tent only for women, where women from all over the world would meet every day to discuss among people doing similar work in other countries. There was another big tent for the Japanese. Both had incredible events every day. Tent 35 was for Latin America.
"In front of the park is a hotel called La Gloria, another worksite but outside the park, where many people from non-governmental organizations stayed. Every morning at 9:00 and afternoon at 2:00 a plenary session was held there; to know what was happening in the park you would go to the plenary. There was simultaneous translation into Spanish, English and Portuguese in the plenaries, and also in many of the special events in the park.
"The discussion process in the plenaries was very participatory. The communication process was also very good; by next day all the proposals and decisions would be on paper for distribution. There was a computer center set up by NGOs at La Gloria, where we went early each morning to type up what we discussed the night before so we could distribute them in the morning meeting.
"There was very little contact with the official Summit sponsored by the UN. At one point we organized a trip to the Rio Centro where it was taking place. But you couldn't even get close to the building because of the security, which was like a military state.
"Some 300 people staged a demonstration there at lunchtime on June 9, to hold hands and form the shape of a heart, but when they arrived the police repressed them in several ways. The following day there were also day-long marches, starting at various places such as Flamingo Park, to the U.S. embassy, against Bush's presence and position on environmental issues.
"It was estimated there were 50,000 people. The marches were called by Brazilian union leaders. The PT (Workers Party of Brazil) was one of the key participants in that mobilization. At one point the event was led by Lula, the PT leader and presidential candidate in the previous election.
The Latina/Latino Tent
"In the Latina/Latino Forum (Foro Latinoamericano), our key issues were, for example, militarization, pollution of air and water caused by industrial and military action in the Caribbean and Puerto Rico. Out of these discussions came `tratados,' alternative treaties or agreements on each of these issues.
"This really took a lot of time and energy for discussion–every night we met in the tent and discussed one or two of these issues, from eight till one or two in the morning. More than fifteen such agreements were signed, finally, on June 13 at the Gloria Hotel. It was really amazing, and a success for the Latina/Latino people, because there were 30 or so people every night participating in a very intense way.
"What happened in this conference, for example in the Foro Latinoamericano, showed that many of the people were very political. Political issues came into the discussions, and people like myself wanted to push them forward, while some others didn't want to `mix politics' with environmental issues. We began to create a network that would bring us together on a regional basis. People came from Sao Paolo and Rio in Brazil, of course; also from Argentina, Nicaragua, Chile, Venezuela, Peru, Uruguay, Ecuador and Caribbean nations including Puerto Rico.
"The tents were the work sites. At night the forums were meeting; during the day the tents were used other events such as speakers, video presentations, panel discussion, workshops, symposiums, lectures, exhibits, debates and cultural activities.
"So many events were taking place at the same time that I was frustrated about where to go! But inside Flamingo Park, parallel to these working sites there were `kioskos,' small stands distributing all kinds of information, which was often very good because of its mainly educational purposes–and many commercial things from jewelry to handcrafts, of course.
"At the same time as our efforts on environmental issues, there were entertainment events and partying having nothing to do with the environment. So there were lots of distractions–so it was a great success to have so many people at our evening meetings. Between Flamingo and La Gloria there was a massive representation of street vendors, the `informal economy.'
"Another thing that frustrated me was that every day there were thousands upon thousands of resources–documents, papers–just thrown on the floor. And many documents claimed to be made from recycled paper! We are talking about preservation of the environment and maximum care in the use of resources, but this was a bad example for environmental responsibility.
Toward Solidarity and Justice
"Some people from the United States who are dealing with the issue of environmental racism held a press conference in the media center. There were 12-15 people and representatives from five organizations in the United States. One thing I really admired was one speaker's response to a question from the floor. He said, as I recall, `I know I am coming from the U.S. and that my government is doing all these bad things, but we are just people like you and we are suffering like you and solidarizing with you.'
"A similar exchange took place at a presentation by U.S. community organizations and representatives inside the tent in the park. They were asking that we as people from the United States not be put in the same boat with our government. It was very important to acknowledge this distinction between two different actors. Everywhere in Flamingo Park you would see banners denouncing the role of President Bush on environmental issues.
"As for how this entire experience affected me: I didn't really change–I am very clear about my commitment and political course–but it proved to me once again that the environment is something on which our movements must work together. It is the responsibility of people like myself to take action, because if we leave things in the hands of our supposed representatives, we will get exactly what we got after the 1972 Stockholm meeting–nothing, except more pollution and unfortunately the destruction of our Earth!
"I confirmed that groups around the world are organizing and saying no more pollution, enough is enough. We are tired of promises. Our local efforts are gaining more visibility. For me it was an affirmation, and I was very glad to see that Puerto Rico isn't alone, but just part of an international movement, emerging from the bottom, composed of peoples and places of color which are the victims of environmental injustice and whose struggles are the common light showing a solution."
January-February 1993, ATC 42