Against the Current, No. 32, May/June 1991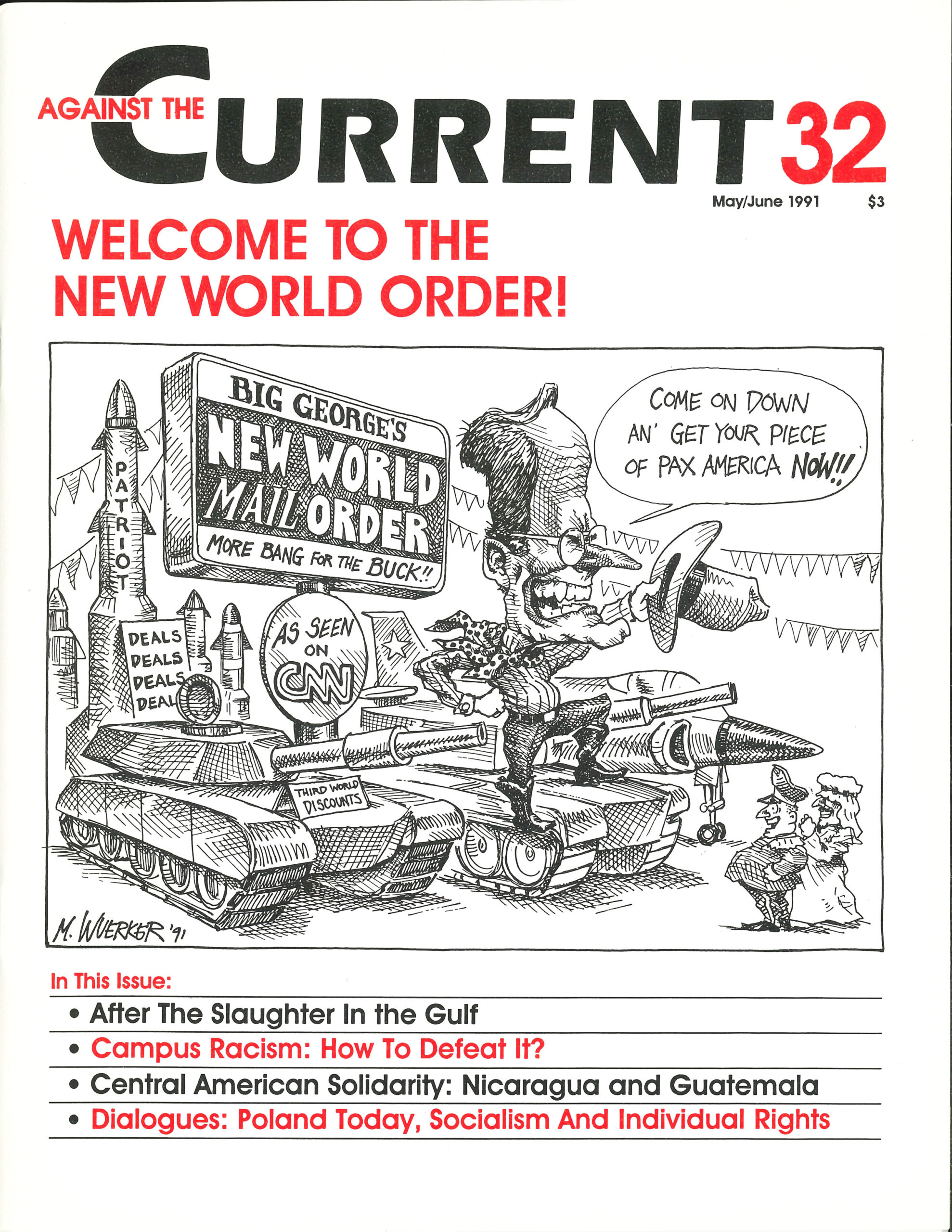 "YOU'VE GOT TO have a contract and a union before you can have any power in the plant," concluded Ashaki Binta, an organizer for the North Carolina-based Black Workers for Justice (BWFJ) at a recent Workers Unity Council meeting in Rocky Mount. An organization of African-American labor and community activists founded in 1981, the BWFJ seeks to build a labor movement in the South. They begin by developing proto-union workplace committees that fight around immediate issues while preparing the way for potential union drives—a difficult task in a state with the lowest union density in the country.
Organizing the South has long been a declared goal of the labor movement, civil rights organizations and the African-American community. And for good reason. As Dr. Martin Luther King, Jr. said in 1965: "The widespread, deeply rooted Negro poverty in the South weakens the wage scale for white as well as the Negro. Beyond that a low wage structure in the South becomes a heavy pressure on higher wages in the North."
Despite this goal, however, few international unions have actually made a concerted effort to organize the South. The reasons are many, but a combination of "business unionism"—stressing labor-management cooperation and peace—the argument that labor is in a necessary period of retrenchment and needs to grant concessions and preserve resources and the AFL-CIO's historic weakness in challenging white racism all contribute to this failure. In addition, working conditions in the South—a region of the country that lacks a union tradition, and where wages are low and fear of job loss is high—makes organizing extremely difficult State "right-to-work" laws prohibit collective bargaining for public employees; they also prevent mandatory union membership and generally restrict union activity.
At the same time, the high-level of industrialization in many Southern states makes them ripe for potentially successful unionizing drives. Because North Carolina is one of the most heavily industrialized Southern states, the BWFJ has chosen to launch their "Workers' Fairness Campaign: Organize the South" there. Organizers hope unionization efforts will soon spread throughout the region.
Working Conditions in North Carolina
While North Carolina's unemployment rate is low—only 4%—and while the state has jumped from fortieth to thirty-fourth nationally in per capita income over the past several years, working people in North Carolina are among the lowest paid in the country. Thirty percent of all jobs in the state, including 42% of the jobs held by women and 44% held by African-Americans pay annual wages below the poverty line fora family of four—$12,675 in 1989.
The low rate of unionization, combined with low wages, explain why North Carolina has led the nation in adding manufacturing jobs over the last three years—averaging 100,000 new jobs annually. Add to this the fact that state laws guarantee virtually no workplace health and safety protections. Clearly North Carolina is a corporate paradise—and a worker's hell.
These working conditions have translated into poor living conditions. North Carolina has the highest infant mortality rate in the country. In many areas in the eastern part of the state, the percentage of people living without adequate indoor plumbing is the same as that in Lima, Peru.
For African-American workers, conditions are particularly bad: almost 50% live below the poverty line; their communities are the targets of toxic dumps and landfills. And North Carolina has one of the highest reported levels of Ku Klux Klan activity.
Poultry Symbol of the New South
Perhaps more than any other, conditions in the poultry industry represent what it is like to belong to the Southern working class. As Jesse Jackson wrote:
"Cheuveletta Jones, who works at a chicken-processing plant in Ahoskie, North Carolina, brought into focus recently the realities of the working poor in 1990. Trembling and crying, this divorced mother with one child told me how desperately she needs her job. But then she showed me her crippled hands and wrists, and I could see the pain in her eyes that told me she could not work!" (Detroit News, 5/13/90).
Poultry is the biggest industry in the South—bigger than peanuts in Georgia, tobacco in North Carolina, cotton in Mississippi, and all crops combined in both Alabama and Arkansas. The number of broilers slaughtered has skyrocketed—from I billion in 1954 to 5.5 billion in 1969.
Roughly 83% of the industry is concentrated in the low-wage South, where over 150,000 workers are employed at slaughter houses and processing plants. Today, one in sixteen new industrial jobs in the United States is on the poultry line.
And poultry workers' wages are the lowest in the food manufacturing industry. In 1987, they averaged $6.11 per hour, compared with almost $9 an hour for all food manufacturing workers and close to $10 an hour for production workers in all manufacturing.
Despite the low pay, however, wages offered by poultry plants are often higher than those available at other workplaces in the area. But the work is hard enough, and injuries are severe enough, to result in an almost 50% annual turnover rate in the industry.
Almost half of all poultry workers (73,000) are women. By contrast, only 18% of the 135,000 workers in the meatpacking industry are women. Meat packers earn an average of 40% more than poultry workers—who are among the most productive in the United States. Between 1960 and 1987 their productivity, measured in pounds of poultry output per hour, increased more than 176%.
Largely because of this rate of productivity, workers at poultry processing plants suffer one of the highest rates of injury and illness in American manufacturing 18.5 per 100 employees. This is twice the rate of textile or tobacco workers, and even higher than that of miners.
According to the National Institute for Occupational Safety and Health, 36% of all poultry workers suffer from Repetitive Motion illness (RMI). Known as carpal tunnel syndrome, tendonitis, tenosynovitis, all of these diseases result from repeating the same movements over and over again in certain types of jobs. While all of these illnesses are chronic, they can be treated with rest and by reducing repetitive movements.
Unfortunately, few poultry workers receive adequate treatment. Company doctors repeatedly misdiagnose the injury, claiming the pain is caused by a sprain or arthritis. With less than 25% of the industry unionized, few workers have access to the infrastructure needed to hold the company accountable for workplace injury. As a result, many workers suffer permanent hand damage.
As Harry 0. Simms, shop steward for the Retail, Wholesale and Department Store Union which represents 400 or the 570 workers at the Cagle's Inc. poultry plant in Buena Vista, Georgia, told the New York Times (11/6189): "This is the Old South; they heed the slaves, and then they just put them to work in the chicken plants….People get hurt, they just cut them up and patch them up and put them back on the line like they do horses."
Fighting for Workers Power
But not all Southern workers accept this treatment Many, like members of the BWFJ, refuse to be cut up, patched and returned to the line. They seek to improve their working conditions and salaries, and to gain control over their lives. And they work for this power everyday, as they organize shopfloor committees in their non-union workplaces, as they convince even the most timid worker that she doesn't have to accept harassment and ill-treatment, but can organize and fight to change her life.
One of the most inspirational aspects of the BWFJ's "Workers' Fairness Campaign" takes the form of the monthly Unity Council meetings held at the workers' center in Rocky Mount. At each meeting, representatives from workers committees in the region's different garment sweatshops, high-tech factories, poultry processing plants, and small manufacturing stand-up and tell their stories. They share information, strategies and tactics as they buoy each other up for another month of difficult organizing. Discussion ranges from the level of organization in the workplace to the response of the workers committee to management's latest anti-worker tactics. Invariably, the remarks of each committee representative tend towards a common theme: Unionizing.
The December meeting, for example, included representatives from garment poultry and industrial plants in the area, as well as city workers from Raleigh and Durham. Few of these workers are organized, though all have unionization as a goal.
A worker from Standard Products, a non-unionized parts plant for the Big Three auto makers, described the problems that he faces daily at work, problems stemming from the lack of seniority on the job. A Bendix worker, who also makes auto parts, discussed the possible layoff the shop faces early in 1991, and strategized about ways to keep workers from falling prey to management's schemes to divide them.
An employee of Rocky Mount Undergarment, had something unusual to report a victory. The National Labor Relations Board recently ruled in favor of the workers' right to organize, and ruled against management's efforts to spy and harass worker activists. The activist expressed her joy at this decision: "I've been running my mouth like mad. It seems the more I run my mouth, the more we organize. I have this freedom of speech. And I've been waiting for it for years."
Another garment worker from Goldtex, a shop that lost an organizing drive with the Amalgamated Clothing and Textile Workers Union in March 1990, described her frustration with workers' fear of organizing: "After the union drive, things got worse. They started twelve-hour shifts, and then cut everyone's pay in half.
If only the workers could see—could stop letting fear take over If only they would stop complaining and do something. Talk is cheap. Talk all you want, but you need to do something. We gotta stick together. Because if we don't stick together, we can't make it."
Moving Forward
As this worker proclaims the need for everyone to stick together, so the BWFJ knows that it cannot achieve success alone. With only 6% of North Carolina's non-agricultural workforce unionized, BWFJ membership is made up of a majority of non-unionized workers—but it has a core of active union members on the steering committee. BWFJ believes that unions must seek to unite all workers regardless of race, nationality, sex, age, handicap or religion into a single organization according to industry. Members of the BWFJ have been active in several union organizing drives and other North Carolina State AFL-CIO activities.
The BWFJ has recently made an outward turn, seeking the support and help of unionists, and especially of those from the North. In July 1990, the group sponsored an "Organize the South Solidarity Tour," during which several Southern workers visited with trade unionists in the midwest, to help educate Northern brothers and sisters about Southern working conditions.
But the message of the "Organize the South Tour" was not simply that Southern workers need help in building unions to better their own conditions; workers throughout the country have an interest in strong Southern unions.
"If there are no strong unions in the South, wages there will stay low and working conditions terrible, explained Gordon Dillahunt, president of the American Postal Workers Union in Raleigh and a member of the BWFJ steering committee. "Companies will close Northern plants and move to the nonunion, low-wage South, driving down Northern wages and whipsawing us against each other."
Trying to develop and expand upon the contacts they made last summer, the BWFJ has undertaken two separate outreach projects. One involves repeating the 1990 tour in July 1991 on the East Coast. The second is to encourage the growth of BWFJ support committees in the Midwestern cities members visited last year For the most part, committees have focused on the Ina Mae Best Defense campaign, the defense of a worker who was unjustly fired for leading a failed union drive in her shop.
According to the BWFJ, the experience of reaching out to Northern unionists showed that there is real sentiment among rank-and-file union activists to build a broad-based movement to organize the South.
If the U.S. labor movement launched such a campaign—and it hasn't tried in any large scale way since the failure of 'Operation Dixie almost fifty years ago—not only would the South never be the same. Such a campaign could potentially reinvigorate and transform the entire labor movement.
May-June 1991, ATC 32