Against the Current, No. 24, January/February 1990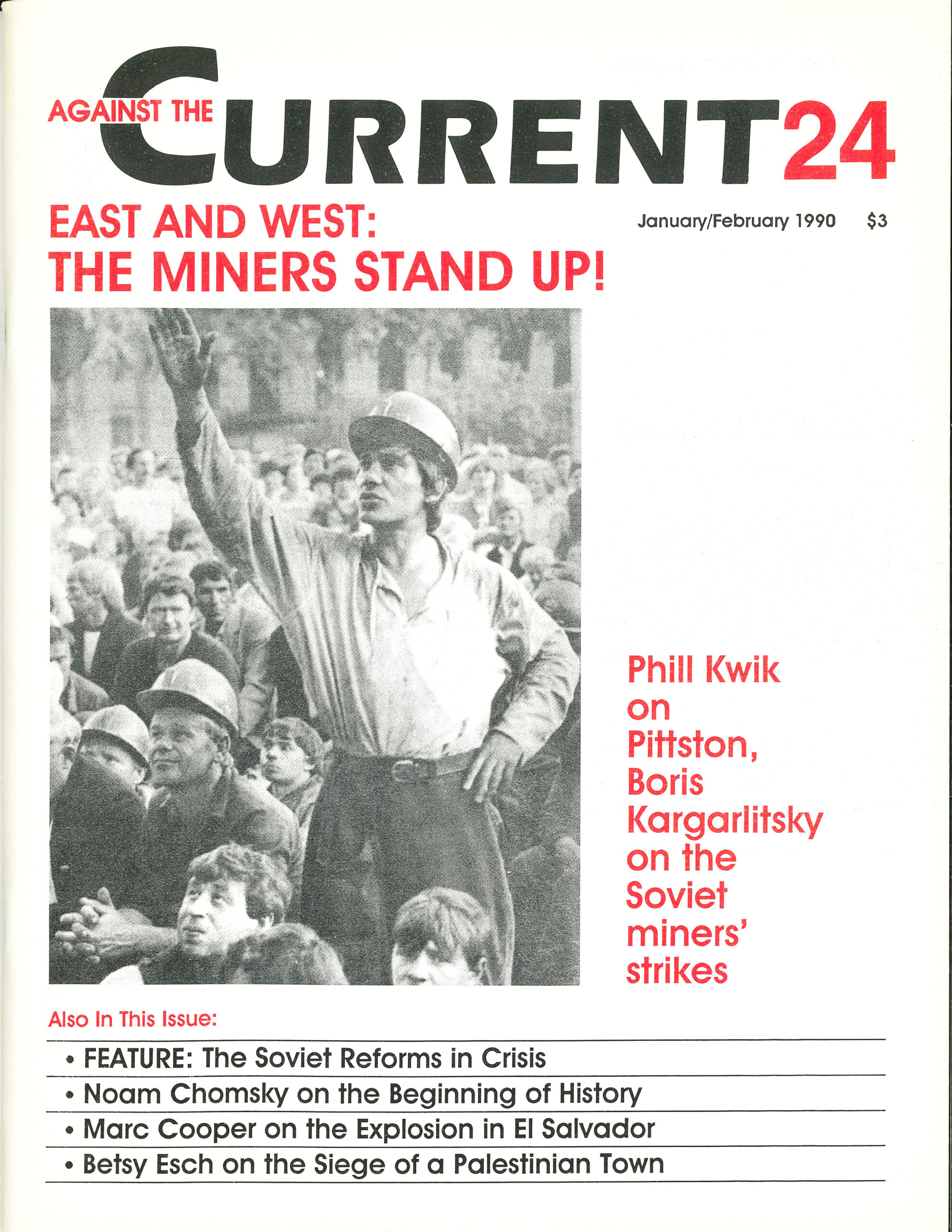 ANYONE WHO IS familiar with reproductive rights organizing today is aware of the large numbers of young women active around this issue As is often pointed out, these young women have grown up taking for granted their right to legal abortions. The threat to this right has led many young women with no previous political experience to join local abortion rights groups.
Young women's dismay at the possibility of losing their right to legal abortion was apparent at the Mobilizing for Women's Lives rally in Washington, D.C. on November 12. Many remarked on the youthful appearance of the crowd. Statistics about the turnout for the last national abortion rights march on April 9th claimed as much as one third of the crowd was students and young people, and the proportion at the recent demo may have been even higher.
The turnout at the rally was not the only indication of the level of reproductive rights activity among young women. A student reproductive rights organizing meeting and student march also took place over the weekend and a "Feminist Futures" conference aimed at young women was attended by 500, according to one participant.
The Saturday night meeting prior to the rally was called by the Women's Caucus of the Progressive Student Network (PSN). For those not familiar with the current student activist scene, PSN is a network of student activists founded in 1980 which currently has around ten chapters at various Midwest campuses, and connections with twenty campuses or more in total The PSN Women's Caucus has called for the prioritizing of reproductive rights organizing within the network, and the October 28-9 PSN fall conference reflected this emphasis.
In the hopes of broadening participation the Women's Caucus approached a variety of other groups to sponsor the meeting, which was to address the question of what students can do in the struggle for reproductive freedom. Several groups participated to different degrees in preparations for the meeting including Solidarity, D.C. Student Coalition Against Apartheid and Racism, and Student Action Union A total of seventeen student groups or groups with student activist members sponsored.
Nearly 200 student activists from all around the country packed the basement of the church where the meeting was held. First to speak was Carmen Monico, a Salvadoran woman brought to the meeting by students from CISPES who talked about the importance of women's liberation in her own country and in the United States. Eleven other short speeches followed as women from sponsoring organizations spoke about what their group was doing and expressed their perspective on reproductive rights and feminist organizing.
To highlight a few of the speeches. A member of the newly formed Students Organizing Students (SOS), "a nationwide student organization committed to ensuring reproductive rights and freedoms for all women," spoke on the work her group is doing. "80% of the women who have abortions in this country are between the ages of fifteen and twenty-nine; our lives are at stake. SOS wants to inspire and empower members of this age-group to determine our own reproductive futures."
The Northeast Lesbian and Gay Student Union (NELGSU) were unable to send anyone but asked to have a statement read at the meeting. The NELGSU statement stressed the particular concerns of poor women's access to abortion, sex education, birth control and health care. It also compared the denial of women's right to abortion with the oppression of lesbian and gay students. "NELGSU views any restriction on reproductive freedom as yet another barrier against responsible decision making about sexuality. As Lesbian and Gay students we have to fight against a society which does not believe we have the right to act according to our sexual orientation … A pro-choice society is what we all need!!"
Freedom Road Socialist Organization and Solidarity, two socialist groups whose members made statements, stressed the need for unified action on the left with a feminist agenda and the necessity for revolutionary social change.
A representative from the United States Student Association (USSA) spoke about efforts this student government association is making to work for abortion rights and encouraged student reproductive rights organizers to take advantage of the resources USSA has access to. NARAL's new campus organizer spoke about reproductive rights organizing taking place all across the country from Maine to Louisiana.
Progressive Student Network, the last group to speak, quoted at length from a working paper that is being developed by their Women's Caucus. The paper stresses the need for a broad understanding of reproductive freedom. "The current attack on abortion rights is one aspect of a larger attack on reproductive freedom and fertility control, and must be viewed in the context of a system of oppression that divides women on the basis of race and national origin, class, sexual preference, age, and physical condition."
After breaking down for small group discussions where participants were encouraged to talk about successes and failures they had experienced in their own reproductive rights organizing experience, the whole group reconvened to discuss future plans. Two future activities were decided upon: Students United for Reproductive Freedom (SURF), as organizers have been calling the ad hoc coalition, will be promoting a coordinated student day of action on January 22, the anniversary of Roe v. Wade.
Whether students work on campus or in community coalitions, they are encouraged, where appropriate, to have a visible student presence in events of the day.
Ideas for a student conference on reproductive rights organizing were also discussed. Details for these plans of action will be worked out via a phone tree developed prior to the meeting, which includes contacts from around twenty student organizations.
Many of the same students participated in a march to the Supreme Court following the Sunday rally. Leaving from the mall at 4 o'clock when many were already on their way to their buses, the illegal march (no march permit was obtained) attracted 600 students and young people. Energy was high and chants included, "Back alleys, no more, safe abortion for rich and poor," and "Strengthen Roe, repeal Hyde, it's a woman's right to decide." Tensions developed toward the end of the march when a number of participants pushed for confrontation with the cops who were massed on the Supreme Court steps. March peacekeepers tried to diffuse the overt confrontation, and the gathering eventually dispersed with no arrests.
Over the last few years a number of attempts have been made to bring together students from different groups across the country to exchange ideas and work jointly on various projects. Although these meetings are always valuable for the ideas exchanged and contacts made, divisions among student activists and lack of clarity about goals and strategy often get in the way of tangible results and concrete ongoing coordinated work.
The student meeting of November11 had concrete, if limited, results. The turnout was good, and the meeting highlighted women's leadership. However, the great majority of the participants were white. Judging from the enthusiasm and organizing experience of those present, chances are good that ongoing activity will come out of this effort. So look out for a student conference in the spring, and expect to see coordinated student action on January 22, the anniversary of Roe v. Wade.
January-February 1990, ATC 24