Against the Current No. 18, January/February 1989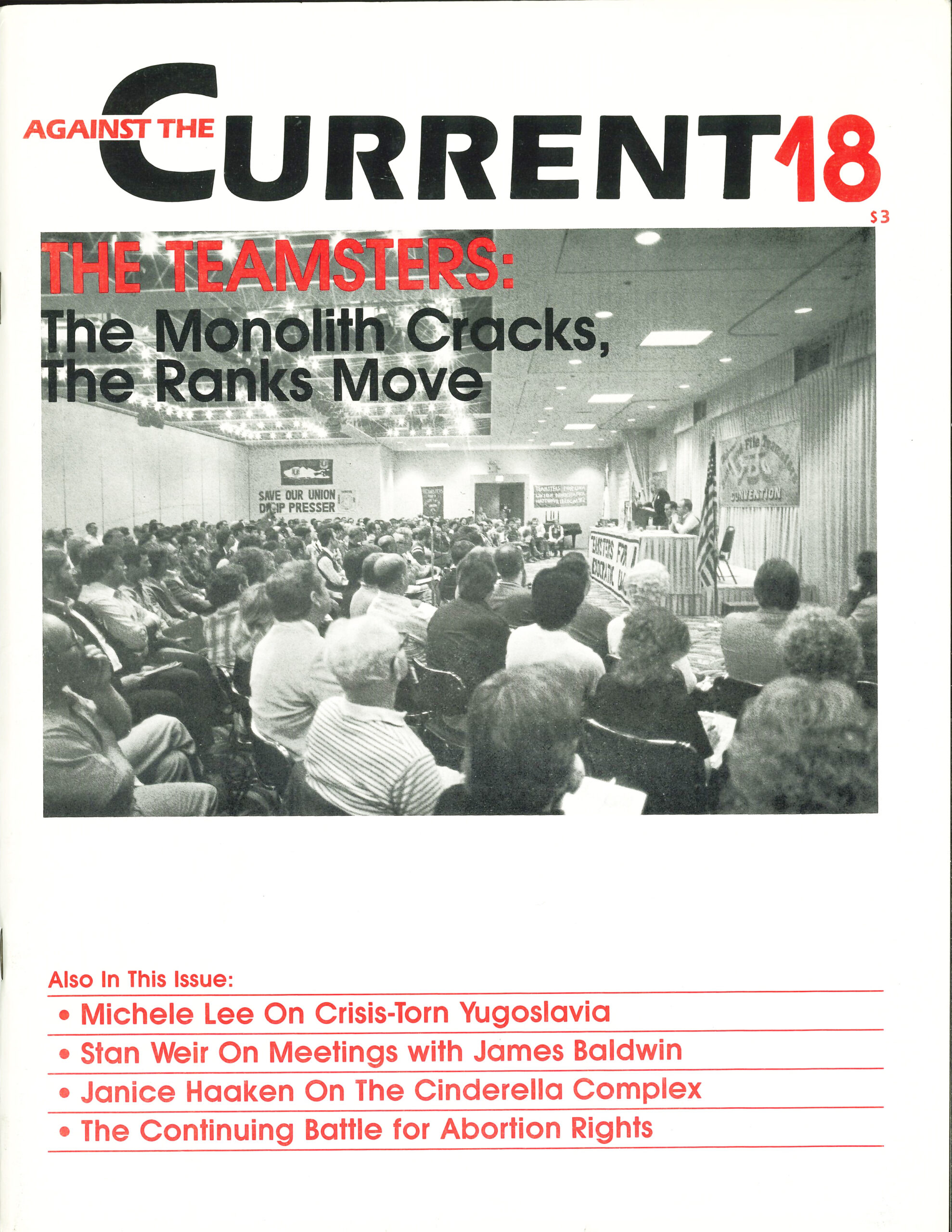 NEW YORK–James Baldwin has joined in an effort to raise defense funds to allow 51 fired West Boast longshoremen, mostly Black, to have a court hearing, already legally provided for by a decision of the 9th Circuit Court of Appeals, to determine if their unusual firing six years ago was discriminatory and illegal.
The famous Black author of the plays Blues for Mr. Charlie and Amen Corner, the novels Go Tell It on the Mountain, Giovanni's Room and nother Country and many essays, joined I8 others as sponsors of the Longshore Jobs Defense Committee in a six-year-old struggle against the Pacific Maritime Association and the International Longshoremen and Warehousemen's Union.
Their support of these workers' fight for reinstatement on the waterfront has resulted in a quarter of a million dollar libel suit by Harry Bridges, president of the ILWU, against the sponsors of the Longshore Jobs Defense Committee. The committee is associated with the Workers Defense League, whose headquarters is at 112 E. 19th St. in New York City.
Two college professors also joined the longshoremen defense group with Baldwin. They are Professor Bernard Karsh, a labor expert at the University of Illinois and the author of Diary of a Strike and A Worker Views his Union, and Professor Jerome Skolnick of the University of California at San Diego, the author of Justice Without Trial and the director of the Task Force on Violent Aspects of Demonstrations and Protests of the National Commission of Causes and Prevention of Violence which produced the report, The Politics of Protest.
Harvey Swados, a member of the committee, said, in praise of Baldwin, Karsh and Skolnick:
"Their exemplary courage in joining our committee is enormously encouraging to all those who believe, with us, that these almost forgotten workers, more than 90% of whom are Black, must be vindicated and re- stored to the employment that has been denied to them for far too long."
On June 17 in 1963, eight-two longshoremen opened form letters and got sudden bad news. They were all fired and barred permanently from the waterfront by both the Pacific Maritime Assn. and the International Longshoremen's and Warehousemen's Union (ILWU).
For four years they had worked regularly and hard loading ships, unaware that they faced arbitrary dismissal and personal catastrophe. No charges had been presented against them and they were ignorant of any offense.
After discharge, they were offered a trial where they might try to refute their presumed guilt. But how to prove their innocence when they could not know the nature of their "guilt"? At a post facto trial, they were denied the right to counsel, barred from presenting witnesses and not permitted to confront accusers or even know their identity.
Out of work, they were denied unemployment insurance. Most of them are Afro-Americans and, even under the best of circumstances, decent jobs are hard to find. But for them it was virtually impossible once their record had been blemished by this unaccountable stain They are currently jobless, security gone and most of their families are shocked and nervous.
The discharged men were Class B longshoremen, revealing a little-known fact: the West Coast longshore union has created a special group of second-class workers in the industry.
In June, 1959, some 750 men were registered in San Francisco as Class-B longshoremen, the first addition to the list of registered longshoremen since the union closed its books in 1948. The B status was a new category in the industry. B-men work under the jurisdiction of the union, but are denied union membership.
B-men are not casual workers; they are required, on pain of deregistration, to be available and willing to work at least 70% of the time. Rules forbid them to hold any other job or to attend a full-time school. But in return they are granted no corresponding guarantee of any definite number of days or hours of work. They have neither the uncontrolled independence of the casual worker nor the security of fully registered A-longshore- men.
A-men are union member longshoremen with full rights. They are guaranteed against loss of jobs from automation. Their wages are taxed hourly to build the automation fund. They have pension improvements and bonuses. The B-men are deprived of these bene­ fits.
A-men get first choice at the best jobs.
B-men get what is left over. They pull and haul the dirtiest and heaviest cargo: cotton hides, coffee, asbestos and rubber deep in the holds of the ships.
Every aspect of the B-man's working life and relationship with the union seems deliberately and consistently planned to device a special category of hard-working and insecure men who spend a four-year apprenticeship in docility.
On August 28, 1%7, the unfairness was recognized when the U.S. Court of appeals 9th Circuit Court Judge Pope found that affidavits submitted by the Pacific Maritime Assn. could not prove that the claims made by the Class B longshoremen were invalid. Furthermore, the Court found that there may not be any mechanism for the Class B longshoremen to carry their contentions before an impartial tribunal within the structure of the collective bargaining agreement.
As a result, the Court urged that the dispute be brought before a trial court to hold a hearing and to make findings as to "just what transpired here."
These men are now kept from trial only by the high legal cost involved in taking a complaint to court. Their meager funds had been hurt by the six-year fight to get a trial. They are in the process of trying to raise funds.
Meanwhile a date of December 9, 1969 has been set for the trial in which Harry Bridges is suing all the civil rights leaders, writers and intellectuals who have supported the fired men.
This libel suit has a number of effects on the ability of the fired men to obtain trial, not the least of which is financial. Contributions that would go to the case of the fired men must be diverted to defend their supporters.
From Mohammad Speaks, September 12, 1969
January-February 1989, ATC 18