Against the Current, No. 15, July/August 1988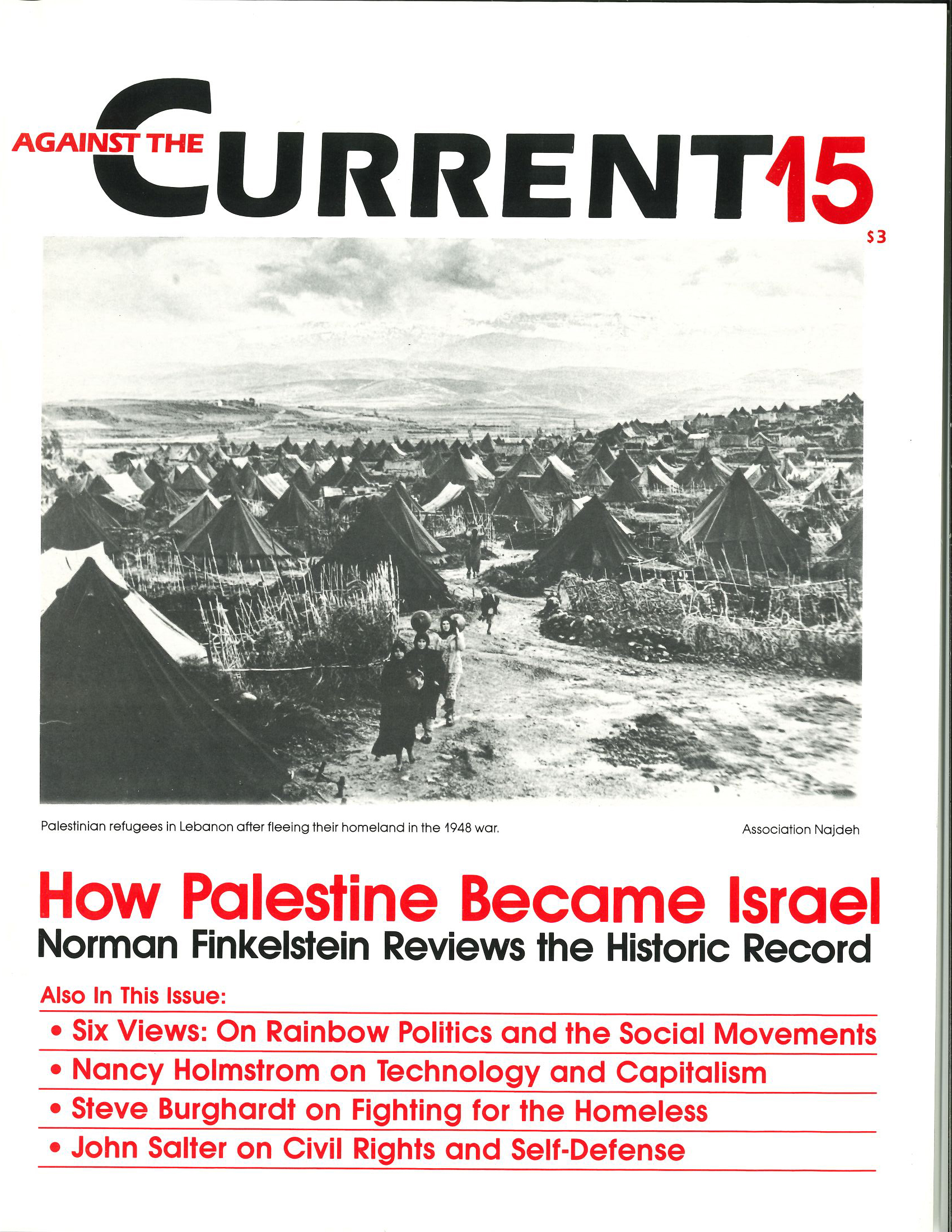 Joel Beinin, John Kelley, David Millstein & Zachary Lockman
THE ISRAELI GOVERNMENT has stepped up its recent harassment of journalists-from revoking licenses of publications such as Al-Awdah newspaper and its English language weekly, to the administrative detention of nearly thirty journalists, to the closure of media sources such as the Palestine Press Service, which has been ordered shut for six months.
Now, Israeli authorities have struck inside Israel's pre-1967 borders to close the Hebrew-Arabic newspaper Derech Ha-Nitzotz/Tariq a-Sharara, arresting five Israeli Jews and one Palestinian, and revoking the paper's license. Derech Ha-Nitzotz is the first Hebrew language newspaper ever to be banned in Israel — an ominous sign for freedom of the press.
Both the closure of the newspaper and the six-month detention of one of its editors, Palestinian journalist Ribhi al­Aruri, have been done under provisions of the Emergency Regulations of 1945 — administrative law with no appeal to the court system.
In addition, all five arrestees — al­ Aruri, Michal Schwartz, Roni Ben Efrat, Ya'akov Ben Efrat, and Assaf Adiv — have been held in solitary confinement and subject to interrogation through the use of physical threats of violence. In one incident, interrogators told Ya'akov Ben Efrat that if he refused to talk, that Palestinian prisoners would be brought in and tortured in front of him.
To illustrate the seriousness of the threat, interrogators brought before Ben Efrat a Palestinian known to him who showed signs of heavy torture. He was told that this would continue if he did not talk. Ben Efrat was held in solitary confinement for sixteen days before being allowed to see his lawyer.
Two defendants, Assaf Adiv and Michal Schwartz, have had four charges brought against them, which accuse them of contact with and membership in a "terrorist organization," namely the Democratic Front for the Liberation of Palestine.
Historically, the DFLP has been the tendency in the PLO which has recognized the right to self-determination of both Palestinian and Israeli Jews and has advocated a two-state solution between the two peoples. It is important to note that both Adiv and Schwartz have been accused of essentially political crimes — for holding certain political beliefs and associations. Their arrests signal increased harassment by the Israeli government of Jews and Arabs who support mutual co-existence.
We have received word that Roni Ben Efrat and Michal Schwartz were beaten by seven criminal prisoners; Schwartz suffered injuries to the head and nose and was taken to the hospital. This was witnessed by the defendants' lawyer, Abed al-Assaly. Both were transferred from the Russian Compound of the women's prison at Neve Tirza. Wardens refused them to inform their lawyers of such a move.
Shortly before their transfer, two prisoners from Neve Tirza were brought to the Russian Compound and told the two that "the criminal prisoners had been incited against us, and were waiting for our arrival in order to take the law into their own hands." [affidavit of Roni Ben Efrat, May 31, 1988)
Following her pre-trial hearing, Roni Ben Efrat made the following statement: "I am innocent of any crime. My detention is aimed at putting pressure on my husband and at arresting Palestinians who may be tortured in order to incriminate me. I protest this procedure, where I am not represented by an attorney."
Members of the Jerusalem-based Forum of Action for the Freedom of the Press have asked that journalists from the United States join in protecting these violations of freedom of the press, especially given the critical nature of the events in Israel and the occupied territories. To date over eighty-five Israeli journalists, along with many journalists from Greece, Italy, France, and the United Kingdom have joined in protesting these actions.
We are now circulating a statement addressed to Prime Minister Yitzhak Shamir expressing concern over these recent acts. We intend to circulate copies of this statement to human rights organizations and press associations in Israel. Please join us in this appeal.
Editors' note: In addition to the case discussed above, the trial of Michael Warschawsky, the director of the Alternative Information Centre in Jerusalem, who was arrested when the Centre was raided and closed for six months in January 1987, finally opened on July 5. At least 15 Palestinian journalists from various Arab newspapers are under detention. ATC will try to cover the cases of press repression in Israel and the Occupied Territories and the defense campaigns.
July-August 1988, ATC 15