Against the Current, No. 8, March/April 1987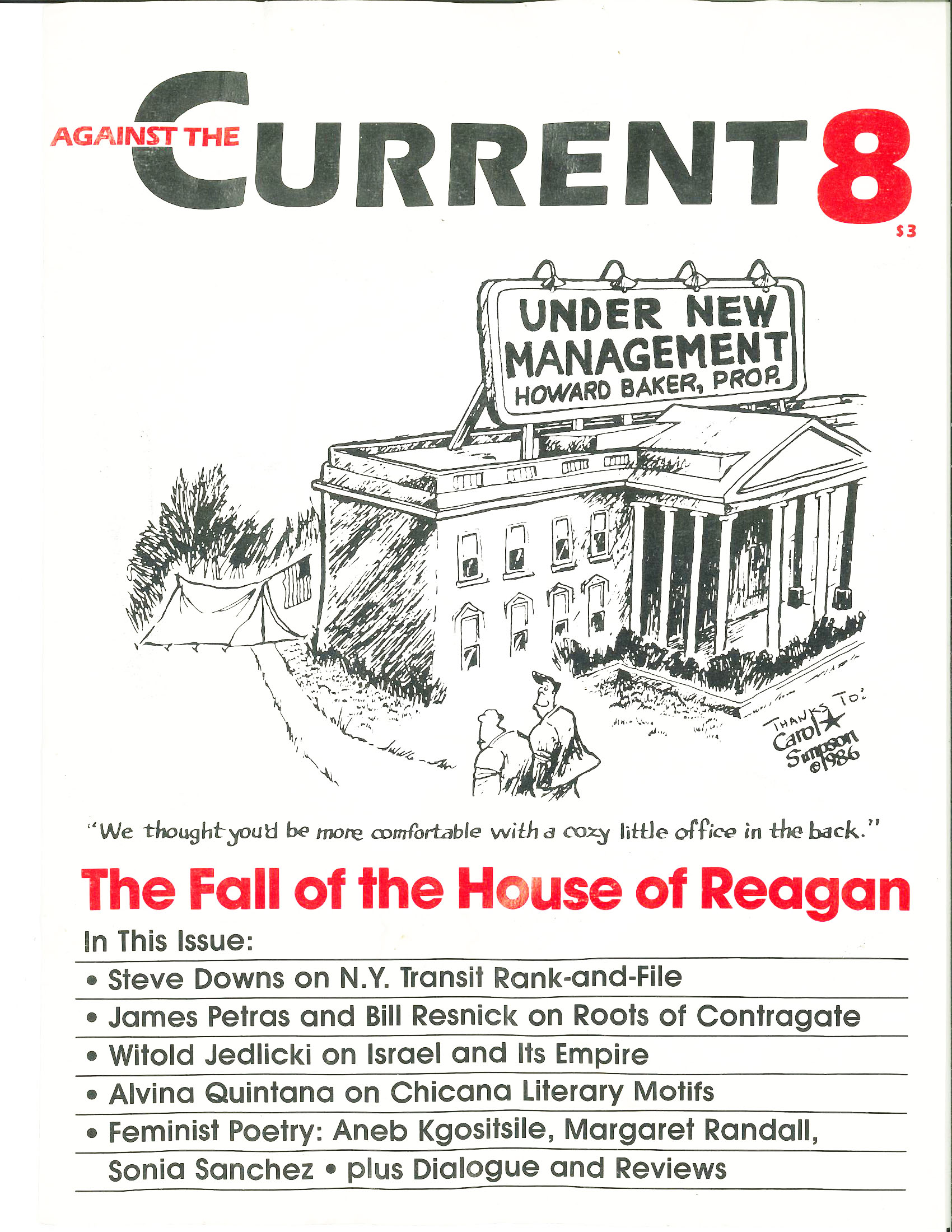 ON JANUARY 26, nine Los Angeles residents — eight Palestinians and a Kenyan woman married to one of them — were seized in a dawn raid by the Immigration and Naturalization Service (INS), Federal Bureau of Investigation (FBI) and Los Angeles Police Department. Two of the nine were released on bond within a week, but the remaining seven stayed in detention until February 17, when Judge Roy Daniels ordered their release despite Justice Department objections that they are "national security risks."
The Justice Department is seeking the deportation of those arrested under the seldom-used ultra-reactionary McCarran-Walter Act of 1952. They are charged specifically with possession of copies of the magazines Democratic Palestine and Al Hadaf (both of which are publicly available and sold by subscription), which reflect the political views of the Popular Front for the Liberation of Palestine.
According to the Reagan administration, these journals constitute "written or printed matter advocating or teaching economic, international and governmental doctrines of world communism," in the language of the Act.
Khader Musa Hamide, a 32-year-old U.S. resident since the early 1970s, was ordered by the INS to "produce any and all records, ledgers, documents, files, books and materials" related to the two magazines. Hamide seems to be a particular target of the INS. His wife, Julie Nyangugi Mungai, who is Kenyan and a Black community activist, is also targeted for deportation.
The Justice Department's attempts to deny bail to the arrested Palestinians, and its demand that the judge hear evidence against them in secret, both appear to follow a strategy detailed in a recently revealed INS document, "Alien Terrorists and Undesirables: A Contingency Plan." The Plan outlines scenarios for mass roundups of resident aliens from nationalities which the President might designate as "potential terrorists." It specifies locations for mass detention facilities and indicates that the government would press for denial of bail and closed deportation hearings.
The Arab-American community and its supporters have responded with shock to the Los Angeles arrests and the INS document. Rev. Don Wagner, director of the Palestine Human Rights Campaign, sees the arrests as "the Israelization of U.S. immigration policy."
Noel Saleh, a Detroit attorney who specializes in immigration law, points out that "the fact that INS has a budget for this kind of contingency planning [for mass roundups] makes it hard to believe it isn't a serious threat." Saleh also pointed to a recent increase in FBI visits to Arab residents in the Detroit suburb of Dearborn.
Arab-Americans are particularly angered by the fact that the dragnet-style raid in Los Angeles occurred in the same district as the 1985 bombing assassination of Alex Odeh, southern California director of the American-Arab Anti-Discrimination Committee. The FBI has stated that Jewish terrorists are prime suspects in the Odeh murder, but is pursuing no active investigation of the case.
For further information, contact Committee for Justice, 2440 Sunset Blvd., Los Angeles, CA 90027.
March-April 1987, ATC 8