Against the Current, No. 8, March/April 1987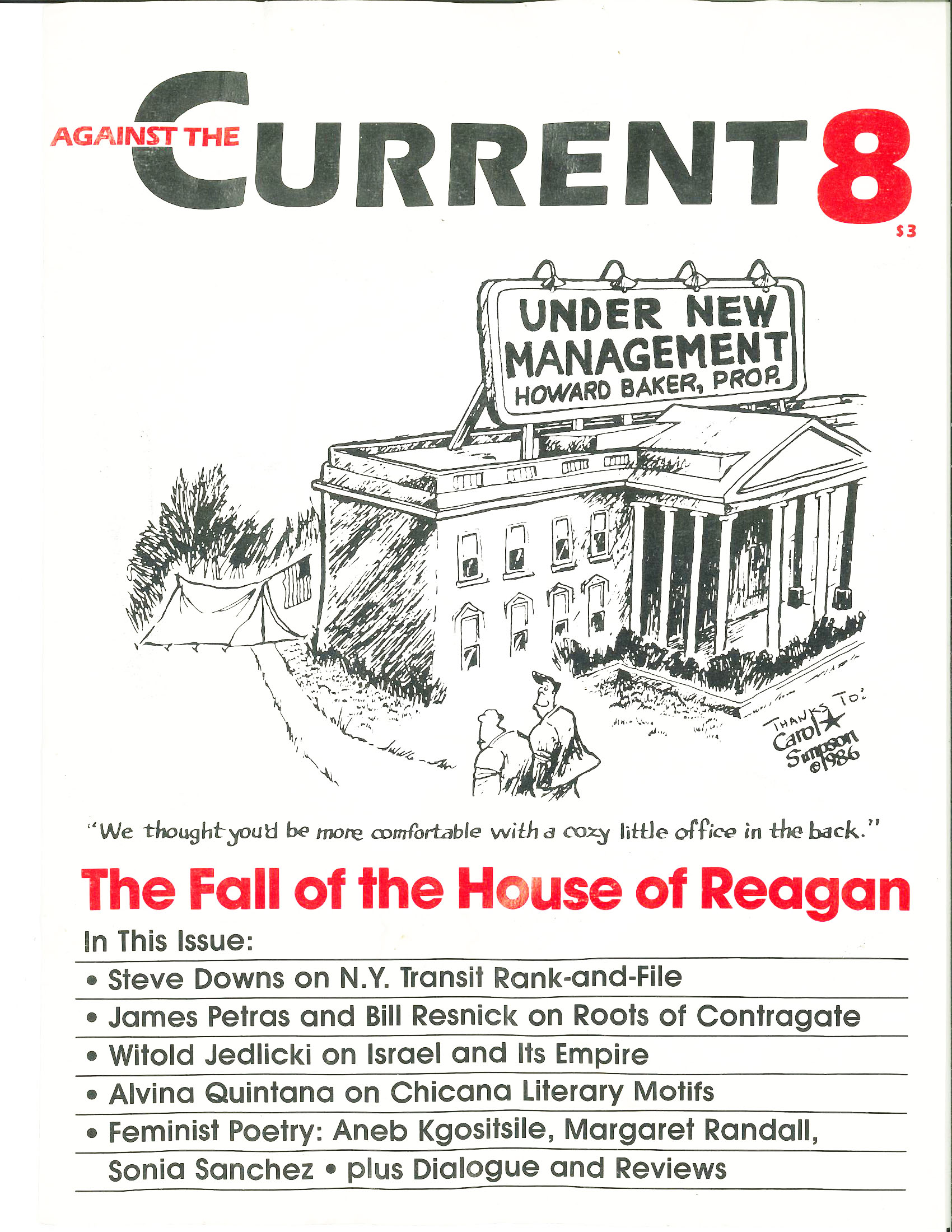 Information for this article has been collected from the Israeli press and from discussions between activists in Israel and concerned people in several U.S. cities.
FOR THREE YEARS, the Alternative Information Centre in West Jerusalem has provided information and analyses on Israeli government abuses of civil rights. The Centre published a biweekly newsletter in English, News From Within, issued bulletins and organized press conferences to publicize repressive measures and violence against Arabs.
The Centre has become widely regarded as one of the few reliable sources of firsthand reports and documentation of official violations of human rights. Foreign and Israeli journalists, government figures, antiwar and antiracist organizations such as Peace Now, Citizens Against Racism, Organization of the Poor Neighborhoods, Black Panthers, student and university groups were increasingly turning to the Centre for information and assistance.
On February 16, Israeli police accompanied by a television crew raided the Alternative Information Centre. Six Palestinian and Jewish staff members were arrested. Police seized all the Centre's equipment, documents, files, subscription lists, books and even postage stamps.
Five of the arrested staff members were released within 48 hours following a mounting protest. However, the Centre's director, Michel Warshawsky, a veteran Israeli antiwar and anti-occupation activist, was held in detention for interrogation, in solitary confinement, and denied any reading or writing material until he was formally charged on March 2.
Warshawsky is charged with rendering services to an illegal organization, the Popular Front for the Liberation of Palestine; "identification" with an illegal organization; and possession of written material published by illegal organizations.
After a legal battle, Warshawsky was finally granted bail on March 17. No trial date has been set.
The closure of the Alternative Information Centre on the orders of Police Inspector General Kraus, and the charges against Michel Warshawsky, were carried out under the 1945 Emergency Regulations and the 1948 Prevention of Terrorism Act, which is strikingly similar to the South African statute of the same name.
Gad Liar and Yitzaak Rabiheh, correspondents for the Israeli daily paper Yediot Aharanot, wrote in the February 17 issue:
"A number of foreign correspondents standing in the vicinity expressed their surprise and shock at the action. Many of them even claimed that 'what's happening here is similar to the police treatment of foreign correspondents in South Africa."
Items confiscated in the raid included pamphlets produced commercially for a wide variety of groups and individuals. The Centre made photocopying and type­ setting services available at low cost to dissident groups. Commercial enterprises of this kind are not subject to censorship, nor are they required to demand government authorization from their customers.
Among the publications singled out by the police is a book documenting physical abuse of Palestinians in Israeli prisons with a section offering advice on how to withstand torture. The authorities may regard this as "rendering services to the enemy," but they do not deny the validity of the book's documentation.
Other activities that were probably viewed with displeasure by the authorities were a petition on behalf of Mordecai Vanunu that had been initiated by Warshawsky. Also, in earlier ex­ changes of Israeli and Palestinian prisoners, the center had monitored the list of names of Arab prisoners whom the Israelis had announced would be released. It then publicized the names of prisoners who never appeared. With another prisoner exchange in the negotiation stage, it may be that Israeli authorities were eager to prevent another such exposure.
Warshawsky and the Alternative Information Centre deny all charges and have vowed not to be silenced.
The attack on the Alternative Information Centre and Michel Warshawsky must be seen in the context of escalating political repression in Israel. Recent developments include:
• A step up of military violence against Palestinians in the Occupied Territories. This campaign has included a murderous assault on the campus of Bir Zeit University December 4, and forced closures at Najah University and other Palestinian educational institutions.
• The closure in the past year of the East Jerusalem Arabic newspapers Al-Mithaq and Al-Ahd, and the deportation of Akram Haniyeh, the editor of A-Sha'ab.
• The secret trial of Mordecai Vanunu, the nuclear technician who revealed to the London Sunday Times the extent of the Israeli nuclear arsenal, kidnapped from Italy by Israel's Mossad (secret police and intelligence service) and facing life imprisonment.
• Indictments of four Israeli peace activists — Latif Dori, Eliezer Feiler, Yael Lotan and Reuven Kaminer — who attended a symposium on Middle East peace in Romania last November in which Palestinians also participated. They are charged with "support for terrorist organization," under a 1986 amendment to the Anti-Terrorism Ordinance of 1948 which criminalizes any meeting of Israeli citizens with members of the Palestine Liberation Organization.
An Israeli anti-occupation activist now living in the United States points out: "The government of Israel watches with extreme care the reaction in the United States to its behavior. It saw there was no coverage when the Arab papers were shut down and the editor of one of them deported. So why shouldn't it go further to suppress people it doesn't like?"
March-April 1987, ATC 8