Against the Current No. 4-5, September-December 1986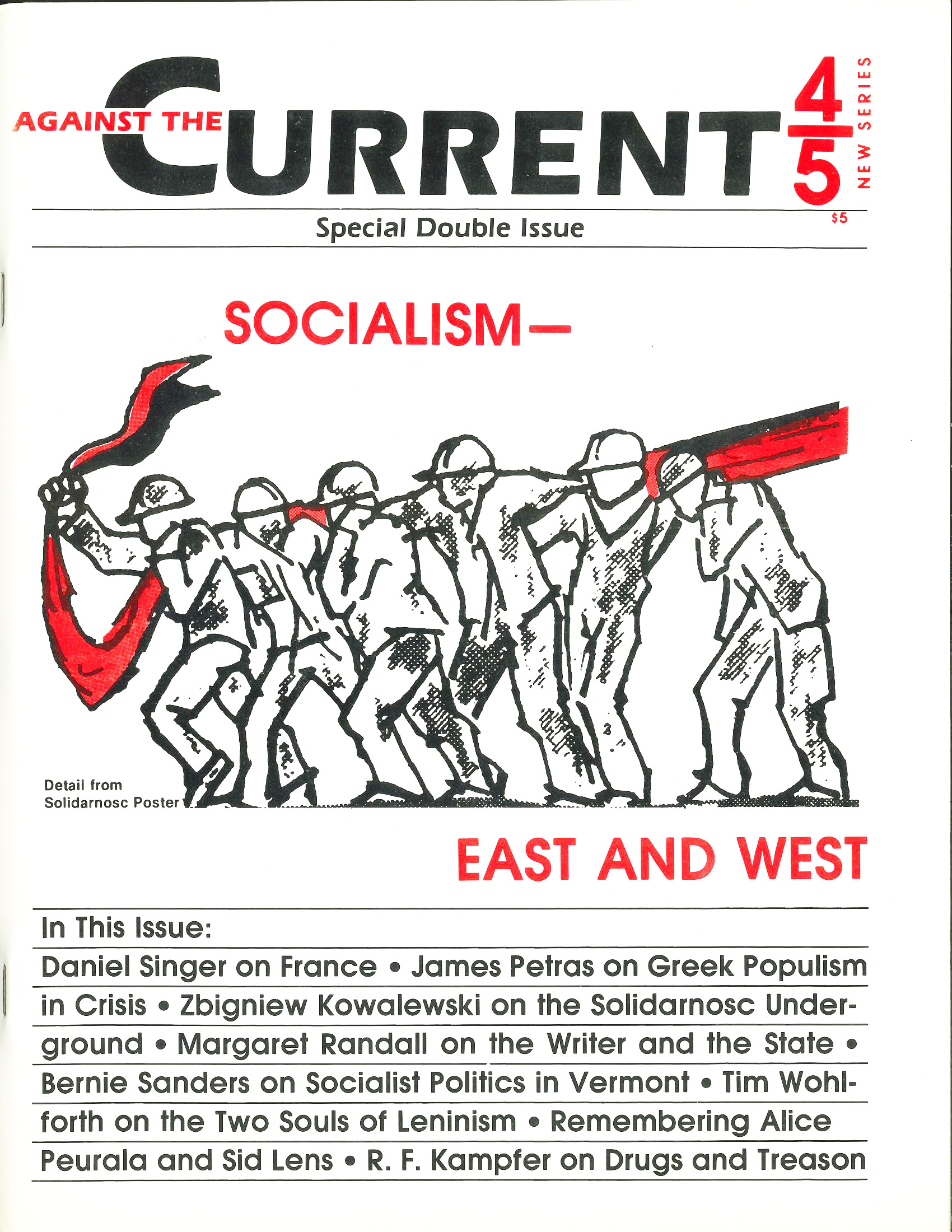 "… Her writings go far beyond mere dissent, disagreement with, or criticism of the United States or its policies . . .

"Your pending application for adjustment of status is hereby DENIED."
–Decision on Application for Status as Permanent Resident,
Immigration and Naturalization Service, (INS) El Paso, Texas October 2, 1985
WITH THESE WORDS, a representative of the State [the INS regional director in El Paso, Texas] ended his seven­page decision and my 17-month wait. He wielded his discretion to use the ideological exclusion clause of the McCarran-Walter Immigration and Nationality Act. He exercised his "imagination" as well as his authority when he handed down a negative response to my petition to reside in the land of my birth.
An artist, a writer, I was being excluded on the basis of my written opinions. In books published more than a decade ago, I had criticized U.S. government policy in Southeast Asia; more recently I had criticized U.S. policy in Central America. In the sixties I had upon occasion spelled America with a "K"; in the seventies called the Attica prisoners in revolt "my brothers" and the police attacking them as "pigs." Moreover, I had written enthusiastically about many aspects of Cuba's socialist experiment and the innovative pluralist experiment in Nicaragua.
Perhaps most dangerous of all, many of my books have given voice to those who were previously silenced, or ignored. For more than fifteen years I have done oral history with the ordinary people of countries about which the U.S. public is fed information geared to produce an image of childlike incapacity, racial inferiority, and uniform yearning for the American Way of Life-all packaged in a context devoid of any real historical continuity.
By searching out, translating, and transcribing the words of a granddaughter of slaves in Cuba's western tobacco fields, a teenage peasant anti-aircraft gunner from a coastal fishing village in Vietnam, a Puerto Rican patriot whose two children died of hunger, a Cuban farmer who writes peasant theatre in verse, nuns and priests who took an active part in the Nicaraguan struggle, and ordinary and extraordinary women in Cuba, Nicaragua, Vietnam, Peru, and Chile, I participated in a developing literary genre which seems particularly threatening to the current interpreters and enforcers of immigration law in this country.
This is nothing new. Sophocles was put to death in a terminal exercise in thought control. Shelly, in his time, cried out in defense of the writer's imagination. The "witches" of Salem and countless other women who throughout history followed their deepest needs to speak or write the truth as they knew it, have paid with their lives. Julius Fucek was hanged by the Nazis. Persecution of writers and artists during China's "cultural revolution" or under the more rigorously stalinist periods in some of the eastern bloc countries is well-known. Classism, racism, sexism, heterosexism, age-ism, and able-bodyism are constant challenges to the writer's imagination.
Many, perhaps, would say that persecution of the freedom to think and express oneself does not take place in the United States.
They would be wrong.
The McCarran-Walter Immigration and Nationality Act is less studied by most Americans than the Constitution or Bill or Rights (this latter judged "subversive" some years back by more than 80% in a street poll held in the nation's capital). The McCarran-Walter Act was passed by a McCarthy-inspired Congress over President Truman's veto in 1952. Truman, in his veto message, said the act would place constraints on citizens and aliens alike. Yet this law, with its vague clauses, clear First Amendment infringement, and the broad discretionary powers it gives INS employees, would still-more than thirty years later-keep out literary giants of the stature of Nobel Prize winners Pablo Neruda and Gabriel Garcia Marquez, or an American-born writer like myself whose American family lives in this country.
The list of writers excluded by this legislation is a long one. It includes the English novelist Graham Greene. Farley Mowat, the Canadian environmentalist and author of such best-sellers as Never Cry Wolf, describes an experience interestingly similar (in its essential points) to my own. My Discovery of America* is his recently-published and lively account of being stopped by INS at the border when he attempted to comply with an invitation to give a lecture at Chico State College in California. Mexico's Carlos Fuentes and Uruguay's Angel Rama have been denied visas. And many who are not writers but who certainly provide important points of view to which the American people have a right-personalities like Chile's Hortensia Bussi de Allende or Italy's Nino Pesti (the NATO General who speaks against the arms race)–have also been judged excludable.
Angel Rama's case is the one which bears most similarities to my own. Rama was not seeking a temporary visa in order to give a lecture, teach one term at a university, or promote a book. Like me, he had applied for permanent residency status. He did not have family ties in this country, but he had been invited to teach at an American university and he wanted to live here.
Angel Rama's political philosophy was iconoclastic to say the least. He had virulently criticized the Cuban Revolution, although INS officials proclaimed him a Communist! He was not kindly looked upon by a number of socialist governments, which considered him a conservative! The case against him came down to a denial of his right to express his views, and he was not even told what the government claimed those views were! He was fighting the decision against him, when an airplane accident over Madrid tragically put an end to his life.
Why, some may ask, does a U.S.-born writer need to apply for residency in her own country? How can that residency be denied in the context of immigration law–the essential premise of which is supposed to be family reunification–when the person in question's husband, mother, father, brother, sister, and oldest son are all American citizens? Again and again I have been asked how I lost my original citizenship, if marriage to an American does not "automatically" qualify one for residency, why I find myself in this situation. Briefly, I'll give some of the history.
In the late fifties I was living in New York City, trying to become a writer. In 1960 I had my first child. As a single mother, in the New York of those years, there wasn't much of a support system; childcare was almost nonexistent, women had not yet come together in the organizations we were later to develop in order to meet our needs. I moved to Mexico with my son in 1961, hopeful of finding a way of life which would enable me to write, and spend more time with him–as I supported us both.
The sixties saw a tremendous renaissance in what would be known as the "little" publishing phenomenon: little magazines, small presses, groups of poets and writers whose work was avant garde in any one of the ways in which every generation produces its cultural nonconformists.
El Corna Emplumado (The Plumed Horn) was the bilingual quarterly I cofounded and edited from Mexico City during the next eight years. In its pages important American poets and writers, like William Carlos Williams, Ezra Pound, Charles Olsen, Robert Creeley, Allen Ginsberg, Lawrence Ferlinghetti, Denise Levertov, Diane Wakoski and others were introduced for the first time to a Latin American public.
Readers north of the Rio Grande had access to the work of Ernesto Cardenal, Violeta Parra, Roberto Fernandaz Retamar, Roque Dalton, Nancy Morejon, Octavio Paz-and even those classics whose names we knew but whose work we had never read: Vallejo, Neruda, Rulfo, Cortazar.
The imagination of the writer and the imagination of the State were matters deeply explored in the thirty-two issues of El Como Emplumado. Some States–such as Cuba–imagined the writer as important, providing a context for creativity even in the midst of a survival struggle that demanded constant vigilance and produced, from time to time, no small degree of defensiveness. States like Somoza's Nicaragua felt threatened by the imaginations of vastly differing writers: to have one's name on the list of authors whose books were not allowed past that country's censors in the sixties and early seventies was the sad pride of many.
Consequently, in many places, the writers' imagination was forced into opposition with the death-dealing imagination of the State.
Poets felt and expressed the struggles and dreams of their people. Some of the most outstanding died participating in the armed struggles that ensued. Javier Heraud, Otto-Rene Castillo, Leonel Rugama, Monica Ertl, Rodolfo Walsh, Paco Urondo, Nestor Paz, Haroldo Conti, Roque Dalton, Alaide Foppa, and Lil Milagros Gonzales come to mind.+
In the developing, dependent countries of the so-called Third World, the writer's imagination has traditionally been more closely engaged with the daily forces of life and death. The best of Latin American letters has bridged the fabricated gap between magic realism and social testimony. Precisely the same McCarthy-era madness that produced legislation like the McCarran-Walter Act cast a slow-thawing chill on such engagement in this country.
To be sure, the danger of State-imposed conformity and rhetoric also exists in the world of art. Witness the weight of a misunderstood social realism, or the tragic disregard for cultural continuity seen during the Chinese cultural revolution.
Open discussion about these issues is a part of every really profound period of social change, and nations bring their own particular cultural history to bear on these discussions. In the pages of El Corno Emplumado I first experienced the individual artist or small group of unaffiliated artists dealing with this phenomenon. Later, in Cuba, I would live through a period of collective exploration of the same; and in Nicaragua witness quite a remarkable example of one revolution's creative handling of the problem.
As a result of my involvement, through the magazine, with the vanguard of young writers and artists during those years, I myself moved from a position of "art beyond politics" to one in which a more humanistic approach to artistic expression included a much broader take on life-very much including the political.
Oral history, especially with women, became a necessity. The voice, the voice of the ordinary woman and man, became central to my work. It found its way into my poetry as well as becoming the backbone for books of essays and interviews. In Cuba and in Nicaragua I would come to understand how testimonio–or oral history–grew as a new literary genre within the context of a people's revolution.
But I'm getting beyond myself in this story. In the mid-sixties, living in Mexico, married to a Mexican poet, and with three small children to support, I took out Mexican citizenship as a way of enlarging my job possibilities in a time of economic need. I was told by my lawyer that I must inform the American Embassy of my acquisition of Mexican nationality. When I did so, and without adequate information as to other options, I allowed myself to be placed in a position where I simply signed my American citizenship away.
Less than two years later, in 1969, I realized my error and attempted to regain my original status. Although taking out Mexican citizenship was an economic move, and not a political statement (as some have tried to claim), I now consider it a mistake. Not one, however, for which I believe I should be penalized forever.
My personal story is important only in that it is part of a larger one. The imagination of the State exists only insofar as it is the sum of the best and most lasting elements created by the imaginations of the people of that State. And imagination is, perhaps, the element which most successfully moves beyond State-imposed boundaries, to link all peoples in the uniquely-priceless parts of a common vision.
The celebration of our differences as well as of our commonalities is what makes it possible for those of us in vastly-differing cultural milieus to thrill to works as varied as those produced by the classic Greek dramatists, Sappho, Shakespeare, the Russian novelists, the Latin American magic realists, the passion of a Ginsberg, the insight of an Alice Walker, or the deep knowledge of an Adrienne Rich.
These are writers' imaginations, each in its time and space, which both challenge and change the imagination of the State; pushing it to new limits of life and power. Not the traditionally-assumed State power of "law and order," "authority and force"; but the power of ideas, of evocations and of dreams, alive in all that lasts from what we make and do.
It is within the context of this view of the relationship between the writer's imagination and the imagination of the State that a number of prominent American writers have joined me as plaintiffs in a civil action filed in Washington's Federal District Court in October of 1985. Norman Mailer, Arthur Miller, Toni Morrison, Grace Paley, Rose Styron, William Styron, Kurt Vonnegut, Alice Walker, and PEN's American Center-among others-have joined in the filing of this complaint against the U.S. Attorney General, the Commissioner of Immigration and the INS regional director who signed the denial, both to attempt to get a reversal of the decision in my case, and to legally challenge the constitutionality of the ideological exclusion clause of the McCarran-Walter Act. The National Writers Union, the Writers Guild, and other organizations are supporting our action in an amicus brief.
In part, the complaint reads: "… Defendants denied Randall's application because of her political views, as reflected in the contents of her writings…. Defendants' activities have cast and will continue to cast a chill over Randall's First Amendment freedoms. These actions con­ vey to her the message that she will be separated from her home, her family, her friends, her colleagues, and her job to the extent that her writings are subjectively viewed as beyond mere dissent, disagreement with or criticism of the United States or its policies.'"
It goes on to state that "defendants' actions have caused and continue to threaten irreparable damage to the plaintiffs' First Amendment rights as citizens and voters to meet, converse, and inform themselves about some of the most critical issues facing Americans today, and to associate and exchange ideas face-to-face with Randall respecting their mutual aesthetic and literary interests."
In my writer's imagination, I have believed and continue to believe that a critical view is consistent with love, not hate; that the principles from which I criticize U.S. policy are not "subversive" but in fact those upon which the greatest traditions of any democracy rest; that the imagination of the State is informed and enriched most meaningfully by the imagination of her writers and artists; and that only in a climate of absolute artistic freedom can the imagination flourish and grow.
People ask me how I eel, forced into the role of protagonist in a case like this. It would be a lie to evade the uncentering nature of the situation. Engaging my imagination and the greatest output of my physical energies in this new way has disrupted my creative life as well as my .work life, my family life-at times even my sanity. But I deeply believe the issues at stake are larger than my personal situation.
I feel I am engaged in a struggle for many besides myself–for writers and others who do not have the good fortune to be represented by the Center for Constitutional Rights, who do not enjoy the support of PEN, the Writers Union, the Guild, or other writers of stature and conscience. If I win, we all win. And if I lose I only lose in a very personal sense; we will still have provided a forum through which hundreds of thousands are reexamining our personal and collective freedoms, and working to create a world society more just for all its members.
I would like to close with two poems, both written in the context of these past two years of reentry, bringing together the multiple threads of two quarter-centuries of experience-one in Latin America, the other here where I grew up. Both parts of my life, in one way or another, inform the struggle to become, the struggle to come home. I offer these poems as pieces of a writer's imagination, a writer's reality.
*My Discovery of America, Farley Mowat, Atlantic Monthly Press, 1985.
+2. Javier Heraud was Peruvian; Otto-Rene Castillo and Alaide Foppa, Guatemalan; Leonel Rugama, Nicaraguan; Monica Ertl and Nestor Paz, Bolivian; Rodolfo Walsh, Paco Urondo and Rodolfo Haroldo Conti from Argentina; and Roque Dalton and Lil Milagros Gonzalez from El Salvador.
September-December 1986, ATC 4-5