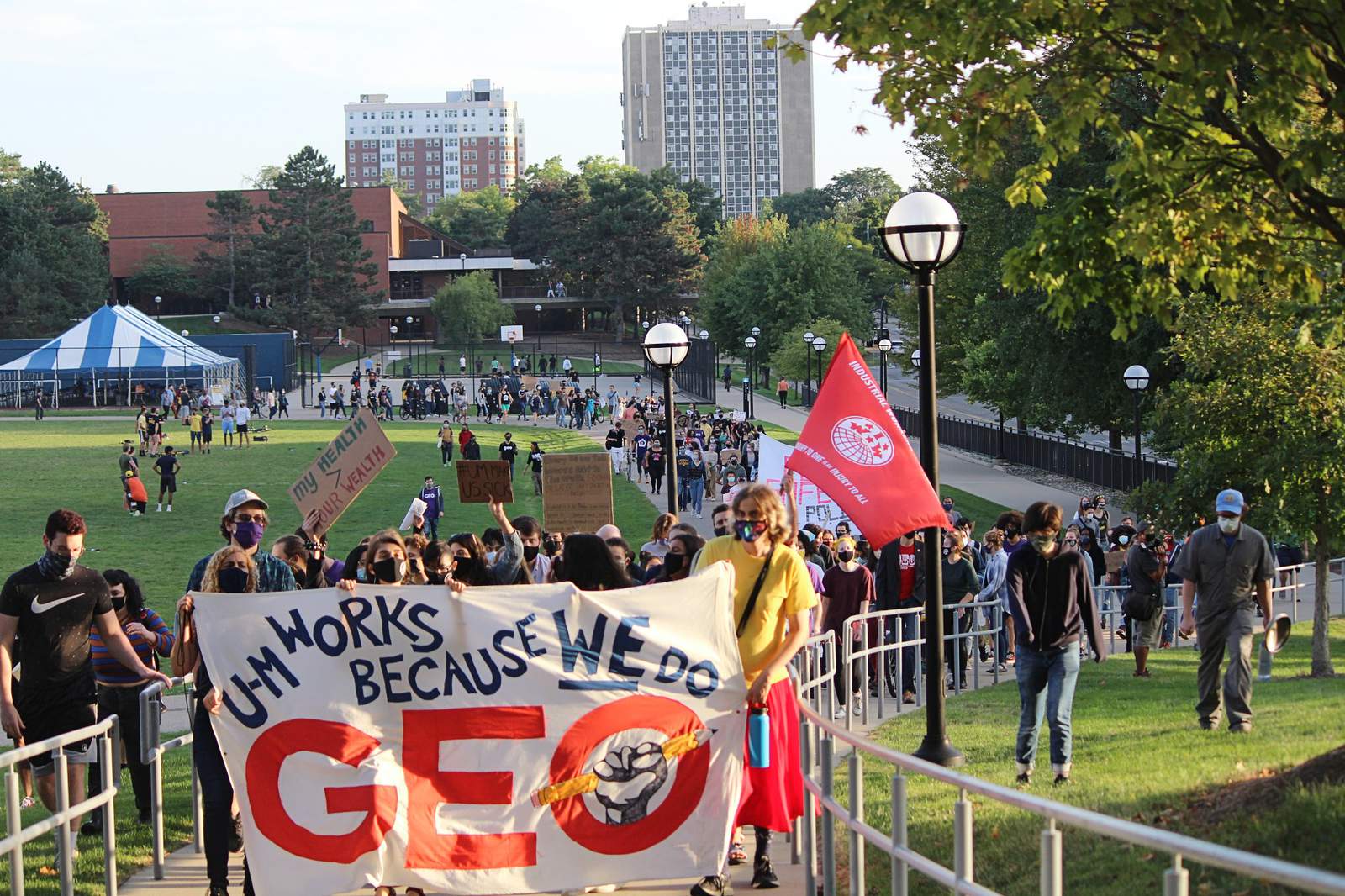 THE GRADUATE EMPLOYEES' Organization of the University of Michigan represents over 2000 graduate student workers.
Between September 8-16, 2020, GEO members led an explosive abolitionist strike for a safe and just campus, the culmination of months of organizing against the University's opaque and unsafe reopening plans and the University's expanding investment in policing.
The University of Michigan's response to the pandemic follows the neoliberal playbook. The University outsourced pandemic-related financial losses onto workers and students through austerity measures and a tuition increase, while President Mark Schlissels insisted the University would hold a "public-health informed residential semester" in the fall, a fantasy that he and the Board of Regents have clung to even as COVID cases spike in the residence halls.
The University demonstrated its willful intent to reopen, regardless of the human cost and against the recommendations of its own ethics committee, who argued the University's reopening could cause "grave harm" to the surrounding community.
Inspired by wildcat strikes throughout the spring and summer led by workers fighting for safe working conditions, and the Chicago Teachers Union's and United Teachers of Los Angeles' willingness to fight for their students and communities, and this summer's uprising for Black Lives, GEO members knew that we needed to take action in order to protect our coworkers and our community.
With our power to withhold our labor, GEO could act as an emergency brake against the University's reckless reopening plans and carceral infrastructure. In this way, GEO always envisioned our own struggle as broader than just the needs of graduate workers.
This was demonstrated in our slate of demands, calling for the universal right to work remotely, which would have set a precedent for other workers on campus; robust and randomized testing, which is necessary to detect and contain an outbreak and protect the community; support for parent graduate workers and international graduate workers, struggling under increased caregiving responsibilities and buffeted by a hostile political environment; and critically, to disarm and defund campus police and cut ties between campus and city police forces.
Defunding became all the more urgent during the pandemic given the University commits $17 million annually to the police, but has enough food-insecure students to host a permanent food bank on campus.
Pandemic and Policing Issues
While critics of the strike sought to separate GEO's COVID and abolitionist demands as unrelated, the University linked these issues directly: in its reopening plans, University officials created the "UM Ambassadors Program" which employed federal work-study students paired with armed police officers to patrol social gatherings on and off campus.
Heavily criticized by coalitions like Students of Color for Liberation and the University's own ethics committee, the Ambassadors Program demonstrated the University's reliance on repression to secure its reopening, a task that would disproportionately harm Black and brown campus members.
As GEO argued, "Policing and surveillance are not 'public health-informed;' they are harmful to physical and mental health. Increased police presence on campus and in the wider community will further jeopardize the safety of Black and brown graduate workers, students, faculty, staff, and community members in the midst of a pandemic that is already disproportionately ravaging Black and brown communities."
By taking up these pandemic and policing issues in tandem, we smashed the narrow confines of acceptable bargaining topics and forced the University to bargain around policing – something it swore it would never do.
GEO's strike acted as a lightning rod for campus discontent, concentrating workers' power, forcing a conversation around campus priorities. Two days into the strike, Residential Advisors — student workers in the residence halls — announced their own strike for safer working conditions, calling for better safety protocols, PPE, and hazard pay.
Four days into our strike, student workers from the dining halls and cafés on campus announced a walkout and work slowdown in response to unsafe working conditions.
The bravery of our student-worker comrades should not be understated. These are working-class students who rely on the University for their housing, meals, and a paycheck. They led job actions despite not having a union and having far fewer legal protections to wage a battle with the University.
Their willingness to fight back despite these limitations gave confidence to GEO members, who voted to reject management's first offer and keep striking.
First Offer Rejected
Three days into the strike, the University presented GEO with an "exploding" first offer, meaning it would no longer be on the table should we reject it. However, the offer failed to address the majority of our demands: most critically, it refused to commit to a universal remote work option and offered nothing on our policing demands. GEO members rejected the "exploding" offer en masse and headed back to the picket lines.
Campus unrest increased after COVID-positive students in quarantine housing posted videos about poor conditions of housing, cold meals, and lack of toiletries. This exposure demonstrated that despite a summer to plan for student return, the University was not ready for infected students. Moreover, these student exposés ripped a hole into the slick marketing materials and assertions that "everything is fine."
In a show of solidarity, GEO members donated food and supplies to students in quarantined housing to make up for the University's negligence. In a symbolic but politically damning move, the Faculty Senate passed a vote of no confidence in President Mark Schlissel on the last day of our strike.
Perhaps equally damning, the Democrat-dominated Board of Regents passed a vote of confidence in the University's president and the University's reopening plans.
By September 14, the University threatened GEO with a looming court injunction to force us back to work. Concerned with the resources required to fight a lawsuit, GEO members grudgingly accepted the University's second offer on September 16 and returned to work on September 17.
While the actual outcome of our bargaining is tepid — expanded childcare funds, protocol for remote work, and a policing "task force" — it sets a precedent that we will build on for the future. Not coincidentally, the day after our strike ended, the University announced it would cancel the "Ambassadors" policing program.
While the material gains of the second offer fell far short of what GEO members had hoped for, the significance of our strike under pandemic conditions should not be underestimated. First and quite simply, our strike demonstrated that workers can fight back and win.
Our union local had not struck since 1975, and there was no living memory in the union of striking. "Strike" was discussed in hushed tones and often described in terms of fear and risk. Yet graduate workers rebelled against Michigan's anti-union laws that prohibit public employees from striking, refusing to work for a total of nine days.
This had a qualitative effect on graduate students, who were transformed by the experience of fighting back. We ended the strike with a sense of our own power and a clearer understanding of the University's hostility to workers. Despite liberal rhetoric of "dialogue" and "listening," the administration steamrolled its workers by chasing tuition dollars and football revenue at the cost of health and lives.
Not surprisingly, Board of Regents member Ron Weiser, Ann Arbor's largest landlord and owner of McKinley properties, donated $30 million to the University just prior to students' return to campus and another $100,000 to the Political Action Committee "Unlock Michigan," dedicated to overturning Governor Whitmer's emergency powers.
Our experience demonstrates that in the right conditions and by linking our demands to the greater good of the community, strikes are "contagious" and can spread easily. We were overwhelmed with solidarity — from individuals and organizations around the country who flooded our strike camp with food, donations, and solidarity greeting; from undergraduates who pooled their money to buy us sandwiches, to encouragement from UCSC grad workers.
Most significantly, we demonstrated that workers can and will strike over "permissible" subjects in order to shake the foundations of carceral infrastructure, en route to building a new world out of the ashes of the old.
November-December 2020, ATC 209