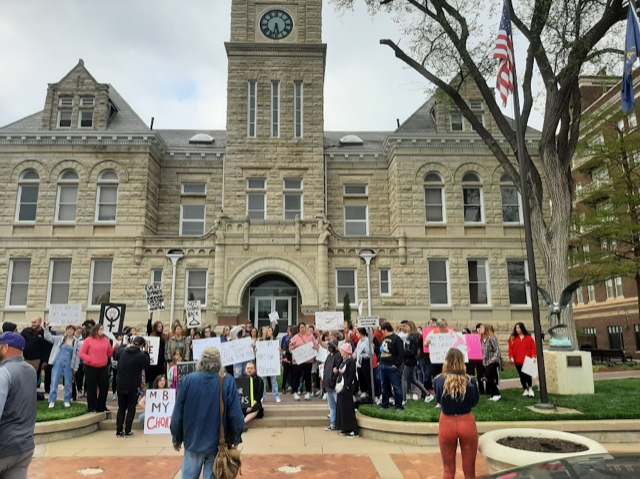 I CANNOT TELL you how nervous I was over the August 2 primary and the vote over striping the right to abortion from the Kansas Constitution, and how ecstatic I was when we won. However, I have been in Vermont since June 22nd so I was here when the Supreme Court's decision in the Dobbs v. Women's Health Organization was announced.
I did what I could from afar, voting via absentee ballot along with making sure others in my family did as well. I spent a lot of time patiently and with civility responding to debates about the referendum in the social media app Manhattan Nextdoor, which exploded with the only political discussion I've ever seen occur there. Lots of false claims about taxpayer-funded abortion etc. that I corrected. For sure, those who were anti-abortion were outnumbered by those who supported legal abortion, which was reassuring.
The day that Alito's draft was leaked back in May I got a Facebook message about a rally at a park near campus but it came too late in the day for me to announce to my classes. Later, I got another message about a rally at the courthouse. I walked with a friend down to the park and found a couple of students –including one of my students from the previous year. I told them about the other rally and encouraged them to unite their rally with the one at the courthouse, which I thought would be the larger one.
I was delighted that these students just decided that they needed to do something and did. They weren't women's studies students. They were just pissed off and started organizing. They left one person at the park to send those who showed up on to the courthouse, and people just kept coming, including some students from my classes, my minister and other members of my congregation. I believe that spontaneous activism happened times 100 in Kansas.
I got Facebook messages about meetings and activities from former colleagues at Kansas State, former students, the Democratic Party, the League of Women Voters, and people I've never met or heard of. People literally came out of nowhere. It's the most organization I've seen in Manhattan for anything. That's the good news.
Some in Kansas are really excited about what this augurs for the future, but I am more sanguine. The data shows that Trump voters in Kansas showed up to vote down this referendum. I know that many of my Trump-supporting Republican family members are also pro-choice.
The rhetoric was carefully tailored to what we know is the very conservative environment. There was little or no discussion of race or class or how abortion relates to economic or other issues.
When I taught reproductive justice issues in my classes, we had those discussions, and they were productive and transformative, but those connections were not made as far as I know in this context. So, good news for the pro-choice movement but I think that the implications will be limited rather than extend farther.