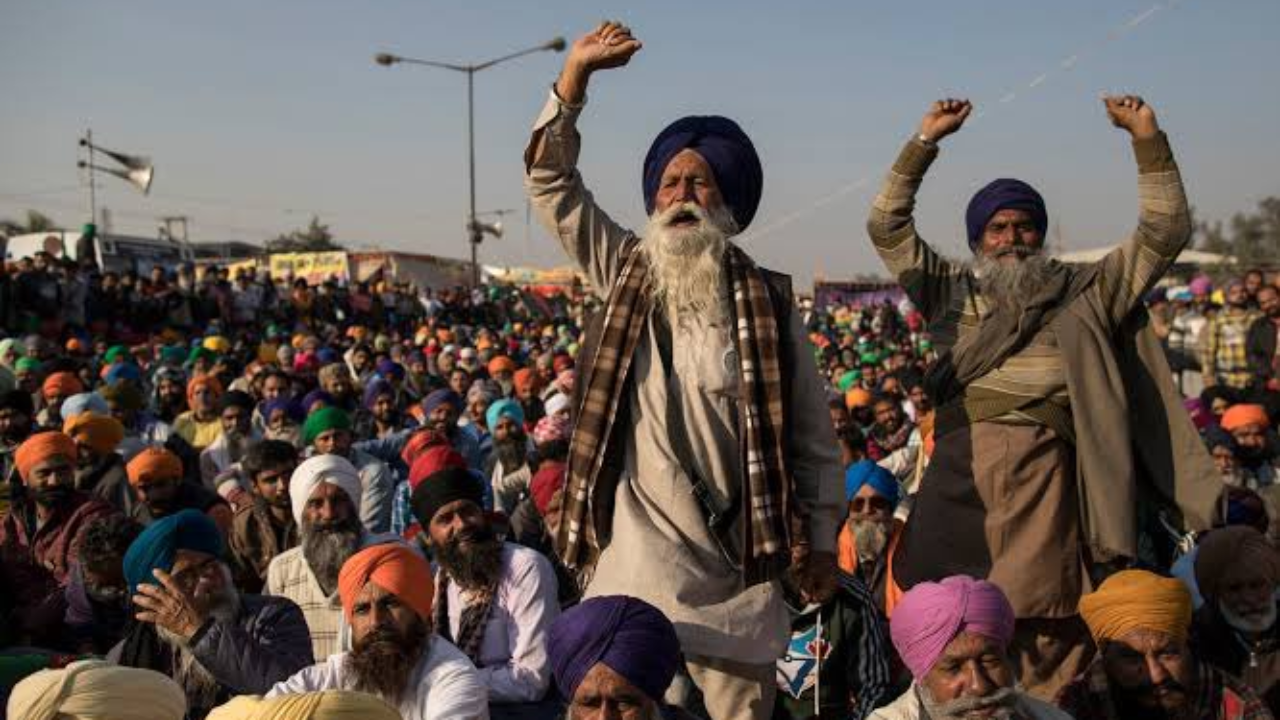 IN SEPTEMBER 2020, in the midst of the first wave of the COVID pandemic, the Narendra Modi government in India passed three notorious farm laws – which would have dismantled the crop procurement system, deregulated prices, allowed for the entry of large corporate players into procuring and marketing agricultural produce, and remove a number of crops from the list of essential commodities.
The laws were rushed through a voice vote in Parliament. The farmers unions in Panjab – the agro-industrial heart of India and the site of the "Green Revolution" of the 1960s, which over the decades had come to impoverish and poison the farming communities through its practices – had anticipated such an attempt to destroy the existing marketing system, such as it was, in the name of efficiency and choice.
The farmers first protested within Panjab and blocked the railway lines, and when that fell on deaf ears, decided to "march" en masse to the capital Delhi to make their objection heard. This required first passing through the neighboring state of Haryana, where more farmers unions joined.
Convoys of tractor-trolleys and other vehicles moved on the highways and came to the outskirts of Delhi after facing physical blockades placed on the highways as well as repression, during which a farmer was killed. This triggered international outrage.
The farmers brought with them six months of rations and the equipment to stay on the roads for as long as would be needed. Female farmers unions also accompanied the protest. The farmers set up two major encampments at Singhu and at Tikri – and later a third one, Ghazipur – and tens of thousands of farmers eventually stayed for a full year.
They set up stages at these encampments and began speaking and performing for the farmers and through the media for the world. They moved the Supreme Court to challenge the laws which in January 2021 suspended the laws. The farmers continued to wait for Modi to formally repeal the laws and meet their other demands.
Over 700 of the farmers who had joined the protest died during the course of the year – through multiple causes, including being shot. The tremendous show of power and determination captured attention across the country, and other states' farmers and trade unions and women's groups also joined for short periods and sent their solidarity.
Farmers and supporters had charges laid against them, again triggering international reaction. This was the largest and most powerful protest to the Modi government's diktats in the last seven years, and was eventually successful on November 29, 2021 where the parliament, again without debate, repealed the three laws.
The farmers stayed at their camps till other demands were also met. Two weeks later the farmers returned to their home states after declaring a massive victory. January 15, 2022 will be the next meeting between the farmers and the government.
Sara Abraham interviewed Dr. Pritam Singh, Dr. Navyug Gill and Dr. Navsharan Singh for Against the Current. The three are posted below: