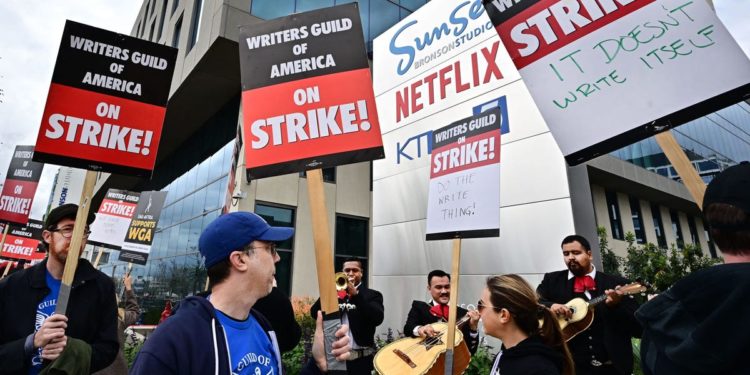 HOLLYWOOD FILM AND TV writers went on strike on May 1 demanding a living wage and job security. Writers Guild of America (WGA) picket signs went up outside major studios and shut down late-night TV shows, forcing the industry to run previously taped programs.
WGA members are struggling to make a living. Overall compensation has fallen as a result of streaming — even as the streaming era has led to an explosion in TV and film production – and other aspects of the industry's restructuring, with less job security and fewer income sources such as traditional "residual" payments for televised broadcast reruns.
They have additional concerns about the growing use of Artificial Intelligence, as AI becomes an increasingly powerful tool in this as in other parts of our lives.
The strike is the first work stoppage in 15 years, pitting 11,500 screenwriters against old-guard big companies such as Universal, Paramount and Walt Disney as well as tech giants including Netflix, Amazon and Apple, forming the Alliance of Motion Picture and Television Producers (AMPTP).
"Once we watched our favorite TV shows by satellite dish; now we watch them over the internet. It doesn't really change the work, however," wrote Michael Jamin, in The Guardian (May 3).
"Studio profits have increased by 39% over the past 10 years – yet the average writer's salary has gone down by 4%."
The 2007-08 strike lasted 100 days and cost the California economy an estimated $2.1 billion as production shut down and striking writers, actors and producers cut back on spending.
In the union's statement issued May 1 as the strike began, the Negotiating Committee explained:
"Over the course of the negotiation, we explained how the companies' business practices have slashed our compensation and residuals and undermined our working conditions.
"Our chief negotiator, as well as writers on the committee, made clear to the studios' labor representatives that we are determined to achieve a new contract with fair pay that reflects the value of our contribution to company success and includes protections to ensure that writing survives as a sustainable profession.
"We advocated on behalf of members across all sectors: features, episodic television, and comedy-variety and other non-prime-time programs, by giving them facts, concrete examples, and reasonable solutions.
"Guild members demonstrated collective resolve and support of the agenda with a 97.85% strike authorization. We must now exert the maximum leverage possible to get a fair contract by withholding our labor."
"Existential Threat"
The WGA said the companies' behavior had "created a gig economy" that aimed to turn writing into an "entirely freelance" (called contract employees in other industries) profession. "For the sake of our present and our future, we have been given no other choice."
The president of WGA West, Meredith Stiehm, said writers were facing "an existential threat." Our "core proposals were literally ignored. And we made it very clear to them that 98% of our membership is demanding that we fight for something different, not just the usual negotiation that we've been having … and it just fell on deaf ears."
Members began picketing outside Hollywood studios and in New York on May 2: "Fist up, pens down! LA is a union town!" writers chanted as they marched outside Amazon Studios in Culver City.
Jonterri Gadson, who was leading the chant, had moved to Los Angeles in 2019 to fulfill her goal of becoming a comedy writer. "It is a dream and I want that dream to pay me a livable wage," Gadson said.
Among more than 150 people marching outside Amazon was Erika L Johnson, who was a Hollywood assistant during the lengthy writers' strike in 2007.
This time, "we're hoping it's short. There's no way to know," Johnson said. "No one wants it to go long, but we are prepared to do what we need to do."
The "mini rooms"
Johnson said she was particularly concerned about the proliferation of "mini rooms," smaller writers' rooms, devoted to working on scripts before shows are being produced, or even greenlit, which often translates into less money and less stability for the writers involved.
Writing can be lonely work, Gadson said, which made her appreciate the energy on the picket line. "It feels good to know that we are all fighting together, that we won't be alone in this," she said.
In New York, Greg Iwinski, a writer with credits on shows for Stephen Colbert and Jon Oliver, said the WGA strike was necessary because the streaming services had tried to divorce writers from what they knew best – how to connect to an audience.
"There's a lot of built-up wisdom in television and in Hollywood, and it's been efficient and profitable for years," he said. "The streamers came in and tried to stress-test how little labor it takes to make entertainment and to separate artists from their own success and employment."
Brittani Nichols, a picket line captain for WGA-West told Democracy Now (May 2). "We are demanding that this industry be one that can sustain a career. It's sort of as simple as that. "
We have a consistently profitable business, but right now the actions of the studios are ones that seem like they only care about Wall Street. They're chasing a rabbit they're never going to catch, and in that pursuit, they're running over the workers of this industry."
"This nation owes so much to unions," says Colbert, a highly paid TV host but still a member of the writers' union. "Unions are the reason we have weekends, and by extension why we have TGI Fridays."
A Changing Industry
According to WGA statistics, half of TV series writers now work at minimum salary levels, compared with one-third in 2013-14. Median pay at the higher writer/producer level has fallen 4% over the last decade.
Media conglomerates are under pressure from Wall Street to make their streaming services even more profitable after investing billions of dollars in programming to attract subscribers.
That's accelerating the sharp attack on the writers including, including the future use of Artificial Intelligence (AI). The WGA seeks to prevent studios from using AI to generate new scripts from writers' previous work, and the rewriting of draft scripts created by AI.
AI writing is content composed by artificial intelligence. It uses machine learning to create words, phrases and sentences. The Massachusetts Institute of Technology explains that machine learning is a subset of AI, allowing computers to learn how to think and do some things like human beings.
How will writers be compensated? Will they receive residuals when AI modifies scripts? Many writers call AI writing plagiarism. The studios so far have refused to seriously discuss the issue as relevant to contract negotiations.
Other entertainment industry unions, including the actors' union SAG-AFTRA and the Directors Guild of America – both scheduled to negotiate with the AMPTP in the near future – have issued statements of support.
In the United Kingdom, the Writers' Guild of Great Britain (WGGB) advised its members not to work on projects in the jurisdiction of the WGA for the duration of the strike.
"Writers are the backbone of this industry. Nothing gets made without us. And I think that the studios will be in for quite a rude surprise when they realize that though they do not value us or our contributions, they do not have a product without us…. There is no industry without writers," said Brittani Nichols.