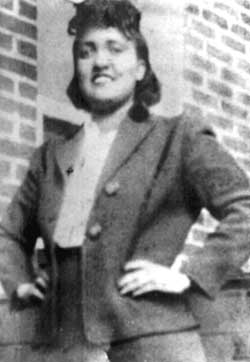 THE FAMILY OF Henrietta Lacks and Thermo Fisher Scientific reached a settlement related to the unauthorized use of her cancer cells, which benefited labs and companies and proved invaluable for research for decades.
Civil rights attorney Ben Crump and attorney Chris Seeger released a statement about the settlement:
"Members of the family of Henrietta Lacks and Thermo Fisher have agreed to settle the litigation filed by Henrietta Lacks' Estate, in U.S. District Court in Baltimore. The terms of the agreement will be confidential. The parties are pleased that they were able to find a way to resolve this matter outside of Court and will have no further comment about the settlement."
Thermo Fisher representatives confirmed the settlement but said in a statement they also had no further comment.
Known as HeLa cells, the cells from Lacks' body led advanced research in a wide range of medical fields, including vaccine development, cancer treatments and AIDS research.
Lacks, an African American mother, died of cancer in 1951.
Historical Settlement
"I can think of no better present on what would've been Henrietta Lacks's 103rd birthday than to give her family some measure of respect for Henrietta Lacks, some measure of dignity for Henrietta Lacks and, most of all, some measure of justice for Henrietta Lacks 70 years later," attorney Ben Crump said at the public briefing.
The settlement is the latest development in a story that has come to represent the legacy of mistrust of the scientific and medical establishment within the Black community and other discriminated against minority communities whose bodies have historically been used without their consent, and the need for transparency in science.
The legacy of racism in the medical field is seen in the treatment of Black women giving childbirth where the rate of death is many times higher than for white women.
According to the Center for Disease Control (CDC), in 2021 the maternal mortality rate among Black women was nearly 70 deaths for 100,000 live births. That is 2.6 times the rate for white woman, regardless of income or education.
Unique Cells Kept Secret
Dr. George Gey collected a sample of tissue on a tumor in her body without her knowledge. The case was chronicled in the 2010 best-selling book The Immortal Life of Henrietta Lacks, which was later adapted into an HBO film starring Oprah Winfrey.
Unlike other cells Gey had worked with, Lacks' continued to divide and were viable outside her body in test tubes. That allowed researchers to perform tests on them and for the cell line to be shared widely.
The procedure left Lacks infertile, Crump said when the lawsuit was filed in 2021. She died the same year the tissue was removed, her family unaware her cells had been taken and used for research until decades later.
Crump described the pain Lacks suffered in the last months of her life as a result of the procedure. While Lacks was experimented upon, he said, her experiences were similar to many other Black people who have been mistreated in the medical system throughout history.
In its updated lawsuit, Lacks' family claimed Thermos Fisher was "unjustly enriched" each time "it cultivates, sells and receives payment for newly replicated HeLa cells."
The lawsuit asked a judge to award Henrietta Lacks' estate three years of profit obtained by commercializing the HeLa cells and prohibit the company from using HeLa cells without the family's permission.
Federal regulations requiring patient consent weren't yet in place. Everyone knows today it is customary practice, even for minor surgeries or treatments, you must give your signed consent.
Sent to a lab, Lacks' cells proved unique and invaluable for scientific research. While growing human cells in a lab is often difficult, Lacks's cells remained alive and kept replicating.
The cells, which became known as HeLa cells, played a critical role in medical breakthroughs like the polio, HPV and Covid-19 vaccines and in vitro fertilization. They have been used in tens of thousands of studies and in research into cancer and AIDS.
Lacks' family was unaware about the use of her cells until the 1970s. They never received compensation stemming from the money earned by companies using the cells, lawyers representing Lacks' family said in their complaint against Thermo Fisher.
Racism Allows Super Profits
Lawyers representing Lacks' family argued in an amended complaint, filed in 2022, that Thermo Fisher profits from the HeLa cell line without compensating her estate. They brought the lawsuit under a claim of unjust enrichment, saying the company continues to benefit from the cells.
"Black people have the right to control their bodies," the lawyers wrote. "And yet Thermo Fisher Scientific treats Henrietta Lacks' cells as chattel to be bought and sold."
Thermo Fisher had sought to dismiss the case, saying the statute of limitations had passed. They also said the commercial use of HeLa cells is legal.
Johns Hopkins, meanwhile, has said it has collaborated with members of Lacks' families over the past decade to honor her legacy. That work includes scholarships and annual symposia, as well as plans for a building named in her honor. The institution said it "has never sold or profited from the discovery or distribution of HeLa cells and does not own the rights to the HeLa cell."
The settlement is an important step forward in the fight against medical racism and corporate exploitation of oppressed peoples.