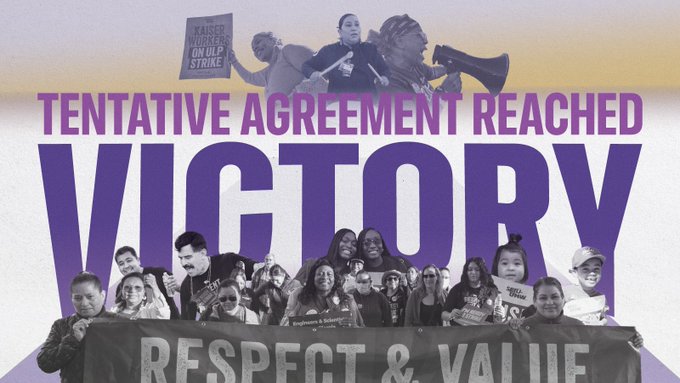 INTRODUCTION: On OCTOBER 13 Kaiser Permanente and the Coalition of Kaiser Permanente Unions reached a tentative agreement that will be voted on by members starting October 18. If passed, the contract would provide for a 21% wage hike over four years and a minimum wage in California, where it is based, of $25 an hour within three years. In other states the minimum will be $23, rolled in over four years. Performance bonuses will be bumped up.
On the critical issue of staffing, the initial announcement admitted to a crisis and called for increased training and education and mass hiring events.
The Coalition withdrew its notice to strike next month. Clearly the three-day strike had an impact on management at Kaiser Permanente but will these contract provisions be enough to satisfy the 85,000 workers? – The Editors
A MASSIVE HEALTH care strike over wages and staffing shortages began at Kaiser Permanente on the morning of April 7 in seven states and Washington, D.C. It continued for three days demanding respect and a fair settlement.
So far the industry giant and the country's largest nonprofit healthcare provider, and the eight-member Coalition of Kaiser Permanente Unions remain far apart on the key issues.
The striking workers range from licensed vocational nurses and nurses' aides to optometry and pharmacy technicians. Most positions are severely understaffed. The unions are demanding that KP hire 10,000 new employees.
Registered Nurses (RNs) and Nurse Practitioners (NPs) settled their new four-year contract last December. Smaller unions not in the Coalition are not on strike.
The largest union of the Coalition is in California — the SEIU (Service Employees International Union)-UHW West (United Healthcare Workers, SEIU-UHW.org). Kaiser employs over 300,000 workers nationwide. It is based in Oakland, California.
Dave Regan, president of SEIU-UHW West, said on the picket line that the strike is about unfair labor practices and Kaiser's refusal to meet their just demands. The previous four-year contract expired on September 30.
Pickets Are Strong
Pickets at Kaiser-Santa Rosa, in Sonoma County, in northern California's "Wine Country" where I live, were out strong. Many strikers said the number one issue was pay and staff shortages.
It is common that short-term workers from other hospitals (from the Registry of Traveling Nurses, or other specialties like physical therapists from outside the state) fill short-term positions. Many of these workers seek full time Kaiser jobs.
"We don't want to come out again if we don't have to," Jeannie Gerbich told the Press Democrat (PD), an ultrasound technician who has worked for Kaiser for 13 years. "But we're willing to do so if negotiations don't go well."
"About noon," reported the PD, "some 600 or more workers entered the medical campus and marched around the outside of medical offices, the hospital and emergency department, though they reportedly told not to do so. Security workers simply watched as the long line of strikers snaked its way around the complex.
""Thank you, moms, dads, babies, cousins, aunts, uncles, neighbors that came out today,' Gerbich said over a bullhorn.
"'Is this about money or is this about outsourcing and staffing as well?" she said to cheers from the workers. 'We can't give our patients and customers service unless we are staffed properly.'"
As a longtime Kaiser member, I've seen firsthand the staff shortages as appointments take longer and longer for critical care to get. Simple routine appointments can take weeks or even months.
The Union Coalition led by the SEIU-UHW, said new negotiations will begin October 12 and 13 in Oakland. SEIU-UHW West president Regan said if there is no deal, the strike will expand in November.
Union Coalition's Key Demands
The Coalition of Kaiser Permanente Unions began its national bargaining process in April in anticipation of worker contracts expiring at the end of September.
Workers want protections against subcontracting and outsourcing, better performance-sharing bonuses, an improved retiree medical plan, and unionization rights for employees of nonunion entities acquired by KP.
Their jobs in Kaiser's hospitals and clinics serve nearly 13 million patients.
The unions' call for a new wage package includes keeping up with the cost of living: a $25/hour minimum for all Kaiser Permanente positions; investment in the education and training of future healthcare workers; and KP to work with the unions to defend and expand access to quality, affordable healthcare.
Hospital chains are refusing to hire full-time employees with benefits. It is cheaper to outsource to third parties.
In a 2022 survey of 33,000 KP employees, two-thirds of respondents said they've seen patient care delayed or denied due to short staffing during the Covid-19 pandemic.
Kaiser Permanente bosses told the business daily Barron's that its current offer includes "guaranteed across-the-board wage increases" from 12.5% to 16% over four years, and a $21 minimum wage in Washington, Oregon, Colorado, Virginia, Maryland, Washington, D.C. and Hawaii starting in 2024, and a $23 minimum wage in California starting in 2024.
Union members are demanding across-the-board raises of between 5.75 percent and 6.5 percent per year.
While Kaiser is registered as a nonprofit company, which means it is not publicly traded on the Stock Exchanges, it operates like all for-profit hospital chains. It pays its executives and top management millions of dollars.
A statement from the coalition before the strike began:
"Kaiser has reported $3 billion in profits in just the first six months of this year. Despite being a nonprofit organization — which means it pays no income taxes on its earnings and extremely limited property taxes — Kaiser has reported more than $24 billion in profit over the last five years.
"Kaiser's CEO was compensated more than $16 million in 2021, and 49 executives at Kaiser are compensated more than $1 million annually. Kaiser Permanente has investments of $113 billion in the U.S. and abroad, including in fossil fuels, casinos, for-profit prisons, alcohol companies, military weapons, and more."
Union members say understaffing is boosting the hospital system's profits but hurting patients, and executives have been bargaining in bad faith. There is no recognition of workers called "essential" during the Covid pandemic, the ones who care for patients.
Many patients able to do so have joined the picket line.
Labor Surge
The Kaiser strike also comes amid a surge in U.S. labor organizing and action, including the expanding United Auto Workers strike against the Detroit Three and the continuing Hollywood actors' strike.
The health care industry alone has been hit by several strikes this year as it confronts burnout from heavy workloads — problems greatly exacerbated by the pandemic.
President Joe Biden is sending his acting labor secretary to talk to Kaiser management and the Union Coalition. When the government gets involved in strikes or contract negotiations, it is almost always to pressure the unions to compromise, or worse.
We saw this last year when rail workers threatened to strike but were stopped by Biden and Congress under the Railway Labor Act. Yet Biden continues to self-proclaim himself as "the most pro-union President."