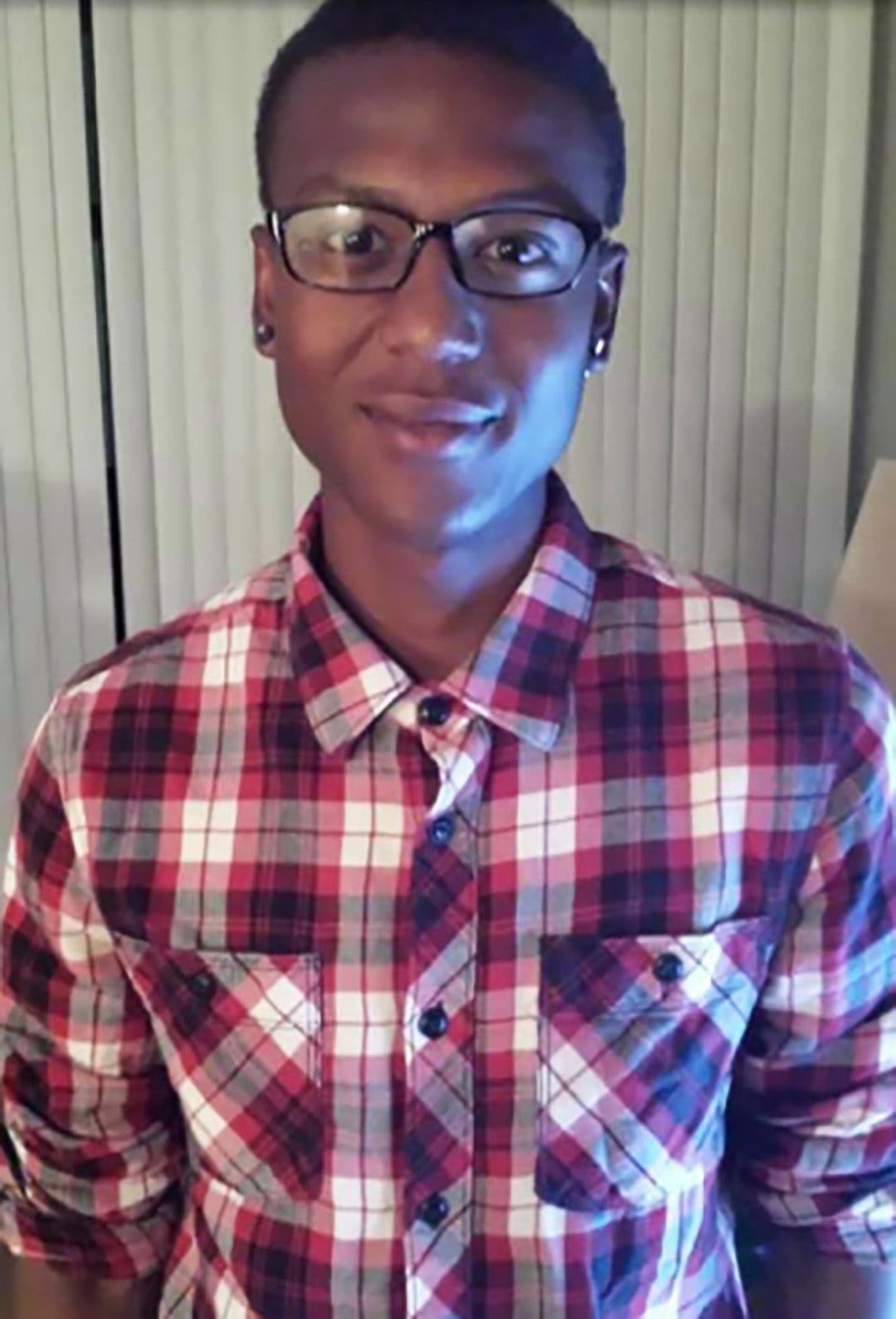 NOVEMBER 21 UPDATE TO OCTOBER 22 ARTICLE: The Denver suburb of Aurora has agreed to pay $15 million to settle a lawsuit brought by the parents of Elijah McClain, a Black man who died after suburban Denver police stopped him on the street and put him in a neckhold two years ago, the city and a family attorney have announced.
A judge accepted terms of the settlement on November 19, 2021, said Qusair Mohamedbhai, an attorney for McClain's mother, Sheneen McClain.
Outside court, Sheneen McClain said she was glad to have the agreement finalized, but the work of fighting for justice for her son just makes her miss him more.
"The money is just the world's way of saying, 'We're sorry,' but it's not going to help me heal the hole in my heart," she said. It was a mother's determination combined with the independent racial justice struggle that scored an important victory with the settlement and earlier indictments of three Aurora, Colorado police officers and two paramedics.
Two years after the death of Elijah McClain, who was put in a chokehold and injected with a powerful sedative in suburban Denver, a grand jury brought back indictments of manslaughter and criminally negligent homicide.
The police justified stopping McClain as he walked home from the store on August 24, 2019, after a 911 caller had reported a man wearing a ski mask and waving his hands who seemed "sketchy."
His family said Elijah wore the mask because he had anemia that caused him to get cold easily. McClain, then 23 years old, was unarmed. His crime was being young and Black.
McClain's death gained widespread attention during 2020 protests against racial injustice and police brutality following the killing of George Floyd in Minneapolis.
Elijah's pleading words captured on police body camera video — "I'm just different" — have been posted on signs at protests and spoken by celebrities who have joined those calling for the prosecution of the cops.
The young man was a massage therapist His family and friends described him as a gentle and kind introvert, filled social media, including how he volunteered to play his violin to comfort cats at an animal shelter.
Initially nothing happened to the police or paramedics. They walked away as most police officers do after killing a Black man.
Fighting for Justice
Elijah's mother Sheneen McClain, crying and outraged, called on local officials to act for justice. She began to hold vigils near the spot where the officers stopped her son.
The actual location was on private property, so she had to cross the street to a weedy swatch of dirt alongside the highway. It was dusty and loud, with traffic roaring ahead.
She called the city of Aurora and asked whether it was OK to be there. They said yes, so she went to Dollar Tree and bought solar lights and plastic flowers. Over time strangers joined her.
Her efforts and support from others finally pressured the city and police to release a police body camera video of the beating. Unfortunately, no independent bystanders were present as in other cases to film the attack. That's why the case was not initially widely known.
The police body videos were not released until three months after McClain's death.
The Charges
In 2019 a district attorney claimed he could not charge the officers because the coroner said the cause of death was "undetermined." Facing pressure during nationwide Black Lives Matter (BLM) protests last year, Democratic Governor Jared Polis ordered Weiser to open a new criminal investigation.
In January 2021, Weiser announced that he had opened a grand jury investigation, with the power to compel testimony and documents that would otherwise be unavailable.
As the case drew more attention in the weeks after the murder of George Floyd, Vanessa Wilson, the interim chief of the Aurora Police Department, announced a ban on carotid holds, like the one used on McClain.
Another reform is that police officers are now required to report excessive force used by other officers, and to announce their intention to use deadly force before doing so.
The city of Aurora conducted a comprehensive review of the Police Department. The Colorado attorney general's office conducted a civil rights investigation, the first under a new police accountability law in the state.
As reported by The New York Times, "An independent panel investigating Mr. McClain's death issued a highly critical report on February 22, 2021, faulting officers for stopping him without justification and for escalating their use of force, including the two applications of the carotid hold.
"The report's authors also said Fire Department paramedics were slow to help Mr. McClain before injecting him with enough ketamine to sedate a person weighing 190 pounds. (Mr. McClain weighed about 140 pounds.)"
Body Camera Revelations
What the police body camera video shows is an officer getting out of his car, approaching McClain on the sidewalk, and saying, "Stop right there. Stop. Stop … I have a right to stop you because you're being suspicious."
In the video, the cop puts his hand on McClain's shoulder and turns him around and repeats, "Stop tensing up." As McClain verbally protests, the officer says, "Relax, or I'm going to have to change this situation."
As the other police officers join in to restrain McClain, he asks them to let go and says, "You guys started to arrest me, and I was stopping my music to listen."
What happened next isn't clear because all of the officers' body cameras come off as they move McClain to the grass, but the officers and McClain can still be heard. An officer says McClain grabbed one of their guns.
McClain can be heard trying to explain himself and sometimes crying out or sobbing. He says he can't breathe and was just on his way home.
"I'm just different. I'm just different, that's all. That's all I was doing. I'm so sorry. I have no gun. I don't do that stuff. I don't do any fighting. Why were you attacking me? I don't do guns. I don't even kill flies. I don't eat meat. … I am a vegetarian," he pleads.
One police officer eventually retrieves his camera, which shows McClain handcuffed, laying on his side and periodically vomiting as another cop leans on him. An officer who arrived later threatened to get his police dog to bite McClain.
Paramedics arrived and injected the 140-pound (63.5-kilogram) McClain with 500 milligrams of ketamine — more than 1 1/2 times the dose for his weight.
The fire department is allowed to use the drug to sedate combative or aggressive people, but there's a lack of police training, with conflicting medical standards and absence of protocols resulting in hospitalizations and even deaths when it's used during police encounters.
Within five minutes, according to a federal lawsuit from McClain's family, he stopped breathing. He died six days later after being declared brain dead and taken off life support.
On August 11, 2020, McClain's family filed a lawsuit against the city of Aurora. The civil complaint filed in the U.S. District Court for the District of Colorado by McClain's parents, Sheneen McClain and Lawayne Mosley, seeks damages for the family and names the city, twelve police officers, two Fire Department paramedics and the department's medical director as defendants.
"In a span of 18 minutes, defendants subjected Elijah to a procession of needless and brutal force techniques and unnecessary, recklessly administered medication, the combined effects of which he could not survive," the lawsuit said.
A GoFundMe page created by Sheneen McClain raised more than $2 million, and more than five million people signed an online petition demanding that the officers involved be taken off duty and that there be an in-depth investigation of the encounter.
Police Association Response
The response of the so-called police union blasted the grand jury and indictments. The Aurora Police Association (APA) wrote that "then Aurora Police Department Chief Nick Metz stated clearly that Mr. McClain was not murdered by Aurora Police Department officers. Nothing has changed. Our officers did nothing wrong."
Like all police "unions" the APA functions as a racist and anti-working-class cartel that defends police violence and murders of those it's supposed to "protect and serve."
The primary purpose of unions as collective bargaining agents for their members is to negotiate and include language in a contract to improve wages and working conditions.
It is also to challenge management when it attacks or undermines members' rights. Unions should protect the member's job until the case is settled legally.
No union, however, is there to protect illegal activity, especially racist brutality and murder as occurred to George Floyd and Elijah McClain. To defend murder and violence, especially aimed at Black people and other minorities, is not a bona fide union's function.
Police also are not neutral in working class conflicts — labor disputes and strikes. The police follow the orders of private employers to break strikes and stand against Black and Brown communities. That's why the AFL-CIO should exclude police "unions" from the labor federation.
What the Case Shows
A trial date for the indicted police and paramedics hasn't been set. But in an important victory for justice activists, the National Committee for Justice in Denver announced that on September 13:
"Today Arapahoe County District Attorney John Kellner dropped all twelve remaining charges against Joel Northa m, Lillian House, and Terrance Roberts. These twelve charges were the last standing in the massive political prosecution launched against the leaders of the protests in Aurora, CO that demanded justice for Elijah McClain."
What happens in the McClain case is extremely important. Ultimate success will depend on public pressure. The power of the BLM and racial justice movement shows what was possible in Minneapolis. It is why the McClain indictments happened.
It further shows the role of a victim's family. If Elijah's mother, family and friends had not put pressure the city and state to investigate and act, it is unlikely others in the racial justice movement would have seen the importance of his case.
Even though there has been a slowdown in protests with a Democratic president and the first Black female vice president, cop killings and violence against innocent African Americans have not let up.
Street protests, and the racial justice movement, have been a response to legal and extralegal violence by police and the unjust criminal legal system. That response will continue.