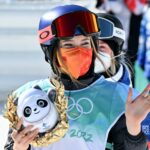 EILEEN GU (GU Ailing) was born in San Francisco. She's 18 years old, graduated from a top San Francisco high school, and will be attending Stanford University in September.
By winning her second Gold medal last week, Gu is also the first action-sports athlete to win three medals at the same Olympics. Two were Gold and one Silver. "My name is Eileen Gu," she told reporters as tears welled up in her eyes, "and I'm the best halfpipe skier in the world."
Gu's success, I thought, would be page-one news in the local newspaper, the San Francisco Chronicle. It wasn't. The story was buried in the sports section until the paper had no choice. Instead of hailing her success, it sought to explain why Gu was competing for China.
Corporate media and many others see Gu as a misguided youth at best, or even a "traitor" for carrying the flag of China in the Beijing Olympics.
But Gu made that decision at the age of 15. China is her mother's home country, and she speaks fluent Mandarin.
Her decision went unnoticed until December after President Biden and Congress stepped up its attacks on China's human rights violations and alleged threats to U.S. national security.
A reporter for Sports Illustrated (February 8 issue) wrote after her first victory, "Gu got her gold medal and China got its pawn."
Gu was denounced by a Fox News analyst as ungrateful," saying that her "reverse migration" was "shameful." (This is the same network where Tucker Carlson promotes "white replacement theory" among other garbage.)
Open About Her Identity
Gu is open about her national identity from two cultures: "When I'm in China, I'm Chinese and when I go to America, I'm American."
In 2019, Gu switched her sport affiliation from the United States to China. She said at the time: "The opportunity to help inspire millions of young people where my mum was born, during the 2022 Beijing Olympic Winter Games is a once-in-a-lifetime opportunity to help promote the sport I love."
Since late December as the Winter Olympics prepared to open, that decision began to stir considerable controversy. The best athlete in her specialties, Gu was expected to win up to three Gold medals.
The intense reaction to her decision to compete for China came with the U.S. effort to delegitimize China in the leadup to the Winter Olympics. U.S. President Joe Biden announced a "diplomatic boycott" that was joined by only a few allied governments (Canada, Britain, Australia, India, Belgium, Lithuania, Kosovo and Estonia).
A non-stop campaign blitz led Congress to pass the "Uyghur Forced Labor Prevention Act" in December 2021. The Act effectively sanctions U.S. corporations from doing business in China's Xinjiang Uyghur Autonomous Region by requiring proof that products imported from the region are not made from forced labor.
These actions just skim the surface of the U.S.-China new Cold War and Washington's many forms of aggression in the military, diplomatic, economic, and information realms.
Media Coverage
The Olympic media coverage reflected U.S. hostility. While television analysts who were former athletes covered the events without political commentary, corporate commentators, however, gave the U.S. government line about China — before adding that Gu is a superb athlete.
A common question repeatedly asked by U.S. reporters to Gu: "Do you have Chinese citizenship, and have you renounced your U.S. citizenship?" It's as if this 18-year-old student is supposed to be a symbol on the front line of the two states' economic and geopolitical competition.
In fact, Gu is a U.S.-born citizen and has never renounced her citizenship.
(The International Olympic Committee requires athletes to have a passport from the country they're competing for, and China does not typically allow dual citizenship. At this Olympics there were many competing athletes with Chinese heritage, including Chinese Americans and Chinese Canadians. Those playing for China's ice hockey team take Chinese names, and few speak Mandarin.)
Gu has nevertheless become a huge star of these Games, beloved by the few fans selected to attend due to COVID restrictions, and cheered by the Chinese press. She was ubiquitous in media, appearing in seemingly most commercials airing during Olympic competition.
To the big business media and politicians in the United States, the Beijing Olympics was primarily about the acts of the Chinese government and ruling Communist Party, such as the harsh repression in Tibet and of Muslim Uyghurs in Xinjiang province.
Both the Democrats and Republicans seek to outdo each other in denouncing China.
Three Legs of All Olympics
The context is important. The Olympics has three legs: sports, politics (nationalism or national identity) and business, not necessarily in that order.
Way back in the 1936 Berlin Olympics hosted by Adolf Hitler's Nazi regime, Jesse Owens was hailed in the United States as symbol of racial progress and Black accomplishment. But afterward, he couldn't go through the front door of the White House – and in those days, Olympic greatness wasn't worth any money either.
Sports and politics and business are intertangled. Once an athlete arrives to the Olympic games, flagwaving takes over (unless the country is suspended, which is the case for Russia. Its athletes carry the flag of the Russian Olympic Committee.)
Business plays a significant role too. Big Chinese companies are sponsors of Gu who is the biggest and visible star in China. She is also a fashion model with big corporate contracts. She's been photographed for Vogue, Victoria's Secret, Louis Vuitton, Tiffany and more.
Business and nationalist politics are the key to understanding the Olympics, with athletes caught in the middle and strictly forbidden to speak about any issues of substance whatsoever.
There are many athletes representing countries because of their dual citizenship or families being immigrants from those countries. Gu is not unique, except in winning Gold medals and revealing the hypocrisy of the backlash.
Rise of Anti-Asian Violence
Meanwhile, anti-Asian violence in the United States has not let up even during the Olympics. An Asian American woman was killed in New York City on February 13.
The 35-year-old woman was stabbed to death inside her Lower Manhattan apartment February 13 by a man who had followed her from the street and into her building, the police said.
The woman was the latest person of Asian descent injured or killed in a string of random attacks in New York City.
Anti-Asian violence has steadily risen during the health pandemic (Trump blamed China) and the U.S. policy attacks on China.
Gu has been an outspoken advocate on issues of anti-Asian racism and gender equality. In her Instagram post announcing the decision to ski for China, Gu said she hopes to "unite people, promote common understanding, create communication, and forge friendship between nations."
Gu's success in the Beijing Olympics was not a surprise. She had won medals in all three events at the 2020 Youth Olympic Games as well as X Games and world championships in 2021 – winning two events in each of those competitions.
Gu, with her friendly smile and embrace of fellow competitors, has shown a strength of character as she responded to reporters attempts to pit her dual nationalities.
"I would be lying if I said I was 100% good at ignoring 100% of all the messages that I get," Gu said. "I'm just trying to listen to the positive, to feel the support, to take the pressure off of myself, and to ignore the hate, because they don't know what they're talking about."
Two high profile Chinese Americans won Gold medals at the Beijing Olympics. Nathan Chen, the son of immigrants, won a Gold in men's figure skating and carried the flag of the United States. Eileen Gu (Gu Ailing) won two Gold medals, one Silver medal, and carried the flag of China.
Both are "Americans" even if white nationalist/supremacist ideology sees them as the "other" and questions their loyalty when convenient.
Chen and Gu are outstanding athletes. Their success, and those from every country, should be enough.