Efrén Paredes, Jr.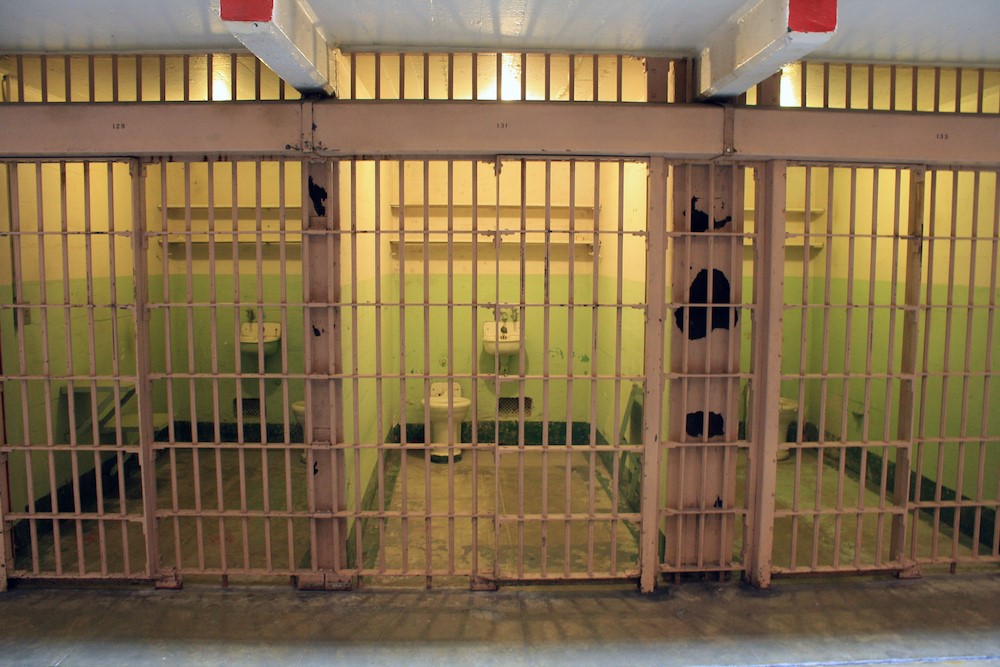 HUNDREDS OF PEOPLE in Michigan carceral facilities are spending their days and nights trapped in solitary confinement units.
But they're not there because they violated prison rules. They're there because they contracted COVID-19 during its recent unrelenting surge, and solitary confinement units are the only place prison administrators can segregate them from the rest of the general population.
In some instances prisons are using gymnasiums as COVID-19 isolation housing units, because their solitary confinement housing units have been overrun by a crush of COVID-19 cases.
Incarcerated people are not allowed to possess any of their personal property in solitary confinement housing units. They're not even allowed to retain items they've purchased from the commissary to help them with COVID-19 symptoms — like Alka Seltzer, Tylenol, cough drops or vitamins.
They are merely locked in a cell and provided only a bed, pillow, blankets, sheets, towels, toilet and sink, and offered the opportunity for a shower every other day Monday through Friday. Their meals are delivered to them through a slot in the door three times per day.
Other restrictions include incarcerated people being disallowed from making phone calls to family members and friends to notify them of their COVID-19 positive status. They are also denied access to the JPay kiosk, the only service the Michigan Department of Corrections (MDOC) allows incarcerated people to use to communicate with the outside world electronically.
So while incarcerated people are already being isolated from the people they live with each day they are cruelly forced to suffer in silence with the pain of not even being able to communicate their medical status with their loved ones from the outside world in any way as well.
This is particularly troubling for people with underlying illnesses and/or who may already be suffering from declining mental health as a consequence of grappling with a torrent of daily uncertainties exacerbated by two years of the grueling pandemic.
Compounding matters is that each time a small outbreak occurs in a carceral facility it can quickly proliferate because of the overcrowded conditions that exist in prisons. And, no one can realistically do anything to mitigate it without reducing the population density because the majority of Michigan carceral facilities are operating at more than double their design capacity.
Housing units in all but a few of Michigan's 28 prisons are currently double-bunked and beds in many barracks-style housing units are not separated by at least six feet in accordance with CDC guidelines. This disallows people from safely social distancing. It also perpetually places them and staff members at elevated risk of contracting COVID-19 because they share the same airspace day and night in buildings with poor ventilation and air filtration systems.
Unnecessary Overcrowding
Overcrowded prisons prevent even the best-intentioned administrators from placing incarcerated people in solitary confinement housing units when they contract COVID-19. They simply have no other place to house them because there is no room elsewhere. If prison populations were reduced administrators could keep one housing unit available at all times as a medical unit for people who contract COVID-19 or other health isolation needs.
The change would help prevent a number of incarcerated people with COVID-19 symptoms from not disclosing their symptoms for fear of being moved to a solitary confinement housing unit for nearly two weeks. This is problematic because people who are infected can spread the fast-moving virus very quickly.
In recent months epidemiologists have stated the nation is going to have to get used to living with COVID-19 because it's not going away. This means lawmakers must explore ways to reduce the prison population significantly to protect the people in state custody, as well as the staff who work in these spaces who are also at risk. As one prison staff member recently conveyed to me, "Last time I caught COVID-19 here I took it home and got everyone in the house sick."
When the majority of Michigan prisons were built in the late 1980s and early 1990s they weren't built with COVID-19 in mind. Lawmakers were only concerned with locking people up — not caring for them or protecting them from rapidly proliferating biological contagions.
According to an article about how to safely reduce prison populations, "[o]f the [people in] state and federal prisons, an estimated 39 percent (approximately 576,000 people) are incarcerated with little public safety rationale." (Dr. James Austin, et al., "A Guideline Proposal, How Many Americans Are Unnecessarily Incarcerated?," 29 Fed. Sent. R. 140 (2017)).
Governor Gretchen Whitmer or lawmakers can immediately address the state's prison overcrowding problem by expanding its electronic tether monitoring program, increasing the pool of candidates that can qualify for the program, and authorizing the Parole Board to begin reviewing people for possible release consideration. They can also increase the number of Parole Board members to complete this task and hire additional parole agents to provide supervision for people who are released.
As part of their investigation into this matter lawmakers should also convene hearings in the House and Senate to take testimony via Zoom from incarcerated people regarding conditions at various prisons across the state. It would allow them to share their personal stories and dispel false and inaccurate narratives that have been reported in the media regarding the COVID-19 crisis in prisons.
There is a gap between MDOC statements appearingh in media reports and the real lived experiences of incarcerated people. Whether the statements provided have been to the media have been unintentional or a deliberate attempt to mislead the public is something that committee hearings can uncover. Many of the untruths can be easily disproven by lawmakers simply viewing evidence from surveillance cameras located inside prisons.
Among the incarcerated people who could be safely released from prison without any significant risk to public safety are thousands of elderly people and folks who have aged out of criminal activity while spending decades behind bars. They are the population statistically least likely to recidivate and most at risk for becoming seriously ill from repeated coronavirus reinfections.
With millions of jobs available and businesses crippled by staff shortages, people who are released can fill those vacancies. They can also help improve supply chain problems across the country which have contributed to inflation and consumers being forced to pay more for goods and services.
In short, it could vastly help in repairing the economy. Unlike in the past when there weren't always large numbers of employment availability for formerly incarcerated people, currently there are scores of openings.
Unnecessarily subjecting incarcerated people and the staff who work in carceral facilities to waves of COVID-19 infection is cruel and inhumane. As Ariel Berkowitz, author of "(Un)Masking the Truth — The Cruel and Unusual Punishment of Prisoners Amidst the COVID-19 Pandemic," 37 Touro L. Rev. 347, 373 (2021), plainly states, "[n]o person should fear for his or her life each day as a result of the carelessness to basic human needs."
If the Governor or lawmakers refuse to address the ongoing COVID-19 crisis in carceral facilities they will be forcing incarcerated people to turn to the judiciary or U.S. Department of Justice Civil Rights Division.
In the case of Brown v. Plata, 563 U.S. 493 (2011), a federal judge ordered the State of California to release between 38,000 and 46,000 incarcerated people from state custody due to overcrowding and medical neglect. This was prior to the COVID-19 pandemic. The impact of COVID-19 would have made the argument for reducing overcrowding even stronger as it currently does in Michigan.
The number of people with criminal records in the United States is estimated to range from seventy million to over one hundred million — or close to one in three adults. (U.S. Commission on Civil Rights, "Collateral Consequences: The Crossroads of Punishment, Redemption, and the Effects on Communities" 9 (2019).)
Hold Lawmakers Accountable
It should be noted that 95% of incarcerated people will one day return to their communities with the potential to become voters. Not only can formerly incarcerated people vote but so can others who are impacted by the state's willful neglect to care for vulnerable people in its custody. The parents, siblings, spouses, children, and friends of incarcerated people are all deleteriously affected in myriad ways by the experience.
This translates to hundreds of thousands of potential voters in Michigan alone who won't forget how the Governor and lawmakers responded to how COVID-19 has ravaged carceral facilities across the state during the past two years.
Martin Luther King, Jr. stated, "The true measure of a [person] is not where [s/he] stands in times of comfort, but where [s/he] stands in times of challenge and controversy." Quite simply neither the Governor nor lawmakers who refuse to address the prison overcrowding problem deserve to remain in positions of leadership and should be replaced with people of conscience who have the courage to do the right thing during the next election cycle.
As of this past week COVID-19 has infected 93% of the entire Michigan prison population since the start of the pandemic and the state now ranks second in the nation for prison infections. COVID-19 infection rates in Michigan carceral facilities are also nearly nine times higher than the infection rate for other Michigan residents, according to recent reporting in The Detroit News. (Sarah Rahal & Neal Rubin, "Mich. Second in Nation for Prison COVID Infections," The Detroit News, 1A (Jan. 13, 2022)).
While part of the blame can be assigned to the MDOC mismanaging the pandemic, the largest portion of blame is due to the ongoing problem of the Governor and lawmakers neglecting to address the critical prison overcrowding issue.
MDOC Director Heidi Washington, and prison wardens, are well aware of the overcrowding problem but are unable to resolve it on their own because the Parole Board can only release people allowed by the law as it is currently written. They need the Governor or lawmakers to help them make things right.
Concerned citizens are encouraged to engender needed change by contacting Governor Whitmer's office and their respective lawmakers and demanding their immediate action to end this viral exigency in the state's prison system. Call on them to reduce overcrowding in Michigan prisons and bring them in compliance with their original design capacity.
The health and safety of too many people is at stake for Governor Whitmer and lawmakers to keep endangering the lives of incarcerated people and prison employees by ignoring this crisis. We don't need more excuses or evidence of the effervescence of indifference, we need solutions. This needs to be an inflection point. The time for them to act is now.