Against the Current No. 225, July/August 2023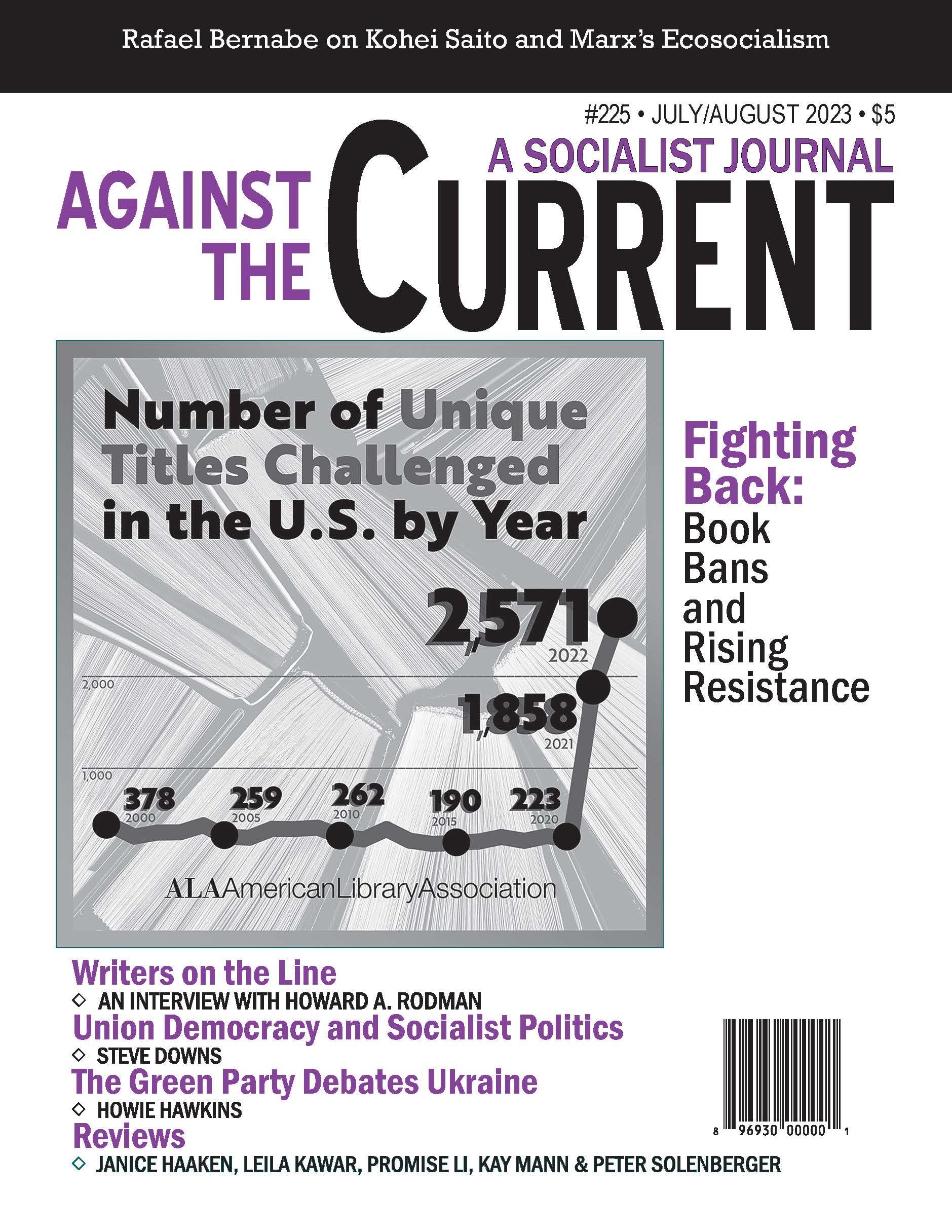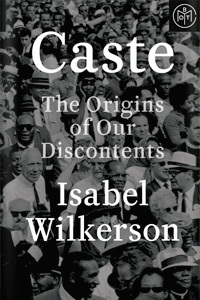 FROM MAINE TO Arizona and Idaho, more than 120 bills have been introduced in state legislatures that would either cut the budgets of public libraries or ban certain books or categories of books — thus endangering important literacy, children's programming, and services for senior citizens.
While censorship and book banning has had a long and inglorious history in the United States, the most recent attacks on libraries seem to revolve around the issues of inclusion of books by queer and transgender authors. Also under threat are any books that dare to touch on the subjects of sexuality and racism.
Often, conservative lawmakers target the removal of books on these topics. If these effort at censorship fail, then the lawmakers become determined to punish the libraries with severe budget cuts and to punish the librarians themselves with both fines and jail time if they do not follow newly-enacted censorship guidelines.
In Missouri, for example, the GOP-controlled House of Representatives has passed a budget that would eliminate almost five million dollars in state funding for public libraries. The elimination of the budget line for Missouri public libraries was spearheaded by GOP State Representative Cody Smith, who chairs the Budget Committee.
Smith was reportedly upset over a suit filed by the American Civil Liberties Union on behalf of the Missouri Association of School Librarians. The suit challenged a 2022 Missouri law that banned librarians and teachers from "providing sexually-explicit materials" to students.
The Censorship Crusade
According to everylibrary.org, more than 100 bills in 31 states are intended to either ban certain categories of books in public libraries or to cut the budgets of these libraries. Not surprisingly, the leader in these efforts is Texas, where 28 bills have been introduced in the legislature in Austin.
Cheered on by the state's right-wing Governor Greg Abbott, local officials have tried a number of ways to enforce their notion of morality on libraries because of their choice of books or sometimes their programming.
For example, in rural Llano County, the State banned a number of books. A Federal judge ordered the banned books returned to the library. In response, angry lawmakers and rightwing activists demanded that the Llano County Library be padlocked.
One of the banned "controversial" books was Isabelle Wilkerson's acclaimed Caste: The Origins of Our Discontent. Another was a book for teens, They Called Themselves the K.K.K.: The Birth of an American Terrorist Group that accurately described the Ku Klux Klan as a terrorist group.
These incidents are not found only in the South. In 2022, voters in Michigan's Jamestown Township rejected two separate tax replacement levies intended to fund its Patmos Library. This happened because efforts to remove from the library several books on LBGTQ issues failed.
Without money from somewhere, the Patmos Library is scheduled to close next year, eliminating all library service in Jamestown Township.
New Strategies
The American Library Association (ALA) recently released new data showing that in 2022, 1270 demands to censor books were recorded. This compares with 729 censorship demands in 2021.
This is the highest number of attempted book banning since the ALA began to keep these statistics more than 20 years ago. Of the recorded number of book censorship demands, 58% occurred in public school library setting and 42% in public libraries.
With the significant increase in the number of book banning in 2022 comes two changes in the strategies employed by censorship advocates.
In prior years, the vast number of censorship challenges involved controversy over a single title. Now, the ALA reports that 90% of the book censorship demands now involve more than one book and that 40% of the demands for censorship targeted 100 books or more. Most book challenges are organized with outside censorship groups.
"A book challenge is a demand to remove a book from the library's collection so that no one else can read it. Overwhelmingly, we're seeing these challenges come from organized censorship groups that target local library board meetings to demand removal of a long list of books they share on social media," said Deborah Caldwell Stone, director of ALA's Office of Intellectual Freedom.
When confronted by a censorship demand organized by outside religious or conservative political organizations, the position taken by the local library boards is sometimes courageous; but more often it simply one of expedience with a dose of cowardice.
Usually, pliable library board members just quietly remove the book(s) in question to avoid controversy. In a growing number of cases, the library boards or local governing boards themselves are captured by rightwing pro-censorship groups in local elections.
This is what happened in Livingston Parish in Louisiana, where censorship advocates called "Citizens for a New Louisiana" forced the resignation of the Livingston Library Director Giovanni Tairov, winner of the Louisiana Library Association's 2019 Public Library Director of the year award.
Coordinated Pressure
Who is behind the increasing number of book censorship demands in public and school libraries across the nation?
While censorship campaigns have always had a political edge, in the last few years an estimated 50% of censorship efforts have been caused by pressure from state Republican lawmakers and officials working with one of more than 20 national groups, of which the most well-known are Moms for Liberty, MassResistance, and No Left Turn in Education.
With the use of social media, these national organizations are connected to local Facebook groups of "concerned parents." Most of these groups have sprung up since 2021, when the current wave of protests against books on LGBTQ people and on people of color began to intensify.
One of the leaders of MassResistance, Brian Camenker, calls books on LGBTQ themes and people "pornography." He further states that libraries shouldn't be promoting the "LBGTQ lifestyle." The Southern Poverty Law Center has designated MassResistance as an anti-LGBTQ hate group.
What are the books targeted by local or state censors? While books on race, gender, and LGBTQ issues are at the top of the list, the most censored book in school districts in the United States is Gender Queer: A Memoir by Maia Kobabe.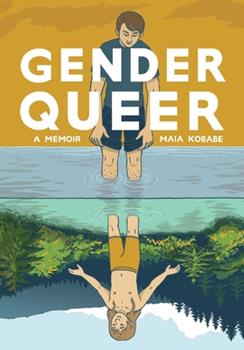 The book, a graphic novel on queer identity, has been singled out by Republican Governor Henry McMaster of South Carolina. The Governor branded the book as "pornograhic" and has demanded that the South Carolina Department of Educationinvestigate. The Kobabe book been banned in 41 school districts in the United States.
Coming in second with bannings in 29 school districts is All the Boys Aren't Blue: A Manifesto by George M. Johnson. The author, an LBGTQIA+ activist describes his childhood, adolescence, and young adulthood.
Finally, Ashley Hope Perez's Out of Darkness has been banned in 24 school districts. Named by Booklist as one of the "Fifty Best Young Adult Fiction of All Time," this novel tells of the relationship between a Mexican-American teenage girl and an African American teenage boy in 1930s Texas.
While these three are the most banned books, the state that has banned the most books is Florida. Governor Ron DeSantis, despite his complaints about the "cancel culture," has done some cancelling of his own, banning 565 books in public schools during the 2021-22 school year.
He proudly touts book banning as just one tactic in the ongoing Culture Wars. He has also discovered that attacks on schools and libraries are an effective way to raise money from sympathetic donors.
How to Resist
What can we do? As activists on the left, we are all involved in such struggles as supporting striking workers, playing a meaningful role in our unions, working for reproductive freedom, and promoting support for Ukraine's right to self-determination. Sometimes, fights around removing books from the shelves of public libraries, or attempts to intimidate teachers by allegations that the school curriculum is "too woke," escape our notice.
In his book American Midnight, Adam Hochschild describes the racist violence against immigrants, people of color, Jews, and trade unionists during and after World War I. A country in the midst of change of millions of immigrants coming to U.S. shores was a prospect that wealthy business owners, conservative politicians, and hate groups like the Ku Klux Klan and the American Legion were determined to use violence to prevent.
The same is true today. An energized right wing, often employing threats, intimidation and violence, is determined to preserve "white and straight America" regardless of the human cost.
During World War I, racist leaders such as Woodrow Wilson and Theodore Roosevelt promoted policies that demonized those whose lives had been marginalized, and whose efforts to struggle against oppression was labeled as "disloyalty."
Today, we see leaders like Donald Trump and Ron DeSantis mouthing words of hate and policies that justify and promote vigilante attacks on our schools and libraries with the effect that students of color, LBGTQ kids are continually under threat.
As socialists and activists, we must stand shoulder to shoulder with the victimized students as well as teachers and librarians who are determined to defend library collections and school curricula that stress inclusion of marginalized voices. The time is now.
July-August 2023, ATC 225