Against the Current No. 225, July/August 2023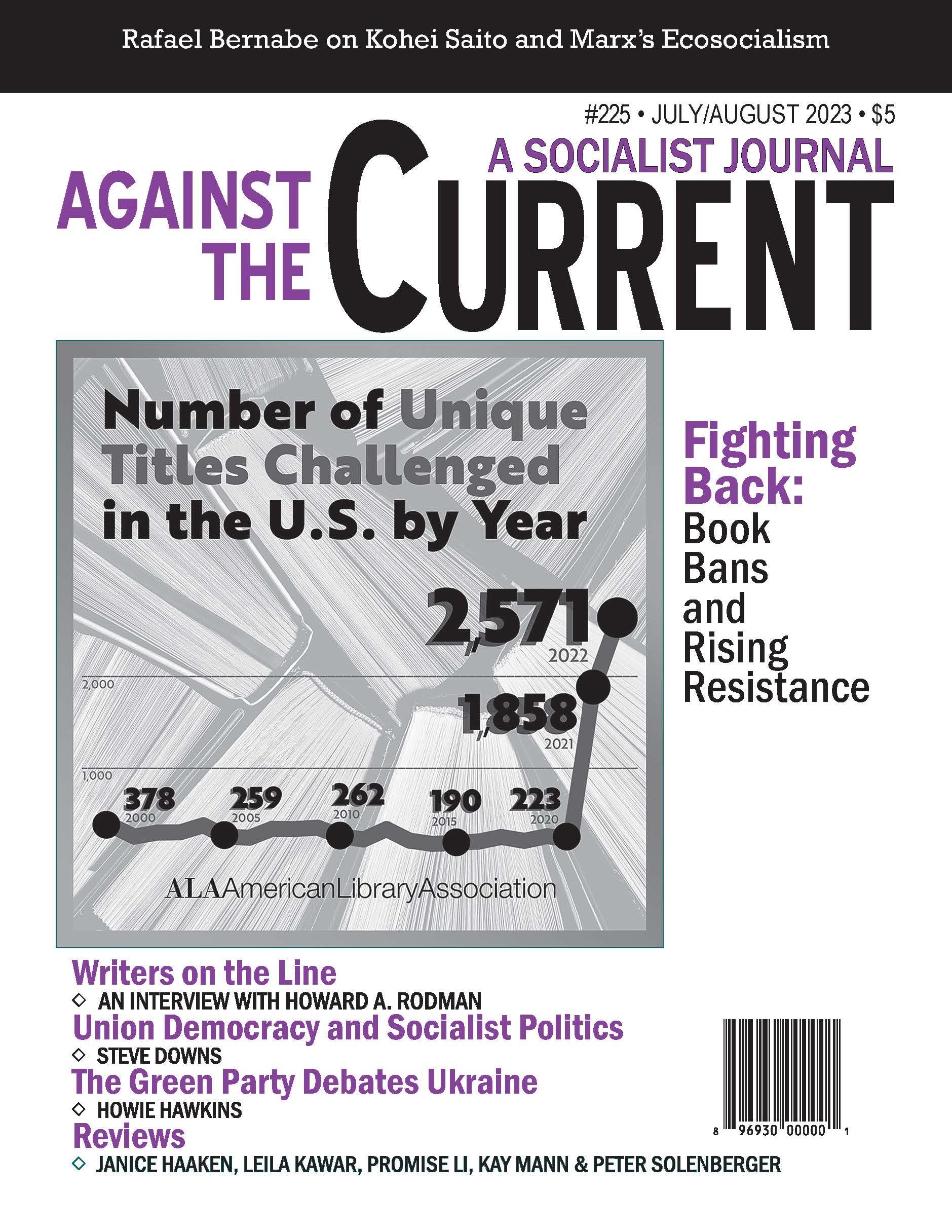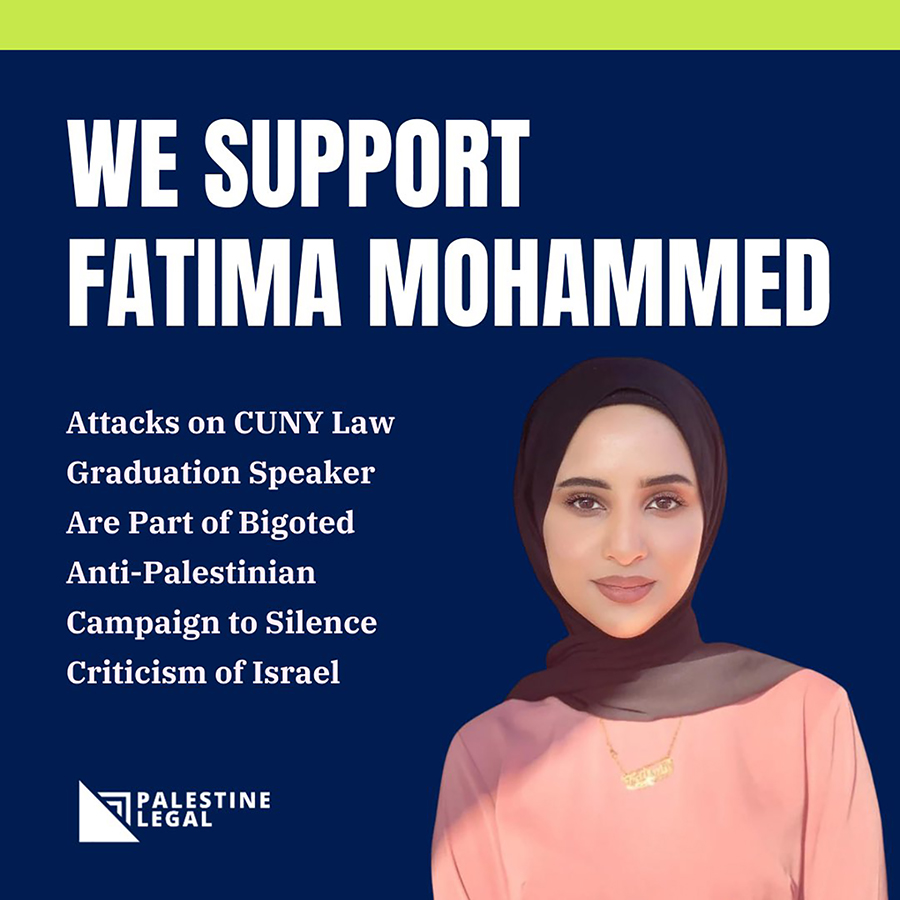 The following statement, "CUNY Law Jewish Law Students Association Stands With Fatima," was issued in response to public attacks on Fatima Mohammed following her May 12 commencement address to the City University of New York School of Law. Fatima's support of Palestinian freedom was denounced as "hate speech" by the school chancellor and board of trustees and by New York mayor Eric Adams (whose own talk at the commencement was greeted with boos and backs turned by students). The controversy at CUNY comes at a time of increasing attacks on supporters of the Palestinian struggle.
THE CUNY SCHOOL of Law Jewish Law Students Association stands in solidarity with our friend and classmate Fatima, who is currently being targeted by a racist hate campaign from external organizations after delivering a commencement speech that addressed the struggle for Palestinian freedom.
Our class, including its members in the Jewish Law Students Association, proudly chose Fatima as CUNY Law's commencement speaker.
For years, Zionist organizations have been enacting targeted harassment campaigns against Palestinian and Muslim law students at the CUNY School of Law. As a public-interest focused law school, we have a duty to stand with Palestinians against zionist oppression, as Fatima has done.
In her commencement speech, Fatima describes the unique nature of CUNY Law and the values it embodies that brought many students to our school. She explains, "we join this institution to be equipped with the necessary legal skills to protect our communities, to protect the organizers fighting endlessly day in and day out, with no accolades, no cameras, no votes, no PhD grants, working to lift the facade of legal neutrality and confront the systems of oppression that rend violence on them."
Speaking out against oppression is one of the skills we cultivate, and we aim to apply our principles consistently. As Fatima reminds us, "Palestine can no longer be the exception to our pursuit of justice."
We, as Jewish students at CUNY Law, oppose and condemn the racist organizations like CanaryMission who are spreading disgusting lies about our friend. The organizations currently attacking Fatima and the rest of CUNY Law's student body, with absurd and false claims of antisemitism, are doing so against the wishes of the majority of CUNY Law's Jewish students, who wholeheartedly stand with Fatima and have been grateful to have her as our classmate throughout law school.
As Jewish students attending an institution structured around social justice, we denounce both the murder and dispossession enacted in our name through the Zionist project and the harassment and lies that Zion2ist organizations are using to punish Fatima for her bravery and commitment to Palestinian freedom.
In her commencement speech, Fatima rightly condemned that "Israel continue[s] to indiscriminately rain bullets and bombs on worshipers, murdering the old, the young, attacking even funerals and graveyards, and as it encourages lynch mobs to target Palestinian homes and businesses, as it imprisons its children, as it continues its project of settler-colonialism, expelling Palestinians from their homes, carrying [out] the ongoing nakba."
It is disingenuous to characterize these factual descriptions as anti-semitic, when they describe the conditions of Palestinian life.
We call on CUNY Law to listen to, support, and defend its student body. Our condemnation of zionism is based on outrage at the way it has harmed and continues to harm Palestinians, not, as external zionist organizations would have people believe, on antisemitism. As long as zionism has existed, there have been Jewish people fighting against its racist and imperialist logic — to equate anti-zionism with antisemitism is to erase the history of Jewish anti-zionism, throughout the world and at CUNY Law.
If CUNY Law wants to show it cares for its Jewish students, it can do so by showing it cares for Fatima. We are endlessly grateful for Fatima's courageous work and her inspiring message to the CUNY Law class of 2023.
"Let us remember," as Fatima said in her speech, "that just this week, Gaza has been bombed with the world watching; that daily, Black and Brown men are being murdered by the state at Rikers; that there are Palestinian political prisoners like the Holy Land Five in U.S. prisons; that there are refugees at the southern border, still locked up; that yesterday [May 11, 2023] marked one year since the murder of U.S. journalist Shireen Abu Akleh; and that the murder of Black men, like the murder of Jordan Neely by a white man on the MTA is being dignified by politicians like Eric Adams.
"We leave our classes, and we leave this school to a world that so desperately needs us to stand alongside those who have given up, for the sake of liberation, far more than we could imagine."
We implore CUNY Law to stand alongside its students and alumni and to act in alignment with its mission and mandate by supporting Fatima and denouncing the racist lies being spread about her.
Initial signers: CUNY Jewish Law Students Association, CUNY Law Students for Justice in Palestine, CUNY Law OUTLaws, CUNY Law Indigenous Americans and the Law Student Advocates, CUNY Law Student Government, CUNY Law Labor Coalition Within Our Lifetime, CUNY4Palestine, CUNY Law Environmental Justice Coalition, CUNY Law Formerly Incarcerated Law Student Advocacy Association, CUNY National Lawyers Guild, CUNY Law Housing Rights Project, CUNY Public Interest Law Association, CUNY Law Women of Color Collective, CUNY International Law Society, John Jay Students for Justice in Palestine, Brooklyn College Students for Justice in Palestine, Hunter Palestine Solidarity Alliance, Anakbayan Manhattan, Silberman Student Advocacy Collective – Silberman School of Social Work at Hunter College, Fordham National Lawyers Guild and CUNY Young Democratic Socialists of America.
July-August 2023, ATC 225