Against the Current, No. 215, November/December 2021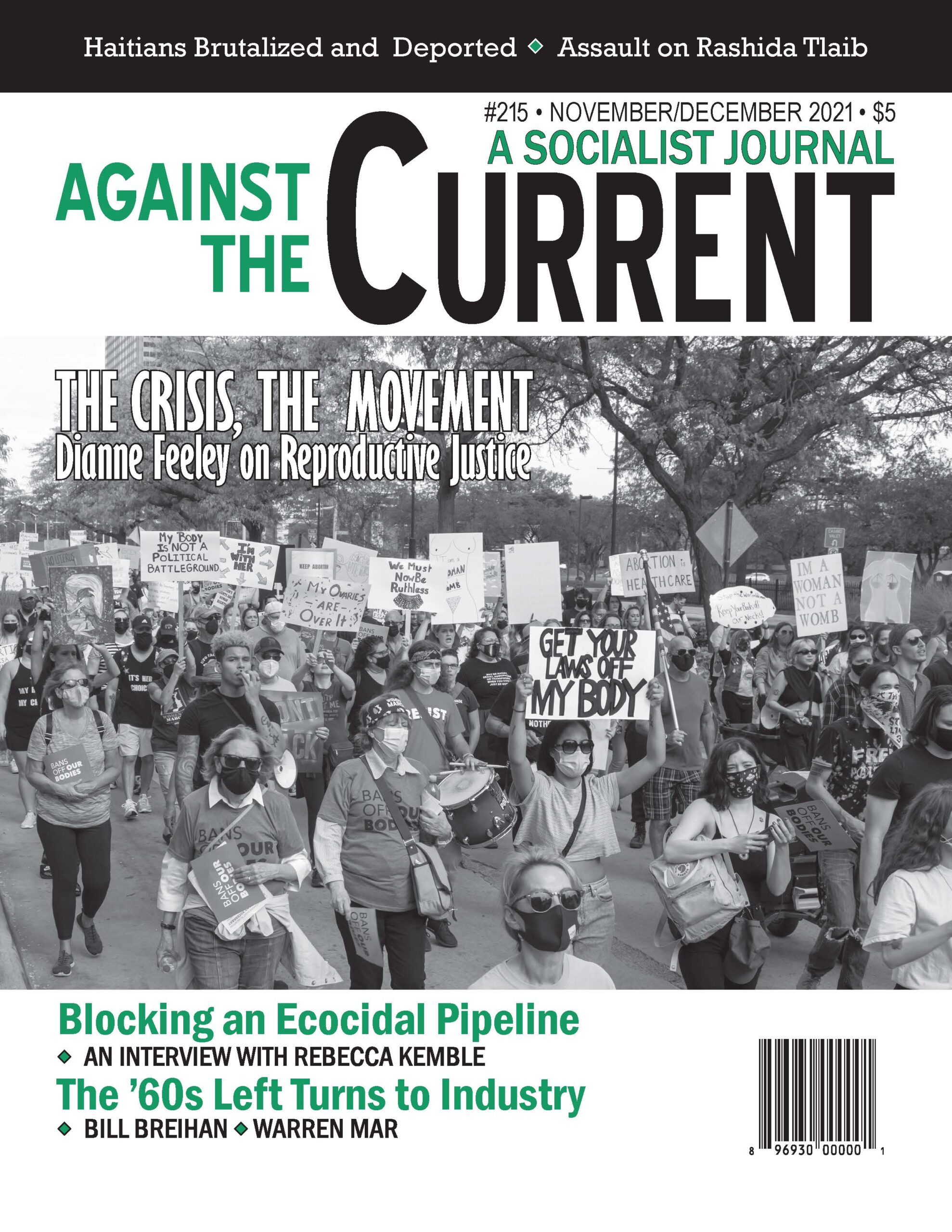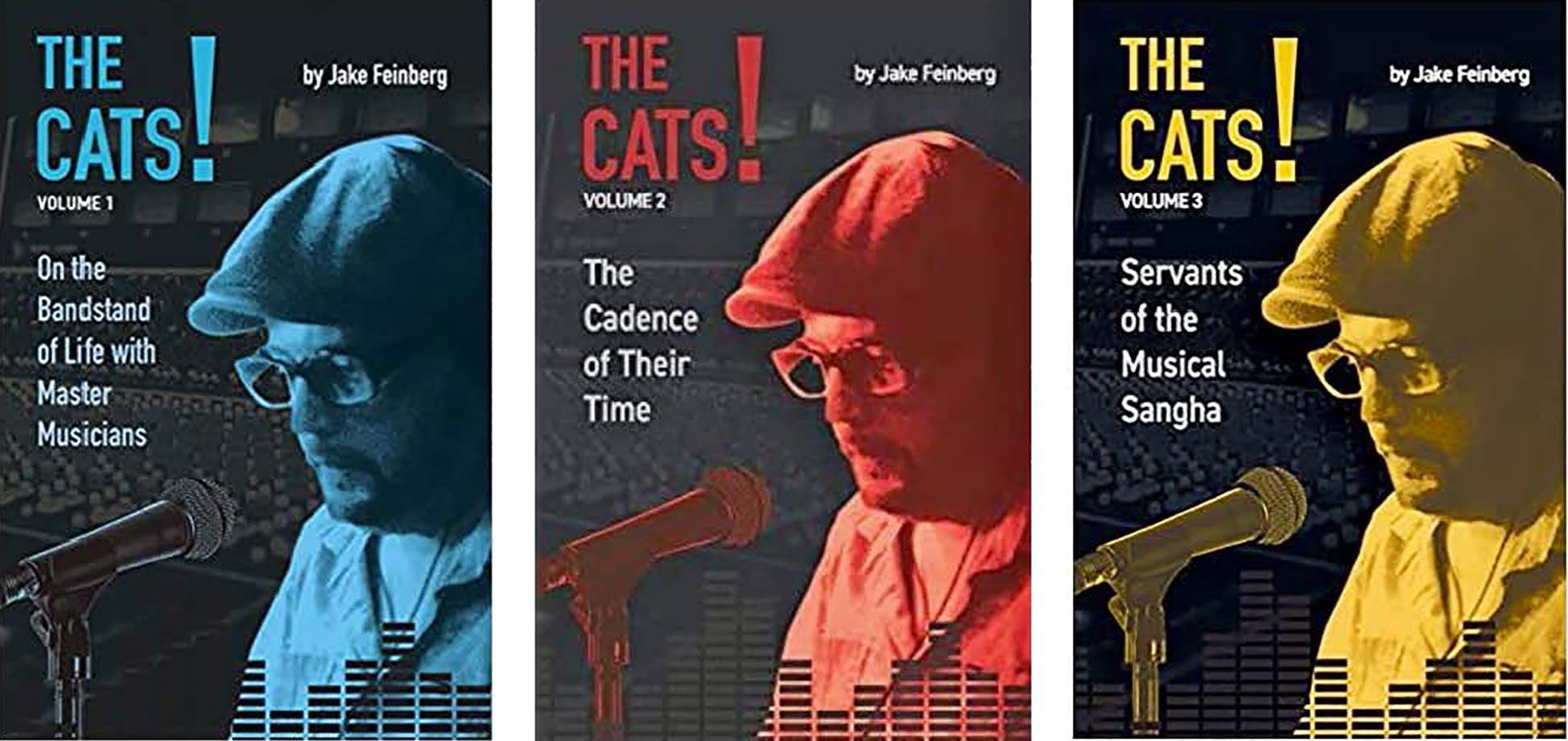 The Cats!
Volume 1: On the Bandstand of Life with Master Musicians
Volume 2: The Cadence of Their Time
Volume 3: Servants of the Musical Sanga
By Jake Feinberg
Portland, OR, Instant Harmony, 2020 and 2021
JAKE FEINBERG IS a talk radio and podcast personality in Tucson, Arizona who has interviewed thousands of musicians, mostly unheralded but highly talented sidemen and studio musicians, but with an occasional artist with name recognition — a "headliner" — in the mix.
If you don't happen to live in Tucson, to introduce him to you an analogy with the late Alan Lomax is perhaps appropriate. Feinberg may become to American jazz and blues what Alan Lomax was to American folk music.
An obituary of Lomax called him a "musicologist, writer, promoter, record producer and sometime disc jockey" who "chronicled a social, real-time art form that had evolved without being written down." Lomax "felt that his work represented not simply the preservation of unique creativity, but was one of the keys with which humanity could unlock its past."(1)
Leaving out "record producer," those words apply to Feinberg as well. Feinberg is only a decade into his career and his body of work cannot yet be fairly compared with Lomax's. But it already constitutes an impressive work in progress. It is an open-ended oral history project chronicling a vibrant and creative American subculture.(2) His interviewees call him Jake, and I will follow suit.
In January 2011, the Jake Feinberg Show began life on KJLL ("the Jolt," 1330 on the AM dial), later moving to KEVT ("Power Talk Radio" at 1210). Meanwhile, Jake also conducted interviews with luminary musicians for southern Arizona's NPR affiliate, KUAZ.(3)
In 2016 the program shifted to live streaming on the internet when the station's owners converted to an online format. It further extended its reach via social media, broadcasting hundreds of interviews on Facebook Live and establishing a presence on YouTube and Instagram. No longer a talk radio show, it has been reborn as a podcast.
In the early years, the conversations were mostly conducted over telephone lines, but more recently Jake has taken to the road to interview his subjects on their home turf, from New Orleans to Nashville, from California to New York, and many points between.
The project flourished as Jake's reputation as a knowledgeable and well-prepared interviewer spread throughout the musical subculture. Not surprisingly, many previously underappreciated artists welcomed the attention and respect.
As the show gained wider exposure, it began to attract well-known guests such as Taj Mahal,(4) Ahmad Jamal,(5) Maria Muldaur,(6) and Dave Brubeck.(7) Meanwhile, the kind of devoted music fans who peruse album liner notes and recognize names of musicians unfamiliar to the general public began to become aware of the program, and its audience gradually increased. Listeners gained vicarious access to the "free jazz" subculture with its aura of spiritual freedom.
In 2019 Jake decided to publish selections from the interviews in a series of books entitled The Cats!, which has now reached three volumes and counting.(8)
The interview excerpts were not pulled randomly from the podcast archives: they are a "best of" selection, chosen for their colorful anecdotes and general entertainment value.
A fourth volume compiled from interviews that don't quite fit The Cats! format has been published as The Bus to Never Ever Land.(9) By Jake's estimate, the material in the four printed volumes represent less than 30-40 percent of the audio archives' total content.
The Interview
The contents of The Cats! cannot be better described than by Jake himself, so I interviewed him about the books and the podcasts they're based on. I began by asking him to define the population represented by the people he'd interviewed.
Jake Feinberg: When I first started, people were saying, "Oh, he's a jazz journalist." I don't like labels like that, so just for the record, I want to say that the show has been about all kinds of music. I've sought out musicians from all genres; I've interviewed all sorts of folk musicians, bluegrass musicians, and soundtrack pioneers like Lalo Schifrin and Bill Conti.
Cliff Conner: I understand why you don't want to be constrained by arbitrary categories, and pigeonholed into them, but some of the genres, I think, have fairly solid boundaries — gospel, for example. Talk about how specific genres like gospel, R&B, funk, rock, and so forth relate to jazz and blues.
JF: Well, let's consider funk. In the mid-to-late-'60s, there was no word in the lexicon for funk music. So a lot of bands like Horace Silver's might say, let's play a funky blues, or something funky like Cannonball Adderley might play.
Then Sly Stone came along, and in 1973 Herbie Hancock did an album called "Headhunters." It was considered a crossover record, meaning it had jazz influences, R&B influences, and so forth. And it was one of the highest selling jazz records of all time. That's the point where the word "funk" came into the lexicon.
The musicians of that time, the early '70s, grew up being huge jazz fans. They were playing or listening to big band jazz, and they loved it. But at the same time, along came rock music and Fender Rhodes pianos, and electric basses, and sound systems. They adapted to that and integrated those jazz rhythms into rock, R&B, groove music, and that became funk.
CC: You're talking about things that came out of jazz. I was also thinking about the other end of it — things that preceded jazz. Many of the musicians you interviewed said they came out of the church, gospel music.
JF: Yes, James Brown's drummers Jab'o Starks and Clyde Stubblefield,(10) for example. They grew up listening to the sounds of trains, you know, chugging and rhythmic. And then they were in the sanctified churches, and there were no drum sets there. There were sticks, and tambourines, and hand clapping, but the rhythm wasn't necessarily on the one and the three beat, or the two and the four. It can be traced back to the diaspora, to Congo Square in New Orleans.
They incorporated those rhythms into blues-based music. And that fused into what James Brown was doing. Or even earlier than that, like Otis Redding — heavy R&B, and then moving into funk. So a lot of it had to do with the nontraditional sort of jagged rhythms that they were hearing.
When my generation grew up listening to B. B. King and Bobby Blue Bland, we just thought, "Oh, they're playing blues." But the musicians in their bands — Ray Charles' band too — would often open the show with a full set of jazz. They could really blow — they had a big vocabulary of music.
I'm also fascinated with new musical vocabulary, extensions of music. For instance, like in '65 with Miles Davis and the Plugged Nickel sessions.(11) The band — Tony Williams, Wayne Shorter, Herbie Hancock and Ron Carter — was bored to death with just playing standards. So they took a blood oath that they were going to change up the tunes.
They were going to play the head of a tune like, say, "My Funny Valentine" — and then once they'd run through it, they were going to leave it and then go out — way out — and then it could be any kind of music. Ultimately, because of their gifts as musicians, the theme could always be magically held together, but they would go off for long stretches of time and then come back in.
That was in '65. Now, that had as much of an influence on folk music as it did on jazz, because folk musicians began thinking, well, we can improvise, too. And that led to a general increase in vocabulary.
Mastery Through Mentoring
CC: How did the cats you've talked with achieve mastery of their musical craft? Did many of them have formal training? And if it's mainly transmitted through mentorship, how does that usually come about?
JF: Well, with regard to mentoring — fundamentally, the guys that I interviewed learned by being thrown in the deep end and they had to learn to swim or they were gone.
In 1965, if you went to Juilliard there was no jazz program. There were maybe two schools in the country that included the languages of jazz, the Berklee School of Music and North Texas.(12) So you'd have a guy like Charlie Mariano (alto saxophonist — ed.) get off the road and go to school. He was already an established professional musician.
These guys were working 250 days a year, maybe more. They would literally have two weeks off, and then they'd be back on the road. The point is that the mentorship was on the bandstand.
If you went to Berklee or North Texas, you played live a lot. You were playing clubs. That's how you learned. And then ultimately older cats would come through town and you'd be on the bandstand with them. And if you couldn't play a shuffle,(13) they kicked you off the bandstand.
It was like, "Hey, come back when you're ready." It wasn't "Get outta here and don't ever come back." And a lot of people took it as emboldening. They knew what they had to work on.
Another thing: There was no YouTube then. TVs were still very primitive. There was no rewind button. So, maybe you had the opportunity to hear a tune on the radio quickly. You couldn't go back and listen to it again. You had to integrate it and then come up with your own feeling about it.
CC: When you talk with gifted sidemen and studio musicians who haven't attained fame and fortune, what do they tell you about the need to make a living? Do they chase paying gigs that require them to play music they really don't want to play?
JF: On the one hand, there are the people who are committed to staying true, as innovators, as pioneers of the music — people trying to play stuff that is true to them and not commercially viable. They own that existence, and it's a lonely existence, and it's a struggle.
I'm talking about people I've interviewed like Chuck Israels,(14) who played bass with Bill Evans. In 1950 he was on a porch with his Communist family singing work songs with Pete Seeger and then eight years later he's playing on an album with John Coltrane. So that's the kind of vocabulary this guy has.
The music he makes — which he considers to be sophisticated, emotive, contemplative, good music — is not commercial. He's playing what's true to himself, but he can't get a gig.
On the other hand, a lot of cats who have been studio cats are absolutely set for life. They came up in the heyday of the studios. They knew at a certain point that they couldn't play jazz gigs for twelve bucks a week, so they went into the studios and began to play sessions.
They could play the music they wanted to at night in the clubs or in the lofts, and make up their own music, and have enough work on the side, through studio work, to get ahead, because the cost of living wasn't so high.
If you were a musician, you could be in the city and join Radio Registry. You'd get calls for gigs. Randy Brecker(15) would be leaving an Ornette Coleman rehearsal and he'd get called to come in and do mariachi trumpets with Johnny Cash. There was a lot of work.
Today, I don't even know. It's such a harrowing situation coming out of the pandemic because the future of domestic live touring music is beyond uncertain, and the only way you can make money now is to go on tour, because there's no studio scene any more.
Technology and Pacification
CC: I've heard you frequently call attention to some of the ways modern sound technology has tended to corrupt today's music, such as the automation of drum tracks, overdubbing and so forth. Would you care to elaborate on that?
JF: I just think that the technology has become onerous, actually, in the sense that people are hung up now with perfection versus how it feels.
You used to have people like Arif Mardin, Jerry Wexler, Tom Dowd producing the records. They weren't musicians, but they were music fanatics, and they knew if the music felt good. They weren't going to put out stuff that was sloppy, but it was about feeling good.
It wasn't about trying for perfection. You can suck all the soul out of music, especially recorded music, when you try to get something so perfect that it becomes sterile.
Actually, that's what a lot of bean counters want today. Many of the cats I talk to say music today is made for pacification. It's not made for burning introspection.
CC: Your allusion to "bean counters," or accountants, suggests that cost-cutting  — by automating drum and bass tracks, and so forth — was a key factor driving a lot of their decisions.
JF: Well, just like anything else, it got gluttonous. By the '70s, a lot of unknown bands were getting budgets of $200,000. A lot of money was involved. And then people came along and said, how can we just get something out consistently and get in the black and not spend a lot of money?
It was thought to be too expensive to get all the musicians in a room and to record with minimal overdubs. So today you're getting overdubs on whole albums.
Now they get a guitar player from Sweden to email a track in, and they patch it all together. It's just not going to feel good. It's going to be off.
CC: In one of your books, you said some of the leading drummers sell their drum patterns, their rhythms, that get incorporated into the electronic drum tracks.
JF: Absolutely. I'll tell you about a drummer named Harvey Mason.(16) He was on that Herbie Hancock Headhunters album, that crossover album that brought "funk" into the lexicon. Let me read you something that Ernie Watts said about him. Ernie Watts is an incredible saxophonist and wind player and a very spiritual cat. He said:
"In 1980-81, the synthesizer entered the pop music world and it was the new toy. Drummers like Harvey Mason were making their money from programming drum machines. They learned how to work those machines and they were putting those tracks on pop records and some fusion records, because that was the sound of the day. The bass became a keyboard bass for a little while. All the string sections became synthesized. All the brass sections became synthesized."(17)
So that's what happened. Cats like Harvey Mason learned how to work the machine, and they put in their sound. And then through a synthesizer, you were able to build all these tracks, even though it wasn't really a brass section. But if they put your groove on an album and it became a hit, you'd get royalties for that. But it was done through a machine and not in real time.
CC: What about rap music? How does the younger generation of popular musicians, the hip-hop generation, fit in? Is there a "generation gap," would you say, between the cats you've interviewed and hip-hop?
JF: The industry changed a lot in the late '60s. In Detroit, for example, after the riots [in the wake of the assassination of Martin Luther King, Jr.], at first the government brought in federal money, a huge infusion of money, for the arts, which bolstered the music profession, especially among people of color.
But then in the '70s and early '80s, it went in the other direction and there was no money even for musical instruments in the public schools. So a lot of kids who came from underserved areas didn't have any other choice. They didn't have instruments, so they went home and they started scratching records. They started sampling.
When people stopped playing instruments, the idea of collective units, bands, declined and music became a much more isolated thing.
As for rap music, David Lindley,(18) an amazing musician, said that rap music is modern day folk music, because it's telling the true story of what's happening now, in the moment.
It's not like pop songs with their phony "I love you" emotions — it's talking about real life. Rap music is very popular, but it's very much in isolation. And a lot of its rhythm is either human beings playing machine parts or just electronic drums.
But don't get me wrong. I've interviewed a lot of guys who have worked with great rappers. They're very talented cats, but there's been a shift in the culture, and my feeling is that it speaks to the way society in the past viewed music as a profession versus today when music is seen as the musicians' gift to the world. I think the de-emphasis of music as a profession has created a generation gap.
CC: Now I have to ask you about another gap — the gender gap. How about female cats? How do women musicians fit into the "brotherhood" that many of the musicians you've interviewed talk about? Have the women you've interviewed been mostly vocalists? Do any female instrumentalists stand out in your memory?
JF: Yes, of course. It hasn't shown up in the Cats books yet, but I realized there was an imbalance and I've made a concerted effort in the last few years to reach out in that direction.
I just interviewed a phenomenal bass player named Noga Shefi.(19) She lives in New York but she's from Israel. Most of the women I've interviewed, like Rita Coolidge(20) and Dee Dee Bridgewater,(21) are spectacular in terms of their musicianship, but they're known more for their voices. Maria Muldaur plays guitar and other instruments, but she's also best known as a singer.
CC: Maybe you should consider devoting a future volume of The Cats! to female cats.
JF: Yes, definitely. In a sense, that book is already there. But because the interviews with female musicians are among the most recent, they haven't all been transcribed yet. I'm working on getting them transcribed now.
CC: You've been doing these interviews for ten years now — a nice round number — so maybe it's a good time to step back and reflect on the "big picture." How do you feel about the value of what you've been doing?
JF: Even though I'm not a religious person, I feel like the work I'm doing is holy work. It's holy because it's so much more than preservation, or reminiscing, or waxing nostalgic.
Let me tell you about Jerry Granelli(22) and Rick Laird.(23) Again, they're not necessarily well-known on the pop level, but both are incredible musicians with incredible resumes. They were healthy going into this year, but both of them had unforeseen catastrophic health issues at the start of the year. I knew I had to go and do another interview with each of them, because time was running short.
Rick Laird had gotten a diagnosis of lung cancer, even though he never smoked. He had become a shell of himself. He was a really beautiful cat and I interviewed him in hospice. His stories are amazing.
We had this beautiful connection, and the same thing with Jerry. Within the last month, they both left us.(24)
And then there's my dear friend Neal Casal.(25) Neal was just an incredible human being and musician. I had done two interviews with him and I was getting very close with him personally.
So I reached out to him. I said, "Hey, I'm writing my first book. I'd like to publish an excerpt from our interview, and I'd like your blessing." He goes, "Oh man, awesome." I asked him to sign a waiver form, so he snail-mailed it to me. Ten days later he took his own life.(26)" href="#N(26)">((26))
And that put me on a path — I didn't realize it, but now it's becoming clear — it's like a holy mission to make sure that there's a definitive mark before these spirits leave this life. That's where the value is.
The reality is that when these guys pass away, the only traces of their voices are from my interviews. And that's of value for people who might be very close to them, love them, or just for the definitive record. That's a big part of my purpose.
CC: That's a powerful purpose, and an appropriate point to end on. But before we end, do you have any final comments or observations?
JF: The Cats! books aren't academic books, they're not scholarly books, but I would like people, if they're having a hard time going to sleep at night, to be able to open to any page and get into a meditative state. Or if they're looking for some inspiration, open to a page and find something that's going to help them make the world a better place.
Notes
November-December 2021, ATC 215