Against the Current No. 212, May/June 2021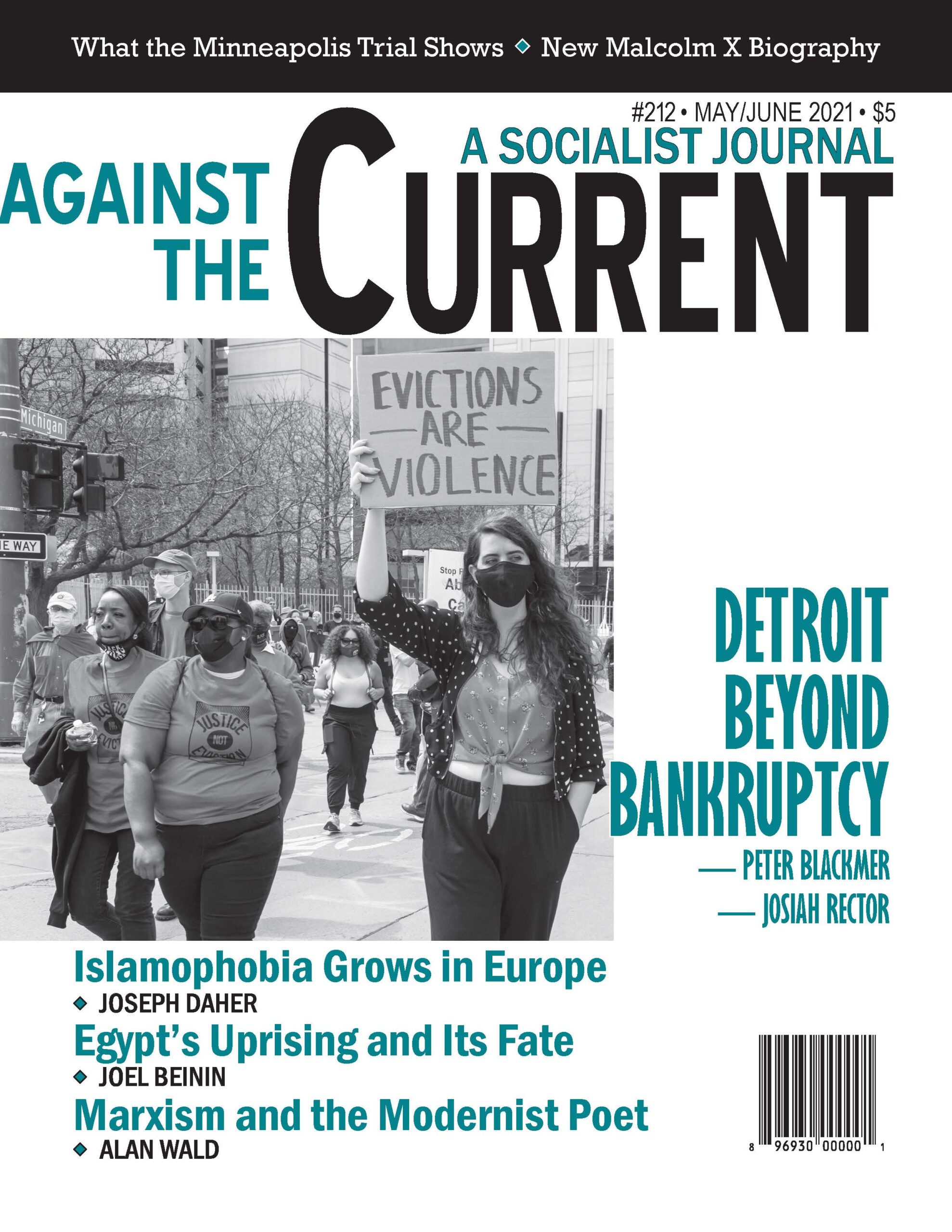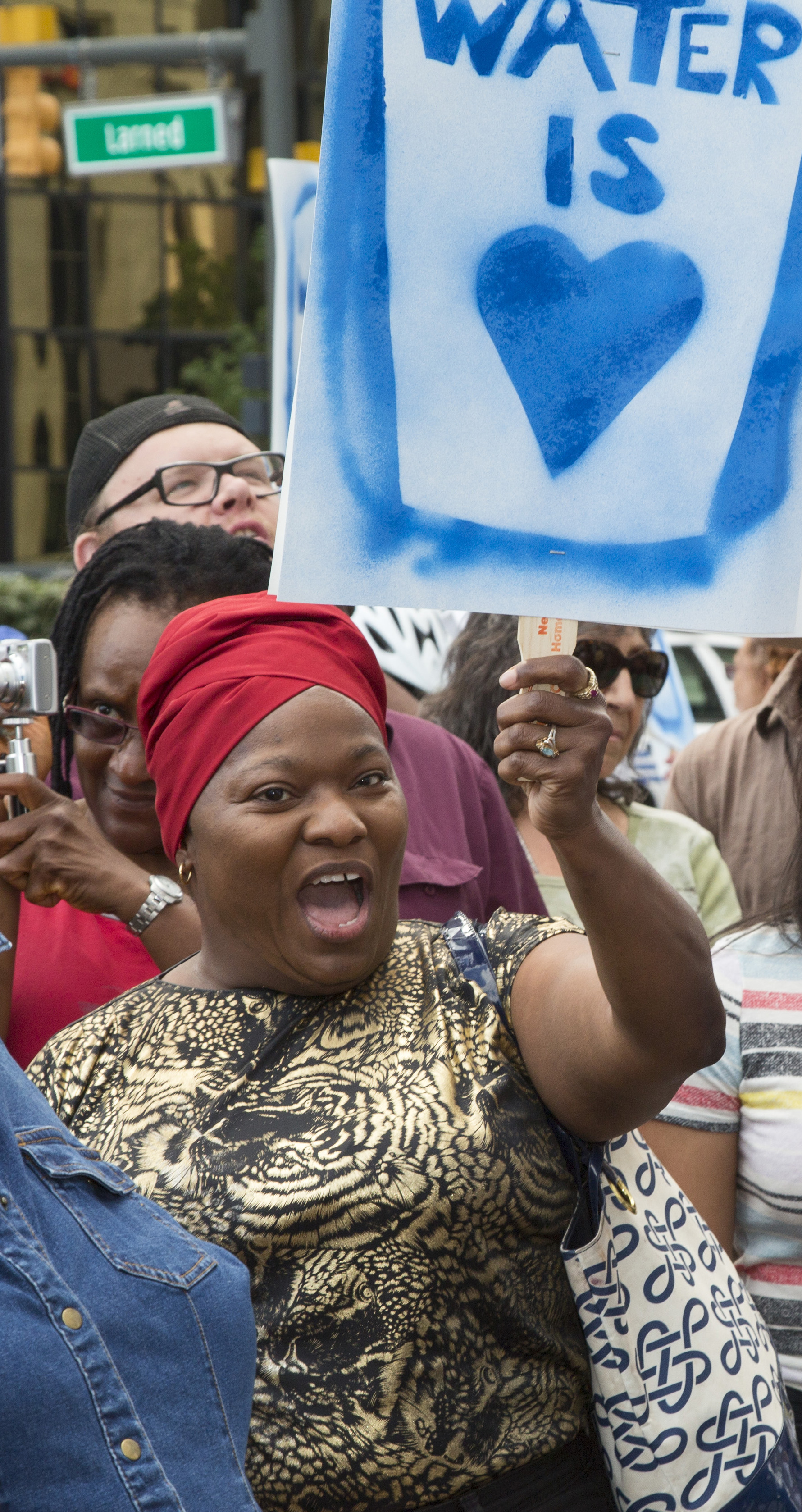 TALK TO PEOPLE from outside Detroit, and you're bound to encounter the same line on repeat: "I hear Detroit's coming back!" The implicit meaning behind this well-financed narrative, of course, rests on tired racist analyses of Black leaders failing the city and white saviors coming to its rescue.
Within the stories of long decline and recent "renaissance" in American cities like Detroit, heavy-handed state interventions — taking over school districts, imposing emergency managers, declaring municipal bankruptcy — are treated as unfortunate, yet necessary course corrections after decades of local mismanagement.
Similarly, the draconian and neoliberal measures that accompany these state takeovers, like closing schools, shutting off water, foreclosing on homes, cutting social services, slashing pensions and selling off city assets, are explained as unavoidable sacrifices to balance the budget and save the city.
These narratives serve as enduring reminders to many Detroiters of the devastation wrought by emergency management. "When I hear Detroit is coming back," organizer Tawana Petty often says, "I hear 'Make America Great Again.'"
Beginning with an analysis of the contradictions and legacies of emergency management, this two-part article will analyze how the devastation of austerity has shaped city politics and given birth to dynamic movements to create a radically different form of urban governance.
Autocracy and Resistance
At the end of February 2021, the Detroit Charter Commission delivered its highly anticipated proposed revisions for the City Charter after nearly three years of work.
The Charter, which effectively serves as the City's constitution, has been up for revision for the first time since 2012 — a year before then-Governor Rick Snyder placed the City of Detroit under emergency management. The autocratic takeover of city government and suspension of democracy under emergency management ushered in an era of austerity politics that has devastated the city.
At the same time, Detroiters have drawn from the city's deep well of political struggle to resist austerity measures and organize visionary movements for a more just and humane society. Over the past three years, Detroiters have built upon these struggles while working through the City Charter revisions as a vehicle to begin repairing some of the harms caused by austerity measures imposed by emergency managers and carried forth ever since by city officials.
Stories of Detroit's "comeback" spread like wildfire following the city's emergence from bankruptcy in 2014, as investors and speculators expanded their financial interests in a city eager to attract outside investment.
Following decades of systemic racism and disinvestment, or what renowned scholar-activist Ruth Wilson Gilmore has described as organized abandonment, the city's bankruptcy was filed without public input during the nearly two years Detroit spent under state-imposed emergency management.
City officials are well aware of this history. Indeed Mayor Mike Duggan (who was elected in 2013 after running a write-in primary campaign) took office just months after Governor Rick Snyder appointed former Jones-Day lawyer Kevyn Orr as emergency manager. Duggan eventually took the reins from Orr and has carried forth many of the same austerity measures.
Duggan's administration has overseen the continuation of mass water shutoffs, mass foreclosures caused by illegal property tax assessments, sweetheart deals to benefit developers and corporations at the expense of neighborhoods, and a vast expansion of the surveillance infrastructure of the Detroit Police Department.
The sum of these parts, longtime activists Dr. Gloria Aneb House and Rev. Dr. JoAnn Watson have noted, has led "to the erasure of our communities, to a reconfiguring of city land and resources to accommodate corporate objectives."*
Now Duggan is attempting to weaponize the traumatic memories of emergency management to head off calls for progressive change in the city through revisions to the City Charter. Before the ink could dry on the Charter Commission's draft, Duggan raised the specter of emergency manage­ment to come out swinging against its proposals.
Commenting on the revisions, Duggan oscillated between belittling commissioners, stoking fears of a return to bankruptcy, and threatening the city's pension fund. "I'm hoping the charter commission doesn't just write down whatever idea they have but they actually go back and responsibly make sure that we are not sending the city back into financial crisis," Duggan told reporters in late February.
For Detroiters who have lost their jobs, faced evictions and suffered profound hardships during the pandemic, such a financial crisis is already a reality.
This type of fiscal fearmongering has been a favorite trump card of the Duggan administration and his unelected predecessor Kevyn Orr. Interestingly, it only seems to be played when long-time Detroiters are the ones seeking funding.
When local people and organizations have demanded that the city allocate financial resources to ensure access to affordable water, safe housing, proper education, decent employment and environmental protections — staples of a healthy and just society — the Duggan administration and their allies on city council consistently cry poverty. Yet when corporations demand tax incentives, access to land, and other favors to set up shop in Detroit, the city bends over backwards to find the money.
Plague of Water Shutoffs
One of the most gruesome examples of the city's fiscal priorities since emergency management was imposed relates to the Detroit Water and Sewerage Department. During his reign as emergency manager, Orr set the standard for austerity politics, one that Duggan has largely followed.
Shortly after proposing the privatization of DWSD in March 2014, Orr notoriously signed a two-year contract to pay demolition company Homrich, Inc. $5.6 million to shutoff water service to customers as little as $150 or 60 days overdue.
The declared intent of the shutoffs was to compel payment of overdue bills, but there were bigger plans in motion. Propped up by blatantly racist narratives about Black Detroiters spending their money on sneakers or televisions instead of paying their water bills, Orr was effectively using poor and working-class residents to help shore up DWSD's finances to make the system more profitable for private ownership.
The contract with Homrich facilitated a violent wave of shutoffs to 83,000 homes over the next three years (including 33,000 in 2014 alone), and thousands more in the years since. In 2019, the city shut off service to nearly 12,000 households and reportedly 9,500 of these were without water at the start of the COVID-19 pandemic.
As emergency management ended and local control returned, the Duggan administration picked up where Orr left off. Duggan extended contracts with Homrich in the amounts of one million in May 2015, $1.8 million in February 2016, and another $4.3 million that August.
None of those contracts required City Council approval, as each fell under the $5 million threshold that requires a vote. Over this three-year period from 2014-16, Orr and Duggan paid $12.7 million to a private contractor to shut off water to tens of thousands of homes without any input from City Council or the general public.
Despite critiques of Duggan's underhanded methods of extending contracts for water shutoffs during these years, the city council fell in line in the following years. In March 2018, the council approved another $7.8 million contract with Homrich that extended through June 2021, bringing the total expenditures for water shutoffs to over $20 million.
These transactions reveal two fundamental contradictions of the city's austerity measures. First, while the city laid the hammer on tens of thousands of poor and working-class Black Detroiters, major corporate accounts were treated with velvet gloves.
As families struggled to conserve, recycle and survive without access to running water, major corporate customers were allowed to rack up tens of thousands of dollars in back bills, including a whopping $200,000 debt reportedly owed by the Palmer Park Golf Club. In 2015 alone, businesses owed DWSD $41 million compared to $26 million for homes, yet only 680 businesses were shut off compared to 23,000 homes. If the shutoffs were supposed to be a means of generating revenue, why not start with the biggest debts?
Second, the amount of money the city laid out for shutoffs and various payment assistance plans was astronomically higher than the cost of funding a program to address high water rates and unaffordable bills.
Detroit City Council had passed a reso­lution in support of a water affordability program in 2005 under the leadership of JoAnn Watson, with strong support from president Maryann Mahaffey, and secured $5 million from DWSD to finance it.
Drafted by municipal utilities expert Roger Colton in consultation with the Michigan Welfare Rights Organization (MWRO) and others, the plan would have set water rates based on a customer's income and offered protections against shutoffs. Despite Council support, the City and DWSD stalled its implementation for the next several years.
While Philadelphia implemented a version of the affordability plan in 2017, the Duggan administration has continuously resisted its implementation, citing widely debunked claims of the plan's illegality.
Even when the COVID-19 pandemic and consistent pressure from organizers compelled Duggan and Governor Gretchen Whitmer to restore water service in March 2020, the Mayor remained steadfast in his position against an affordability plan and moratorium on shutoffs. Instead, the Duggan administration and Great Lakes Water Authority officials have thrown good money after bad to establish "assistance" plans that inevitably fail with water rates on the rise and the economy on the decline.
If water and utility experts are correct that affordability plans are effective means of improving bill collections and revenues at a lower cost than shutoffs and assistance plans, why has the Duggan administration fought tooth and nail against water affordability?
Corporate Welfare, Foreclosures, Repression
The inhumanity and contradictions of life under the austerity measures of emergency management and the Duggan administration are maddeningly abundant. Take for example the city's financial contributions to Fiat Chrysler Automotive (FCA) to cajole the auto giant to expand its plant on the city's East Side.
In a relatively short period of time, the city and state managed to amass $107.6 million through land swaps and assets sales to transfer the land FCA demanded for its expansion. Between the land transfers and generous tax incentives, the city and state spent approximately $400 million to lure FCA to expand its operations in the city, according to the Detroit People's Platform. Considering the amount of pubic assets transferred to a multi-billion dollar corporation, the deal came with a comparatively weak community benefits agreement and no guarantees that Detroiters will be the ones getting the 4,950 new jobs the plant promised to provide.
Meanwhile, experts estimate that the city of Detroit owes $600 million to residents to compensate for years of overtaxing homeowners after failing to re-appraise property values, an illegal practice that disproportionately impacted poor and working-class Detroiters, following the Great Recession.
Based on these blatantly illegal assessments, the county foreclosed on one-third of properties between 2008-2020, contributing to mass displacement, a mass transfer of homes and land to speculators through the tax auction, and a transformation of the city from predominantly homeowners to majority renters.
While the city belatedly conducted a reappraisal in 2017 at the behest of the state, it has done little to make reparations to the tens of thousands of Detroiters who were overtaxed, displaced, or lost their homes.
Furthermore, while illegally foreclosing on tens of thousands of homes, the city has spent $265 million in federal Hardest Hit Funds to demolish over 15,000 houses since 2014 — money that could have gone into keeping people in their homes and preventing much "blight" in the first place.
To facilitate this violent agenda of dis­place­ment through shutoffs and foreclosures, the city has expanded the powers and presence of the Detroit Police Department. After a sharp cutback from 2013-14, the city has ramped up spending on policing at the expense of public safety, including massive investments in surveillance infrastructure.
In fiscal year 2019, the city's general fund spending for police totaled nearly $295 million, as compared to $32 million for housing, $26 million for recreation, and only $9 million for public health. Now, amidst nationwide calls to defund police departments, Duggan has proposed a 4% budget increase for DPD (including $500,000 for the controversial Shot Spotter program), whose bloated budget already accounts for over 30% of the city's general fund.
This expansion has been spearheaded by DPD Chief James Craig, a disciple of former NYPD chief and "broken windows" evangelist William Bratton. Craig was appointed to the position in 2013 in one of Kevyn Orr's early moves as emergency manager to implement "broken windows" policing in Detroit, as he had in Los Angeles under Bratton's leadership.
According to scholar Scott Kurashige, this implementation was supported by $600,000 in consulting fees paid to the Manhattan Institute and Bratton Group to help draft the plan while Detroit was under emergency management.
Under Craig's leadership, DPD has served as a handmaiden to the agenda set by Orr and advanced by Duggan through its prioritization of low-level "crime" to facilitate gentrification. For example, in 2014 Duggan created a Graffiti Task Force to criminalize and prosecute street artists in prime areas for investment, while non-Detroiters were being paid handsome commissions for downtown murals.
DPD has also been called upon to enforce water shutoffs when Detroiters like Antonio Cosme and Charity Hicks protested the violent practice dutifully carried out by Homrich workers. More recently, DPD helped a slumlord illegally evict a Black mother and her four children just days before Christmas last year, a practice that continues despite the DPD's denial that officers help facilitate evictions, even in the middle of a pandemic.
Accompanied by the day-to-day harassment of Black Detroiters in areas undergoing gentrification, these actions are a critical part of a larger process to remake the city for wealthy white investors and residents.
The Surveillance City
DPD's role in carrying out this agenda of alienating and displacing long-time Detroit­ers has been supplemented by the expansion of its surveillance capacities through the establishment of the Real Time Crime Center (RTCC) and its most visible initiative, Project Green Light (PGL).
Since 2014, the city has invested tens of millions of dollars in its surveillance infrastructure, including the purchase of software platforms for facial recognition, data analytics, cloud-based surveillance, as well as license plate readers, hi-tech traffic cameras, audio devices to detect gunfire, and other surveillance hardware.
Furthermore, the RTCC was designed to interface with private surveillance cameras (like Dan Gilbert's massive system downtown), state databases and federal law enforcement agencies, further expanding DPD's reach and increasing the danger to political activists, religious minorities, immigrants and civil liberties.
A basic search of procurement contracts shows that during Duggan's administration, the city has awarded over $35 million in contracts alone to Motorola Solutions, Inc., which outfitted the RTCC with much of its video surveillance and data analysis infrastructure.
Interestingly, publicly available tax return documents show that the Motorola Solutions Foundation donated at least $80,000 to the Detroit Public Safety Foundation between 2014-2016 as it was receiving millions in city contracts to build the RTCC. This was part of a broader pattern for Motorola, which reportedly donated over $25 million to "public safety-related foundations" since 2008 while cozying up with police and fire departments nationwide and vastly expanding their presence in the surveillance industry.
This massive investment in surveillance presents a clear and present danger to Detroiters on multiple levels. First, not only is there no real evidence that PGL and facial recognition technology are effective in reducing crime (no matter how many times Craig and Duggan say otherwise), it also disproportionately targets and misidentifies Black people, leading to more encounters with police and the criminal justice system. Despite spending over a million dollars on software from DataWorks Plus, Craig himself has admitted the city's facial recognition technology misidentifies people "96% of the time."
Second, there is a demonstrated correlation between the number of PGL locations and number of civilian complaints in precincts with high densities of PGL participation.
Third, the tens of millions of dollars being spent on surveillance technol­ogy are predictably being weaponized against protesters in Detroit and other cities where mass movements against police violence have emerged over the past year.
This massive investment in policing is denying Detroiters badly needed funds for real sources of public safety like education, housing, healthcare, employment and social services.
Whose Future Detroit?
For many longtime Detroiters, these kinds of fiscal priorities are revealing of the Duggan administration's broader visions for the future of the city. "Regular people that grew up here and love the city — we may want a better Detroit, a more just Detroit, even a cleaner Detroit, a more shiny Detroit," organizer Sonja Bonnett told me in 2018.
"Duggan and his people want a richer Detroit, they want tall apartment buildings that cost 3,000 dollars a month to live in so they keep us out…just like they did when they fled to the suburbs and left us in Detroit…but now they want the city back, so they're doing the same thing."
The organized abandonment and displacement of longtime residents under emergency management and the current administration have effectively worked toward creating a blank slate in the city — a Detroit with many fewer Black Detroiters.
At the same time, intergenerational movements of activists and organizers have emerged from the violence of austerity carrying forth the power and promises of Detroit's Black Radical Tradition. Detroiters are building upon this tradition as they envision and fight for a radically different world than the one on offer from the current administration and political establishment in the city.
"Their failures to value our lives and stand up in defense of our rights is why we exist, why we march in spite of police brutality, political witch hunts, and the weight of our own city, state and federal governments attempting to destroy us," Detroit Will Breathe co-founder Nakia Wallace recently wrote. "We will not be silenced now or ever. We will not be bullied into turning our back on the fight for our freedom."
The second part of this article will explore the fight for freedom being waged by Wallace and many other organizers.
*We the People of Detroit Community Research Collective, Mapping the Water Crisis: The Dismantling of African-American Neighborhoods in Detroit: Volume One, 2016.
May-June 2021, ATC 212