Against the Current No. 210, January/February 2021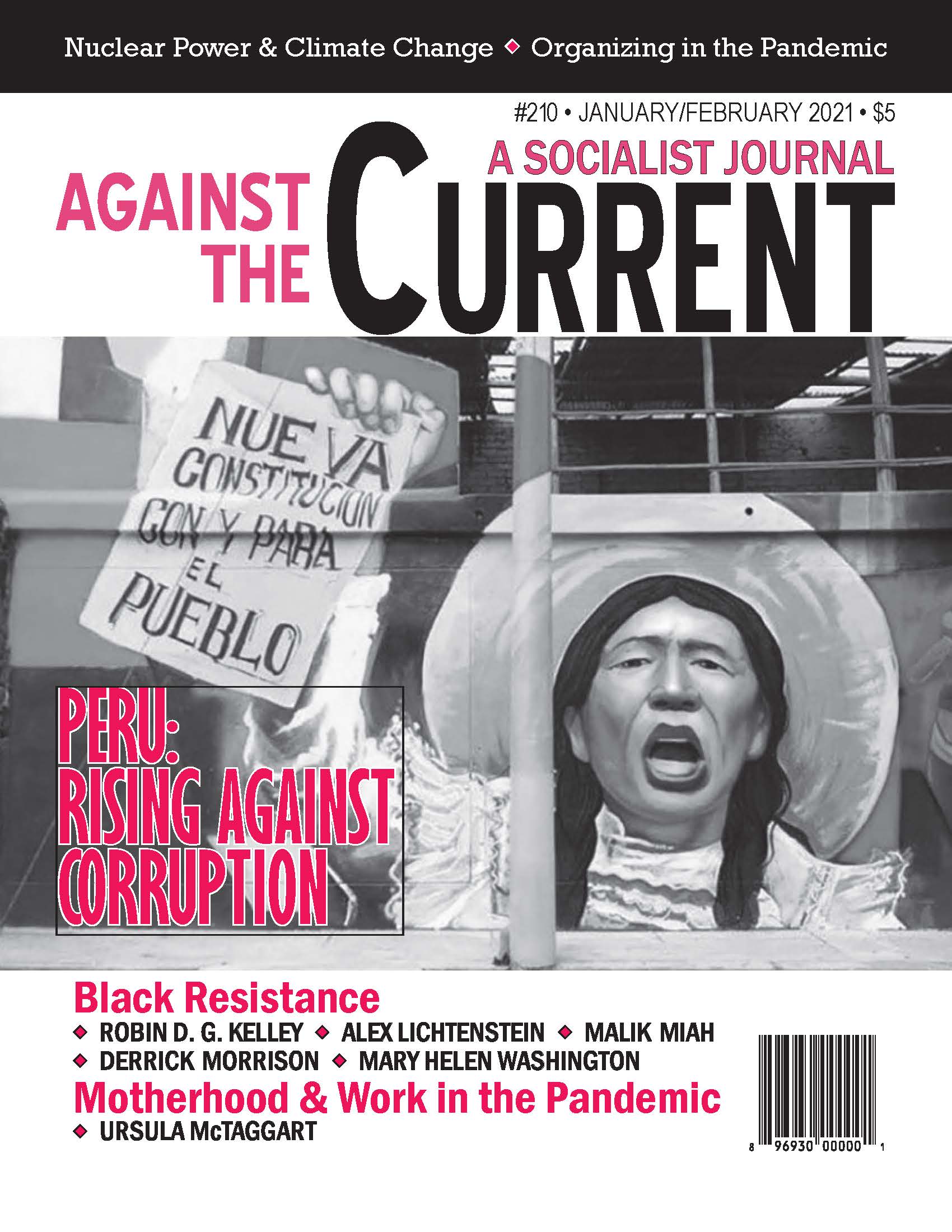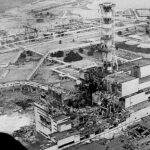 NUCLEAR REACTORS AS sources of electrical power date back to the late 1940s, when Soviet scientists first harnessed heat produced as a by-product of plutonium production to generate steam to drive electricity-producing turbines. From these ignominious beginnings in weapons production, nuclear reactors were quickly elevated to a "peaceful" and socially beneficial technology by the propaganda machines of both belligerents of the Cold War.
In this carefully crafted public image, nuclear power came to represent science with the aura of magic — it would be, in the famous and now discredited words, an energy source "too cheap to meter."
Far from delivering on this promise, nuclear power has been an abject failure in every respect that its advocates themselves proposed as measures of its success. Yet despite this record of failure, we are seeing a revival in the advocacy of nuclear power. It is touted by some as a climate-change mitigation strategy. The purpose of this article is to interrogate the claims of these proposals and explore nuclear power's larger consequences for humanity and nature.
In Case of Malfunction…
When we begin to examine a technological solution to a particular problem, we are tempted to delve right away into the mechanics of the technology. In this way, we predispose ourselves to the functioning of an idealized mechanism.
One might consider instead to begin from, in a sense, the opposite vantage point — the consequences if the technology were to malfunction even in some small respect. Thus, before building a chemical plant, we should ask not how it would operate ideally but about the consequences of a leak, a fire, an earthquake.
In the case of nuclear technology, we are not only able to imagine failures, we have a historical record that vividly illustrates what failure can look like. These events by no means exhaust the ways in which nuclear reactors can malfunction or fail. Most cases of malfunction are not reported and information about them is actively suppressed.
Even for the major accidents that we know about, the public record is not complete due to the secrecy that shrouds all nuclear ventures, whether "peaceful" or military.
Here I will delve into some considerations that should be part of any thinking about the use of nuclear power, in the light of historical experience. We tend to value reason over experience, particularly when experience contradicts our analytic framework. It is time to reverse that hierarchy, which should surely be science's sine qua non — giving observation precedence over our theoretical prejudices.
Chernobyl and Its Lessons
Let us begin with a particular accident: Chernobyl. In history books you will find a date and a place for this disaster: April 26, 1986 at the Chernobyl nuclear power plant located in the Ukraine.
As Kate Brown in her book Manual for Survival: A Chernobyl Guide to the Future emphasizes, "accident" conceived as a localized occurrence in space and time is not an adequate way to describe Chernobyl or, by extension, any nuclear disaster.
The date marks only the beginning of the accident — it is not done, even now. The time over which radionuclides decay depends on the particular isotope involved, and those originating with Chernobyl will continue to be active for thousands of years to come.
But it is not only the surrounding ecology of the power plant, the Pripyat marshes and environs, that have been transformed indelibly. The radionuclides spewed out into the atmosphere during the meltdown were transported throughout the Northern Hemisphere.
The first notice that the international community received of the disaster was when radiation exposure from radioactive isotopes from Chernobyl were detected via the radiation badges worn by workers at a Swedish nuclear power plant. This was hundreds of miles away and only two days after the incident. The detectors at the Swedish reactor facility indicated that workers had been exposed to unsafe levels of radiation, by the standards of the nuclear power plant itself!
The environmental historian J. R. McNeill notes that everyone living in the Northern Hemisphere has received a radiation dose from Chernobyl. Nuclear disasters thus cannot be localized in space and their span in time lasts thousands of years.
In the preferred analytic frameworks of modern sociology and a certain type of history, impersonal ways of representing the world tend to dominate. This impersonal accounting, "data" in their parlance, has its place and can be helpful.
These numbers and technicalities, however, often fail to make disasters comprehensible. How can one translate the symbolic representations of facts into a picture of reality? The answer in my view is that it can't be done, as these symbols leave out the very thing that gives them their relevance — how these events are actually experienced by human beings.
In the case of Chernobyl, we are fortunate to have Svetlana Alexeivich's Chernobyl Prayer (some editions are titled Voices of Chernobyl), in which the people affected by the disaster tell their own stories.
These stories are not just accounts of physical injury and loss, although there is much horror to recount, but are also the stories of living with the knowledge that your way of life has been permanently disrupted. These are the stories of never being able to return to a place, of everything being contaminated by radioactivity, of living in a state of trauma that will never pass. It means living with the realization that having a child will require asking what will this child's physical needs be, and whether society will be able to provide that support.
As the surrounding areas of the Chernobyl plant were evacuated and the inhabitants relocated, they found that they became pariahs. Their bodies were transformed by the accident into sources of radioactivity from the inhalation of radioactive dust and from consuming contaminated food grown in the area, and having these isotopes lodged in their physical bodies.
They became unsuitable partners with whom to have children. Indeed, the injuries of Chernobyl ran much deeper than the recounting that our data-based method­ology can capture. Only once the testimony of individuals gives us a sense of how a single person can be affected are we able to begin to gain an appreciation of the magnitude of the tragedy of Chernobyl through numbers.
The amount of radiation released by the Chernobyl explosion (not a nuclear explosion) was the equivalent of several hundred Hiroshima bombs. Had the fire spread, to one or more of the other three reactors, the result would be hard to imagine.
We were spared that fate either by luck or by the sacrifice of the first responders whose own fate was sealed the moment they arrived at the site. Within the first year of the accident, 135,000 inhabitants were evacuated from the surrounding area now known as the Chernobyl Exclusion Zone.
This zone had to be expanded from an initial radius of 10km to 30km from the site of the accident. This area will remain uninhabitable for thousands of years.
The problem with using Chernobyl as epitomizing nuclear disaster is that it is subject to the prejudice that what it reveals is more about the Soviet Union than about the dangers of nuclear technology. However, the most relevant aspects of the accident are universal and repeated in the so-called West and elsewhere.
The Japanese Fukushima Daiichi disaster from 2011 shows many of the same features, including the secrecy, lack of accountability and misinformation that characterized Chernobyl. We are yet to have a full accounting of the consequences of the Fukushima Daiichi accident.
The only reason why we have some level of understanding of Chernobyl is because of the dogged work of activists and researchers, who have tried to piece together the scope of the disaster, despite the hurdles actively placed in their attempts to uncover what happened and its consequences.
Extraction, Eco-destruction, Indigenous Rights
Nuclear reactors pose a grave threat to humanity because of their use of radioactive isotopes that can easily result in the exposure to harmful levels of radioactivity of both workers and the population at large. These exposures can take place at various stages of the lifecycle of nuclear reactors.
If we view the reactor's lifecycle in terms of certain moments, one could tentatively enumerate (a) the extraction and enrichment of nuclear isotopes that serve as fuel for the reactor, (b) the running of the reactor, (c) decommissioning reactors. All three stages pose threats to safety.
(a) Nuclear fuel — typically enriched uranium — requires the mining of radioactive ores, separation of the compounds and the enrichment of the needed isotopes. As is the case of most mines, these are typically located in areas where marginalized communities reside.
Mining often requires the dislocation of populations and the disruption of lives and ways of living, sometimes in exchange for "compensation." This displacement and disruption is mostly done without the consent of the population.
For the Manhattan Project (World War II development of the atomic bomb), the United States obtained a large fraction of its uranium from mines located in the Belgian Congo, where the mines were controlled by the colonial Belgian regime known for its distinctively murderous and sadistic rule.
The natives who worked the mines were not provided with protection. We know very little about the impact of uranium mining on the Congolese miners and the surrounding population, as is so typical of the colonial disregard for the wellbeing of their dispensable colonial subjects.
After the war, the United States started looking for uranium sources at home and discovered that it could be separated from a mineral ore found on Navajo land in the areas now called Arizona, New Mexico, Colorado and Utah. Over 1000 mines were established on this land for extracting uranium, employing miners from the Navajo population.
The milling technique used to extract uranium involves separating other radioactive ores from the uranium through a process that disperses radioactive dust into the surrounding area. Then the unneeded radioactive remains are dissolved in water and discarded, which then leaches into the ground. The process results in the contamination of the surrounding ecology and water reserves.
The most active uranium mines in the world, including the ones in Canada and Australia, have similar impacts on Indigenous populations. Thus, the brunt of uranium mining and enrichment — a highly toxic process — has been felt most acutely by marginalized communities, particularly those of Indigenous populations and colonial subjects.
(b) During the lifetime of a functioning nuclear reactor, there is great potential for accident. As Charles Perrow in Normal Accidents explains, the complexity and interdependent processes taking place in a nuclear power plant make major accidents triggered by a minor glitch a very real possibility.
While the behavior of workers is often blamed for nuclear accidents, Perrow points out that accidents are in actuality inherent to the technology itself. The sensible behavior of workers acting on what they know at the time often cannot be reasonably criticized.
Studying previous incidents like Three Mile Island (1979) and Chernobyl shows that accidents are the result of a cascade of interconnected failures that are built into the system although not by conscious design. Even more severe versions of these accidents could have occurred were it not for something fortuitous, planned or unplanned, that curbed the cascade.
In addition to the potential of accident, nuclear power plants produce radioactive waste, the disposal of which remains an unsolved problem.
(c) The closure of nuclear reactors poses a distinctive set of additional problems. Once closed, these sites are virtually permanent sites of radioactive contamination. If they go through a process of decommissioning, radioactive parts of the plant and nuclear waste need to be disposed properly.
There are still no good options for the disposal of nuclear waste. Various "remote" sites have been designated as dumps for radioactive remains, but this comes at the cost of making the surrounding areas of these sites hazardous for human habitation and putting the local ecology at risk.
The site of the closed reactor itself poses dangers as effluents from power plants leak into the surrounding environment and require independent remediation during decommissioning. The process is resource-intensive and requires years of remediation.
Privatized Profits, Socialized Risk
The history of nuclear reactors is the history of corporate welfare that socializes the costs and risks associated with their construction and running, while privatizing any profit. In his environmental history of the 20th century, the historian J. R. McNeill writes:
"Nuclear power held some of the same political attraction as dam building: it signified vigor and modernity. Admiral Lewis Strauss, head of the American Atomic Energy Commission, predicted in the 1950s that by the 1970s nuclear power would be too cheap to meter…. But no nuclear power plant anywhere made commercial sense: they all survived on an "insane" economics of massive subsidy." (Something New Under the Sun: An Environmental History of the Twentieth-Century World, W. W. Norton, 2000: 312)
McNeill goes on to explain that when Britain privatized its electrical industry, there were no private takers for the nuclear power plants. Thus the only way corporations made money from nuclear power is through massive subsidization from public funds.
While the state guarantees profits to corporations that build and manage publicly funded power plants, the risks associated with accidents are always socialized. The Price-Anderson Act dating back to 1957 and serially renewed until its current expiration date in 2025, caps corporate responsibility for liabilities associated with accidents.
Private insurance companies are also protected from the costs of nuclear disasters. The costs of the management of nuclear disasters are therefore almost entirely relegated to the public sphere. Moreover, the management of radioactive waste associated with nuclear power are also the responsibility of the state.
Risk of nuclear disaster associated with reactors are routinely misrepresented. In the design and commissioning phases of nuclear power plants, so-called experts assess the risk by various modeling techniques and providing a reified number representing the probability of disaster.
These exercises are carried out by people with a direct interest in the approval of the power plant, and are based on assumptions that are not always warranted and often not spelled out.
Looking at actual disasters (Chernobyl and Fukushima Daiichi, say), the specific circumstances of each illustrate very clearly that, while each particular scenario may be highly unlikely (at least in one's imagination), there is a cumulative compounding effect of many individually unlikely pathways contributing to making disasters possible and even likely. Furthermore, as nuclear reactors proliferate they multiply the possibility of disaster.
Green New Deal, or More Corporate Handouts?
I have argued that nuclear power is a dangerous technology that poses distinctive hazards at all stages of its lifecycle. But how does it compare economically to renewable energy sources such as solar and wind?
Although an aura of innovation emanates from nuclear power, it is wholly undeserved. In reality, it is a technology of the past whose efficiency and cost have remained uncompetitive and stagnant in the many decades of its existence. Solar and wind power technologies, by contrast, continue to improve in efficiency and cost.
If we compare the present-day cost per MegaWatt-hour of electricity, solar and wind power are notably cheaper than nuclear power. When one further takes into account that solar and wind technologies are becoming more efficient with time, it becomes clear that they are better suited for public investment.
A notable feature of wind and solar power is that they don't require much in terms of operational costs, whereas maintenance and operation are significant sources of cost throughout the lifetime of nuclear power plants.
Despite its lack of new ideas, the nuclear industry is adept at promoting old ones as if they were innovations that solve longstanding problems. One such idea that is receiving renewed attention is so-called breeder plants. They are based on using more abundantly available non-fissile radioactive isotopes, such as those of thorium, that when combined with fissile uranium isotopes lead to the net production of fissile fuel in the process of energy production.
However, as M. V. Ramana has shown (and the references therein), practical implementation continues to be hounded by problems.
While all the dangers and issues attendant on regular nuclear power remain for these breeder plants, new ones particular to them are added.
A further important consideration in deciding between technologies is to take proper stock of the climate emergency and the need for immediate decarbonization of our energy supply.
While solar and wind technologies are easy and quick to deploy, nuclear power requires significant lead time. In fact, typical timelines require close to a decade from an accepted proposal to an operational power plant. Historically, nuclear reactors have a long record of delays in construction and of running well over the initial cost estimates.
We have neither the time nor monetary resources needed to implement decarbonization using nuclear power if we are to achieve it within a timeline that avoids an even worse climate catastrophe than what we are on target to confront.
The Green New Deal for state-sponsored radical ecological intervention takes its inspiration from the New Deal of the 1930s. Public sector investment through the GND should therefore be about encouraging the growth of good jobs that provide security and good living standards as well as building publicly-owned infrastructure beneficial to humanity and subject to democratic control.
Nuclear power fails on all these counts. Several studies indicate that nuclear power will make only a marginal contribution to job growth, unlike solar and wind power, which are already contributing significantly to job growth.
Hazardous nuclear technology cannot be democratically controlled because of its close connection to nuclear weapons manufacture. Most importantly, in my view, any Green New Deal should not contribute to the further environmental degradation of our planet, which nuclear power most certainly will do.
January-February 2021, ATC 210