Against the Current, No. 206, May/June 2020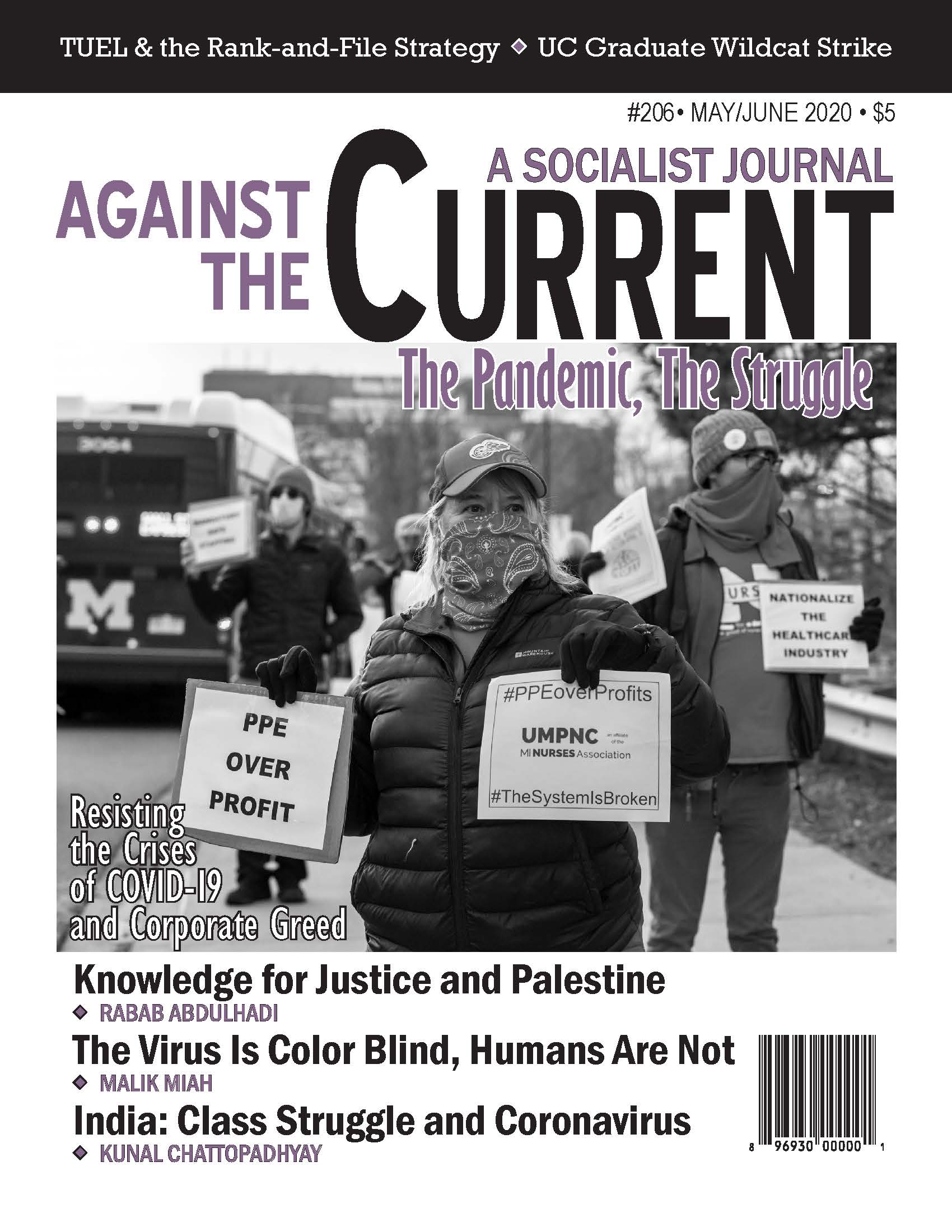 Grateful Nation:
Student Veterans and the Rise of the Military-Friendly Campus
By Ellen Moore
Duke University Press, 2019, 280 pages, $26.95 paperback.
Soldiers to Citizens:
The G.I. Bill and the Making of the Greatest Generation
By Suzanne Mettler
Oxford University Press, 2005, 252 pages.
When Dreams Came True:
The GI Bill and the Making of Modern America
By Michael J. Bennett
Brassey's Inc., 1996, 335 pages.
TWENTY YEARS AGO a terminally ill Tony Mazzocchi, longtime union leader and founder of the Labor Party, was promoting a campaign he called "Free for All."
Mazzocchi was a veteran of World War II and a beneficiary of the Serviceman's Readjustment Act of 1944 — the original G.I. Bill of Rights. He had just read one of the books under review here — Michael Bennett's When Dreams Come True. The author's account of how the G.I. Bill was enacted, and the social impact it had, inspired Mazzocchi to launch what his biographer Les Leopold calls a final crusade "to reintroduce free higher education into the national political agenda."
Like Bennett, Mazzocchi believed that the G.I. Bill was "one of the greatest pieces of legislation ever enacted," because it gave millions of returning veterans, like himself, a "sabbatical," a much-needed government-paid chance to re-tool for the civilian job market.
Mazzocchi argued that a 21st-century version of this program could similarly plant the "seeds of the good life" for millions of Americans by allowing them to attend public universities and graduate schools without accumulating ruinous personal debt.
When potential supporters balked at the $23 billion price tag for his proposal, Mazzocchi noted that a Congressional study in 1988 found that the original G.I. Bill "had paid for itself six times over."
When veterans' groups questioned why everyone should qualify for this benefit without "earning" it through military service, Mazzocchi brushed aside those objections too. "We all need to participate in continuing education," he insisted. "It should be part of our work-life and it should be free."
In his two rounds of presidential campaigning, Senator Bernie Sanders, a friend and ally of Mazzocchi, finally succeeded in putting this old Labor Party idea on the national political agenda. Sanders' candidacy has pushed the presumptive nominee to announce that he now favors making public colleges and universities free for students from families earning less than $125,000 per year. ("Biden backs free college," New York Times, March 15, 2020)
Amid the economic crisis created by Covid-19 (and after Sanders suspended his campaign), former Vice-President Joe Biden unveiled a "a student debt forgiveness plan which would eliminate student debt for low-income and middle-class people who attended public colleges and universities, and other institutions that serve students of color…but does not go as far as Sanders' plan to cancel all student debt."
An Obstacle to Enlistment?
One reason to doubt that a Biden Administration will cancel student debt or make higher education freer-for-some is the impact it would have on military recruitment — at least in periods of low unemployment or reduced patriotic fervor. As the antiwar group Courage to Resist recently noted, "recruiters are no longer using patriotism as their main marketing strategy."
Instead, the Army is trying to take advantage of "extreme economic inequality" and "the national student debt crisis" by stressing the importance of G.I. bill benefits, including access to affordable education. (https://couragetoresist.org/army-recruitment-student-debt/)
Antiwar activist and former Army Ranger Rory Fanning agrees "that if college were free, then the pool of potential military recruits would plummet — and that fact scares elected officials to death. Roughly 20% of the 184,000 people who sign up for the military each year come from households that make less than $40,000 a year. It's hard to find a college education that costs less than that amount."
A national board member of Veterans for Peace, Fanning was among the many young men and women who enlisted, in part, to pay off college loans. If he had been debt free, his decision might have been different, he says. Erasing college debt would be "a huge threat to the U.S. war machine," he believes, because "thousands of soldiers would lose their incentive to stay in the military." (https://truthout.org/articles/a-truly-antiwar-agenda-must-include-free-college-and-medicare-for-all/?)
Long before education benefits were beefed up as a key recruitment tool for our modern-day "all-volunteer army," the original GI bill was developed in response to a different threat, from a returning "citizens' army." As Michael Bennett describes it bluntly:
"If the twelve million veterans of World War II had been dumped off the boats like the nearly four million from the previous world war and given only $60 and a train ticket home, with neither educational or economic opportunity awaiting them when they got back, violent revolution might have easily been sparked."
Key backers of the Serviceman's Readjustment Act of 1944, like American Legion national commander Henry Colmery, were quite aware that angry veterans had become shock troops for the right and left in Germany and Russia after their experience of combat in World War I. In the United States, postwar social unrest among veterans culminated in a march on Washington by thousands of them in 1932.
Members of this "Bonus Army" sought immediate payment of deferred compensation for their service that was not due until 1945. Leaders of the Legion like Colmery opposed their demand because it would put too great a strain on the U.S. Treasury.
The militant veterans, camped out in DC were heavily red-baited by Republican President Herbert Hoover, who then ordered active duty troops (led by General Douglas McArthur and future General George Patton) to drive them from the city.
In 1934, after Hoover's electoral defeat, Congress authorized payment in the form of bonds that most veterans cashed in immediately to help them survive the Depression.
Ticket to the Ivy League
To avoid similar upheavals after World War II, Congress and the Roosevelt Administration authorized what Bennett calls "first class education benefits" — covering tuition and fees up to $500 a year at a time when Harvard and other top schools were charging $400. By 1947, veterans comprised nearly 50% of total student enrollment of 2.3 million.
Nearly half of all World War II veterans utilizing the G.I. Bill went to private colleges and universities, including Ivy League institutions; under the less generous G.I. Bill coverage provided after the Korean and Vietnam wars, about 80% of the veterans utilizing the program then opted for public higher education instead.
The original G.I. Bill (or its successor legislation) was egalitarian in another important way. As Bennett notes, it enabled many leading figures in the 1960s civil rights movement to attend college or professional school, along with future political leaders like Ron Dellums, John Conyers and Charles Rangel and cultural figures like Harry Belafonte and Ossie Davis.
In the aftermath of World War II, it also provided unemployment insurance for Black veterans that was equal to the benefits for whites (a G.I. Bill provision that southern segregationists in Congress fiercely opposed and tried unsuccessfully to block).
From Soldiers to Citizens
In Citizen Soldiers, Cornell University Professor Suzanne Mettler assesses the broader impact of free higher education for veterans. Prior to World War II, she notes:
"[A]dvanced education had been largely restricted to the privileged, especially to white, native-born, elite Protestants. The social rights offered by the G.I. Bill broadened educational opportunity to veterans who were Jewish or Catholic, African American and immigrants, as well as those whose families had struggled in the American working class for generations."
In Mettler's view, the G.I. Bill provided not just "social opportunity but also promoted more active citizenship, making "the political system more inclusive and egalitarian during the middle decades of the 20th century." Mettler cites studies showing that the 7.8 million beneficiaries of the original G.I. Bill participated in civic and political organizations to a greater degree than non-veterans and veterans who did not use their educational benefits.
In the late 1940s, of course, existing veterans' group, like the Legion and Veterans of Foreign Wars, experienced a huge membership increase. But, according to Mettler, they were not the only vehicle for community engagement and organizational leadership development among veterans.
Both as members and leaders, veteran participation greatly increased in "cross-class fraternal groups" like the Elks, Eagles, Knights of Columbus, and Shriners, in labor unions, civil rights and religious organizations, and in political parties, which ran many candidates for public office in the post-war era who were G.I. Bill educated veterans.
In New York, for example, Tony Mazzocchi became a rising star in the Oil Workers Union, a Democratic Party reformer, and, briefly, candidate for Congress from Long Island in 1964. Across the country, other veterans served in disproportionate numbers on civic boards and commissions.
As Mettler notes, even the "sub-college training benefits" of the G.I. Bill "played an important role in democratizing the nature of organizational leadership."
Because vocational training benefits also increased the skills and expanded the confidence of veterans who ended up in blue-collar jobs, they also "were more likely to hold office or serve on a committee for a civic organization."
The scope of the original G.I. Bill was wide indeed, reaching nearly five percent of all Americans. But even before the draft ended and the United States switched to an "all-volunteer force" in 1974, later iterations of the Serviceman's Readjustment Act of 1944 provided educational opportunity to far fewer disadvantaged citizens.
"The version of the law established for Vietnam Veterans in 1967 was more restrictive than those for either World War II or Korean War veterans," Mettler notes. It reached only 1.5% of the population, although veterans using their less generous benefits during the Cold War accessed higher education at a higher rate than those who served in World War II.
Key Recruitment Tool
As Department of Defense officials started building a "professional army," they quickly discovered that education benefits were cited as a major factor in the enlistment decisions of nearly 80% of those recruited for it. In 1984 Congress passed the Montgomery G.I. Bill (named after its Congressional sponsor from Mississippi, Representative Gillespie Montgomery), which created the modern-day framework for making higher education affordable for many veterans who might not have been able to pay for it themselves.
Since the military is much smaller today — comprising just one percent of the total population — the program's potential for expanding social opportunity is far more limited than 70 years ago. Nevertheless, since 2008 more than a million men and women who served in the military have been able to pursue post-secondary degrees or certificates using benefits accessed via the Department of Veterans Affairs (VA).
The lack of campus-based support services for post 9/11 veterans led some to form a new advocacy organization called the Student Veterans of America (SVA), which now claims 1300 campus chapters.
SVA in recent years has been busy protesting bureaucratic screw-ups and delays in VA payment of monthly housing allowances to student veterans. But in the Trump era, the latter have also been victimized, on a much larger scale, by low-quality for-profit colleges that target former military personnel with deceptive marketing pitches.
In an Op Ed piece for the New York Times last year, SVA leaders James Schmeling and Carrie Wofford blasted for-profit colleges for vacuuming up nearly 40% of all G.I. Bill tuition and fee payments in recent years. As they noted, the risk of G.I. Bill waste is "exceptionally high at for-profit schools, which received 81 percent of improper payments," according to one VA internal audit.
Schmeling and Wofford accused the Trump Administration of "eviscerating student protections and quality controls" at the very institutions most prone to defrauding the government and leaving their fellow veterans with worthless degrees or course credits useless anywhere else.
Because Secretary of Education Betsy DeVos has been so complicit with industry misconduct, other enforcement agencies have been forced to act. Last December, the Federal Trade Commission reached a $191 million settlement of charges against the University of Phoenix for deceptively promoting its tax-funded programs for active-duty service members, veterans, and military spouses.
The VA itself has broad powers to punish educational institutions guilty of deceiving veterans. Yet conservative Republican Robert Wilkie, Trump's Secretary of Veterans Affairs, has been reluctant to crack down on for-profit schools — even ones that recruited veterans into degree programs that did not qualify them for state licensure in their chosen fields of study. (New York Times, December 31, 2019)
On March 9, the VA did finally suspend G.I. bill reimbursement for the University of Phoenix and several similar outfits accused of "erroneous, deceptive, and misleading enrollment and advertising practices." They were given 60 days to take "corrective action."
The Military-Friendly Campus
In her insightful new book Grateful Nation, Berkeley-based sociologist Ellen Moore raises a very different set of concerns about student veterans and their relationship to higher education today. She approaches this subject with the unusual credential of having been "born on a U.S. military base to an Army Captain father and a pacifist mother."
Her father grew up during the Depres­sion in a working-class family in Fresno, CA. Yet his "military service and G.I. Bill education benefits eventually enabled him to join the professional class" — thus helping pave the way for Moore's own second-generation academic success and upward mobility.
Because of this family legacy and for her dissertation research, Moore spent three years interviewing veterans about their experience at several California colleges.
She also talked with their professors, administrators and classmates, who are often younger than the veteran cohort that "brings billions of dollars in guaranteed tuition to colleges, creating strong financial incentives for them to project themselves as friendly toward the U.S. military in pursuit of G.I. Bill funded students."
Moore was particularly interested in investigating the claim that some campuses have nonetheless created a "hostile environment" for former members of the military, making their smooth transition to campus life more difficult.
On the California campuses she studied, Moore found little or no evidence of such bias. On the contrary, she discovered that "teachers were instructed to treat veterans deferentially in their classrooms" and even avoid talking about the wars (in Iraq and Afghanistan) that many had participated in — for fear of offending them.
In Moore's view, initiatives designed to "welcome veterans to college" fostered an unhealthy tendency to "welcome military viewpoints and suppress debate about current wars." Instead of creating an environment in which "veterans must learn to become college students by adapting to civilian academic norms and practices," the colleges profiled in Grateful Nation have responded to the presence of ex-military personnel on campus by changing their own "institutional practices and discourse."
Despite the lack of any discernible collegiate animus toward the military in general or to them personally, student veterans faced other challenges due to "disjunctions between their military training and academic demands and psychological trauma engendered by their experiences in war."
It's here that Moore is most effective in debunking the secondary claim of army recruiters — that military training and experience helps prepare you for higher education — that the G.I. bill then provides free of charge. Many student veterans drop out before they graduate — particularly if they are married and have kids, which often requires juggling jobs and school and makes it harder to survive on VA housing alliances.
In addition, student veterans, whatever their greater personal motivation and higher career aspirations, are not spared the signature afflictions of their post 9/11 generation — PTSD, Military Sexual Trauma, and the lingering effects of traumatic brain injuries, which can include impaired memory and ability to concentrate, suicidal ideation, depression, and related substance abuse.
All these hidden costs of earning a "free higher education" through military service can put achieving the goal of a college diploma beyond the reach of the most determined striver.
Time for Change
Like Tony Mazzocchi before him, Will Fischer is a labor-oriented veteran who would like to transform the landscape of higher education that Moore describes, and that he personally experienced, as a G.I. Bill beneficiary.
Fischer served as a Marine in Iraq before becoming the second person in his family "to graduate from college and do so without the yoke of student debt." Later, he became director of the AFL-CIO's Union Veterans' Council and governmental affairs director for VoteVets.
Now Fischer would like to see student debt cancelled and public higher education, including vocational schools, made tuition-free because all working-class people "would benefit, without question, from such legislation." He believes that limiting free higher education to veterans confronts young people with an unacceptable choice — between being forced "to put on a uniform and participate in never-ending U.S. wars or take on crushing debt." (https://www.nationofchange.org/2020/02/11)
Unfortunately, an influential national commission has just recommended that Congress instead confront all Americans aged 18 to 25, with a related choice — whether or not to register with (our never actually abolished) Selective Service System.
According to this commission on national service, women have proven themselves in uniform, including in combat roles, and now represent about 17% of all active duty troops. Expanding the registration process to include them would be a "necessary and fair step" — and apparently a great victory for gender equality.
If adopted by Congress, of course, this recommended change would result in equal punishment of anyone who fails to comply.
Not surprisingly, the main carrot dangled by military recruiters — greater access to higher education — is already in use as a stick to secure compliance by millions of young men. As the New York Times reminded its draft age readers, "not registering with the Selective Service comes with a lifetime of penalties, including exclusion from student loans…" (NYT, March 24, 2020)
Meanwhile, for the millions of poor and working class young people just entering a job market now gutted by Covid-19 — and living in parts of the country where recession/depression conditions will persist longer than elsewhere — the main incentive for enlisting is the promise of employment (and training) not available anywhere else at the moment, with "free higher education" a secondary benefit by far.
May-June 2020, ATC 206