Against the Current, No. 205, March/April 2020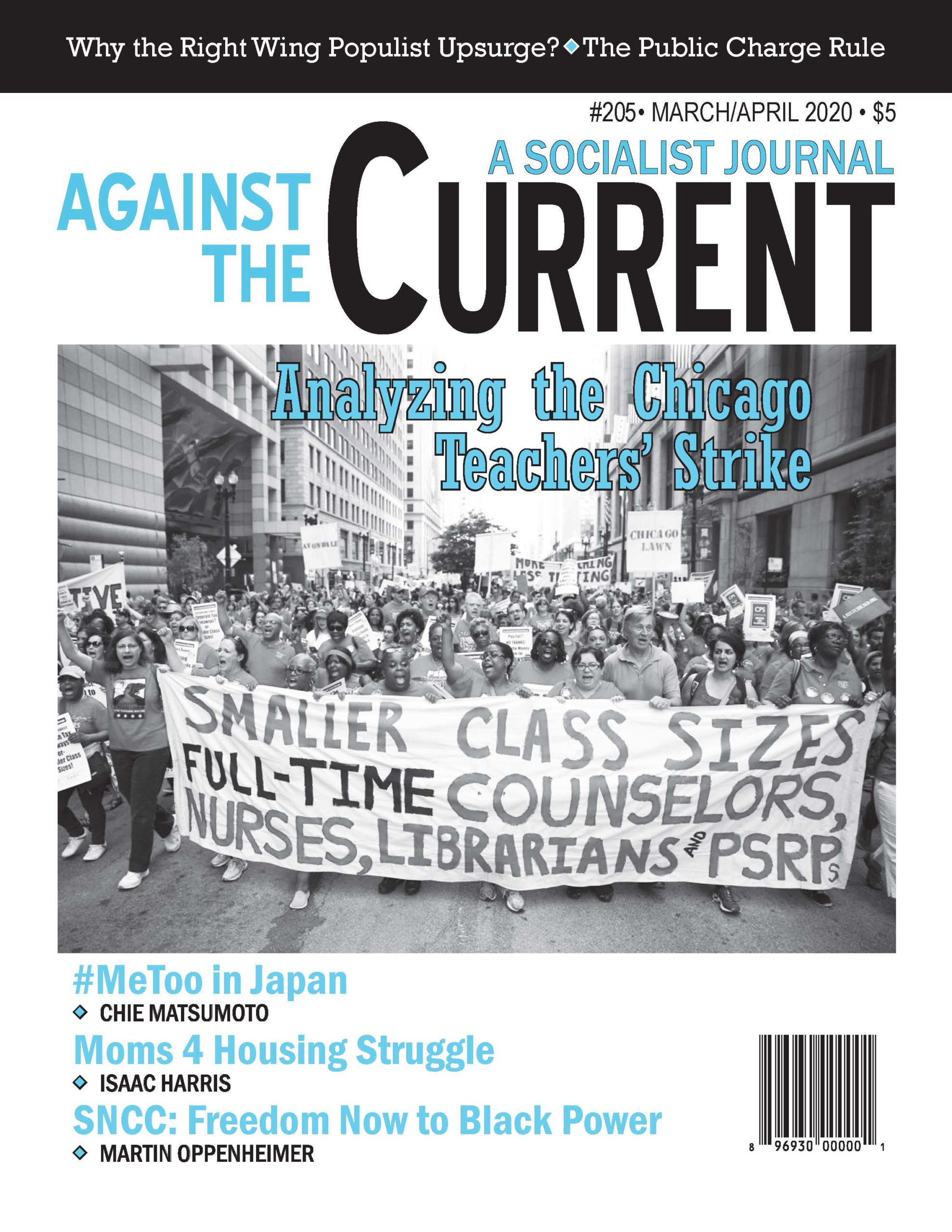 FOR DOMINIQUE WALKER, facing homelessness was "a matter of life or death." So she decided to take matters into her own hands.
Fed up with suffering from homelessness while working multiple jobs and caring for their children, Dominique and her friend Sameerah Karim began occupying a vacant, investor-owned house on Magnolia Street in West Oakland on November 18, 2019.
In the following months they formed the group Moms 4 Housing, orchestrated a successful media campaign, and galvanized scores of activists during a "Week of Action" for housing organized by the Alliance of Californians for Community Empowerment (ACCE). They emphasized their occupation was nonviolent. (See https://moms4housing.org/.)
After community pressure and legal work by activists, the Alameda County Court held an eviction hearing. Carroll Fife, director of Oakland ACCE, pointed out that "the housing courts' work is basically a mill to grind people down and send them out to the streets."
That's the law. So it was no surprise on January 10 when Judge Patrick McKinney concluded Moms 4 Housing had "no valid claim of possession" and gave them five days to move. The corporate landlord then offered the women two months' rent at a shelter. They wanted a permanent home, not another round of shelters, and refused.
Knowing the sheriff would have to carry out the order by January 15, two days beforehand the moms made sure their children had places to stay. With the imminent threat of eviction, Moms 4 Housing rallied hundreds of supporters to the home that evening through a rapid response text messaging system. The sheriffs' office did not make an appearance that night.
But before dawn on January 14 the sheriff and his troops arrived at the home in riot gear, with rifles, armed vehicles and even a robot to check for possible explosives.
The squad broke down the front door and a second one with a battering ram, arresting Tolani King, Mistry Cross and two supporters. All were later released on bond.
Although told they could retrieve their belongings the following morning, when the moms arrived they found their things strewn on the curb.
The Housing Crisis
The Moms 4 Housing struggle highlights the depth — and absurdity — of the nation's housing crisis, especially in the Bay Area, where people live in tent encampments down the block from empty investment properties. It is estimated that in Oakland there are four times as many empty homes as there are people without homes.
Dominique herself was well acquainted with the problem. When she moved from Mississippi back to Oakland, her hometown, she got a job as a community outreach coordinator for ACCE. But she struggled to secure permanent housing for herself.
About her experience canvassing West Oakland to offer legal services to people facing displacement, she said, "It seemed like we were a little bit too late because out of a whole sign-up sheet of information we had, 90% of those people were already homeless. And they were working folks… Just blank on the addresses."
That's when she realized: "Hey this is not just me, it's everybody. It's especially folks that look like me. Mothers and children, and families out on the street. It was a tipping point for me."
Dominique also noticed the prevalence of vacant homes in the neighborhood, including the one where she and Sameerah moved in. Owned by Redondo Beach-based Wedgewood Inc., a "leading acquirer of distressed residential real estate," the property had been sitting empty for more than two years. In addition, Dominique had encountered a man running scams out of the house — taking renters' deposits without following through on a lease.
Higher rents (and higher profit for the property owner) effectively create an income requirement for people to access housing. "Because if you are hard-working and the wages aren't enough, does that mean you deserve to be on the street?" said Dominique. "Shelter is a human right, it is a basic need."
But under capitalism, the primary purpose of housing is to provide a return on investment for banks and landlords, not to provide shelter for those who need it. Dominique stressed, "I think it's a moral crisis. It's capitalism, it's greed that are keeping people on the streets."
Exploitation and Struggle
Wedgewood Inc.'s invasion of this part of the town follows a long history of West Oakland's exploitation at the hands of the real estate industry.
By the late 1940s, the once-diverse neighborhood was becoming increasingly segregated, as one of the few places where Black residents were not excluded from buying and renting homes. But at the same time, racist banking practices deemed the neighborhood "high risk" for capital investment and made loans for home repair unavailable.
As a result, residents suffered from overcrowding and the physical decline of homes in the area. Believing that this "blight" would hurt property values for downtown real estate, the business class that dominated Oakland politics in the 1950s pushed for federal "urban renewal" programs that displaced thousands of people from West Oakland.
Centers of neighborhood culture also suffered, including the strip of jazz clubs, barber shops and restaurants along Seventh Street that was razed for construction of the above-ground BART tracks. Other visible examples of this devastation are the three highways that destroyed entire blocks of homes and sliced up the neighborhood — leaving the Moms 4 Housing home stuck between the 880, 580 and 980 freeways.
Residents at the time did not sit idly by. Tarea Hall Pittman and the National Association for the Advancement of Colored People (NAACP) fought for the rights of people displaced by another redevelopment project known as Acorn, and called for the construction of public housing alongside the proposed industrial and commercial land uses.
Today, West Oakland is experiencing the latest form of redevelopment: gentrification. Corporate landlords like Wedgewood are driving these changes. Dominique commented, "A lot of people [are] jacking up rents and buying houses and flipping them for all these amounts that people I know can't afford to pay, people that are originally from Oakland, that built the culture in Oakland. The culture isn't the same."
The resulting displacement, which has disproportionately affected Black families, hits home for Dominique. "Even my own family, they are in Benicia, Vallejo, Sacramento, Antioch, Stockton — and we're off in Oakland… I grew up in East Oakland and the family I had in West Oakland, they don't live here anymore."
Our Path Forward
But Moms 4 Housing has shown that by building a mass movement of both unhoused and housed people, we can reclaim housing as a social good. Dominique emphasized that the house occupation has been a collective project: "From this particular block, I've seen so much support. Folks have brought food, donations, asking what we need, welcoming us to the neighborhood…"
She also helped organize the March for Housing Now last November 23, which united over 200 supporters from housing, labor, and faith groups. The march began at Mosswood Park, where dozens of unhoused people live in tents, and ended at MacArthur Commons, a shiny new market-rate development where studio apartments rent for over $2,500 per month.
Just like Wedgewood, MacArthur Com­mons' landlord is sitting on vacant units while offering six weeks rent-free, desperate to attract renters at the high price point.
The Moms 4 Housing occupation helps us imagine alternatives to this dystopian capitalist housing market.
Dominique was inspired by her time in Mississippi, where she took part in Cooperation Jackson, a working-class organization led by people of color, which describes itself as a "solidarity economy… anchored by a network of cooperatives and worker-owned, democratically self-managed enterprises." There, she worked on a farm where "we let folks do volunteer work and take food and they don't have to pay — just volunteer and it's free."
She envisioned the house as a site for further cooperative living and community solidarity. "Right downstairs there is a whole other unit a family could stay in, with plumbing, so our goal is to fix this up and a couple of families could live here."
Moving from housing to commerce, Dominique said she believes that in West Oakland, "we also need to have some co-ops to combat capitalism. Even old-school bartering, the community needs to get back to that because we all have skill sets that we can offer and trade… I can braid somebody's little girl's hair and babysit."
Moms 4 Housing has inspired Oakland to reject an attitude of resignation to the moral crisis around us. They forced Mayor Libby Schaaf, who claimed she didn't condone "unlawful acts," to negotiate with Wedgewood.
Wedgewood buys, renovates and then sells foreclosed homes primarily on the West Coast, but operates in 18 states. The company was shamed into offering the Magnolia Street home to the Oakland Community Land Trust at its appraised value and to turn it over to the moms — but that might cost more than half a million dollars.
Wedgewood also agreed to change the way it does business by letting the city of Oakland and non-profit housing organizations have the right to purchase any of their homes at market rate ("right of first refusal"). Mayor Schaaf's boasting that this will take those homes out of a speculative market, however, seems an overstatement.
Homelessness is not inevitable in a wealthy society, but we must confront the landlord class, the politicians they control, and capitalism itself to ensure that homes are places for people, not for profit. Housing is a human right!
March-April 2020, ATC 205