Against the Current, No. 204, January/February 2020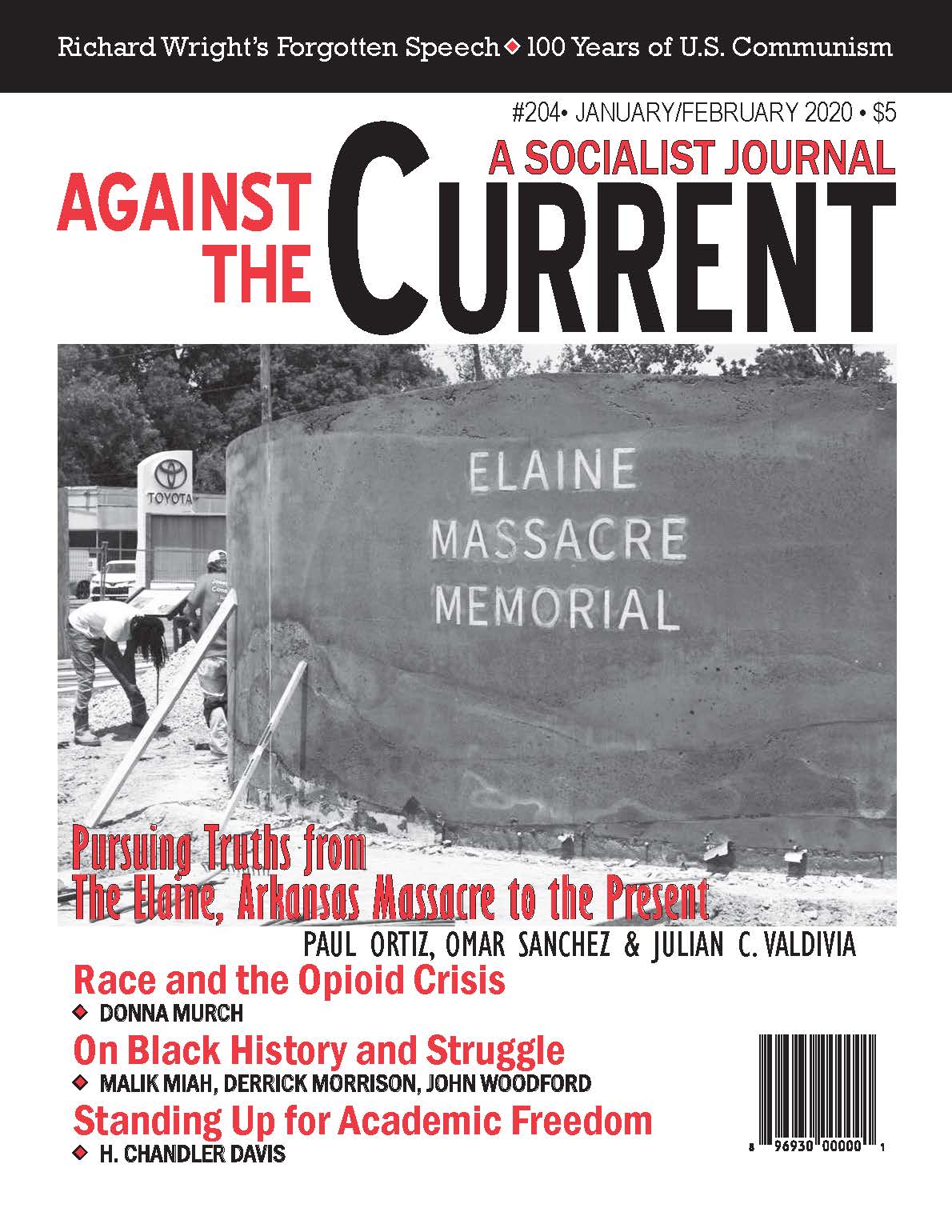 Jazz and Justice:
Racism and the Political Economy of the Music
By Gerald Horne
New York: Monthly Review Press, 2019, 456 pages, $27 paperback.
RIGHT UP FRONT, the prolific historian Gerald Horne of the University of Houston describes the contradiction that underlies this work:
"(T)here are terribly destructive forces — racism, organized criminality, brutal labor exploitations, battery, debauchery, gambling — from which grew an intensely beautiful art form, today denoted as 'jazz.' It is the classic instance of the lovely lotus arising from the malevolent mud."
Since his book delves deeply into that mud, Horne says, he listened to the "pulchritudinous tunes of the musicians who continue to prevail against difficult odds" so he could better "digest this malodorous substance as I was writing these pages." He advises his readers to do the same, and good advice it is, indeed.
Rather than yet another jazz history, Jazz and Justice chronicles the evolving travails of the music and its creators in a climate of racism, gangsterism, exploitation, struggle for survival (and in some cases like Oliver Nelson, death by overwork).
In 11 chapters, Jazz and Justice moves from the early days of jazz in New Orleans through a century of ups and downs, with the music's death notice being announced or forecast numerous times, to its present status as a hardy cultural survivor.
For Horne, the survival story is epitomized by the career of Quincy Jones. In 2018, Jones's "six decades as a musician, composer, arranger, conductor, executive, magazine founder, entrepreneur, humanitarian and producer was celebrated" at the 45th anniversary of the Umbria Jazz Festival in Perugia, Italy.
Jones's recognition, financial success and durability (he's 86 years old) is far from typical of the many men and handful of women whose stories Horne weaves together through an impressively meticulous combing of articles, biographies, autobiographies, musicological works and, especially, oral histories of the artists themselves.
Herein, the reader encounters not only the familiar jazz giants and lesser-known artists of the genre, but also an array of gangsters, politicians, swindling record industry figures and critics who took advantage of the leverage derived from racism to fatten off the creativity of jazz artists.
The manifold and unrelenting process of profiteering off the musicians (not the least through stealing their works by listing producers as co-composers) is the "political economy of the music" of Horne's subtitle. As for "justice," you'll find a continual striving for it in this book, but in the main it's an epic of justice denied.
Riffs and Patterns
There can be little variation in Horne's theme. He can provide us only with what's there, and while that risks monotony, I found it a sort of repetition that, like long-form chanting or drumming, is compelling and moving because of, rather than in spite of the familiar pattern emerging page after page after page.
You know what's coming in a succession of blues chords, but that doesn't mean they can't grab you and carry you away and so it is with Horne's riffs, a smorgasbord of jazz anecdotes that are mainly sour and bitter, but juicy all the same:
Louis Armstrong: It's Chicago in the 1920s, and mobster Al Capone is a sort of "'patron saint' of the new music" even as he and rivals are firebombing the nascent jazz clubs.
"Louis Armstrong arrived in Chicago during this tense moment, and mobsters helped him get his first job in New York City after he arrived there from the Midwest in 1924…
"The ties Armstrong forged in Chicago shaped his career trajectory. Joe Glaser, who helped shape his career as a manager and agent, was seen as a front for Capone via running one of the mobster's brothels; his venality was exposed when he was indicted for rape. In a sense, Armstrong chose one set of thugs to protect him against another; such was the sorry plight of musicians then."
Duke Ellington: "(M)imicking Armstrong, he [Ellington] forged an alliance with Irving Mills, born in Russia in 1894, who somehow became the publisher" and copyright-holder of some of the pianist's most famous compositions, which "enriched this manipulator and his descendants."
Lou Donaldson: "(W)hen I came on the scene . . . the junkies had everything — and the recording studios had the junkies. If you weren't strung out, you couldn't get a record date. I didn't get high so I was kind of an outsider at first."
Lester Young: "'(T)hey want everybody who's a Negro to be an Uncle Tom or Uncle Remus or Uncle Sam,' and he was unwilling to portray all three roles — and then suffered a nervous breakdown."
Max Roach: "I had a rough period with major labels. . . . It's like gold mines. We're the material they [go] into South Africa [for]. . . . They take it and process it and sell it and make billions."
Eddie Palmieri: "I was accused of being a Communist because of avant-garde ideas, and the CIA and FBI went to see my record company. Morris Levy [one of the arch-villains in a book teeming with them —JW] brought me and said, 'Mr. Palmieri what did you record for me? Don't record that shit any more.'"
Levy, Horne explains, was referring to Palmieri's composition, "Mambo con conga Equals Mozambique," seen as an affront to the U.S. ally in fascist Portugal, the colonizer of this African nation, which became independent in 1975.
Levy was "backed by the Big Mafia … [the] Gambino family" and the "Columbo family," Horne adds, so Palmieri had to take his censorship seriously, "when the gruff Levy barked."
But "there was a related problem in that Cuban exiles in the form of Alpha 66, known to deploy terror, were upset with him and were threatening 'to blow up all the radio stations that played my music.'"
Abbey Lincoln: "We had to go to other nations for our careers … If there wasn't Europe, I don't know what we would do… I [had] worked as a maid and I had made like $30 a week and now — seemingly —had ascended economically." But while performing "I would sometimes be the only Black person in the room. They didn't want Black people . . . in Miami. A Black man would frighten them."
Moses Avalon, record producer: "The entertainment industry is like a big casino. Motion pictures are the backroom baccarat tables for the millionaires with the $10,000 gold chips. Television is the $100 table for the yuppies, theater the $25 table and the record biz is the $2 table, essentially for the bargain shoppers."
Frank Kofsky, critic: His indictment in Black Music, White Business (1998) angered some leading figures among the white jazzerati who tended to be irritated by accusations of racism in their industry: "All but a handful of those who have written books, articles end even advertisements about it [jazz], as well as those who have owned and edited periodicals and published the volumes that have dealt with it, have been white men," and have "served to deny, obscure, rationalize or otherwise defend the single glaring iniquity with the production of the music: that Black artistry has created it while ownership has profited disproportionately from it."
Contradictions of "Integration"
Jazz and Justice also provides a sort of counter-melody, or narrative, that traces the ways in which social consciousness, born in political struggles engulfing the music and other industries, flourished and sharpened among the musicians.
Many musicians, for example, served in the military in World Wars I and II, enlarging their world view and their sense of worth. It lent strength to the civil rights movement against Jim Crow segregation and to the bold militancy of the Black Power and Black Nationalist periods.
Jazz and Justice provides today's readers, especially those unfamiliar with this epoch, a chance to hear directly how these forces affected the musicians' lives.
Horne also thoroughly delineates the peculiar reactionary effect of the destruction of Black-led musical locals under the drive for "integration" as distinguished from "desegregation." The integration mode pursued in the USA consistently weakened Afro-American institutions and clout, just when the tide of history was expected to flow to higher ground, to equality, justice and power.
Previously all-white locals absorbed the once-segregated locals that had Afro-American leaders, and the cost was not only a loss of leadership posts but also of business records, camaraderie and militancy.
Thus, what looked like a "liberal" step forward proved to be a recast form of Jim Crow. Bad wine got a new label and a new bottle but it's still contaminated. Horne provides a sobering assessment of where we are today:
"(T)he overall climate in the United States in the early twenty-first century — a surging white supremacy — an unleashed capitalist class, a weakened labor movement — indicated that despite victories, the path ahead would continue to be rocky indeed."
Conditions and Creativity
So much for the social issues that Horne explores in the mire. What about the lotus? Jazz and Justice left me with two intriguing but not readily answerable questions about aesthetics.
Horne raised the first when he noted in his introduction that there is no clear connection — despite occasional powerful political thrusts in jazz epitomized by Max Roach and Oscar Brown Jr.'s "We Insist! Freedom Now Suite" of 1960 — between the harsh conditions or personal anguish artists may experience and the works they produce (the lotus-out-of-the-mire).
Edmund Wilson touched on the same mystery-cum-paradox in his 1941 study The Wound and the Bow, in which he contended that artistic genius grows out of personal hardship or handicap. Maybe so. But such experiences do not predict or explain the works the artists produce.
Some afflicted artists, like Dostoevsky, produce works marked by anguish and pain, while others, like Dickens or Kipling, create tales marked by humor, satire or whimsy. And many great artists — Shakespeare, Tolstoy, Austen — are not known to have experienced hardships or handicaps beyond the mundane.
Horne presents a second question that suggests an interrelationship between the lotus and mire under specific historical conditions:
The philosopher Theodor Adorno has been cited for the proposition that "no artist is able to overcome, through his own individual resources, the contradiction of enchained art within an enchained society. The most which we can hope to accomplish is the contradiction of such a society through emancipated art, and even in this attempt he might well be the victim of despair."
But I'd say that Wilson's and Adorno's attempted prescriptions sell the artist short. Neither social background nor psychological idiosyncrasy nor socioeconomic system can predict or account for the quality of a work produced by the individual artist.
An artist in an "enchained society" can produce works of great humor, joy and inspiration. Analyze and enumerate the characteristics of the mire all you want, you can't deduce or sully the beauty of the lotus.
That's exactly why Horne is so right to remind readers to listen to the music!
January-February 2020, ATC 204